Toronto is a major Canadian city along Lake Ontario's northwestern shore surrounding magnificent skyscrapers and fascinating attractions. From museums to the zoo, up to the city's festivals, be prepared as your schedule will be jam packed by loads of things to do! Travelers may use the Gooderham Building as a backdrop to their photo, take a trip to the stunning Niagara Falls, or see what Toronto has to offer with their nightlife scene. Whatever it is, the city can manage to meet with your expectations. With so much to offer, its no wonder that the city has been frequented by tourists from different parts of the world all year long. Check out the wide selection of tours and activities around Toronto through this list of Airbnb experiences below!
Stroll along Toronto's must-visit tourist attractions on a bike with the help of Sean, a Chinatown local who will take your visit to the city to the next level. He will bring you to Toronto's hot spots including Chinatown, the Kensington Market, Sugar Beach, and the Waterfront plus more. The tour also comes with a small group capacity of about six persons, so the guide is more focused to cater to each visitor's questions and needs. To top it all off, travelers will also be sampling at least two to three local snacks along the way to keep them pleased!
Bikes, Bites & Toronto's Gems!

Duration: 4 hours
If biking won't work with you, how about a walking tour instead? For approximately three hours, this Airbnb experience will let visit the Old Town and most of the historical buildings around the city center such as the Gooderham Building and St. Lawrence Market. The tour is a perfect opportunity to maximize your visit and hit most of the attractions without the hassle of getting lost as Dave is ready to guide you all throughout! No ones know downtown Toronto better than a local like him!
Show Me The City- Toronto Walking Tour

Duration: 3 hours
When talking about Canada, one must never forget to hit the iconic Niagara Falls. Treat yourself to a relaxing trip to Niagara Falls and the lake. Along the way, you'll be stopping by to the well-known Cow's ice cream shop and a maple farm to taste some delicious maple syrup. Did we mention, there are also wine tasting tours to complete an already incredible experience.
Niagara, Maple, Wine & Hike

Duration: 11 hours
If you are traveling to Toronto to seek the most thrilling activities around town, try hiking and canoeing in Algonquin Provincial Park. The area is one of the oldest provincial parks in the country which is famous for its picturesque charm and its rich flora and fauna. In fact, during the tour, travelers may come across several animals such as beavers, moose, foxes, chipmunks, wild turkeys, turtles, squirrels, or even the occasional black bear and wolf. To better enjoy this outdoor activity, tourists should not forget to bring hiking essentials like bug spray, running shoes, snacks, bottled water, rain jacket, gloves, hat, and warm clothes depending on the weather. A camera is a must too!
Algonquin Park Hiking and Canoeing

Website:
If you are looking for an intimate place to bring your partners or if you want to impress a girl for that sweet romantic night in Toronto, this dreamy private concert in the old Sheriff Jam Factory is what you need. It also has a stunning view of the Don Valley Parkway that is best enjoyed at night, contributing to the place's warm and inviting vibe. Faith, the resident performer, will serenade the guests for two hours with her smooth and velvety voice. If you want a souvenir, an CDs can also be bought on site for a fee.
Sweet Marmalade Jazz in the 6ix!

Duration: 2 hours
If you are looking for a unique keepsake to take home with you from Toronto, why not try this craft class that will teach you the process of creating handmade jewellery. Get a first-hand experience of measuring, cutting, soldering, bending, honing, and polishing your custom piece using real sterling silver. Have the joy of going home with a ring on your finger made by yourself!
Create your own custom silver ring

Duration: 4 hours
Photo is only for illustrative purposes
Partying in an unfamiliar place could be a hassle, especially if you plan to get drunk in the process. Worry no more as Brian, a master of parties and an expert on Toronto's nightlife scene, will take you to the best bars, clubs, and lounges in the city, such as Rebel, Luxy, EFS, Cure, Orchid, Door Three, Rebel, Moda, and bar244. Skip the long lines and prepare to dance the night away!
Party experience in The Six

Price: 16 USD

Website:
Photo is only for illustrative purposes
Join Carole, the co-owner of a local flying trapeze school and take a leap of faith in this fitness class for one and a half hours. After explaining all the safety rules, the lessons will start, consisting of basic tricks performed on the safety of the ground without the element of height. Nevertheless, it is still thrilling, especially when you attempt the "catch", where you have to put your hands out, and the catcher will grab you out of thin air just like what we see in the circus. First-timers are welcome! Conquer your fear of heights right here in Toronto!
Flying trapeze lesson

Price: 51 USD

Website:
There are few better ways to remember the things you've seen and done in Toronto than to have your photos professionally taken by an experienced photographer. Forget blurry cell phone snaps, Edward has all the best angles down to a T, and you will walk away at the end of your trip with Instagram-worthy photos to show off to your friends and family. You will get to choose your preferred locations and execute your own unique ideas, but Edward is also happy to chip in if you find yourself out of juice.
The Toronto Photoshoot Experience

Duration: 1.5 hours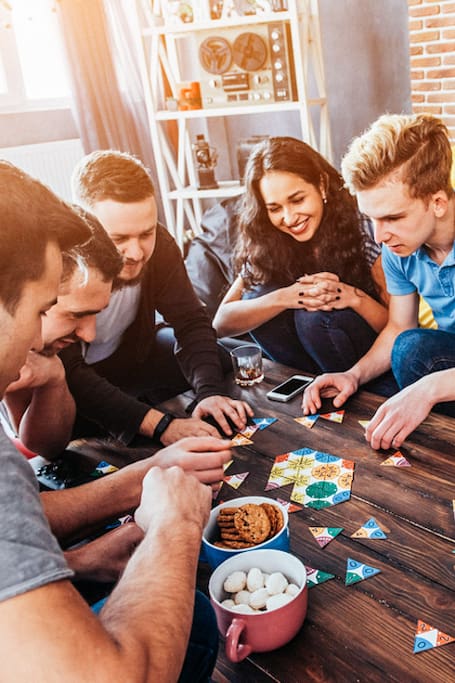 Participants of this activity will gather at a local spot called Duke's Refresher + Bar. Apart from its cool vibe, the place also features a variety of around 40 different tap beers. For a total of two entertaining hours, travelers will play several stress-free and interactive games with simple rules — no player elimination, no minimum downtime. This Airbnb experience not only enables you to unwind, but it also gives you the opportunity to meet new people.
Board Game Night / True Canadian Event

Duration: 2 hours
Visit Toronto, pronto!
Don't even think twice about coming to the city! Make sure you remember all these Airbnb experiences to try for a fun-filled trip to Toronto, Canada!
Disclosure: Trip101 selects the listings in our articles independently. Some of the listings in this article contain affiliate links.
Get Trip101 in your inbox
Unsubscribe in one click. See our privacy policy for more information on how we use your data