Bali is a super fun place to visit not only because of its popular white sandy beaches and exotic Balinese dance performances, but also because there are abundant things and activities to see and do in the island. Where to go in Bali if you want to get some experiences with animals? There is only 1 place to go; it's Gianyar district, which is famous for its 'Bali Safari & Marine Park' and 'Bali Zoo'. These 2 zoological gardens have different fun things and activities to see and do, but if you and your kids like to have an experience of elephant riding and getting up close and feeding many of the animals in the zoo, Bali Zoo is the place, or the first place to go before visiting Bali Safari & Marine Park.
A small but well-organized zoo
The zoo covers a lush area of 5-hectare (12.36 acre) land, which roughly takes 3 hours to explore it. This is a small but well-organized zoo with clear signs and maps here and there in English (there is no need to worry about getting lost). Gianyar, like other tropical areas, is hot and humid most of the day. However, the zoo is clean, green and shady, which makes it feel comfy and cool even during the hot sunny day.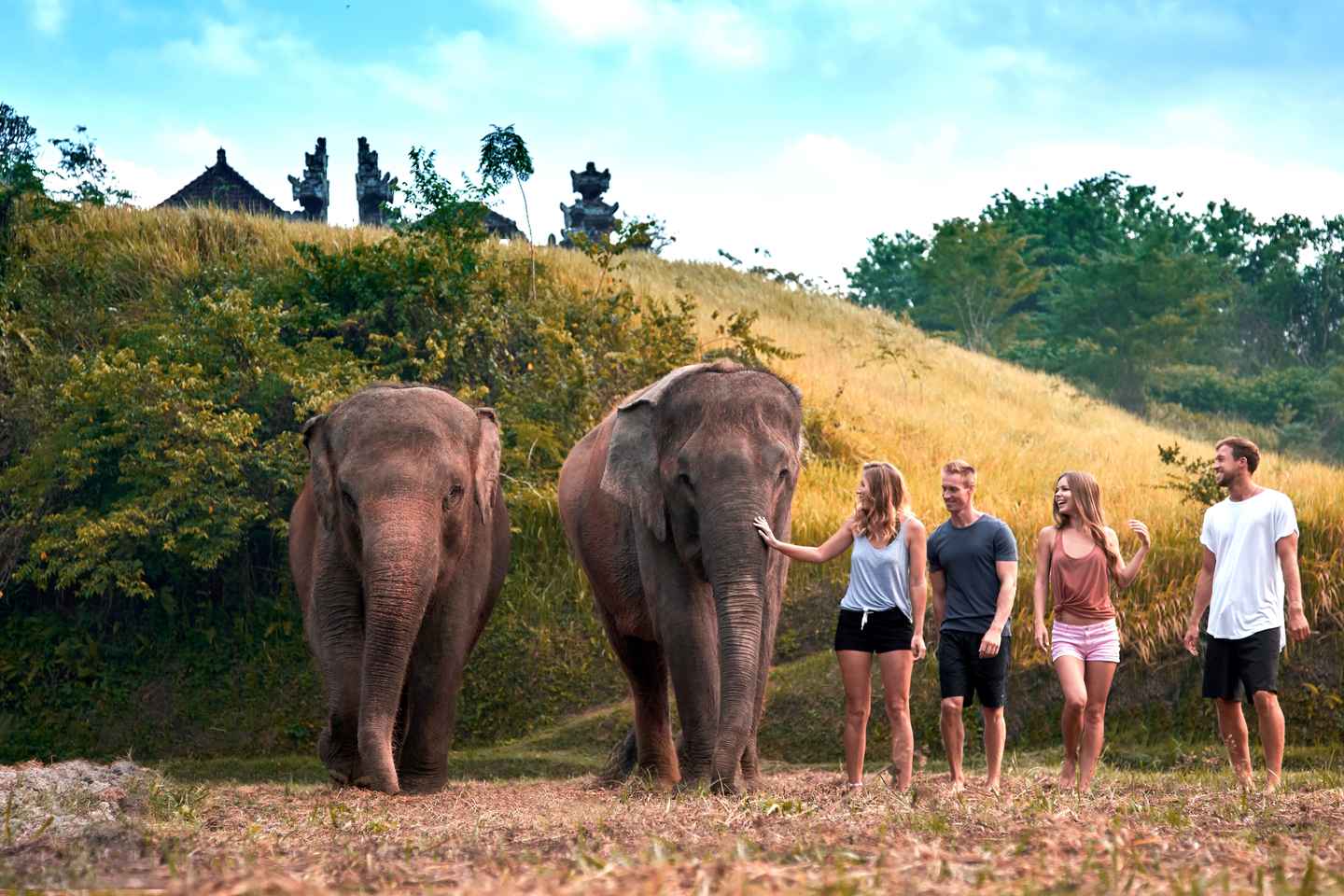 This zoo has more than 400 collections of tropical animal, so if you are not from a tropical area, you will love to see the zoo's animal collections, such as meerkats (a type of mongoose native to Asia and Africa), Indian white Bengal tigers, Australian kangaroos and 'binturongs', the native Southeast Asian bearcats. The staff here are animal loving people and they and take a very good care of them. All animals here are all active and have good appetite of food.
Elephant Care Experience with Mud Bath at Bali Zoo

Duration: 7.0 hour
It costs 28 USD for the entrance (18 USD for children under 12) and you will have close encounters with many of the tamed animals in the zoo. The animals are so used to with humans and they seem to enjoy human presence, so you don't need to worry carrying a baby white tiger or an orangutan! Let the staff carry your camera and take your pictures with the tamed animals.
For 5 USD handfeed the animals of your choice from the cute and small Guinea pig to the gigantic elephants with carrots, pineapples and get the chance to feed big carnivores like a tiger or a crocodile with raw chicken meat by using a long metal pole.
Some animal shows, including 'Ucok The Siamang', where in the show a 'siamang', the black gibbon performs rope hanging acrobats, are also included in the ticket and your kids will be happy to play at the waterpark called 'Miniapolis Jungle Waterpark'. However, if you want to have some experience with elephants, you need to take 1 of the elephant-riding packages provided.
Bali Zoo Discount Tickets
Elephant ride isn't hard
Have you sat on an elephant's back? If not, why not try it here and have 1 of the elephant ride packages provided by the zoo? There is no need to go anywhere else as this is 1 of the very few zoos in the world where you can have the opportunity to ride an elephant. . Elephant ride is the highlight of this zoo and it costs 70 USD each person (51 USD for kids) for a 30-minute elephant ride trekking the zoo complex, including crossing the 'Wos' River. Getting onto an elephant's back isn't as hard as it sounds because you actually climb to a 'seat' strapped onto the elephant's back, where you will get on the seat from a platform which has about similar height to the elephant's back. As you can manage to sit on the elephant, you will need to wear the seatbelt strapped to your laps and you are good to go! If you are a first timer, it may take some time to get yourself used to the height, and the ups and downs as the elephant walks, but it is a safe ride as besides the seatbelt factor, all of the elephants here are happy and well-trained elephants well taken care of by their handlers
'The Mahout For A Day' package
Do you like to learn a bit about how to handle and treat an elephant? Take a new package called 'Mahout For A Day' (it costs 525 USD per person), where you will get involved in the day-to-day activities of a zookeeper. Not only will you get to feed the animals, but you will also help the zookeeper to bathe it. The most exciting thing about the package is when you and the handler take the elephant to the river for bathing by riding on its bare back. You will ride together with the handler and you simply hold on the rope under your belly, which has been strapped onto the elephant's body. All you need to do is to hold the strap and keep your balance. If you have been on a horse's back, you shouldn't have a problem, as the elephant moves slowly, which makes it easy for you to ride on it.
Enjoy the zoo with kids
Packages also include transport service from and to your hotel and a buffet meal(s) at the 'Elephant View' Restaurant, which mainly serves Indonesian food. Their barbecued skewered chicken called 'satay' is the food you can't miss, and more than just the great food, the chance to see the elephant while eating your food is a very rare experience. This is a family zoo where not only kids will love, but adults can enjoy it too. So, if bring your family here, get into the zoo with your kids!
Disclosure: Trip101 selects the listings in our articles independently. Some of the listings in this article contain affiliate links.
Get Trip101 in your inbox
Unsubscribe in one click. See our Privacy Policy for more information on how we use your data