Los Angeles is a big city. With an infinite amount of attractions to explore, it can be overwhelming. A tour is a great way to experience a new city, and keep on track with accomplishing everything on your agenda. So here's a challenge, if you have 8 days to spend in LA, what tours would you take? We've answered that question for you; here are the 8 best tours to take in Los Angeles.
You may not be able to experience every Southern California sun-kissed beach in a day, but a 1 day tour of California's beaches comes close by hitting four of the most popular spots for sun, sea and surf. 1 Day Tour of California Beaches starts at Huntington Beach, known as Surf City, USA, because of its surf history and world-class surfing beaches. This seaside town is also the birthplace of beach volleyball.
Next, is Long Beach where you'll board the Queen Mary and take a behind-the-scenes look at this historic ship that was once a world-class ocean liner. Today, it's a fully functioning hotel giving guests a glimpse into what transatlantic travel was like during Queen Mary's heyday!
You'll have a chance to catch your breath during the ride to Venice Beach. This beachfront neighborhood's famous boardwalk is what makes Venice so unique. With hundreds of street vendors and performers lining the area, you can see everything from break-dancers to jugglers. Venice Beach is surely the place to people watch.
The last stop of the day is Santa Monica Beach and Pier. Arriving here later in the day is perfect because you'll get the opportunity to see the Santa Monica Pier lit up at night! With an iconic entrance, the pier is popular with residents and visitors as a landmark that is over 100 years old. The pier contains Pacific Park, a family amusement park with its state-of-the-art, solar paneled Ferris wheel. Taking a turn on this ride will give you a great spot to see panoramic views of the coastline! The Santa Monica Pier also has an arcade, a carousel from the 1920s, an aquarium, and restaurants.
1 Day Tour of California Beaches

We're sorry, this tour is currently unavailable. If you're looking for something similar or want to explore other options, you can click on the button below.

Los Angeles may be a large metropolitan city, but it also has majestic mountain ranges and scenic hills making it a haven for hikers. And taking the Hollywood Hills Hiking Tour affords a real opportunity to explore some of the natural beauty that surrounds this city, while also learning a little about its history. An experienced Hollywood Hills Hiking tour guide will lead you on the ascent through the Hollywood Hills. Atop the hills, you'll get an array of spectacular views, from Downtown Los Angeles to the Sunset Strip. The true highlight of the tour is the view of the iconic Hollywood Sign. The last leg of the journey takes hikers to the Griffith Observatory, one of L.A.'s greatest cultural attractions. From its perch on Mt. Hollywood, the Griffith Observatory offers spectacular views of the Pacific Ocean to Downtown L.A. The Observatory also boasts a planetarium and astronomy exhibits.

The Hollywood Hills Hiking Tours offers a morning and evening tour. If you can do the evening expedition, you'll get the incredible treat of watching the sunset and enjoying the twinkling of the city lights and night stars!
Griffith Observatory Hike: Hollywood Hills Walk in Griffith Park

Duration: 2 hours 30 minutes

For any tourist, the Hop-on Hop-off Double Decker Bus Tour is the classic way to experience Los Angeles. It is also a great way to cover a lot of ground in a day. Most of the buses on the Hop-on Hop-off Double Decker Bus Tour have an open top second level so you get a nice, unobstructed view to take the perfect photos and there is a recorded narration of the sites as you pass by them. Hop-on Hop-off Double Decker Bus Tour canvases more than 50 locations throughout the city, including Beverly Hills, Santa Monica, Hollywood, and Downtown L.A. The best part of the Hop-on Hop-off Double Decker Bus Tour is you can go at your own speed with a 24-, 48-, or 72-hour ticket option. Each specific route is labeled a color, so you can choose which one matches your interest and itinerary.
Los Angeles Hop-On Hop-Off Double-Decker Bus Tour

Duration: 2 hours
No tour of Los Angeles is complete without the Universal Studios Hollywood Tour. It is the golden ticket of studio tours because it provides two amazing attractions for the price of one. Universal Studios Hollywood Tour offers the world's largest working movie studio to tour and it is also packed with movie-themed rides and attractions. During the studio tour, you'll encounter the award-winning King Kong 360 3-D created by Lord of the Rings director Peter Jackson. The world's largest 3-D experience, King Kong 360 places you in the middle of a harrowing struggle between a 35-foot (10.6 m) T-Rex and the mightiest ape of all – King Kong. Other highlights not to be missed are Fast & Furious - Supercharged, Jurassic Park - The Ride, and of course the magical The Wizarding World of Harry Potter.
Universal Studios Hollywood Tour
Universal Studios Hollywood General Admission Ticket

Duration: 8 hours

Food is a major part of any tourists' experience and what better way to get a taste of a city's local flavor than partaking in a food tour. Best of Hollywood Food Tour is a culinary delight, with a bit of sightseeing along the way. Participants start with a jaunt over to the Chinese Theater to see the hand and footprints of the stars, then you're whisked away to high-profile Hollywood eateries and other lesser known establishments. Best of Hollywood Food Tour offers an opportunity to see neighborhoods and eat at restaurants the average tourist might not bother to venture to or even know about. The food experience runs the gamut from the everyday but delicious pizza to the exotic Persian ice cream.

Best of Hollywood Food Tour is an intimate affair, with each tour limited to only seven guests. It gives Best of Hollywood Food Tour a wonderful laid-back quality, where the local tour guide has the time to answer questions. The guests can also enjoy their food tasting at a leisurely pace.
Best of Hollywood Food and Sightseeing Walking and Van Tour

Duration: 4 hours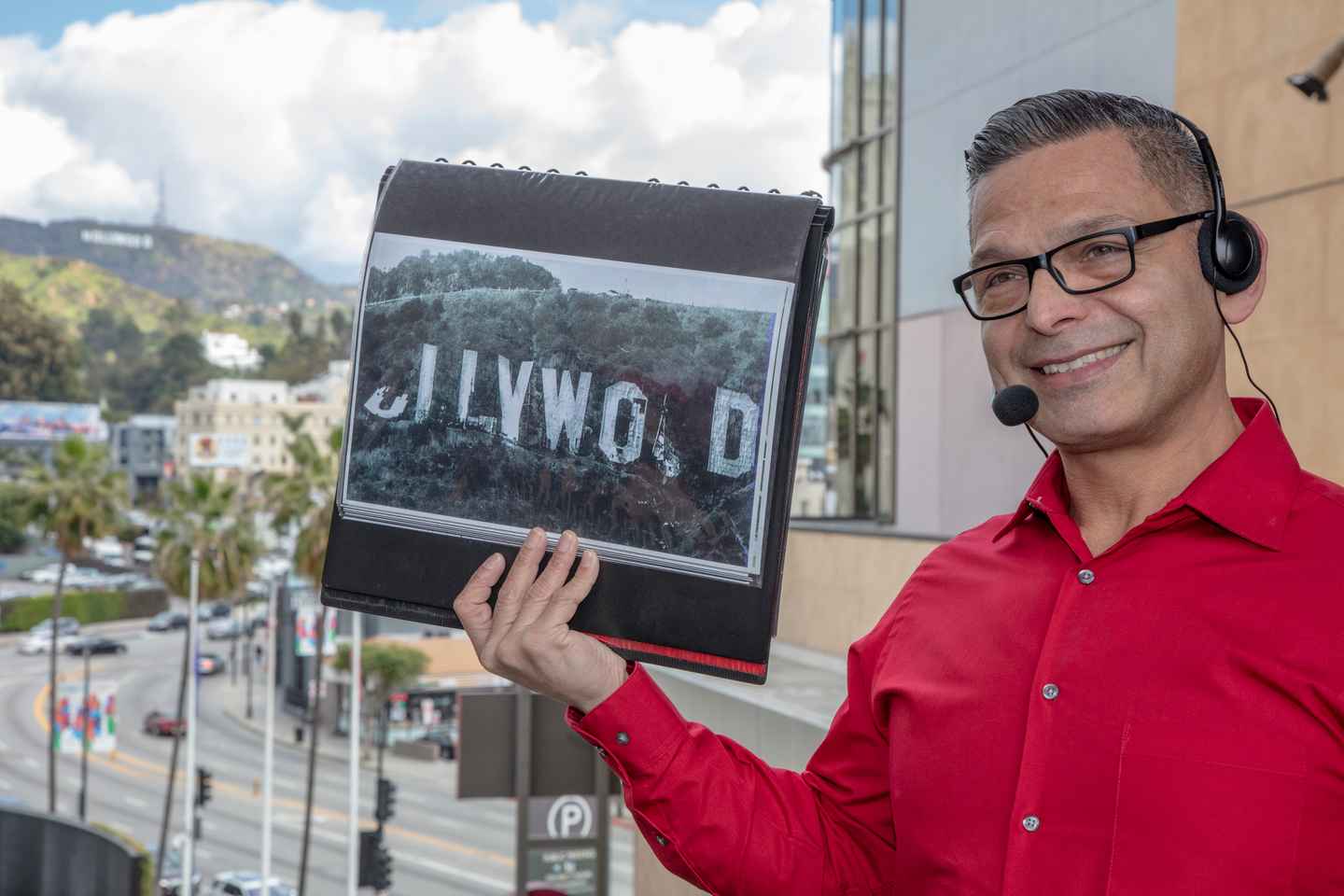 If by this time you're ready for an easygoing day of sightseeing, Hollywood: 75-Minute "Behind the Scenes" Walking Tour is just the right fit. With Hollywood: 75 Minute "Behind the Scenes" Walking Tour, visitors will be taken on a journey through over 100 years of Hollywood's past. Hollywood: 75 Minute "Behind the Scenes" Walking Tour reveals so much more information than what you would receive just walking the area on your own. An expert guide provides a lot of trivia and legendary tales about Hollywood's yesteryear, which makes it a top-notch tour choice for movie buffs. The tour takes you by landmark theaters like The Dolby Theater, home of the Academy Awards, and The Egyptian and The El Capitan. Hollywood: 75 Minute "Behind the Scenes" Walking Tour is available four times a day, seven days a week, so there are plenty of opportunities to catch this very entertaining and informative tour.
Hollywood: 75-Minutes "Behind the Scenes" Walking Tour
Hollywood: Behind-the-Scenes Walking Tour

Duration: 75 minute
See the Hollywood Sign from a different perspective with the Los Angeles Horseback-Riding Tour to the Hollywood Sign. When visitors arrive in Los Angeles to see the Hollywood Sign, it's usually viewed from a considerable distance. The Los Angeles Horseback-Riding Tour to the Hollywood Sign offers a relaxed two-hour scenic trail ride under the Hollywood Sign! The adventure begins through Griffith Park, the largest city park with an urban wilderness area in the United States. Then, the trail ride proceeds toward the highest peak in the area, Mt. Hollywood. Here, you'll witness some of the most dramatic views of the city.
And don't worry if your skills in the saddle are lacking. You will be paired with a gentle horse that's easy to handle and a trail that's clear to navigate.
Los Angeles and Hollywood Sign Horseback-Riding 2-Hour Tour

Duration: 5 hours
If the thought of making your way in a strange city, not to mention a town notorious for traffic jams, makes your palms sweat and heart race, then a guided tour is a great option. Even if you just want someone else in the driver's seat, so you can revel in every sight and sound, then the 6-Hour Los Angeles City Tour is an excellent choice. It's a great way to cover all the must-see tourists' spots in Los Angeles.
6-Hour Los Angeles City Tour will take you to various prime areas, like Rodeo Drive in Beverly Hills, the upscale neighborhoods of your favorite stars, and the famed Sunset Strip. Stroll the Hollywood Walk of Fame, and then move on to compare your hand and shoe size to that of John Wayne's or Arnold Schwarzenegger's at the hand and footprints of the stars display outside Chinese Theater, formerly known as Grauman's Chinese Theater. The tour also covers attractions in Downtown LA and the beach communities of Venice and Santa Monica, and so much more.
Los Angeles City Tour with Guide

Duration: 6 hours
LA, the art of the tour perfected.
Taking on the challenge of a sightseeing tour a day for eight days can be daunting, but Los Angeles is probably the best place to go for it. With world-renowned attractions, famed sightseeing locales, classic beaches, and a myriad of other points of interests, this city has a great deal of practice in perfecting the art of the tour. Go on, make your escape and immerse yourself in the LA vibe with these 8 wondrous tours.
Disclosure: Trip101 selects the listings in our articles independently. Some of the listings in this article contain affiliate links.
Get Trip101 in your inbox
Unsubscribe in one click. See our privacy policy for more information on how we use your data