Valencia is a lovely city located on Spain's southeastern coast. It is the third-largest metropolitan city in the country. It features attractive places, unique and interesting culture, its City of Arts and Sciences that boasts planetariums, oceanariums, museums, and the city's share of art that's strongly suggestive of traditional taste. There are serene beaches to visit, huge and lovely parks and lakes where every tourist dreams to be during their trip. The city is popular worldwide for its local festival Les Falles held in March. There's so much to see and do in Valencia that we would heartily recommend every fun-seeking tourist to explore the city on bikes! For those who have not experienced bike tours on their trips before, this activity will make your holiday a lot more fun and memorable. Here are the top bike tours in Valencia, Spain.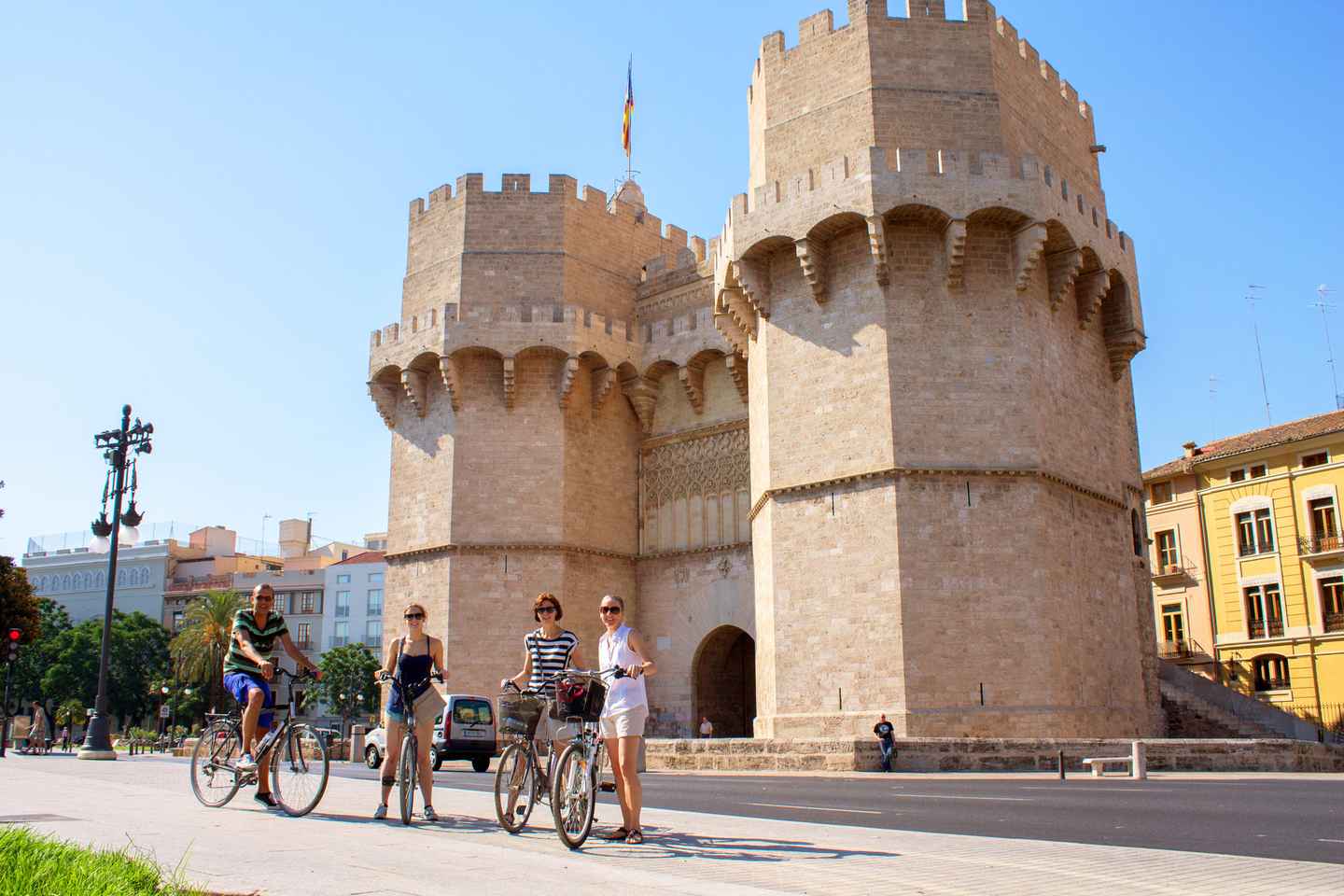 Savor the warm sea breeze as you ride down Valencia's beautiful streets and squares. Cycle downhill to Turia Gardens stretching across 8 miles (12.8 kilometers). Throughout the year, a number of cultural and recreational activities take place. You can also ride towards Serranos Towers that was formerly a small castle serving as the main entrance to medieval Valencia. You can witness several other historical buildings such as Mercado de Colón, Pillar Square, the old University, the Patriarca Church, and the Glorieta Gardens. Check out the Music Hall, City of Arts and Sciences, the new landmark of the city, renowned for its brilliant architecture.
Valencia Bike Tour

Duration: 3.0 hour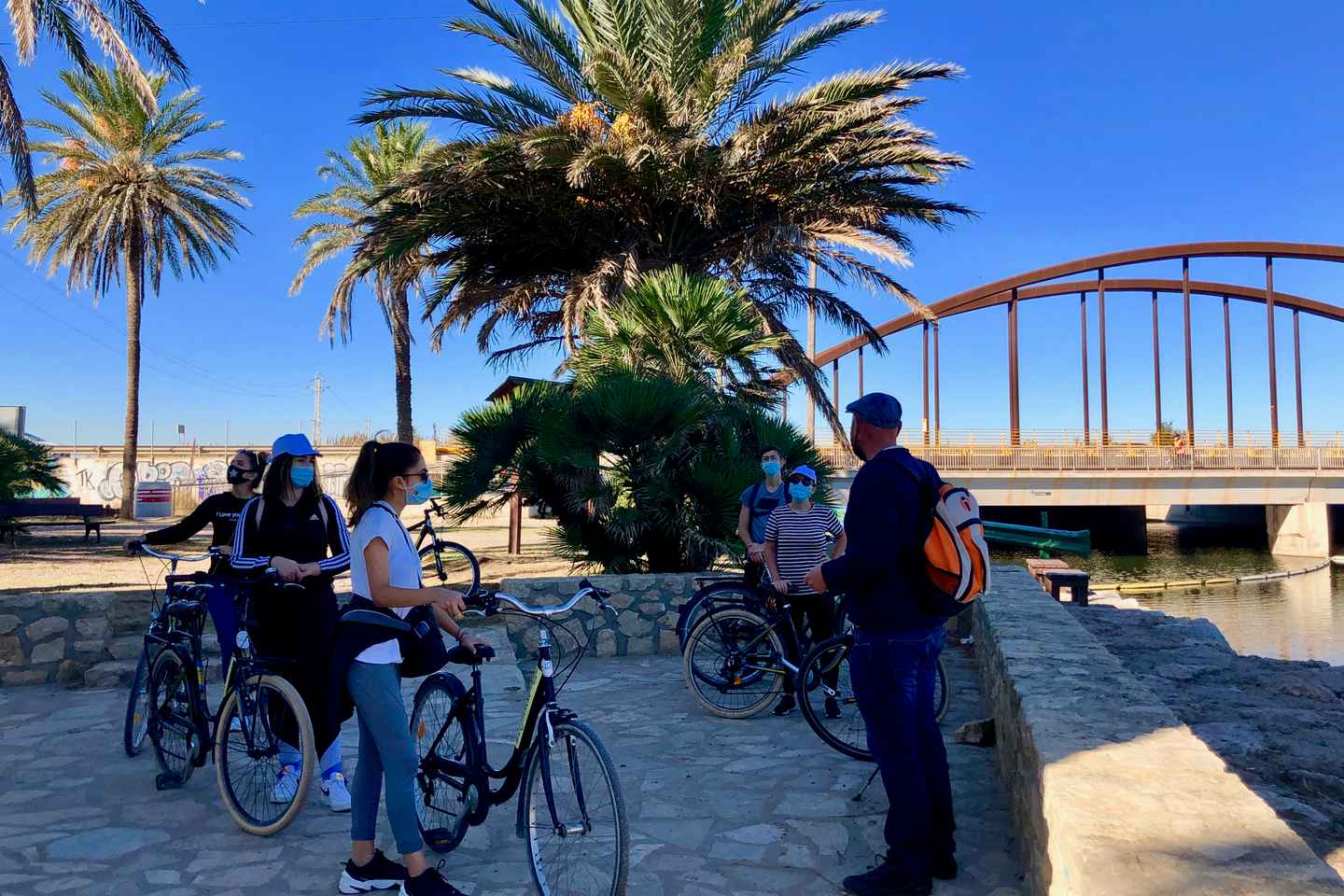 On this tour, the port area is the point of rendezvous. Every tourist will be provided with a bike and a helmet and then they can ride to the F1 circuit, buildings that glorify the city's history, and check out the specimens of incredible art. Next, you'll ride along the beach into the blue, sweeping breeze. From there, the set route will take you inland by a river teeming with abundant flora and fauna and stop to witness a typical Valencian farmhouse known as a barraca. With the other fellow tourists, you will make your way into a Valencian village exhibiting its colorful buildings and shiny ceramics before going to Port Saplaya, also known as "The Venice of Valencia". Here, all will stop to catch a breather and enjoy a delicious drink of horchata before returning to the shop, sounds amazing, doesn't it? It is a three-hour tour and covers a distance of 22 kilometers (13.6 miles). It is definitely ideal for a couple, group of friends, or a family with grown-up kids.
Valencia: Horchata Bike Tour

Duration: 3.0 hour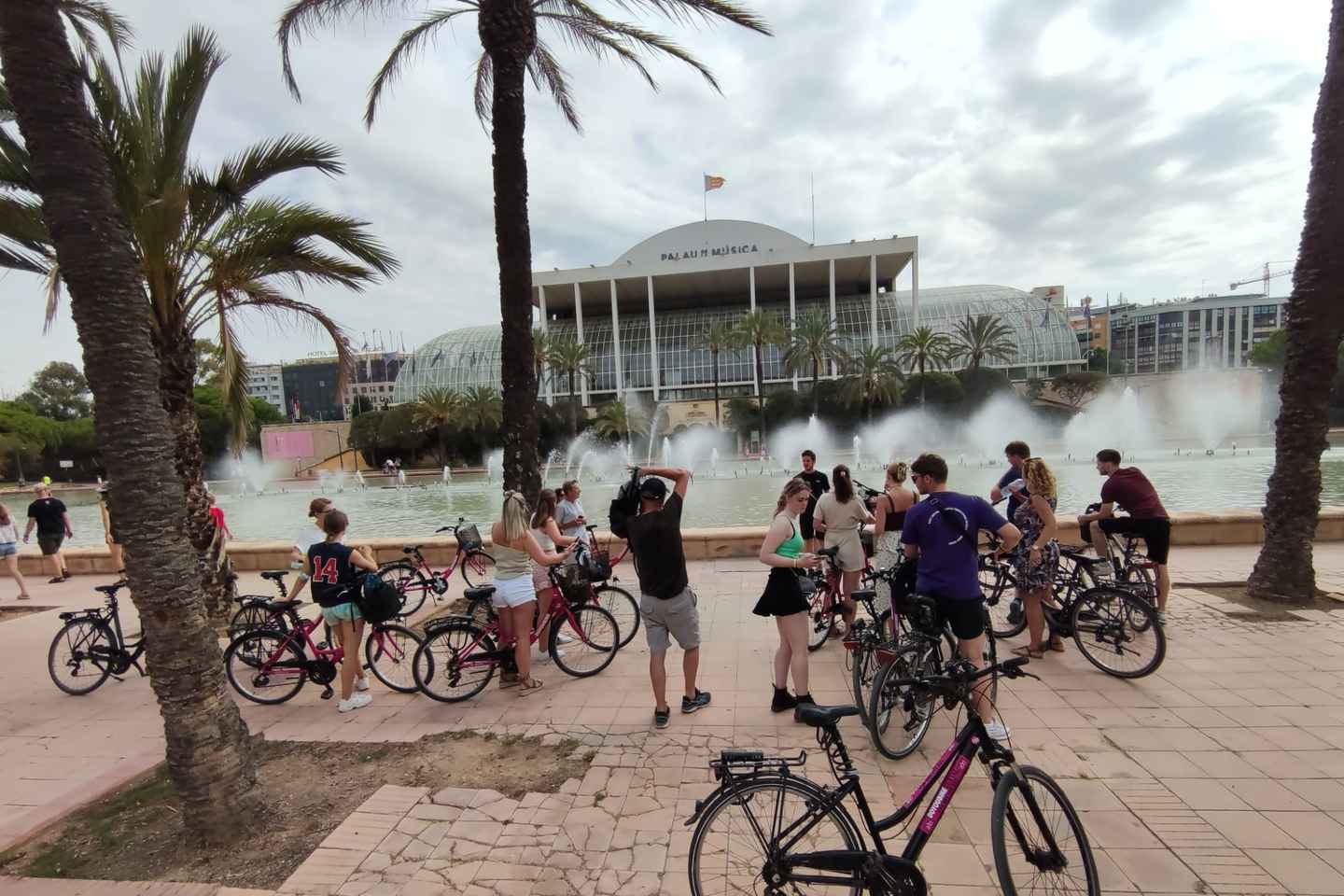 This amazing bike tour takes you to the old town of Valencia, through secret alleys and exciting places known only to the local people. Mount those bicycles and discover some secret sights with your group! Later, the route takes you to Turia Gardens and the City of Arts and Sciences. After a satisfying and joyful ride, you'll be guided back to the harbor and Malvarrosa Beach - just the kind of place where you are able to get the perfect photos besides having fun and making one's experience with their group even more memorable
Valencia: City Highlights Guided Bike Tour

Duration: 2.0 hour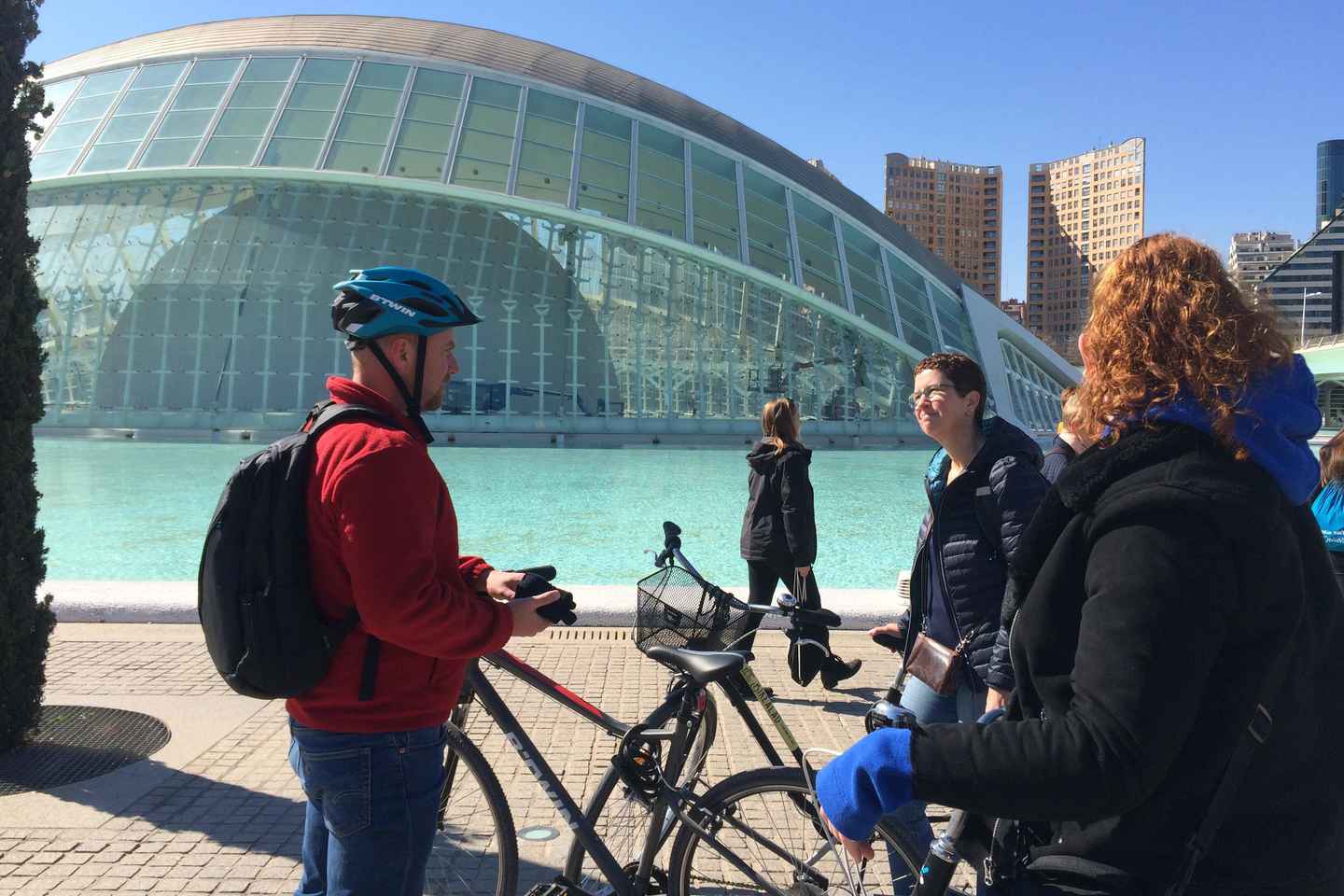 In this one, your ride begins near the port of Valencia. Every tourist will be kitted out with a bike, a helmet, and a bike lock. The group will pedal up to the City of Arts and Sciences, then make for Turia Park, and stop by many other curiosities along the way - the Cathedral, the Almudin, and a delightful converted art nouveau market. The route consists of beautiful winding streets. On your return to the shop, you'll be offered a nice satisfying drink. Clink!
Valencia: City Bike Tour

Duration: 3.0 hour
This delightful tour gets you a whiff of the city and its culture and history - from the City of Arts and Sciences, you get to ride and explore the beautiful Valencian streets, and the ancient Roman Square. The tourists have the freedom to stop wherever they like to click pictures, and the guides are quite informative and amiable. The charges are quite fair, and infant seats are made available for families traveling with babies. The children must be accompanied by adults. This bike tour takes in a maximum of 14 people.
Valencia City Sights Bike Tour

Duration: 3 hours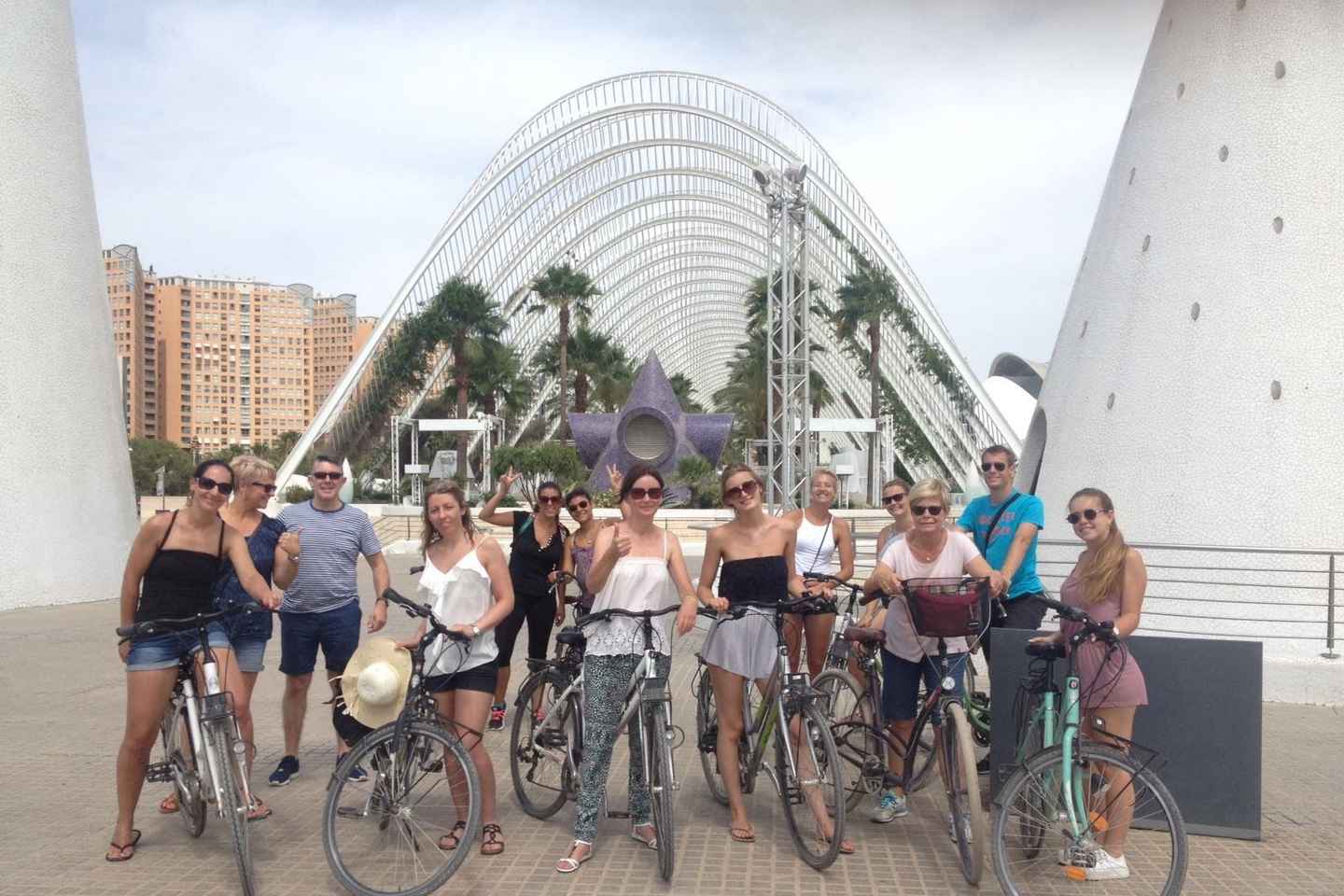 The tour takes you through scenic places and through the streets of the old quarter. It starts from the historic Barrio del Carmen district, followed by Plaza de la Virgen, an old square dating back to the Roman times, and Plaza de la Reina. The next stop is Central Market, adjacent to which is La Lonha de la Seda, used originally for silk trading. From there, you'll ride to the Quart Towers - a remnant of the old city walls, and Torres de Serranos. The next part of the tour takes you into the greener and modern part of the city. You ride into Turia Gardens, the lungs of the city, and also one of the biggest parks in Spain. Finally, after cycling past the City of Arts and Sciences, the guide and the tourists will ride back to the port and the beach and enjoy some refreshments before ending the tour.
Valencia: 3-Hour City Bike Tour

Duration: 3.0 hour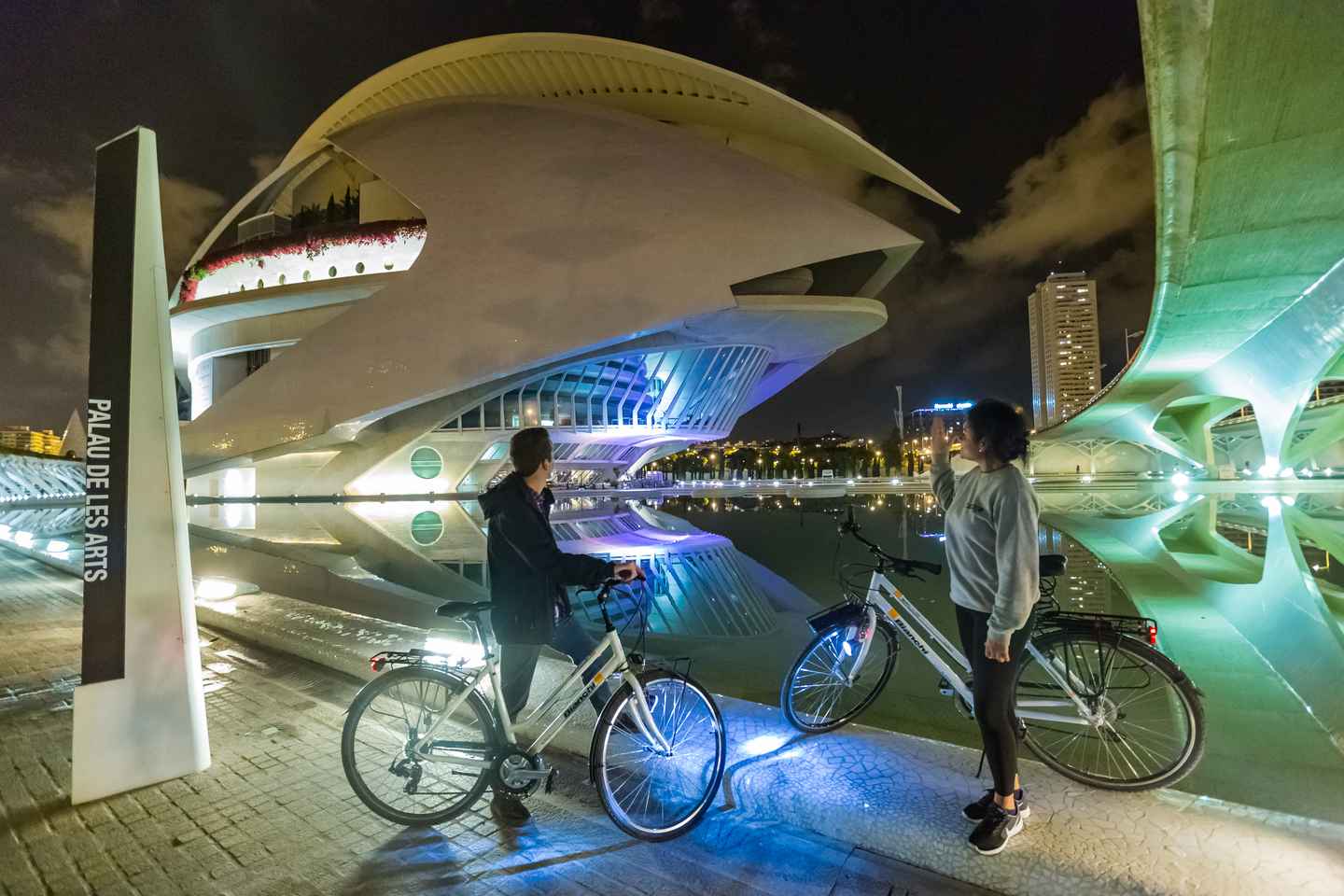 Valencia lights up at night and gleams gold with its glorious city lights. Wouldn't it be wonderful to tour the city while it glows like a star-studded night sky? This bike tour is a lovely ride along the Turia River and the City of Arts and Sciences. You will begin from the center of Rufaza, Calle Puerto Rico 22, then ride with your group through the old town, pass by the unusual Cathedral and cross over Plaza Reina, and many other attractions. The last two stops are Turia Gardens and the City of Arts and Sciences - twenty minutes ride through each.
Explore Valencia by Night: 2-Hour Night Bike Tour

Duration: 2.0 hour
If you love nature or are looking to turn away from the wearisome city-life schedule for a change, you've got to include this bike tour in your itinerary! It begins with a ride through Turia Gardens. The tourists reach the little town of El Palmar. From there, they take a wonderful boat trip to explore the lagoon. The guide also leads you to Albufera National Park that has wetlands around it that are inhabited by over 250 different species of birds! So grab your cameras and binoculars! You are in for an amazing bird-watching experience here! Also, you don't need to look for restaurants after the tour because a nice Valencian rice dish (paella) is made available to sate your hunger.
From Valencia: Albufera Bike Tour

Duration: 5.0 hour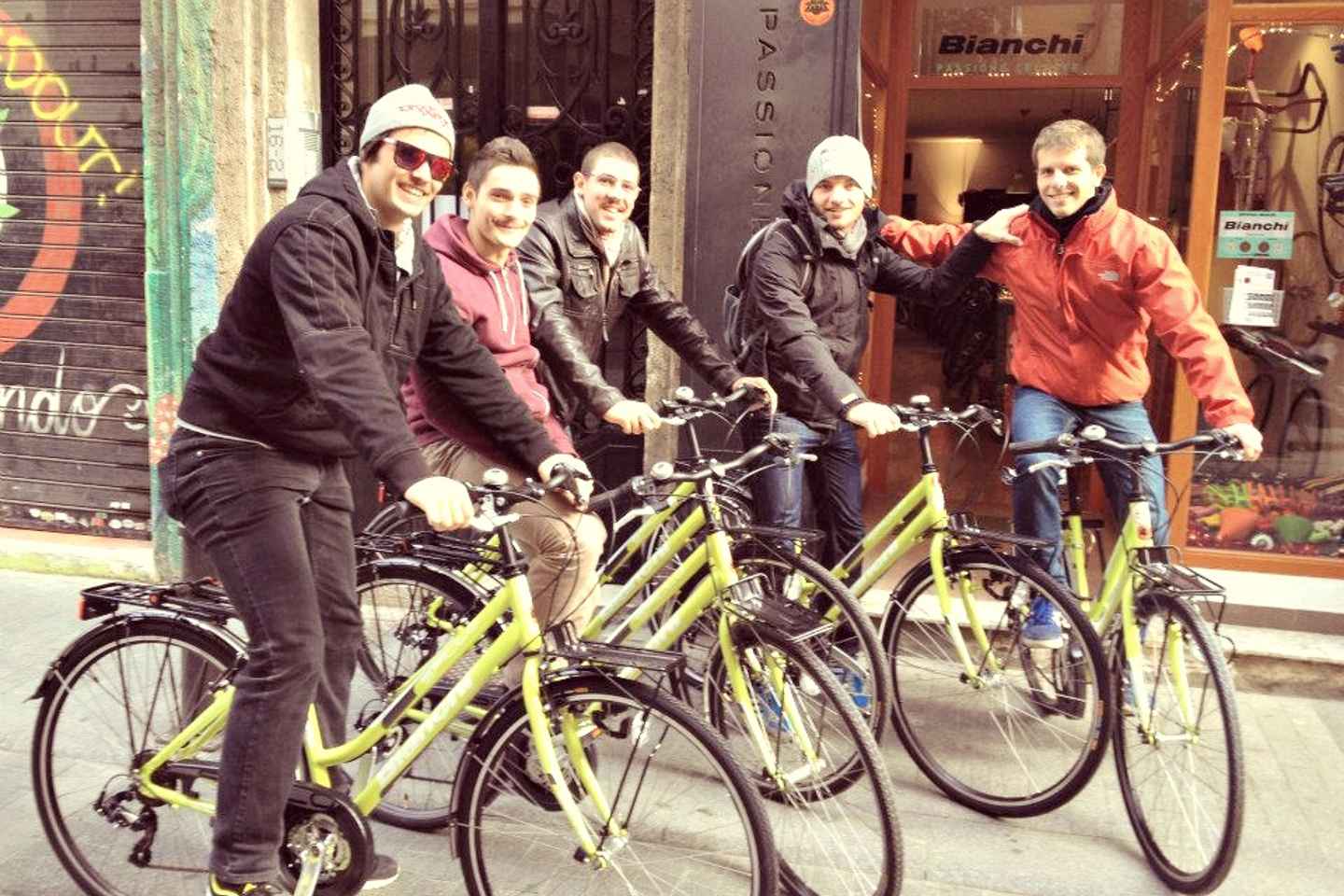 This bike tour is for those who want to taste the beers of Spain along with the traditions and culture one can find in the country. This 3-hour tour begins at sunset in Rufaza neighborhood, in Calle Puerto Rico 22. You get to learn about the various things that the Valencian Community has to offer. You also get to stop at three amazing bars in the city so that you can avail of local Spanish beers.
Valencia: 3-Hour Beer Bike Tour

Duration: 3.0 hour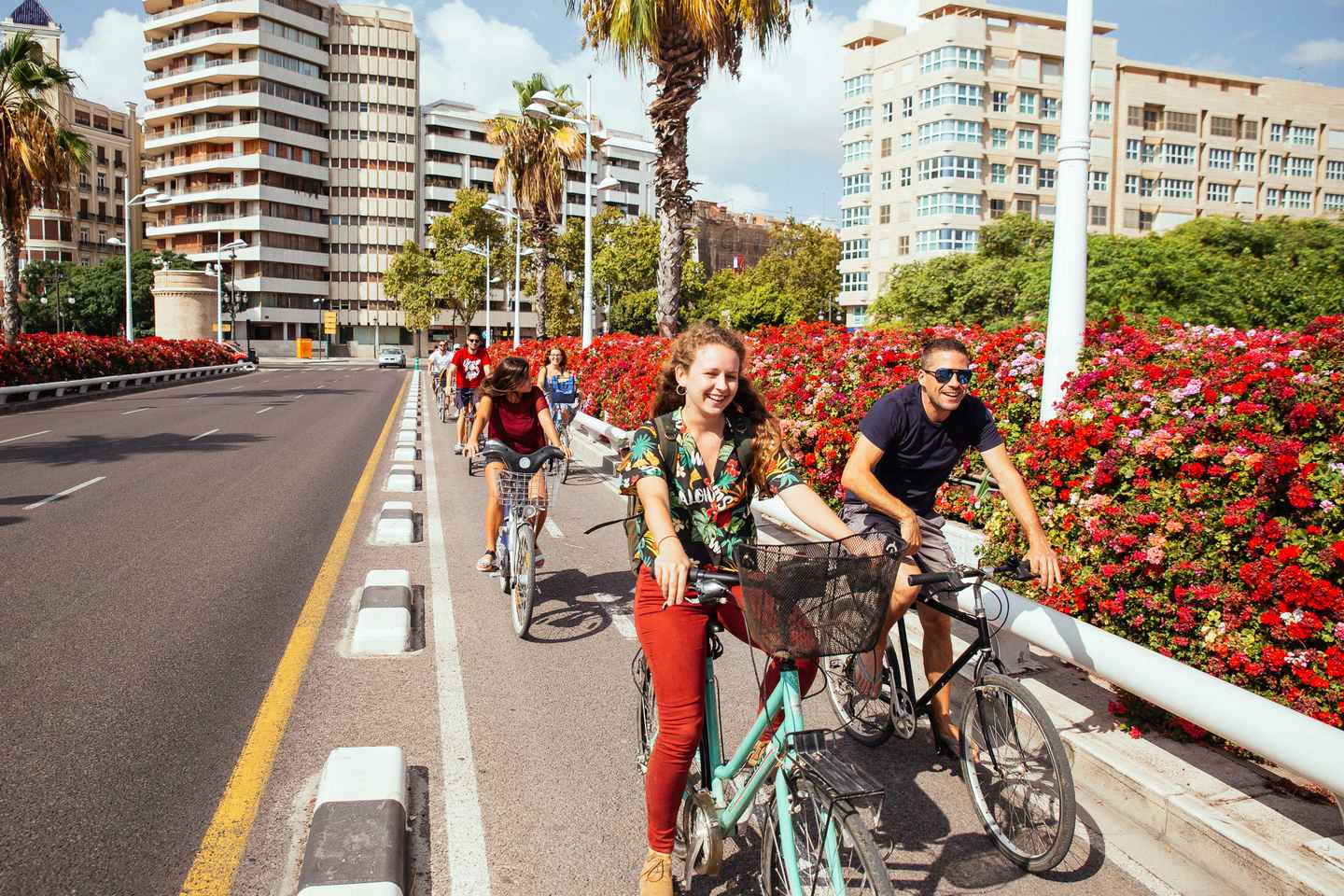 If you wish to travel with your partner, family members, or friends, you can hire a private guide on this tour. The tour covers a part of the Formula 1 street circuit, places where one can take in the sunny seascape and explore Puente de las Flores (Flower Bridge), buildings that are a specimen of Gothic architecture, Roman, Islamic, and Visigoth remains, Turia Gardens, and a nice market. Incidentally, e-bikes are also available for this tour at an additional charge.
Valencia Highlights Private Bike Tour

Duration: 3 hour
Enjoy riding a bike through the streets of Valencia
Valencia is a city perfect for activities like bike tours. March is the best time to plan your visit to this charming city. It is during this time that local festivals and celebrations like Les Falles, Paella Valencia, La Tomatina, and Holy Week take place and they definitely add more color and vibrancy to the city's atmosphere.
Disclosure: Trip101 selects the listings in our articles independently. Some of the listings in this article contain affiliate links.
Get Trip101 in your inbox
Unsubscribe in one click. See our Privacy Policy for more information on how we use your data