Bologna, the capital of the picturesque Emilia-Romagna region in northern Italy, is a beautiful city known for its captivating history and fascinating attractions, which are sure to astound even the seasoned traveler. Home to the oldest university in Europe, this medieval wonder also houses some of Italy's most exquisite cuisines. Famed for its ancient towers, marvelous churches, and lengthy porticoes, Bologna boasts a well-preserved historical center thanks to its conservation and restoration policies, which began in the late 1970s. If you are wondering about where to stay, hotels and vacation rentals are available in plentiful numbers here. For an indulgent stay, there are a great number of stunning boutique hotels as well. This charming city is also adjacent to many other quaint towns and ravishing villages, making it ideal for short getaways from Bologna. Read on to find out more about the top day trips from Bologna, Italy.
1. Milan
Nearly three hours from Bologna by road, Milan is one of the country's most popular travel destinations, is a beautiful futuristic city in Northern Italy known for its inspiring art, unique style, and impressive fashion. Touted as Europe's fashion capital, this bustling metropolis is not only home to the world's oldest shopping mall but also some of the country's major fashion brands such as Giorgio Armani, Versace, and Moschino. Milan also houses a treasure trove of fascinating architectural marvels and astounding artistic wonders that'll leave you absolutely enchanted. Tour the city's most iconic attractions like Il Duomo - a mind-boggling cathedral with jaw-dropping facades covered in Condoglia marble, which accentuates its off-white pinkish color. You can take a private tour of the cathedral's rooftop and enjoy the panoramic views of the city.
2. Florence
If you love art, culture, and architecture, then a day's trip to Florence is one you shouldn't miss. A picturesque capital of Italy's Tuscany region, Florence is a charismatic city famed for its remarkable renaissance art, fantastic monuments, and above all, stunning architecture. Just about 90 minutes from Bologna, you can conveniently explore some of the city's top sights and attractions. Start your adventure with a visit to Florence Cathedral, a majestic church with an egg-shaped dome boasting splendid views of the city and its lush surroundings. Another must-visit site is the impeccable Uffizi Gallery, a spectacular art museum just a stone's throw from Piazza Della Signoria.
3. Venice
Venice is a charming city set on the fascinating waterways and unique canals of North Italy and only an hour and forty-five minutes from Bologna. A ravishing place, this captivating metropolis is a quintessential gem for travelers who'd like to explore a bit of Italy's inspiring architecture, cultural heritage, and above all, its delightfully exquisite gastronomy. Also known as Queen of the Adriatic or City of Bridges, Venice boasts a host of rustic attractions that'll keep you well occupied. Make your way to St. Mark's Basilica and admire the excellent glass and gold leaf mosaics that adorn its dome, making it one of the most enthralling treasures of the city.
4. Verona
Verona reminds us of the legendary Shakespeare's play – Romeo and Juliet, but that's not all to this magical place. Ravenna is just about two and a half hours from Bologna, with just a single train per day to the city. Once there, visit the picturesque Castelvecchio and immerse yourself in the rustic charms of this ethereal 14th-century historic fortress. Being one of the city's most imposing buildings, this remarkable castle features seven towers, a castle keep, and four separate buildings, which are now home to a stunning museum of arts, sculpture, coins, and other fascinating artifacts, including paintings from North Italian masters.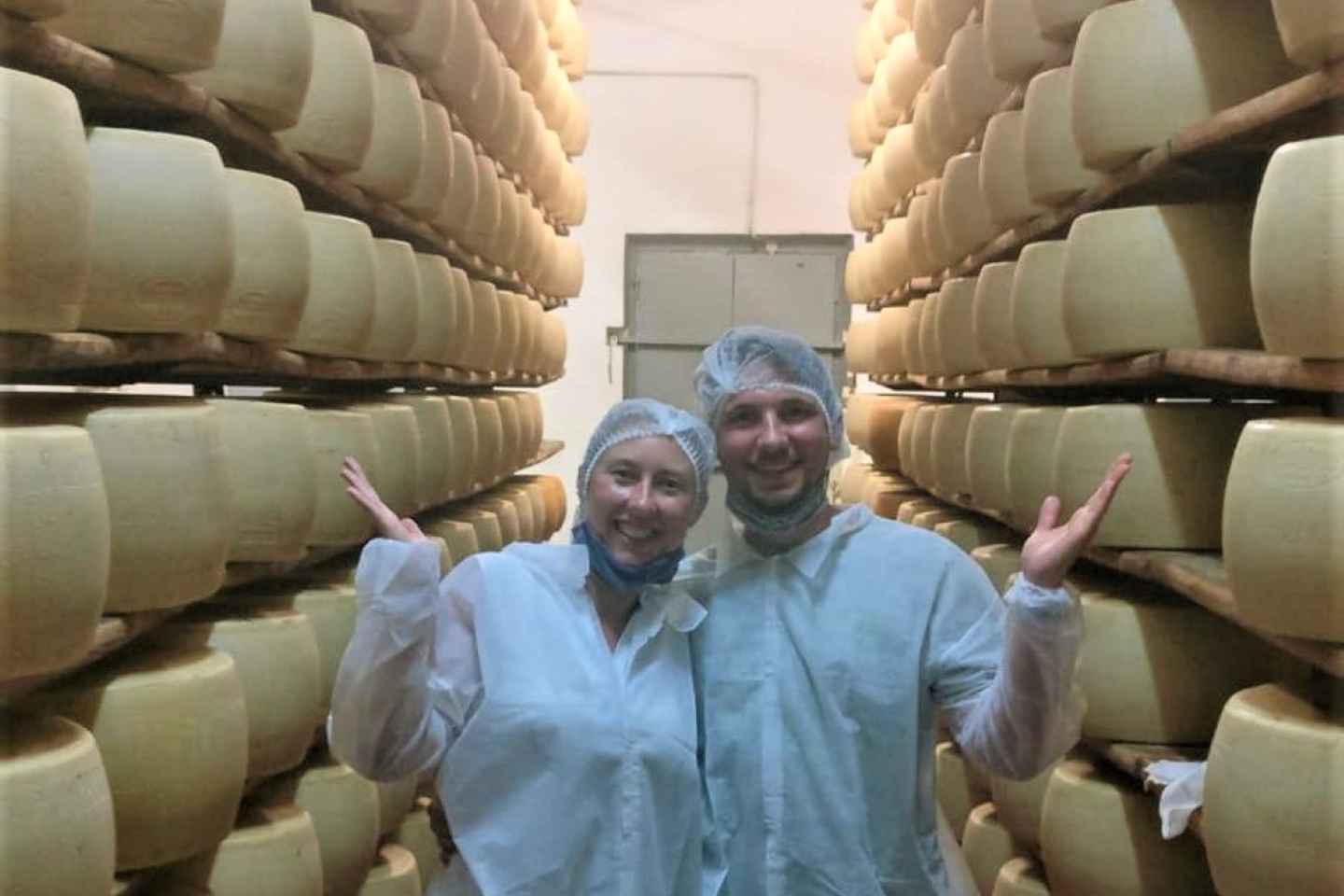 One of the best places to visit near Bologna is the city of Parma that tantalizes the senses with its culinary prowess and rich cultural heritage. Nestled in the heart of Emilia-Romagna, this charming Italian gem is renowned for its delectable cuisine, stunning architecture, and vibrant atmosphere.
Indulge in the world-renowned Parmigiano Reggiano cheese, Parma ham, and traditional balsamic vinegar. Embark on a gastronomic journey through local markets, trattorias, and Michelin-starred restaurants, savoring the authentic flavors of this food lover's paradise.
Immerse yourself in history as you explore Parma's architectural treasures. Marvel at the grandeur of the Palazzo della Pilotta, home to the National Gallery and the Farnese Theatre. Visit the stunning Parma Cathedral and the Baptistery, showcasing exquisite medieval and Renaissance art.
Duration: 5.0 hour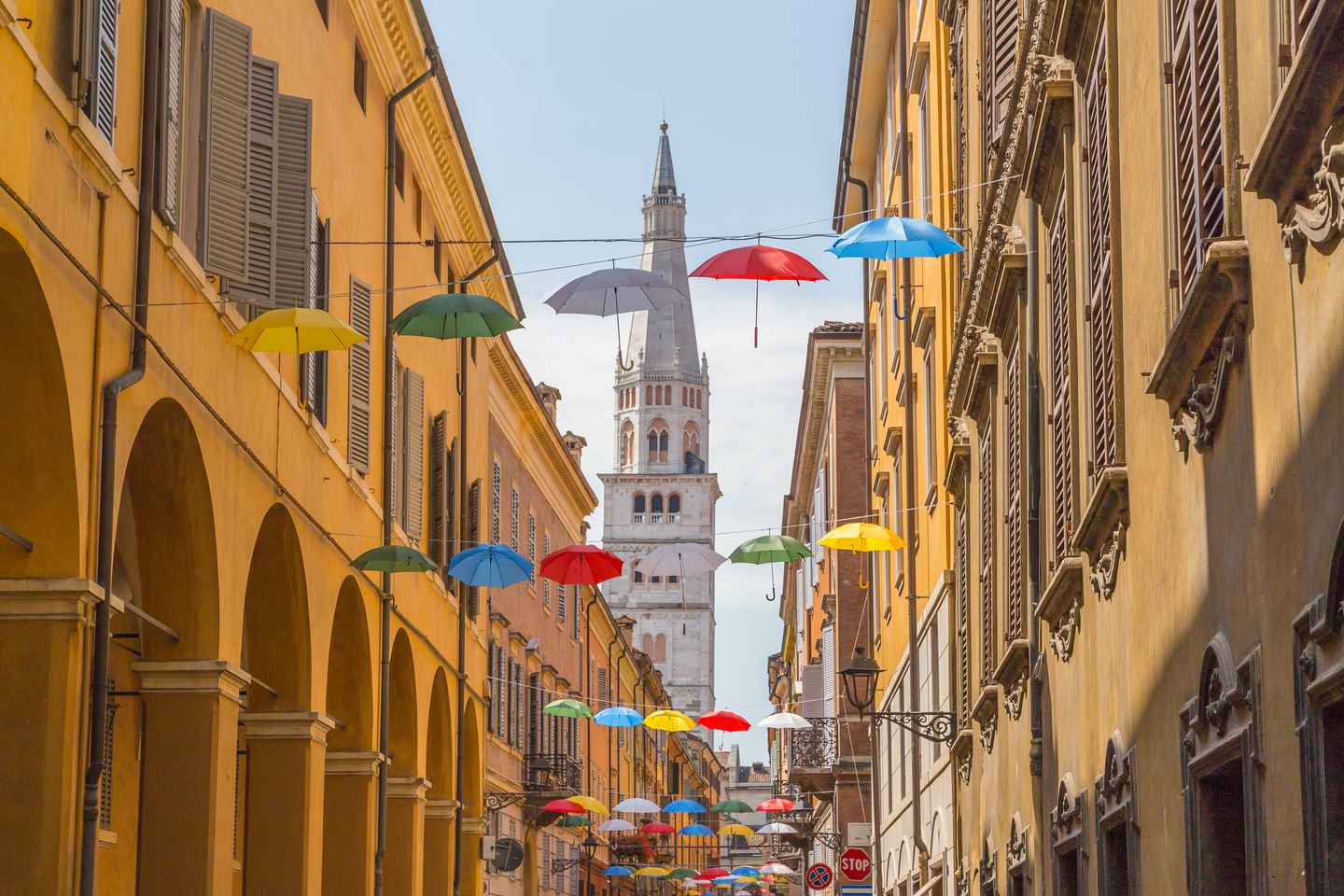 Modena makes for another exciting day tour from Bologna, Italy. Located in the heart of the Emilia-Romagna region, Modena invites you to immerse yourself in its rich heritage and indulge in its culinary delights. Discover architectural marvels as you wander through the cobblestone streets of the historic center. Marvel at the magnificent Modena Cathedral, a UNESCO World Heritage site adorned with intricate carvings and a breathtaking marble façade. Explore the Ghirlandina Tower, an iconic symbol of the city's skyline.
Embrace the culinary traditions that have made Modena famous worldwide. Delight your taste buds with traditional balsamic vinegar, Parmigiano Reggiano cheese, and mouthwatering dishes at Michelin-starred restaurants. Immerse yourself further in the culinary culture through cooking classes and visits to local markets.
Duration: 2.0 hour
7. Vicenza
Vicenza is famous for its remarkable architectural heritage, which attracts a drove of enthusiastic tourists, who flock here in large numbers to witness some of Italy's most beautiful buildings from the 16th-century. Travel about an hour or two and make your way to the famous Palladian Basilica in the heart of Piazza Dei Signori and immerse yourself in the artistic splendor of the ornate arches which run on both of its sides, giving it a unique visual appeal. Another site you cannot miss is the Villa Rotonda. Perched atop a scenic hill and set on elaborate grounds on the city's outskirts, just 15 minutes away from the city center, this building resembles the Pantheon in Rome.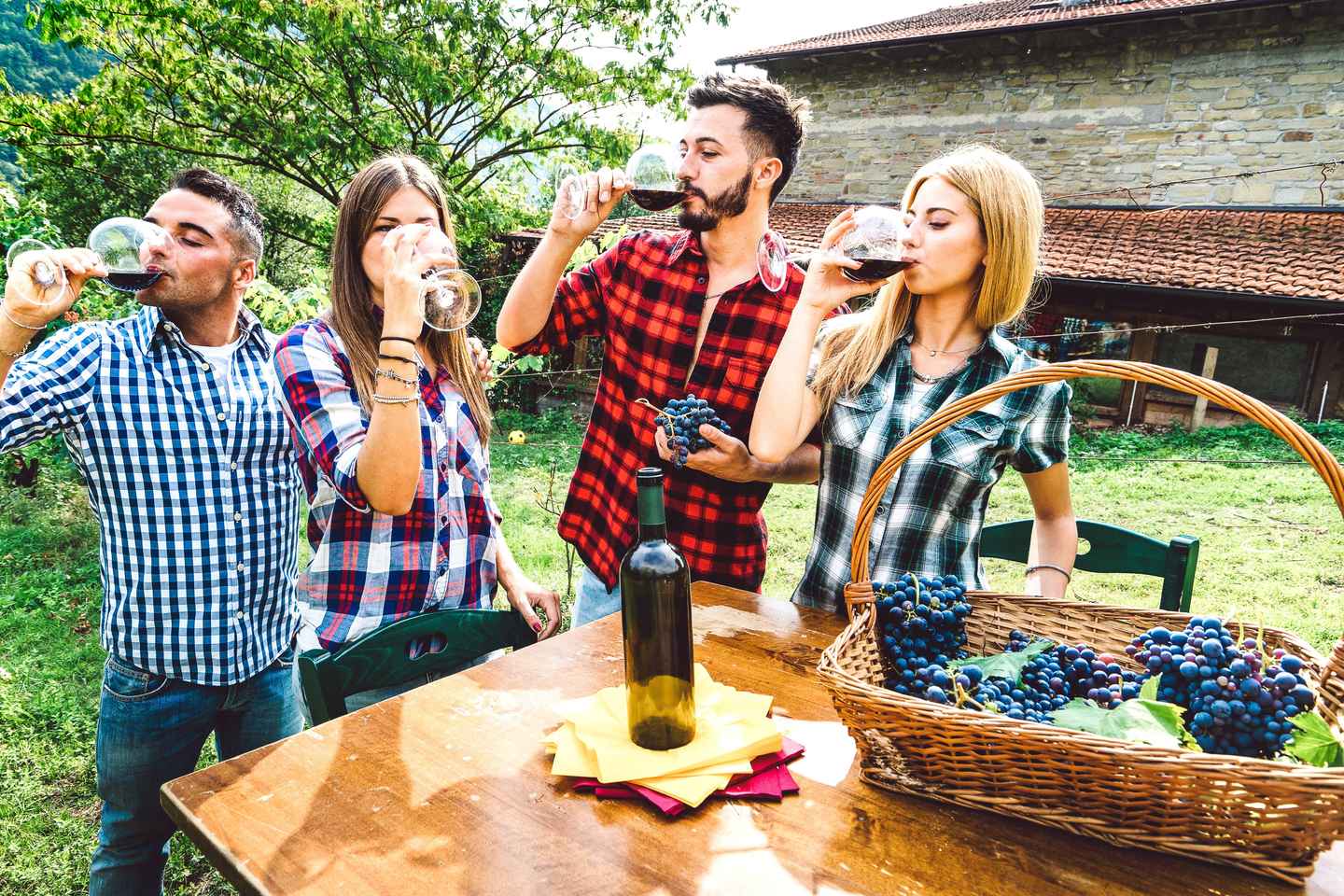 Are you a lover of delectable wines and sweet kinds of vinegar? If yes, then this exhilarating trip to North Italy's quaint Emilia- Romagna is one that shouldn't miss your bucket list. At just an hour's drive from Bologna, you get to cruise along a dramatic landscape, as you take in the beauty of the lush hills and leafy farmyards to one of the country's most famous wineries. Here, the fun heightens as you get to enjoy a tour of the winery, where you not only witness the wine-making processes but also get a chance to sample five glasses of DOC wine.
Duration: 7.0 hour
If you crave for an adventurous trip that allows you to soak up the beautiful views of some of Italy's most quaint towns and picturesque villages, then a day's tour to the fascinating hamlets of Brisihgella may be worth your while. Touted the most attractive village in the entire region of Italy, the charm lies in its ravishing landscape, which is home to not only unique landmarks but also some of the friendliest people on the planet. Only 60 minutes by road from Bologna, you can easily travel to the village's top attractions. Visit Museo Della Pieve Del Tho, a picturesque church with magnificent architecture; explore the jaw-dropping beauty of La Rocca Manfederina, a quint fortress with brilliant views of the city. End your tour at Via del Brogo, a famous walkway known for its impressive arched windows.
Duration: 3 to 4 hours
10. San Marino
For lovers of history and those of you who love the outdoors, a trip to the rustic Republic of San Marino is one you can't afford to miss. Whether you are looking for an idyllic day trip to relax and soak up the picturesque views of the tranquil surroundings or just a quick weekend getaway to the turquoise waters and golden beaches of the Adriatic Sea, San Marino spells out an epic adventure. Only an hour and forty minutes from Bologna, you can explore the narrow cobblestone streets to the town's focal point where Piazza Della Liberta nests and get to admire sweeping views of the scenic valleys and villages below. Make your way to the beautiful Cesta tower and take in the unobstructed views of this magical destination.
Embark on a sightseeing adventure to three memorable destinations in a day. Only 50 minutes away from Bologna by car, you can start your journey with a visit to Ferrara Cathedral, where you get to immerse yourself in the renaissance architecture. Follow on to the famous Palazzo Schifanoia, another marvelous landmark known for its jaw-dropping facades, this stunning palace museum houses some of the most exquisite artifacts in the country, dating back to the 14th and 15th centuries. Move on to Palazzo dei Diamanti, where you get to admire the eye-catching marble facades of another remarkable fruit of the renaissance.
Duration: 4 hours
Tucked in the beautiful confines of rustic Emilia-Region in Northeastern Italy, Raveena is a charming city and a popular travel destination known for its vibrant culture and captivating history, which is profoundly evident in its food and visible in its stunning architecture. Nesting two-hours away from the heart of Bologna, this captivating metropolis is home to some of Italy's most stunning and revered attractions, take for example, the artistic mosaics adorning most of its central buildings, such as Archiepiscopal Museum and Basilica di San Vitale, not to mention its other UNESCO sites that house a wealth of Byzantine and Roman history.
Duration: 5 hours
An unbeatable experience
Exploring Bologna can be fun. However, if you crave more and want to experience the rich culture and remarkable architecture of Italy then consider one or more of these quick trips from Bologna.
Frequently asked questions about day trips from Bologna
1. Which destinations near Bologna can be reached by train?
If you are considering going on a day trip from Bologna during your stay here and would like to visit a nearby destination by train, you can then visit the scenic Verona.
2. Which locations around Bologna are home to historical structures?
If you are a history buff and would like to visit some of the nearby places near Bologna that are home to historical structures, you can consider visiting Parma or San Marino.
Any must-sees we missed? Tell us about them in the comments section or write a post
here
to help out fellow travelers!
Disclosure: Trip101 selects the listings in our articles independently. Some of the listings in this article contain affiliate links.
Get Trip101 in your inbox
Unsubscribe in one click. See our Privacy Policy for more information on how we use your data