Spread along the Mississippi River and nestled between lakes Pontchartrain, Salvador, and Borgne, New Orleans is a colorful and lively city in Louisiana. The city is a potpourri of cultures that includes African, American, and French influences. Today, New Orleans is a vibrant city, known as home to the iconic Mardi Gras Festival, but also for its nightlife and live music. Neighborhoods in New Orleans, including the French Quarter and Garden District, are known for the role they play in the city's history and are the go-to places if you're looking to truly discover Louisiana's "Big Easy." Read on as we explore the best history tours in New Orleans, Louisiana.
This four-part tour of the most iconic regions in New Orleans has a duration of three hours and promises to take its guests to see the real "Big Easy." The tour consists of four parts, as it will take you through the French Quarter, City Park, the Garden District, and Metairie Cemetery. You'll learn about the French District's 300 years of history and see landmarks like the Ursuline Convent and Jackson Square, then head to Garden District, where you'll discover spectacular antebellum mansions that belong to Hollywood celebrities. In City Park, you'll admire the 800 years old Grand Oak, and in the Metairie Cemetery, you'll see million-dollar tombs belonging to some of the city's most prominent people.
NOLA's BIG 4 PRIVATE EXPERIENCE: French Quarter/Garden District/Cemetery/City Park

Duration: 2 hours
New Orleans' iconic French Quarter has plenty of stories to share, and this tour will give you just that – a peek into the city's history, from pirate prisons to Andrew Jackson's statue. Along the way, you'll see the St. Louis Cathedral and the French Market but also stop for a drink at one of the local bars, check out the oldest coffee house in the city, and listen to flooding stories while taking a stroll along the Mississippi River.
French Quarter History Unmasqued - Small Group History Tour

Duration: 2 hours
A must-see while in New Orleans, the Garden District has a relaxed atmosphere and boasts spectacular historic mansions with undeniable southern charm. The tour starts outside of Lafayette Cemetery, where you'll learn about different customs and burial traditions before continuing your way through the beautiful Garden District. Prepare to be charmed by antebellum architecture and stories galore.
Garden District Secrets and Scandals

Duration: 2 hours
Behind its antebellum-style buildings and picturesque streets, New Orleans has a history that's sprinkled with bloody crimes. Join this two-hour adults-only tour and delve into the city's murderous past. You'll get to listen to real stories of past crimes while strolling the centuries-old French Quarter streets. You'll also stop by Lalaurie Mansion and listen to torture stories from the 19th century.
New Orleans True Crime Experience

Duration: 2 hours
Join an adults-only tour that explores the darker side of New Orleans, with its stories of crime, Voodoo, and vampires. Meet the group at Armstrong Park and explore the French Quarter searching for vampire tales, haunted sites, and former crime scenes. You'll get to see where the Mad Madame Lalaurie lived, where Voodoo was practiced in New Orleans, and stop by the site of the first parish prison. Because the tour guide goes into detail in his stories, the tour is not suited for children.
Ghost and True Crime Walking Tour

Duration: 1.5 hours
This is not your usual tour experience, so if you're looking for a fun and humorous walk through the city's haunted past, this is for you. Learn about the history of New Orleans on a nighttime sightseeing tour that will take you through the French Quarter and let you in on all sorts of stories about Voodoo, vampires, serial killers. You'll also learn a bit of local history and culture on this tour. Halfway through the tour, you'll stop to get a drink in one of the local bars and get ready to call it a night at the Lalaurie Mansion, America's most iconic haunted house.
French Quarter History & Hauntings ♥

Duration: 2 hours
Here's an adults-only tour that's not for the faint-hearted. Get ready to delve into New Orleans' darker history and listen to stories about adultery, crime, and medical experiments while strolling the streets of the iconic French Quarter. The neighborhood is known for ghost legends associated with its bars and mansions. To pluck up your courage, you'll also stop at three bars along the way, where you'll be able to enjoy a drink or two.
Lewd Spirits Haunted Tour & Bar Stops

Duration: 2 hours
As strange as it may sound, much of the city's history lies in its cemeteries, including St. Roch Cemetery. This tour will take you to an off-the-beaten-path location that boasts a rich history and interesting funerary architecture. Visitors will learn about burial customs, explore the cemetery chapel, and discuss the history of the place.
Explore St. Roch Market and Cemetery

Duration: 2.5 hours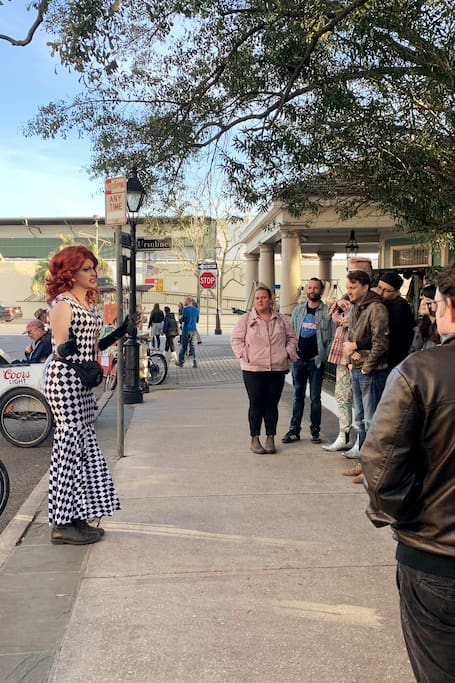 Throughout New Orleans' 300-year history, sexuality, drag queens, and performances have played a massive role in shaping its nightlife and history. This tour will take you on a journey from Storyville Madams to discovering the women that lived amazing lives and played a significant role in the city's history.
Drag Queen Tour of the French Quarter

Duration: 1.5 hours
No matter who you ask about the top things to see in New Orleans, the St. Louis Cemetery will be on their list. The iconic landmark can only be visited with a licensed guide, and it is home to some of the city's most prominent figures. The cemetery dates back to the late 1780s and hosts the tombs of some of the most famous residents the city has ever had. On tour, you'll also learn about burial traditions and customs in the area.
NOLA History at St. Louis Cemetery #1

Duration: 2 hours
New Orleans: A city of crime and ghost stories, centuries-old cemeteries, and rich history
When it comes to exploring New Orleans, there's so much more than meets the eye. The city boasts a vibrant nightlife and is known for its live music and antebellum architecture, but what's really impressive about it are the stories about ghosts, crime, adultery, and vampires. To delve into the city's spectacular history, check out the best history tours in New Orleans, Louisiana.
Disclosure: Trip101 selects the listings in our articles independently. Some of the listings in this article contain affiliate links.
Get Trip101 in your inbox
Unsubscribe in one click. See our privacy policy for more information on how we use your data