Dreamy and seductive, Paris leaves a long-lasting impression on any traveler who has strolled along Champs Elysees and climbed to the top of the Eiffel Tower. The City of Lights is packed with a multitude of sightseeing choices, and one place that tops every tourist's list is Louvre Museum. Incomparable and irresistible, Louvre Museum is a former historic palace that displays a mindblowing and enormous art collection with worldwide acclaim, from ancient Roman sculptures to Leonardo da Vinci's celebrated masterpiece, the Mona Lisa. This must-see tourist attraction can be overwhelming, so we've put together a guide to Louvre Museum, Paris.
Things to do / Highlights
See world-renowned art
The big three art pieces that get the most attention are the enigmatic Mona Lisa found in the Denon Wing in Room 711, the beautiful Venus de Milo found in the Sully Wing in Room 346, and the majestic Winged Victory statue perched on the Louvre's grand staircase found in the Denon Wing in Room 703.
Admire the French crown jewels
If you can't get enough bling then check out the dazzling French crown jewels located in the Department of Decorative Arts. You'll find an amazing selection of custom-made crowns adorned with precious jewels once worn by the likes of Louis the 15th.
Visit the apartments of Napoleon III
Your jaw will drop at the sight of these lavish and opulent residences occupied by the first president of France, Napoleon III. A sign of French aristocracy, these living quarters are replete with shimmering chandeliers, fabulous gilded molding, fine silk curtains, plush velvet furnishings, and more.
What to eat
Cafe Marly
Overlooking the bustling courtyard of the Louvre is the upscale eatery Cafe Marly. Nestled in the Richelieu Wing, this fine-dining restaurant offers yummy traditional French cuisine. Enjoy a hearty omelet with a glass of white wine while you watch the crowd.
Comptoir du Louvre
If you want a quick bite then head to Comptoir du Louvre. Located under the prominent Pyramid du Louvre (Glass Pyramid), this nosh-worthy spot provides simple sandwiches and to-die-for French pastries.
Things to buy
Librairie-Boutique du Musée du Louvre
The central place to shop for great souvenirs is Librairie-Boutique du Musée du Louvre. Much of the merchandise displayed here includes intriguing books and souvenirs reflective of what's showcased throughout the museum. You can easily find shimmering jewelry, thoughtful mementos, handsome casts, colorful prints, pretty stationery, or reproductions of works.
The Salon Denon
Situated on the first floor in the French paintings galleries and just a few steps from the Mona Lisa is the Salon Denon souvenir store. This tiny shop offers a large array of selected gifts related to the museum's world-class art collections.
Travelers tips
Free admission
Entry to the museum is free on the first Saturday of every month from 6 pm to 9:45 pm.
Visit at night
Nighttime can be the right time to see the Louvre as the throng of tourists and school groups are considerably less. It is also worth noting that on Wednesdays and Fridays the museum is open until 9:45 pm with a reduced admission price beginning at 6 pm!
Attire
Comprised of over 652,000 square feet (60,600 square meters), the Louvre is huge, so wearing comfy shoes is a no-brainer.
Wheelchair accessibility
A disability law in France was passed in 2005, and since then the museum has strived to accommodate wheelchair-bound guests. Wheelchairs are available at no charge to visitors with mobility issues, and accessibility maps and guides are provided. For more information, call +33 (0)1 40 20 59 90.
Devise a game plan
To ensure you leave satisfied, make a personal list of must-see galleries and art pieces before heading to the museum.
Bring provisions
You don't have to pack like you're scaling Mount Everest, but a bottle of water and a few protein bars can help your energy levels until you're able to dine on something more substantial.
Use the audio guide
Every exhibit sign is in French so unless you understand the language, enjoying the museum's 35,000 pieces of art with no explanation can be frustrating. Utilizing the museum's audio tour will make the visit infinitely more enjoyable. The audio guide is available on Nintendo 3DS XL. You can also rent the audio guide or download the application on your smartphone!
How to get there
Rent a car
If you plan to rent a vehicle and drive to the Louvre, then head to the following address: Rue de Rivoli, 75001 Paris, France.
Metro
For those wanting to travel Paris' excellent subway system, the Metro stop for the museum is at Louvre Rivoli - on line 1 and Palais-Royal-Musée du Louvre station - on lines 1 and 7.
Bus
If you want to see the sights above ground while on your way to the museum, then take the bus. The numbers 21, 24, 27, 39, 48, 68, 69, 72, 81, and 95 stop conveniently in front of the Louvre.
RER train
The efficient suburban commuter train servicing the city and its suburbs is the Réseau Express Régional - known as the RER. The nearest RER station to the museum is Chatelet Les Halles on line RER A.
Taxi
The advantage of taxis versus public transportation in the city is that the service runs 24 hours a day. Be aware that when you call for a taxi, the meter begins running when the driver heads to your pick-up spot, not after you get in the vehicle. And you must pay in cash.
Uber
App-savvy travelers can opt to use Uber to book a ride.
Parking information
If you need parking, the most convenient is the underground car park next to the museum, at 1 Avenue du Général Lemonnier 75001 Paris. This garage is open every day from 7 am to 11 pm and costs 9 USD for two hours.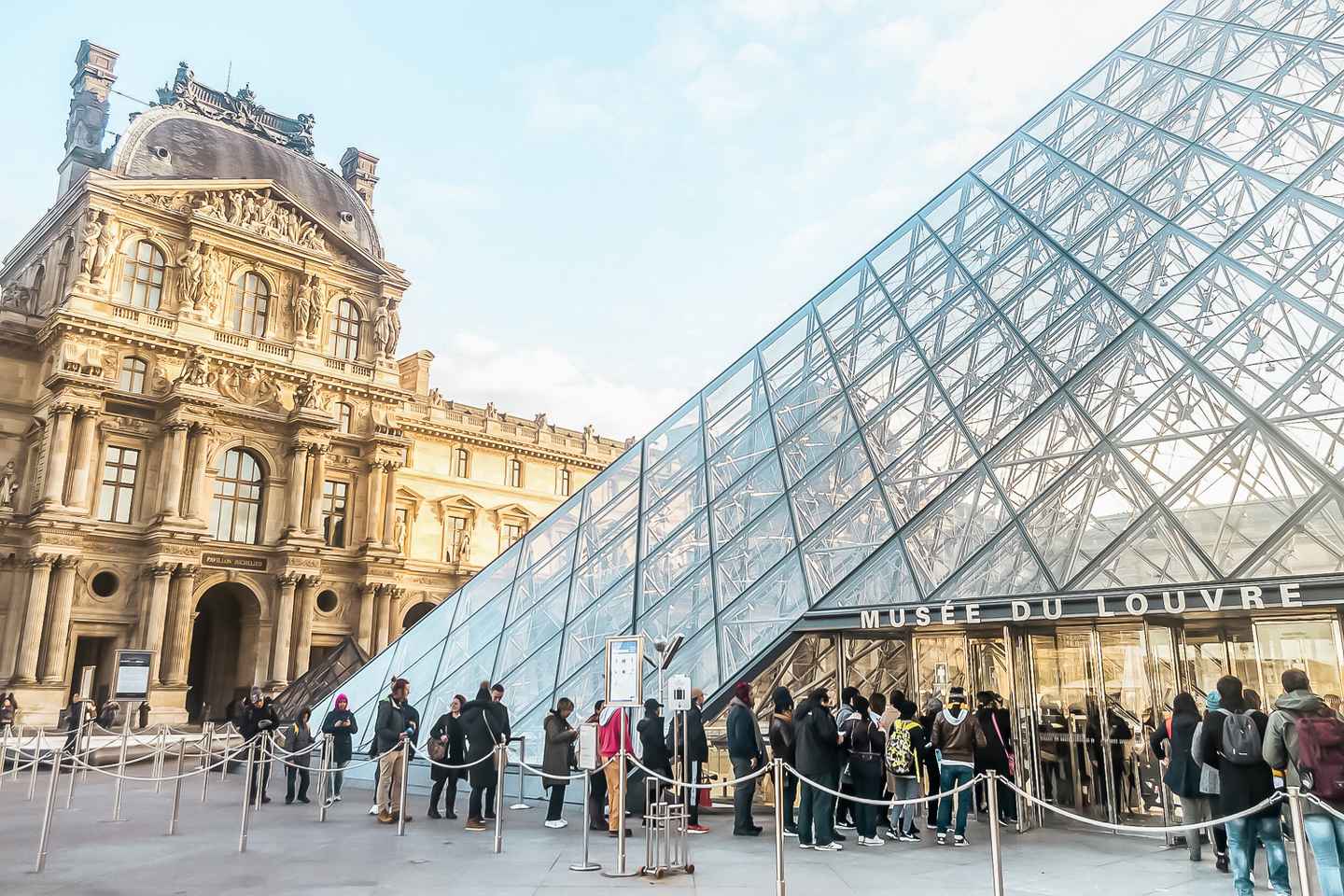 Visitors to the museum can book tickets online at a third-party website or the official ticketing website. No matter what time of the year, it is always recommended to obtain your tickets in advance.
Paris: Louvre Museum Timed-Entrance Ticket
Louvre Museum information
Louvre Museum

Address: Rue de Rivoli, 75001 Paris, France

Opening hours: Sat - Mon, Thu: 9am - 6pm; Wed & Fri: 9am - 9:45pm (closed on Tue)

Cost: 17 - 19 USD

Official website: Louvre Museum

Department of tourism: Paris
Skip-the-Line Louvre Museum Private Guided Tour

Duration: 1 hour 30 minutes
Disclosure: Trip101 selects the listings in our articles independently. Some of the listings in this article contain affiliate links.
Get Trip101 in your inbox
Unsubscribe in one click. See our privacy policy for more information on how we use your data