Located in Western Europe, France is known for its picturesque Mediterranean beaches, enchanting medieval cities, and charming alpine villages. And, the first thing that comes into mind when you mentioned the name of this country is Paris, its capital, which is famous for the Louvre Museum and the iconic Eiffel Tower. But for the more adventurous people, France is where you'll find the Mont Blanc, the highest mountain in the French Alps, which stands at 4,808 m (15,774 ft) above sea level. Another fact about this mountain is that it said to be the father of modern mountaineering. Additionally, because of its location, it is both owned by France and Italy. Its summit is in France, but its secondary summit, which is much lower, is located in Italy and is named Monte Bianco di Courmayeur. To know more about this exciting attraction, here's our guide to Mont Blanc, France.
1. Things to do
Mont Blanc offers a wide array of activities for every kind of traveler, even for less active people, and most especially for adrenaline junkies.
Climb the summit
Being the highest mountain in France and a snowy one, climbing the summit is no easy feat. But with an experienced guide and a fit body, you'll surely enjoy this activity. The mountain has many climbing trails that you can choose from depending on your preference and your ability. It also comes with a refuge where you can rest and stay overnight. Once you're in the summit, you'll not regret it, for the view up there is spectacular and incomparable.
Ride a cable car
For people who don't want to hike or want to shorten their hiking trips, a cable car ride is perfect for you. Not known to everyone, Mont Blanc has a cable car system around it, and the most popular of them all is the cable car of Aiguille du Midi. It is more or less a 20-minute ride from Chamonix up to an altitude of 3,842 m (12604 ft). During the ride, you'll see magnificent views of Mont Blanc as well as the Swiss, French, and Italian Alps. Also, the ride has two stops, the first is on the Plan de l'Aiguille, which is a well-known spot for day hikes, and the second is Les Pelerins glacier and dine at the Le 3842 Restaurant.
Ski
After climbing the summit, you can ski your way down to the mountain via these three routes, the Corridor Route, the Three Mont Blanc - Traverse, or the Descent of the North Face. The best time to ski here is from April to the beginning of July, when the weather is good. Also, this snow activity is not for everybody, it is for expert skiers, for some glacier crevasses here can go up to more than 80 m (262 ft) deep.
Stay overnight in a mountain refuge
One of the most memorable things you can do here is to stay in a mountain refuge. The highlight of your stay will be the wondrous view you'll have here, most especially at night, when the stars are all twinkling to feed your eyes. Most of the accommodations here are owned by Club Alpin Francais. To name a few, you can stay at Refuge du Goûter, Refuge Elena, and Refuge Elena.
2. What to eat
Le 3842
Dine at the highest food establishment in Europe, which is 3,842 m (12605 ft) above sea level, and poised on the side of Aiguille du Midi, Le 3842 restaurant is only accessible through a cable car ride. It is an excellent French dining option that serves dishes like Savoie rump steak, cheese spread, bread, cured meats, and more. Aside from the food, the scenic views from the top will make your experience one for the books.
3. Travelers tips
Be physically fit
Since most of the activities here require physical effort, one should be fit to do most of it, like skiing, climbing the summit, hiking the massif, and more. Also, you should hire an expert guide from the International Mountain Leader, or IML.
Make sure to wear the right clothes and gear
No matter when you visit, you should have your waterproof layers on. Also, you should make sure to wear sturdy boots because hiking here is far from strolling in a mall.
Best time
If you're planning to climb the summit or hike the many trails, make sure to visit from mid-June until mid-September. And also, make sure to often check the weather before doing any activity.
You might be interested in these Airbnbs!
4. How to get there
By air
If you're coming from other countries, you can book a flight to London and book another to either Geneva Airport or Haute-Savoie Mont Blanc Airport. And from there, it is only a one-hour drive to Mont Blanc.
By train
You can choose to ride a train from Paris or Geneva. While traveling from Geneva is prompter, it is quite trickier for it has multiple connecting routes, which is usually in Martigny and Vallorcine. As for Paris, the train ride will take about five to six hours, and you'll have to transfer to a regional train as you get nearer to Chamonix.
By bus
In case you decided to ride a bus, most major cities in Europe have a bus going to Chamonix as well as other nearby regions. The one in Geneva is the most convenient of them all in terms of selections and connections.
By car
Renting a car is more advisable than riding a train for you'll also be transporting your sports gear. You'll only have one problem, parking. So make sure to arrange this with your tour agency.
5. How to book tickets
If you don't have anything arranged before traveling to Mont Blanc, you can always get a guide and purchase a ticket on site. But if you're the kind of person who wants everything planned before going, then check out the Mont Blanc official online ticketing link
6. Mont Blanc information
Mont Blanc

Address: Aosta Valley, Italy; Haute-Savoie, France

Department of Tourism: Visit France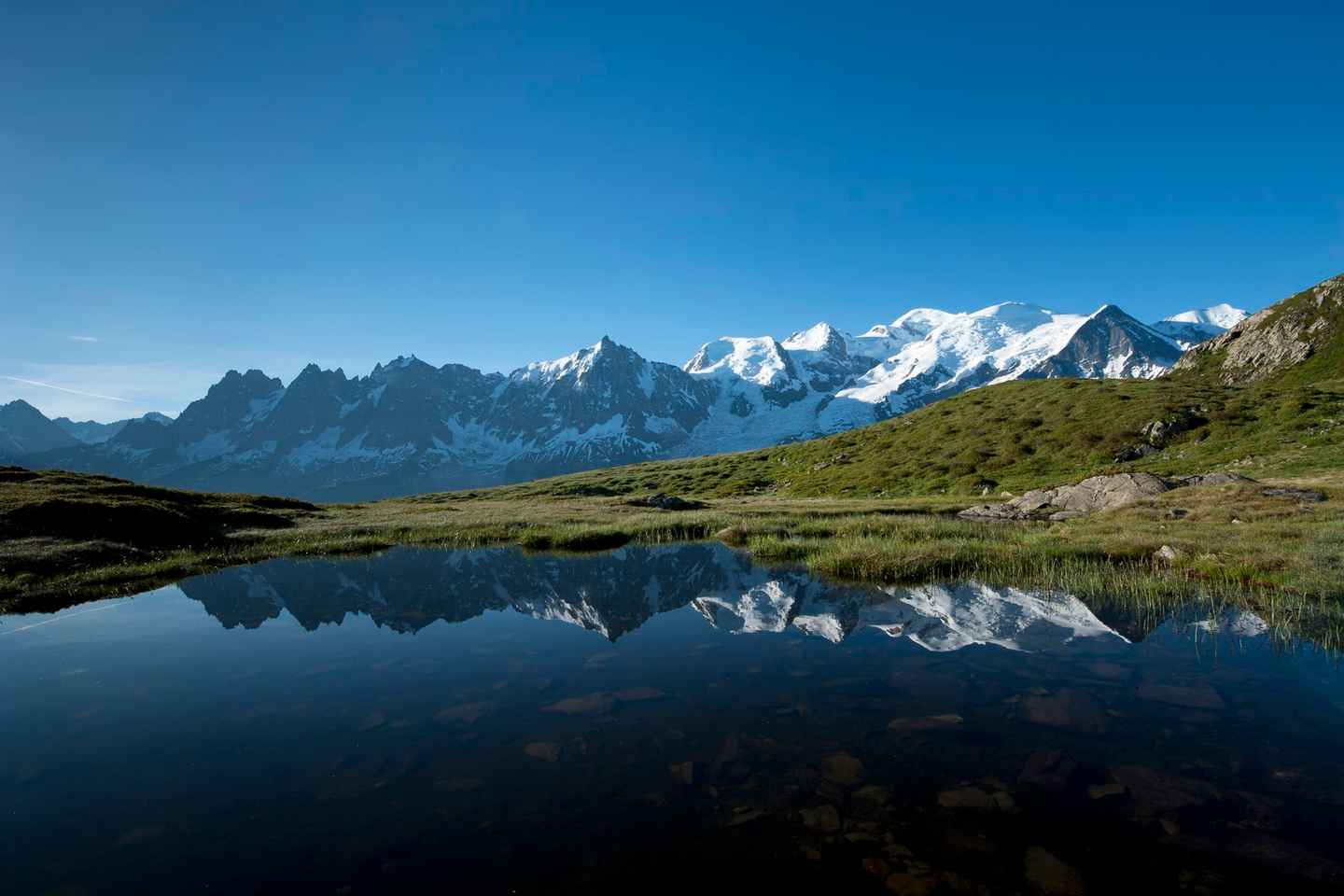 Chamonix: Hike with Views of Mont Blanc

Duration: 1 day
Disclosure: Trip101 selects the listings in our articles independently. Some of the listings in this article contain affiliate links.
Get Trip101 in your inbox
Unsubscribe in one click. See our privacy policy for more information on how we use your data