Los Angeles is an expansive metropolis packed with so much to see and do. One of the most visited places in the world, this popular city displays the ultimate in laid-back Southern California lifestyles. The city of Los Angeles is awash with prominent attractions and at the center of it all is the glamorous Hollywood film and TV industry. With so many high-profile glitzy diversions, it's easy to get distracted from the more down-to-earth adventures that add to this town's flair. If you want to see another side to this city then you must read on to discover some of the top outdoor activities in Los Angeles, California.
Dive deep into LA's downtown area and get some great exercise on this bike tour. From the 1940s architectural beauty of Union Station to the Mexican marketplace at Olvera Street, this biking adventure is ideal for anyone who wants an intimate peek at some of Los Angeles' most endearing landmarks and tourist spots. See bygone-era vaudeville theaters and clandestine speakeasies of the past transformed into modern-day concert venues and tasty eateries. Participants are equipped with a snazzy eight-speed Pure City Bike along with a handy biking helmet for safety.
Historic Core-Downtown LA by bike

Duration: 2.5 hours
If you want a close-up view of the iconic Hollywood Sign - which includes a nice hike - this is a great tour. The host throws in lots of funny jokes along the way to make this a wonderful lighthearted way to spend an afternoon. The host is a veteran of this tour and scopes out the best spots to get Instagram-worthy snapshots of sweeping panoramic views, the pretty LA skyline, and of course, the Hollywood Sign. Participants are taken care of with thirst-quenching cold bottled water and energy-sustaining snacks, such as fresh fruit and crunchy granola bars.
The Hollywood Sign Hike & COMEDY Tour

Duration: 2.5 hours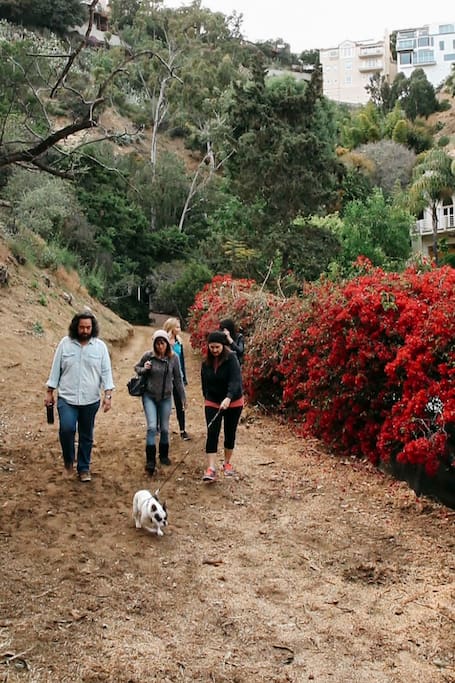 Any fan of music from the swinging 1960s and a bit beyond, is sure to love this behind-the-scenes walking tour of musical artists' former homes. Located in splendid Laurel Canyon - a mountainous area in the famed Hollywood Hills - participants of this tour can view the previous residence of Beatles member John Lennon, Eagles frontman Genn Frey, Slash from Guns N' Roses, and more. For diehard Doors fans, you'll want to check out Jim Morrison's Love Street-inspired abode! This is a nifty excursion that also showcases a trek to the top of the wondrous Hollywood Hills where you will snap awesome panoramic shots of Los Angeles.
Laurel Canyon Hippie Hiking Tour

Duration: 2 hours
Los Angeles may be a sprawling urban jungle but it also offers amazing rural and rustic settings. This exciting adventure takes place on a fabulous 1000-acre (404.6-hectares) ranch in the beautiful Santa Monica Mountains. The host is a veteran camping guide who'll teach you every trick to a successful camping expedition, from how to cook a tasty meal using a handy backpacking stove to assembling the perfect tent to keep you safe from the elements. If you've always wanted to camp but are unsure of succeeding, this adventure will give you confidence like a professional camper.
Intro to Backcountry Camping

Duration: 2 days
Whether you want to protect yourself or simply learn a new skill, this is a rewarding 90-minute boxing experience that you won't forget. Set against the backdrop of the foothills of Hollywood in lovely Griffith Park, this boxing session is the real deal; it's only focused on proper boxing techniques. You'll have your hands wrapped and gloved like you're stepping into an actual ring. The accomplished boxing coach shows you how to spar like a professional, demonstrating all the sick moves. A quick warm-up hike before class begins includes fantastic views of the Hollywood Sign.
The Hollywood Boxing Experience

Duration: 1.5 hours
It wouldn't be California if this encounter wasn't about a holistic approach to well being. Focused on personal health and wellness, this one-hour fitness session is a great way to assess your body's condition and learn more efficient exercise techniques and methods. The host is a former boxer who now strives to teach beyond lifting weights and sparring with a punching bag. Top-grade vibrating foam rollers are used to prep your fascia tissues and you'll achieve a perfect balance on an Indo board. A more harmonious health regime is available in this unique exercise experience.
Holistic Fitness in Venice Garden

Duration: 1 hour
Enjoy a nice hike and be rewarded with incredible views of the Los Angeles skyline when you participate in this wonderful tour. This first-rate hike to the top of the city will give you a great bird's-eye view of the City of Angels from no less than two phenomenal viewpoints. Guests can choose either a morning, afternoon, or evening excursion but the evening option is the best because you get the bonus of admiring a beautiful Southern California sunset. The host takes professional high-grade photos of your journey and sends them via Google Drive so that you have pleasant reminders of your adventure.
Hike to the top of LA with Photographs

Duration: 3 hours
Accommodating up to five persons in one session, this is a rare opportunity to learn the ins and outs of "throwing pots". This two-hour class spends the first half with plenty of instructions to get you started. The second half offers a relaxed atmosphere to experiment and create your masterpiece. Guests are supplied with a free beverage from sudsy craft beer to warm tea, and each person can take a complimentary pottery piece as a memento. Any additional pottery items that you don't want to part with cost 10 USD a piece, and you must wait four to eight weeks for the pottery to be efficiently fired and glazed.
Pottery Wheel Lessons in Outdoor Studio

Duration: 2 hours
If you're looking for LGBTQ friendly surfing instruction, then you must check out this casual event. The host is an award-winning filmmaker who created the indie documentary 'OUT in the Line-Up' about surf culture among the gay community. Surfing since he was a teenager, this host is eager to show newbie surfers how to successfully conquer the perfect wave and why Venice Beach is considered one of the world's best surfing areas. Instruction takes place in a serene and secluded break along the shoreline, so there's no need for novices to feel anxious. Participants need to rent a wetsuit at the nearby surf shop.
Surfing OUT in the lineup

Duration: 2 hours
Known for its far-reaching bounty of fruit trees, this joyous harvesting tour takes place in one of San Pedro's lovely residential neighborhoods. Participants have access to a wide range of ripe delicious fruits to snatch off the trees, from tantalizing citrus and tropical fruits to hearty avocados and persimmons. The sweet treat at the completion of this day is a batch of cool lemonade made with various seasonal fruits gathered that day. Everyone is welcome to partake of this delightful activity.
Family Friendly Fruit Pick San Pedro

Duration: 2 hours
Los Angeles' outdoor fun
Los Angeles is a town filled with outdoor splendor. Locals are busy surfing the Pacific Ocean waves, strapping on hiking boots to climb the nearest hilly terrain, and enjoying backcountry camping in small woodsy enclaves. If you want to join them then choose a few of these choice outdoor activities and create lasting memories of your time in this mesmerizing city.
Disclosure: Trip101 selects the listings in our articles independently. Some of the listings in this article contain affiliate links.
Get Trip101 in your inbox
Unsubscribe in one click. See our privacy policy for more information on how we use your data