We are approaching the end of the first quarter of 2020 and we at Trip101 hear you: a holiday is in order! Well, who are we kidding, a holiday is always in order. In March, most of the world will be celebrating spring and this romantic season is one of the best times to visit Europe. The weather is mild and flowers are blooming everywhere, making most of Europe extremely photogenic. March in Europe is also an important season for several cultures as it is a time to celebrate some uniquely European festivals. If you are keen to immerse yourself in the culture of Europe and truly live a slice of its life, follow us now to discover the best places to visit in Europe in March.
Valencia, Spain is known for Las Fallas de Valencia, a festival held from 15th to 19th March each year that celebrates the arrival of spring. The five-day festivities are commemorated by a parade of ornately crafted figures or ninots, which are hand-crafted by Valencian carpenters. Festival-goers dressed in beautiful 18th-century costumes hoist these colourfully made figures high in the air as the parade marches through the streets of Valencia. At the end of the parade, these figures are burnt and spring is officially welcomed. The Las Fallas de Valencia is a cheerful riot of sights, sounds and smells as live bands, fire shows and food vendors all clamour for your attention. The Old Town, where the Las Fallas de Valencia is held, is also a great way for visitors to explore authentic Valencian customs that have been in place for centuries.
Fallas tour

Duration: 2 hours 30 minutes
2. Moldova, Romania (Mărțișor or 'Little March')

Mărțișor or 'Little March' is a traditional celebration to welcome spring that takes place in Romania on 1st March. The festival is dedicated to the God of War, Mars, who was surprisingly also known as the God of Agriculture. Mărțișor signifies rebirth and nature and Romanians commemorate this event by stringing a nickel on a red and white string that is worn till the trees start to bloom, around the end of March. Visitors to Romania can look forward to buying and gifting little talismans of hand-dyed, hand-combed and hand-woven wool strings to participate in this ancient ritual.
3. Mali Ston, Croatia (Feast of St. Joseph)

The Feast of St. Joseph in Mali Ston, Croatia is also celebrated and known as the Oyster Festival. The Feast of St. Joseph falls around the same time as the start of the oyster season on 19th March, which is also Lent in the Roman Catholic calendar. Traditionally, Catholics in Romania would abstain from eating meat during Lent and this eventually led to oysters being prepared in great quantities for the dining table. The oysters of Mali Ston are enjoyed in every way possible, raw with lemon, fried, baked and even roasted! This great feast of oysters is traditionally accompanied by copious amounts of the local Croatian wine plus light-hearted singing of 'klapa', a traditional style of choir music.
4. Óbidos, Portugal (International Chocolate Festival)
Europe is known for its master chocolate craftsmen and Óbidos in Portugal is no exception. Come spring, the medieval town of Óbidos is festooned with bright banners announcing the gorgeous displays of chocolates, cakes, sweets and desserts created by some of the most renowned chocolatiers in Europe. Besides marvelling at the intricate sculptures of chocolate that are crafted for display and chocolate competitions, visitors can get a sugar high by sampling all the varieties of sweets available here. There are also many fringe activities for festival-goers. Children can try their hand at making their own chocolates while adults are welcome to sign up for culinary courses involving chocolates taught by professional pastry chefs.
5. Sofia, Bulgaria (Chestita Baba Marta)

Chestita Baba Marta or Grandma March Day is a Bulgarian traditional celebration that heralds the coming of spring. During this season, visitors will notice that red and white colours prominently featured everywhere in the country, especially in Sofia. From red and white attire, decorations around trees, etc., these symbolic colours represent life (red) and newness (white) that are the dominant themes of spring. You will also see many roadside vendors weaving cheerful red and white string bracelets called martenitsi. These martenitsi are considered to be good luck charms for spring and can be bought as gifts. Bulgarian women wear their martenitsi according to their marital status: wearing a martenitsa on the left arm means you are unmarried, while married women wear their martenitsa on the right arm.
6. Florence, Italy (Taste of Florence Food Festival)
Held from 7th to 9th March in Florence, Italy, the Taste of Florence Food Festival is a highly-anticipated event for Italians and connoisseurs of great food. This large-scale food festival features gourmet food by exhibitors from all over the country. Besides traditional food with a long history of master craftsmanship, the Taste of Florence Food Festival also allocates space for the latest advancements in food and food sustainability. This event is not just a gastronomic food festival that caters to your palette but also one that looks at how food and eating affect our lives, psyches and art. In other words, the Taste of Florence Food Festival is a veritable celebration of all the finest things in life!
7. Munich, Germany (Starkbierzeit or 'Munich Strong Beer Festival')
While most visitors to Germany would have heard of Oktoberfest, not many would know about Starkbierzeit, which is also known as the 'Munich Strong Beer Festival.' If the name has not clued you in yet, this beer festival features beers that have twice the strength of those served at Oktoberfest and with just as much boisterous fun! In fact, the Starkbierzeit is a beer festival that is even older than Oktoberfest, started by Munich's Paulaner monks in the 17th-century. This celebration of Bavarian culture is also an excuse to welcome spring in Germany with good, strong, full-bodied beers that are brewed at the best breweries in Munich. Down pints of strong beer or 'liquid bread' as the locals call it, gorge on tasty German food and sing along to hearty Bavarian drinking songs that your new drinking buddies will generously teach you!
8. Barcelona, Spain (Barcelona Beer Festival)
Every March from the 13th to 15th, Barcelona Beer Festival throws open its doors to beer lovers at La Farga de L'Hospitalet. This mega celebration of craft beer showcases over 650 beers in the latest and whackiest flavours. Beer enthusiasts and craft beer brewers gather at this festival to share in their love of beer and toast to everything beer-related. Novice beer drinkers, do not fear! This inclusive beer festival wants you to learn more about beers and enjoy the journey. Yellow-vested 'Beer Informers', experts on beers showcased at the festival, will be on hand to recommend something easy for you to knock back. An exciting part of the festival is also the Barcelona Beer Challenge, which is the largest beer competition in the world and recognises the best beers from the previous year.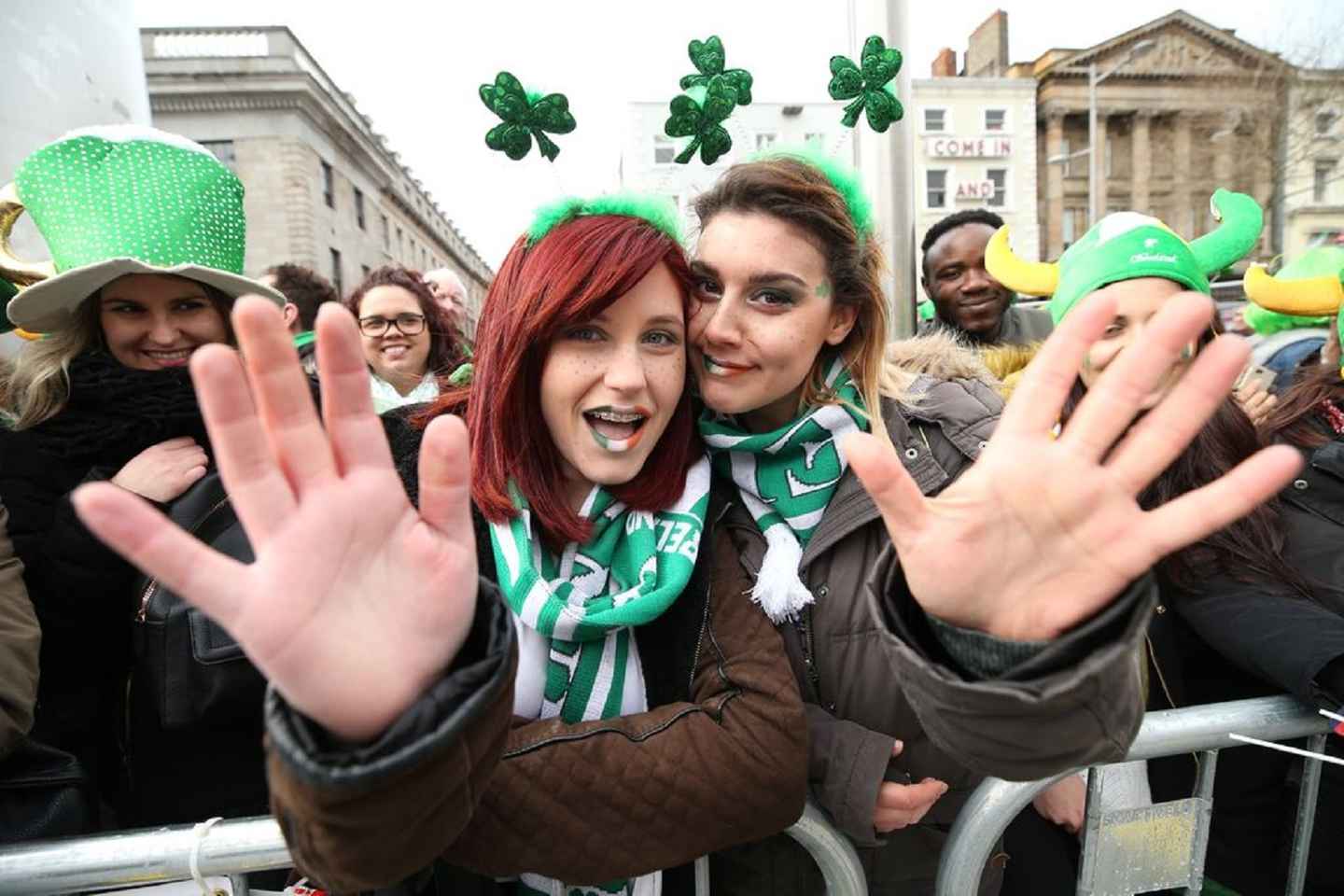 The St. Patrick's Festival Parade, held on on 17th March each year, is a fantastic way for visitors to learn more about Dublin, Ireland. Dubbed the Emerald Island, Ireland is rich in history and heritage. St. Patrick's Festival Parade is one of the world's biggest cultural celebrations. With an expected turnout of a quarter-million visitors in 2020, the atmosphere at the parade will be electric! Besides viewing the impressive parade go by, there are plenty of activities for visitors as well. From trying out the Ceili dance (traditional Irish folk-dance) to mingling with the crowd and celebrating with a mug of famous Irish Guinness, there is something for everyone!
Dublin: St. Patrick's Day 4-Day Tour

Duration: 4 day
European adventures in March
We hope that our list of the best places to visit in Europe in March has provided you with some travel inspiration for your upcoming vacation. Besides seeing all the famous sights of a destination, it can be fun sometimes to plan your trip around festivals that are unique to the region and season. Arm yourself with our handy list and have an awesome time in Europe!
Disclosure: Trip101 selects the listings in our articles independently. Some of the listings in this article contain affiliate links.
Get Trip101 in your inbox
Unsubscribe in one click. See our privacy policy for more information on how we use your data