Are you planning a trip to New Zealand in the near future? Are you searching for a fun and exciting activity for the whole family? Or are you already living in New Zealand and just looking for a way to spice up your weekend? Well, rafting is an amazing way to incorporate the outdoors with an exhilarating adventure. Queenstown has some of the best places for rafting and the memories you make will last you a lifetime! Do not miss out on this opportunity for a thrill-seeking adventure. Keep reading to find out about the top places to go rafting in Queenstown, New Zealand.
Do you crave adventure? If the answer is yes, this Kawarau River rafting tour from Queenstown is the perfect activity for you and your group of friends and family. This half-day tour of the Kawarau River takes you through grade II and III rapids with an experienced tour guide. Some parts of the river will even give you the opportunity to swim and jump off a cliff.
All necessary equipment is provided for this tour, including hot showers at the end. This tour is even safe for people who are not strong swimmers. So, grab your tickets now if you want to have a fun time.
This Shotover River rafting trip from Queenstown is an exciting half-day tour of the Shotover River. Popular spots on the tour include the Oxenbridge Tunnel and the Cascade Rapid.
A tour guide and all equipment necessary for the trip are included with the package. Showers are available after the tour to give guests a chance to warm up and wind down. Tour opportunities are available either in the morning or in the afternoon. Don't waste another minute! Grab a group of your closest friends and book a tour today!
Duration: 5 hours
Grab a group of your adventure-loving comrades and take a tour on this King River whitewater rafting journey from Queenstown. Enjoy beautiful views of the rainforest and nature around you as you zoom down the King River. Old mining relics are also located along the river and can be seen from the raft.
The tour comes complete with hot showers and lunch at the end! Parents are urged to use caution when allowing children under 12 years of age to participate in this activity. But your tour guide will ensure a safe and exciting trip for everyone involved!
Duration: 9 hours
For thrill-seekers and water lovers, this crazy adventure will leave your heart pounding and ready for more! This 4.5-hour tour starts with a drive to Skippers Canyon. Experienced and knowledgeable guides will make sure you learn everything there is to know about the mining history in the canyon. Next, you'll jump into the Shotover River and enjoy Class I and II rapids.
After the tour, feel free to swim in the river or even jump off of the many surrounding rocks. Above all, this tour will provide a fun and beautiful element to your vacation.
Duration: 5 hours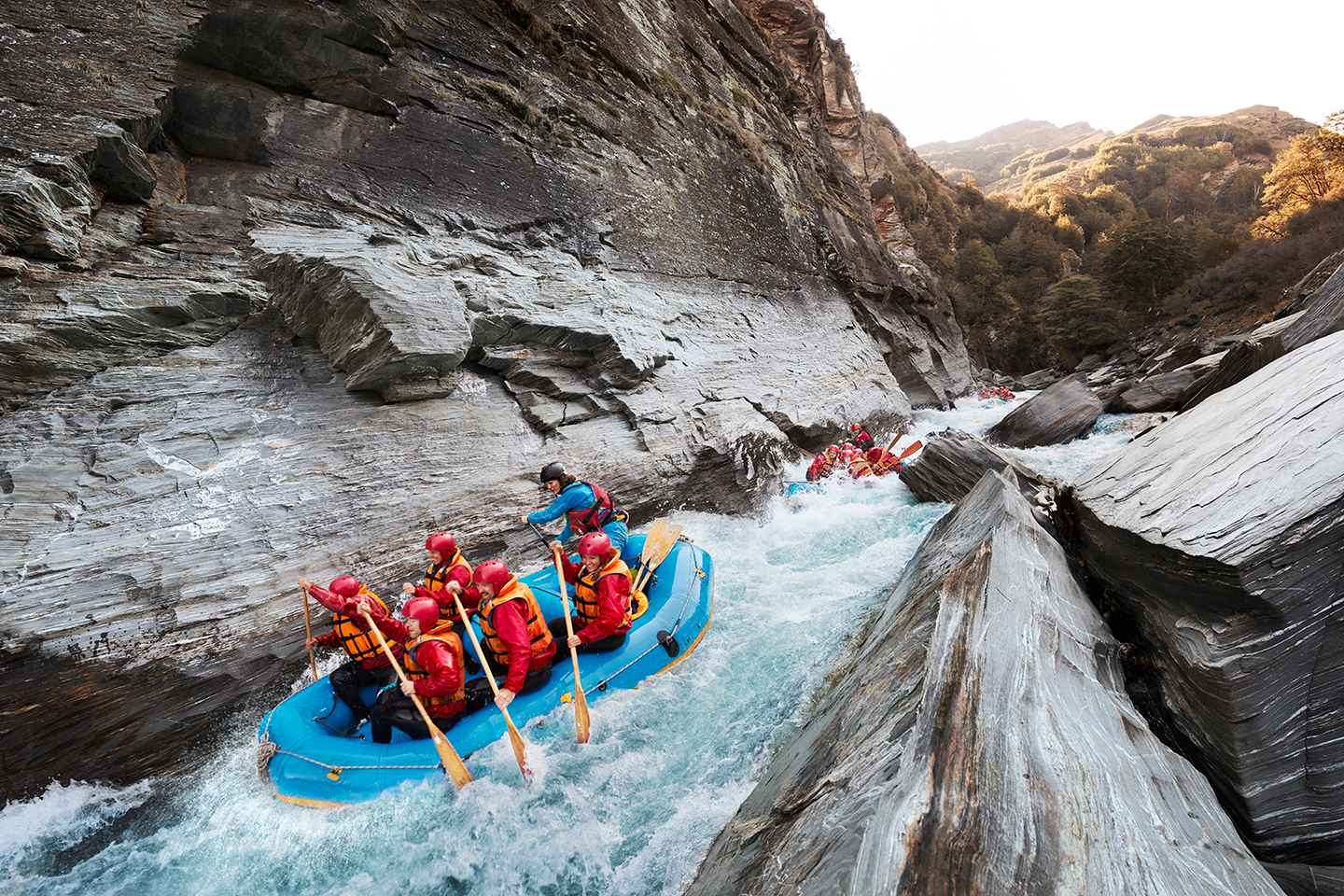 Have the experience of a lifetime on this 4.5-hour tour of the Shotover River, one of the notable rivers in New Zealand. The tour goes through Skippers Canyon and even goes through the Oxenbridge Tunnel. Enjoy rafting over calm waters and navigating the rapids. As an added bonus, guests have the option to choose a helicopter ride as part of the tour.
All equipment is provided and hot showers are available after the tour. Children above the age of 13 are welcome. Grab a group of family or friends and enjoy the serenity of New Zealand's countryside and the exhilaration of the rapids today!
Duration: 4.5 hour
For outdoor enthusiasts and thrill-seekers alike, taking a Kawarau River rafting and jet boat tour could be one of the most memorable experiences of your vacation. This tour offers a rafting or jet boat tour down the Kawarau River with an experienced guide. This river actually featured in 'The Lord of the Rings'!
No experience is needed for this tour and any level of fitness is welcome. Wetsuits and all other equipment needed for the adventure is provided. Showers are also available at the end of the tour. If you must cancel the tour, you will receive a full refund if it is done within 24 hours of the tour. However, the views are beautiful, so you won't want to miss out on this opportunity.
Experience the thrill of the whitewater rapids on the Shotover River. Take this exciting tour that travels through Skippers Canyon and enjoy the beautiful scenery. While on the raft, you can expect a fast pace, full of bumps and drops. An experienced guide will navigate you safely through the river.
All equipment is provided for this half-day tour and a shuttle bus is provided from Queenstown. Guests even can choose helicopter transfer! Hot showers are available after your exhilarating adventure!
This incredible tour begins with a helicopter ride over the river and rapids you will be navigating. The entire helicopter ride will last around 7 minutes. At the start of the rafting tour, you can expect peaceful waters, before getting into the rapids.
All equipment is provided by the tour company and it is recommended for travelers to have a moderate fitness level for the tour. Travelers can sign up for this tour in the summer or winter. Don't miss out on this exciting helicopter and rafting adventure.
This tour of the Kawarau and Shotover rivers is perfect for the entire family, even kids 4 years old and up! Tours are conducted in either a 3-person canoe or a 12-person-raft. Guests also have the opportunity to add a jet boat ride to their tour. This river adventure is perfect for families because the tour is held on quiet parts of the river, so only relaxed paddling is necessary. Anyone looking to really enjoy the quiet and beauty of nature will thrive on this tour.
Families can choose to book a tour either in the morning or in the afternoon. No experience is needed and all equipment is provided on-site. The end of the tour also includes a transfer back to Queenstown. If whitewater rapids seem like too much of an adventure, then this half-day family rafting tour on the Kawarau River is the right choice for you!
This triple threat tour includes jet boating, whitewater rafting, and a helicopter ride. This Queenstown Triple Challenge should last around 4 and a half hours. It begins with a jet boat ride down the Shotover River, then transitions to a helicopter tour over Skippers Canyon. Finally, end the tour by navigating through the whitewater rapids of Deep Creek.
All equipment necessary for this tour is provided and hot showers are available at the end. When braving the rapids, the level of difficulty changes with the various levels of the river, but an experienced tour guide will make sure that everything is safe and ready to go!
Which rafting tour will you choose?
New Zealand is a country that is filled with beautiful landscapes and rivers that are perfect for rafting. If you live in Queenstown or are planning a trip soon, consider adding some whitewater rafting to your vacation plan! Whether you want an exhilarating adventure or a serene activity, Queenstown has it all. So, which tour will you take?
Disclosure: Trip101 selects the listings in our articles independently. Some of the listings in this article contain affiliate links.
Get Trip101 in your inbox
Unsubscribe in one click. See our Privacy Policy for more information on how we use your data