Known to the locals as "Krasnaya Ploshad", Red Square is a historic city center and is the heart and soul of Russia. It is the most popular landmark of Moscow and the whole of Russia. Almost all official ceremonies and parades in the city are held at this wonderful location. It is also surrounded by a lot of noteworthy landmarks, and the world-famous department store, GUM. Whether its daytime or night, a visit to Red Square is surely worth it. If you are planning to visit Moscow and its most famous landmark, here is a guide to Red Square.
Things to do / highlights
See and explore the Kremlin
The Kremlin in Red Square is a noteworthy medieval fortress, a UNESCO World Heritage Site, and the official residence of the Russian President. It is also home to the country's main museum, royal churches, Kremlin Armory Museum, and the Diamond Fund. To explore the Kremlin, it is recommended to join a tour and make the most out of your visit.
Shop at GUM
GUM is the main department store and is known as the State Department Store. It is a 240-meter (787.40-feet) long shopping mall that is the most important and luxurious in the whole of Russia. It is also known for its very unique facade and architecture. It houses the most upscale and world-famous brands and has a very elegant and classy feel inside that beats most other popular malls.
What to eat
Lepim i Varim
Dumplings are really popular across Eastern Europe. Russia has its own take on dumplings which is called the Pelmeni. It is known for its semi-circular shape and thin dough. It is then stuffed with minced meat, onions, and herbs and is served with melted butter, sour cream, tomato sauce, or vinegar. Lepim i Varim is committed "to cook the best dumplings on Earth", so you might want to try their Pelmeni.
Grand Cafe-Dr. Zhivago
Borshch Moskovsky or the Moscow-style Borscht is a sour soup that is popular among the Slavs and the whole of Eastern Europe. If you are in Moscow, make sure to try the best Borshch Moskovsky from Grand-Cafe Dr. Zhivago, where they add beef, ham and Vienna sausages to their soups.
Things to buy
Matryoshka
The Matryoshka dolls or the Russian nesting dolls are probably the most famous souvenir that you can buy from Moscow. They are basically wooden dolls with small-sized dolls placed one inside the other. Known to be the best symbol of Russian art and culture, you should not miss buying this unique Russian souvenir.
Fur
With the coldness of the weather in Russia, especially in the extreme northern parts like Siberia, it is important for one to have some heating clothing like furs. While these furs can be quite costly, especially when it is made from the most authentic fur of an animal, having a fur from Moscow is very important before you leave the city.
Travelers tips
Get a local SIM card
Having a local SIM card is a very step to take as soon as you step into Moscow. You will surely need the help of the internet, especially when exploring the city and getting to Red Square, as the phone plan that comes with you won't suffice.
Always use apps when navigating
As soon as you get a local SIM and a data plan, make sure that you use all of the essential apps as you transact and navigate through the city. Apple Pay and the same technologies work almost everywhere in Russia. Uber also works, and so does other ride-hailing apps like Gett and Yandex Taxi. In fact, it is recommended not to bring a lot of cash with you since your cards and even just your phone will work.
How to get there
Yandex Taxi, Uber, and Gett
The most convenient way to reach Red Square is by using ride-hailing apps like Yandex Taxi, Uber, and Gett. This way, you don't have to struggle for a safe ride to the attraction. Just a few taps and you are ready to go.
Metro
Moscow is also home to a very efficient metro system. To get to the Red Square, you can ride a train from the "Ploschad Revolutsii", "Okhotny Ryad", "Teatralnaya", "Kitay-Gorod" and "Biblioteka Imeni Lenina" metro stations.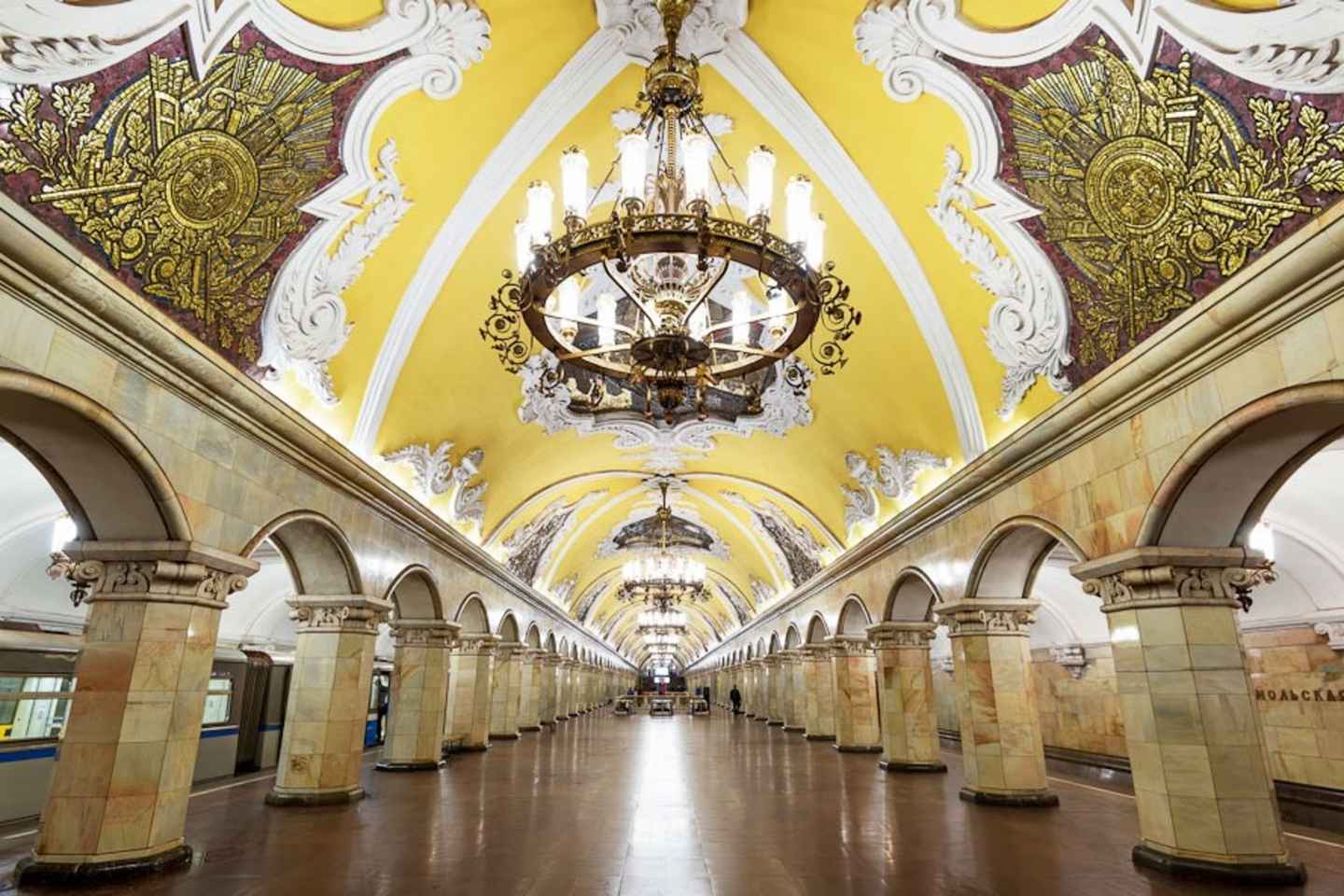 Get to see, explore and know more about Red Square by joining this small tour around the attraction. Learn more about the past of this central square that is the heart of all the major roads and the most important landmarks in the city. Get to see St. Basil's Cathedral, the Kremlin, GUM mall, Kazan Cathedral, Lenin's Mausoleum, Alexander Garden, and so much more as you go on this tour.
Moscow: Metro and Red Square Small Group Tour

Duration: 1.5 hour
Disclosure: Trip101 selects the listings in our articles independently. Some of the listings in this article contain affiliate links.
Get Trip101 in your inbox
Unsubscribe in one click. See our privacy policy for more information on how we use your data