San Pedro de Atacama is one of Chile's most popular tourist destinations, set in the heart of the country's majestic scenery. It's part of the 600-kilometer (373-mile) long Central Volcanic Zone, situated east of Antofagasta, and offers a spectacular view of the Licancabur Volcano. The appeal of this humble desert town comes from its charming adobe streets and architecture. This magical town is a quick trip away from Chile's salt flats, geysers, and rock formations. An archaeological museum within the commune has antiques and artifacts, and indigenous ruins from pre-Columbian society are nearby. If you're looking for a vacation with a mix of culture, history, and beautiful scenery, check out the top tours in San Pedro de Atacama in Chile.
This four-hour tour can allow you to admire the awe-inspiring landscape of Chile's Valle de la Luna or Valley of the Moon. You can trek through the desert, where you can see interesting rock formations and multi-colored cliffs, so make sure to dress appropriately and wear some sunscreen. Explore the impressive geography of the area when you visit a salt cave and the Las Tres Marias formations and tour the Central Crater. The activity ends with a perfect view of the sunset over sand dunes.
Valley of the Moon Afternoon Tour from San Pedro de Atacama

Duration: 4 hours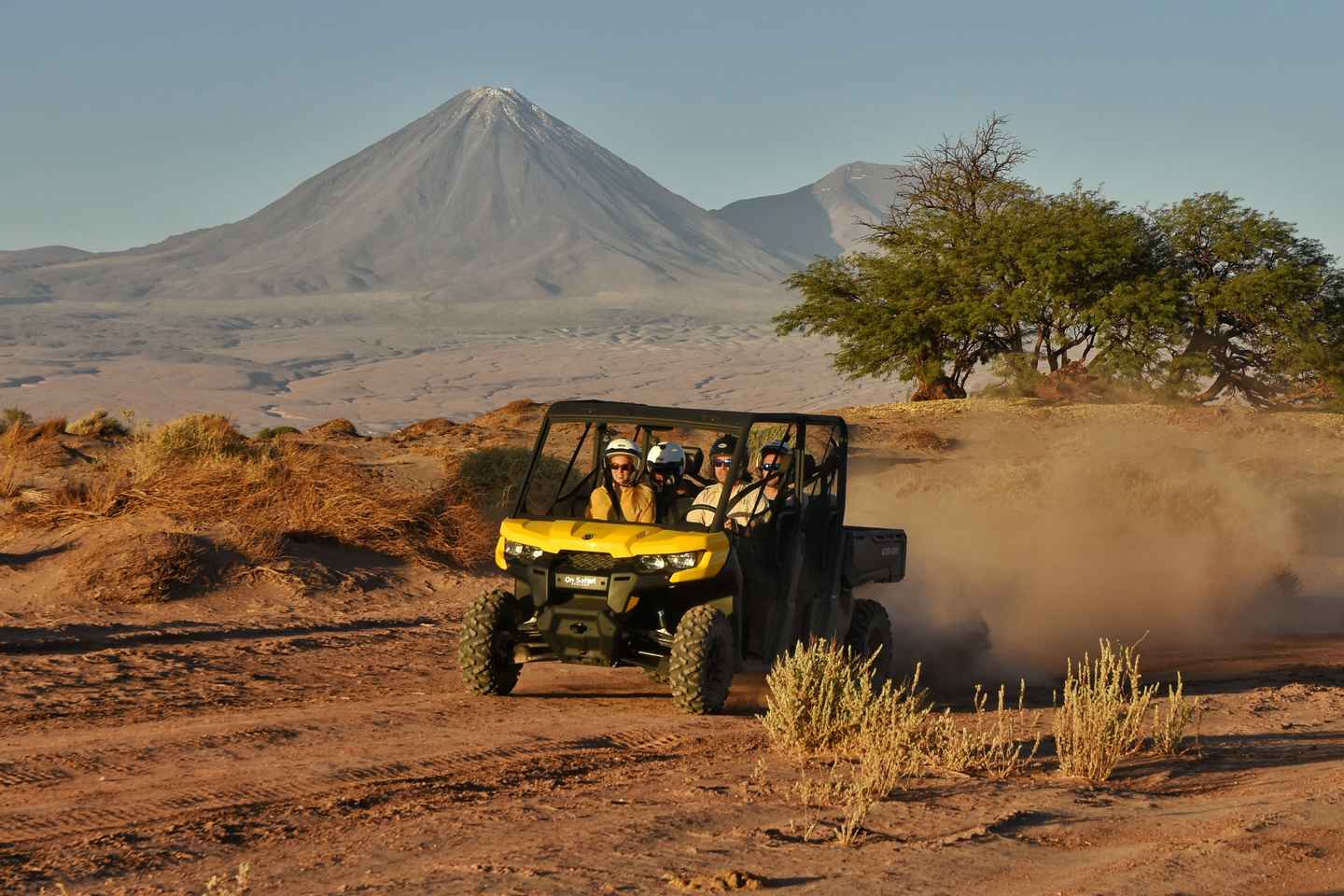 This off-road experience involves riding through riverbeds, uphill mountains, and dunes through Atacama Desert on a 4x4. Your guide can show you undisclosed areas away from tourists and GPS coordinates. During this activity, there can also be educational stops where your guide can explain the local topography and culture. The main sites you will be visiting are Los Flamencos National Reserve, Aldea de Tulor archeological site, and the salt mines. This off-road adventure is three-and-a-half hours long and is suitable for those without experience.
San Pedro de Atacama: Guided Buggy Tour Through the Desert

Duration: 3.5 hour
This eight-hour activity begins with a sunrise pick-up at your lodging, with a spacious safari-style bus. You can enjoy looking out at the majestic landscapes with the large viewing windows and comfortable chairs. The bus can bring you first to El Tatio geyser field, which has a thermal pool you can take a dip in. At this stop, you can have a wonderful buffet breakfast. Next, you will be heading to Rio Putana, where you can alight and marvel at the wildlife and scenery. Your last stop is Machuca, a quaint and charming Andean village where you can learn about the Atacamaña culture, visit a church, and sample the local cuisine.
Tour Tatio Geyser Safari style by Grade 10

Duration: 8 hours
This experience can expose you to the awe-inspiring Chilean night skies, situated in the place where the Atacama people believed they were first created. This landmark is the perfect place to enjoy a view of the ancient cosmos and appreciate the unique star clusters of the southern skies. Binoculars and telescopes are provided, and you can capture photos of the Southern Hemisphere Milky Way with the help of a professional astrophotographer. If you bring your DSLR camera, you can get a free tutorial on how to take pictures of constellations.
Astronomy Tour in San Pedro de Atacama

Duration: 4 hours
This tour starts in Laguna Chaxa and Salar de Atacama, the largest salt flat in Chile. After admiring the scenery at these sites, you can visit the waters of Lagunas Altiplanicas, located 18 kilometers (11 miles) south of Socaire. Nearby is the famous Piedras Rojas or Red Rocks, where you can marvel at the otherworldly red-colored terrain. Your journey can end with a visit to the quaint and charming villages of Socaire and Toconao, where you can enjoy a meal and learn about the local culture.
Altiplanic Lagoons and Red Stones, Full Day

Duration: 8 hours
This six- to eight-hour hike can take you up the Cerro Toco, a stratovolcano situated in the eastern Atacama Desert. Anybody can join this hike as long as they are moderately physically fit. Before the ascent, you can have breakfast and a safety check that all your equipment is in order. On the way up the volcano, you might be lucky to see herds of vicuña grazing nearby. Once you reach the peak of the volcano, you can marvel at the panoramic view of the landscape, including Licancabur Volcano.
Ascent Cerro Toco

Duration: 6 to 8 hours
This full-day tour of Los Flamencos National Reserve starts with the town of Socaire. Exhibits from the colonial era are on display for you to view before going to your first stop at Laguna Miscanti and Meñiques. These two lakes are part of Lagunas Altiplanicas and are a great place for birdwatching. Your guide can then bring you to Salar de Talar and the awe-inspiring terrain of Piedras Rojas or Red Rocks. Before heading back to San Pedro, you can also visit Salad de Aquascalientes, which is a group of different salt flats teeming with wildlife.
Full Day Los Flamencos National Reserve and Piedras Rojas

Duration: 10 hours
This five-hour tour can take you to Valle del Arcoiris or Rainbow Valley, known for its red, brown, green, and cream-colored terrain and rock formations. This site in the Rio Grande Basin, 90 kilometers (56 miles) from San Pedro, was shaped by the wind. You can learn about the area's history and unique geology as your guide shows you some of the minerals that give the area its colors. Afterward, you can travel to see the Yerbas Buenas petroglyphs, which are pre-Colombian rock carvings made using stone tools.
Rainbow Valley and Yerbas Buenas Petroglyphs

Duration: 5 hours
This gastronomic activity allows visitors to experience the culture of Atacama and the Andes through its cuisine. Before this two-hour activity starts, you can select either a five-course or nine-course tasting menu. The dishes are a mix of traditional and modern flavors, highlighting indigenous products that can change due to the seasonality of items. Each course is presented one by one and includes a description of each dish's preparation and history. Your meal can also be paired with Chilean wines and locally crafted beers.
Ethno-Gastronomy Tasting menu, 5 or 9 times with Pairing.

Duration: 1 hour 45 minutes
The Baltinache Lagoons are greenish-blue waters in Salar de Atacama, an hour away from San Pedro. Once you arrive, the marked entrance has bathrooms, which you may want to use before beginning your short walk. It's advised you strictly follow the footpath and not deviate from it so as not to deteriorate the surrounding landscape. Your guide can take you to five of the seven lagoons, where you can swim in the first and last lagoons. You can be amazed at how easily you can float in the water because of its high salinity. After the tour, you can take a shower in the bathrooms before heading back to your accommodations, and you can enjoy a beautiful sunset on the return trip.
Hidden Baltinache Lagoons

Duration: 5 hours
Discover the landscapes of Atacama
The desert may not sound like an appealing place to visit, but San Pedro de Atacama is more than worthy of your time. It has beautiful salt flats, unique terrain, and wonderful landscapes that can captivate the hearts of many. For a unique and memorable vacation, consider these tours in San Pedro de Atacama.
Disclosure: Trip101 selects the listings in our articles independently. Some of the listings in this article contain affiliate links.
Get Trip101 in your inbox
Unsubscribe in one click. See our privacy policy for more information on how we use your data