The former capital city of Kyoto, in Japan, is a mecca of everything - from the latest fashion trends, cool anime collections, and manga (Japanese comics) to Hello Kitty, high-end gadgets, electronics, and cosmetics, the list goes on and on! It's no wonder why Kyoto is the go-to place for travelers who want to buy something unique and memorable. But, the fun does not end there, Kyoto is also famous for its Buddhist temples, gardens, imperial palaces, and traditional Japanese wooden houses.
While you are here, why not visit Sanenzaka? Considered one of the top shopping streets in the country, it has thousands of unique places, shops, and historical landmarks. You for sure want to bring home something that will last, right? Good news for shopaholics, collectors, sentimental people, or those who just want something Hello Kitty for the little ones, there are plenty of shopping tours available in Kyoto, Japan, suited to your taste. With so many tours to choose from, it can be difficult to choose. Don't worry, we're here to help! We have listed only the best tours worthy of your time and money. Whether you are a solo traveler in search of the meaning of life or traveling with your family, buddies, sister, or darling, for sure, you will all get along on any of these fantastic shopping tours in Kyoto, Japan.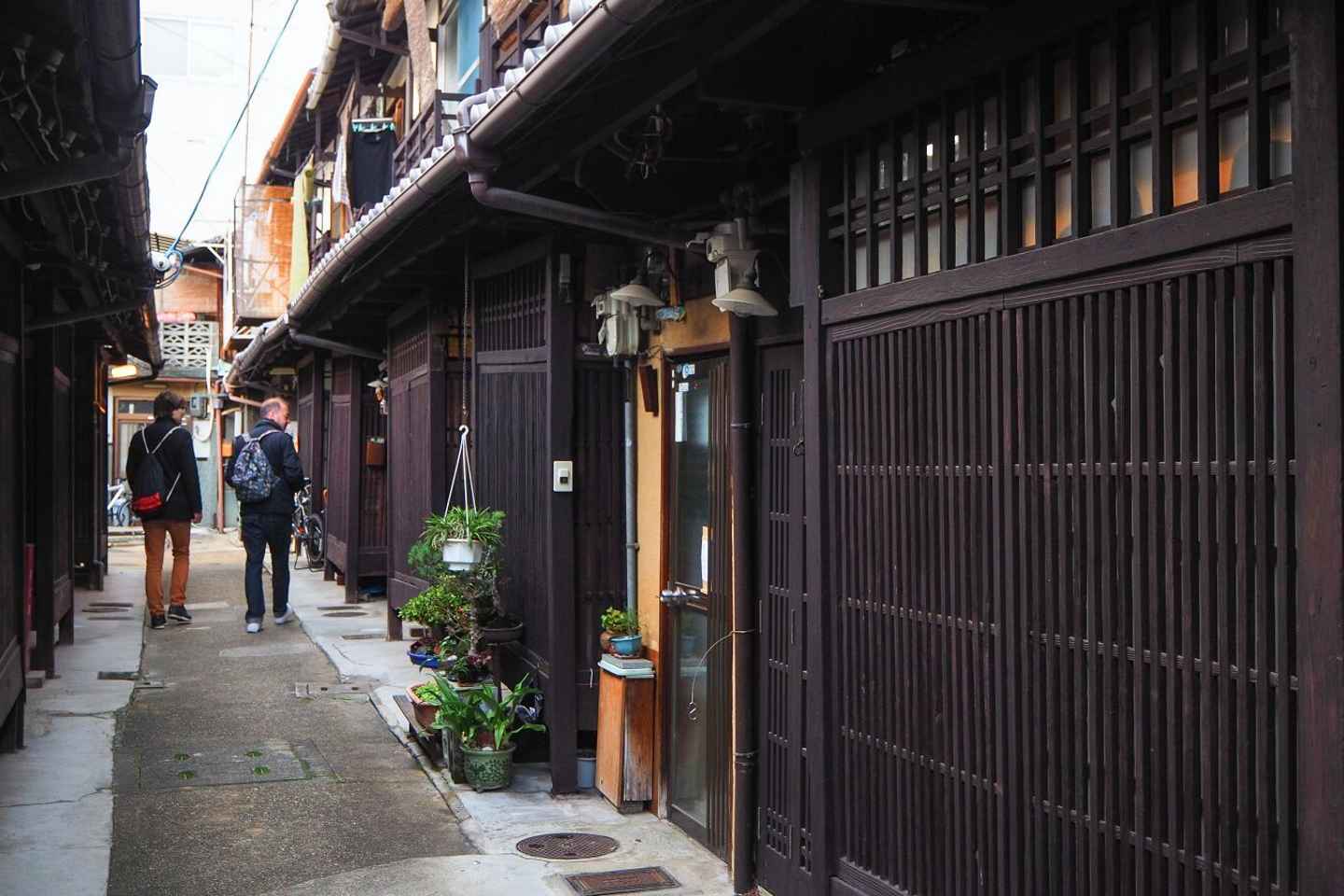 There's nothing better than a taste of Japanese green tea in a 300-year-old tearoom, coupled with a visit to a traditional confectionary shop, where you can buy amazing handcrafted wagashi sweets and savor the unique tang of sake. What's more, why not take a ride to the most iconic and romantic spot in the city, the Miyagawa-cho. Finally, take a picture of the legendary woodblock printers in town and choose among the stunning and authentic souvenirs you can find here.
All of these things are achievable by joining this historical and amazing shopping tour in Kyoto. The duration of this tour is three and a half hours and, within that period, you'll be able to learn many things about Kyoto, from the local shops and artisan workshops. You'll explore Japanese culture, Fushimi Momoyama castle, a hidden shopping spot, and traditional sake sites. Last but not least, you'll be able to see a world-class geisha performance in the Geisha district. Fall in love and stay in love in Kyoto - why not book this once in a lifetime shopping tour in Kyoto, now!
Kyoto: Historical Sake, Green Tea & Wagashi Shopping Tour

Duration: 3.5 hour
This tour is for everyone who loves sake, sweets, and tea. This magnificent tour will let you experience Japanese culture at its finest, from a variety of tasting opportunities (sake, green tea, and sweets) and discovering superb local traditional shopping to visiting the most interesting neighborhoods and more. A local, friendly, English-speaking guide will accompany you on your journey and included on this tour are tastings of sake, sweets, and green tea, train fare, and any entrance fees to the workshops.
On this tour, you will discover the best spots for local artisan items and have a chance to explore the beauty of Gion Corner - home to the local geisha performances. A stroll through Fushimi Momoyama, where you can find a lot of souvenirs, is also included in the list. For a total of three and a half hours, you will learn and taste it all on an interactive tour that you will truly enjoy. These highlights are just a fraction of the action, so book now and experience the best of Kyoto.
Kyoto Shopping Tour Including Tea, Sweets and Sake Tastings

Duration: 3 hours 30 minutes
There is tons of information on the internet, but Kyoto has many secret shops that are not in the travel books. If you're looking for a guide that can really show you the must-see shops in Kyoto, why not join this walking tour and buy what your heart desires along the way. As you journey, you will discover unique shops right away, with affordable prices. On this tour, you will truly be immersed in Japanese culture, from the traditional gifts and souvenirs and a lot of shrines and temples to everything that Kyoto is known for.
Indeed, this walking tour is exhausting, but don't worry, learning about Kyoto and finding the best souvenir is rewarding and free bottled water is provided. The tour will last for two hours and, in that period, you'll be able to buy the things you want, take pictures, and fall in love with Kyoto even more. It's time to shop like a local in Kyoto with this walking/shopping tour and find the perfect souvenirs for you and your loved ones.
Shop Like a Local in Kyoto and Find Perfect Souvenirs
Kyoto, Japan - A place of history, art, and everything else
Timeless Japanese culture and traditions live on in Kyoto, as manifested in their local shops, with hundreds of unique stores. For sure, you will find what your heart desires in Kyoto and even the perfect gift for yourself or your loved ones. So, when you get into the heart of Kyoto, take time to see and meet the different artisans of the old traditions that include sake making, arts and crafts, and, of course, food. It's now time to treat yourself with these amazing shopping tour options.
Disclosure: Trip101 selects the listings in our articles independently. Some of the listings in this article contain affiliate links.
Get Trip101 in your inbox
Unsubscribe in one click. See our privacy policy for more information on how we use your data