One of the beautiful cities to visit in Greece is Thessaloniki, which is located next to the Aegean Sea. Thessaloniki is situated on the Thermaic Gulf, and it offers the visitor a small glimpse of the culture left from the Byzantine and Roman eras, especially in Ano Poli. While the Great Fire of 1917 destroyed much of the city center, you can still visit ancient ruins and enjoy a city that features a contemporary European design. Once you land in Thessaloniki, you will want to get involved in its culture and activities. Read this list to learn more about the best things to do in Thessaloniki, Greece.
Set in the heart of Thessaloniki, close to dining spots and shopping sites, Seikilo Museum is a fascinating interactive cultural space that features different ancient musical instruments that define the Greek culture and traditions. If you are a musician by profession or just a curious individual, you may join this "Experience Ancient Greece" tour package by Viator. It is an hour-long activity headed by a professional Greek musician - Theodore Koumartzis. Aside from an introduction to many instruments in the museum, you will also get a chance to play some of them. Some interesting pieces you will encounter at Seikilo Museum are the lyre of Hermes, the tympanum of Dionysus, the Cithara of the Golden Age, and more.
Experience Ancient Greece: A Musical Journey

Duration: 1 hour
Greece is not only famous for its breathtaking islands and enchanting cliffside hotels, but it is also a popular destination for gastronomic experiences. If you are a foodie who wants to experience the culinary side of Thessaloniki, join this exciting package by Viator. You will get to indulge in Greek delicacies in an area facing the Cathedral Church of Hagia Sophia. You will be served a mouthwatering multi-course dinner that will surely fill your tummy. Before joining, kindly let the host know of your dietary preferences so she can make the necessary adjustments.
Dinner with a view in the historic center of Thessaloniki

Duration: 3 hours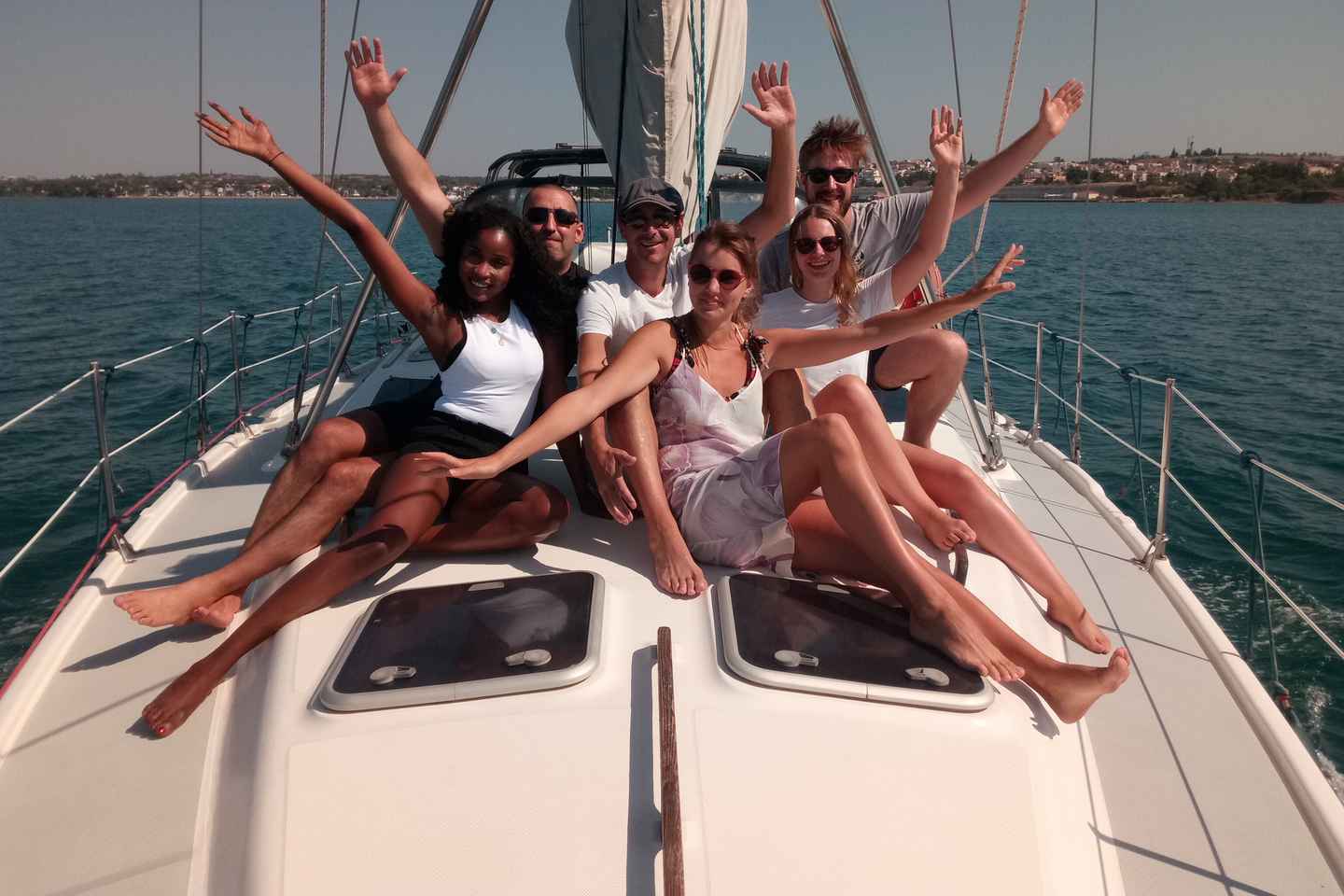 Greece is a country of many breathtaking islands. Make your Thessaloniki holiday even more memorable by experiencing a half-day sailing cruise offered by GetYourGuide.The journey will take you to different locations, including Thermaikos Bay and Navagio Beach. You will be given time to swim, snorkel, and do lots of watersports activities. Enjoy the crystal-clear waters and the picturesque views of Thessaloniki. Plus, a delicious lunch will be served for you.
Thessaloniki: Half-Day Sailing Cruise to Shipwreck Bay

Duration: 6 hour
4. Learn about Northern Greece's war era at War Museum of Thessaloniki
A military museum, War Museum of Thessaloniki opened its doors to the public in 2000. It aims to preserve the military history of Northern Greece. Most of the exhibits in this museum focus on the narration of the region's independence and the World War II era. Visitors can marvel at old photographs showcasing the lifestyle in that period as well as images of weapons, ships, and military personnel. Besides weaponry, this museum also houses paintings, sculptures, and other works of art. It also has a library and an amphitheater.
War Museum of Thessaloniki

Address: Grigoriou Lampraki 4, Thessaloniki 546 36, Greece

Website: War Museum of Thessaloniki

Opening hours: 10am - 5pm (daily)
5. Admire the stunning Byzantine architecture of Cathedral Church of Agia Sophia of Thessalonica
Cathedral Church of Agia Sophia of Thessalonica is one of the oldest churches in Thessaloniki, and it has achieved a Unesco World Heritage Site status. It was built in the eighth century as a replacement for a church situated in the same location. Cathedral Church of Agia Sophia of Thessalonica showcases stunning Byzantine architecture with massive arches. It is a Christian church and a popular pilgrimage site for devotees. Its interiors feature marvelous ninth-century mosaics, paintings, vintage chandeliers, and rustic seatings.
Cathedral Church of Agia Sophia of Thessalonica

Address: Agias Sofias, Thessaloniki 546 22, Greece

Website: Cathedral Church of Agia Sophia of Thessalonica

Opening hours: 7am - 8pm (daily)
Whether you are a true foodie or a sampler of Greek cuisine, eating the local dishes in Thessaloniki is wonderful. Having a culinary adventure here allows you to experience the local flavors while you sample a variety of delicious delights. Sip on some Greek coffee before you begin your journey, and get introduced to local foods at the city's open-air markets. Some must-try meals here are pastries, especially the semolina custard called bougatsa. You also will want to try kazan debi, which is a pudding made of burnt milk, and kamaki, an ice-cream dessert made with buffalo milk. Besides these desserts and sweet treats, you can satisfy your palate with a variety of cheeses, all unique to this part of the world.
Thessaloniki Food and Culture Tour: Tasty Exploration

Duration: 2 hours 30 minutes
7. Visit the White Tower of Thessaloniki
A monument that creates a memorable impression, White Tower is well known for its architecture and long history. Constructed in the 1400s, the tower replaced a fortification that was built by the Byzantines in the 12th century. The tower served as a prison and garrison for many years. As a prison, it was called Kanli Kule or the Red Tower. Much later, in around 1891, it was whitewashed and renamed Torre Blanca (The White Tower). This is a great building to visit when you're in Thessaloniki, as the tower houses a museum that introduces visitors to the city's amazing history. You will also want to climb up to the top of the building. Once you reach your destination, you will be rewarded with a beautiful and panoramic view of the sea and the city.
White Tower of Thessaloniki

Address: Thessaloniki 546 21, Greece

Website: White Tower of Thessaloniki
8. Visit the Church of Hagios Demetrios
Known for being the largest church in Greece, Hagios Demetrios is a historic landmark and is one of the world heritage sites listed by UNESCO. The sanctuary is dedicated to the patron saint of Thessaloniki, St. Demetrius, and features many relics and artifacts from the Byzantine era. The church dates from a period when Thessaloniki was the Byzantine Empire's second-largest city. It is both historic and unique, as it is located over the ruins of a Roman bath, where the patron saint was imprisoned and where he met his death. The current church is a reconstruction, and it is based on the church's 7th-century design. The basilica features a narthex, transept, and five apses.
Church of Hagios Demetrios

Address: Agiou Dimitriou, Thessaloniki 546 33, Greece
9. Visit the Archaeological Museum and its open-air exhibit
You're in for a historic treat when you visit the Archaeological Museum in Thessaloniki. This well-known museum is one of the largest museums in Greece. It houses exhibits that showcase artifacts from Greece that are more than 1,000 years old. Additionally, it also has an open-air exhibit in the museum's courtyard. The outdoor exhibit feature antiques from the 2nd to 4th century AD. The first part of the exhibit showcases altars and sarcophagi from city cemeteries while the second part represents an urban dwelling from the imperial era. The Hellenistic house, constructed with contemporary materials, shows off authentic mosaics inside and out. The third part of the exhibit displays altars that is used to showcase statues of prominent Thessaloniki citizens.
Archaeological Museum in Thessaloniki

Address: Manoli Andronikou 6, Thessaloniki 546 21, Greece
10. Take a stroll through Aristoteles Square
Beating with the heart of the city, Aristoteles Square is laid out in a European fashion – one that reminds you of ancient Rome, except with a different kind of spin. The square charms visitors with its Neoclassical buildings and a green park situated in the midst of it all. You can find many places to rest in the square, which is a short walk from the city's famous White Tower and a paved promenade. The promenade permits walkers to breathe in the sea air and enjoy the beauty of the Aegean Sea. What is nice about the square is that it is only a short walk from many must-see attractions. Use it as a hub to break away and enjoy some local cuisine and conversation.
Aristoteles Square

Address: Thessaloniki 546 24, Greece
11. Enjoy the nightlife in the historic district of Ladadika
You cannot miss a visit to Ladadika for some nightlife entertainment. The area, which is a pedestrian-only zone, makes it possible for visitors to take their time while choosing a place to enjoy a libation or a small evening meal. Ladadika is home to numerous tavernas, coffee shops, and espresso bars, all of which take on a friendly and warm vibe at night. This walker-friendly enclave turns into a magical spot when the sun sets, as it plays host to a number of quaint squares and lighted historic buildings. If you want to enjoy Thessalonika at night, make sure you find your way to Ladadika. Whether you want to enjoy a drink or merely relax and pass the time, you will like the magical ambience of this part of the city.
Ladadika

Address: Ladadika, Thessaloniki 546 25, Greece
12. Visit Ano Poli
One of the sections of Thessaloniki that survived the Big Fire in 1917, Ano Poli is as enchanting as it is walkable. Upper town, as it is called, makes you feel like you are standing in a place where time has stopped – a place that allows you to travel to a period when the Byzantine people occupied and ruled the area. In Ano Poli, visitors stroll through paved stone streets next to Ottoman-built houses where they can see astounding views of Thessaloniki and the Aegean Sea. You can also enjoy traditional Macedonian cuisine at affordable prices or even pick up some inexpensive souvenirs at the tourist shops in the area. In addition, this part of the city plays host to 14th-century buildings, such as the Agios Nikolaos, a Byzantine church, and the Monastery of Vlatadon. These buildings represent two of the oldest structures in the city.
Ano Poli

Address: Thessaloniki, Greece
13. Enjoy the exhibits at the Museum of Byzantine Culture
You cannot leave Thessaloniki without visiting the Museum of Byzantine Culture. The site was established with the goal of creating a place where visitors could appreciate Byzantine history in the form of exhibits and collections that feature frescoes, mosaics, icons, inscriptions, and sculptures. The museum houses permanent exhibits as well as rooms that display temporary themed exhibits, including storerooms and areas for workshops. Exhibits showcase relics that have been found in the Thessaloniki area, such as coins, glassware, and pottery. If you want to learn more about the area's ancient Byzantine culture, the museum offers a treasure trove of information and displays.
Museum of Byzantine Culture

Address: Leof. Stratou 2, Thessaloniki 546 40, Greece

Website: Museum of Byzantine Culture
14. Visit Mylos at night
For nighttime entertainment, you don't want to leave Mylos off your Thessaloniki travel itinerary. Not only does the place host concerts, you can find some nightclubs that will make you feel, when you enter, like you're one of the locals. For anyone who loves to see a city at night, you don't want to journey to Thessaloniki without including Mylos in your travel plans. The renovated historic center invites old and young into this part of the city. Again, visit a nightclub or check out the flea market in this part of the city. You can find some interesting one-of-a-kind items to take home with you. You can always find a pleasant way to spend time when you visit Mylos at night.
Mylos

Address: Thera 847 00, Greece
Once you get a chance to savor some of the local cuisines, you will want to sign up for a cooking class. This cooking training is like none you have ever experienced, as it revolves around local specialties. If you really want to participate actively in the local culture, this is the way to do it. You can book a cooking class online to make things easy. Typically, participants of these classes are first introduced to the chef and his team before the lesson begins. During these classes, you'll learn to prepare dishes such as tzatziki, a Greek cucumber yogurt sauce. Participants learn the best tricks and secrets for making the recipe at home. Most cooking class participants receive a certificate of participation as well.
Cooking Class with Distinguished Chefs

Duration: 2 hours
Your travel itinerary is not complete without a visit to Thessaloniki
If you want to include Greece as a place to visit on your bucket list, you will love adding Thessaloniki to your travel itinerary. Located in a temperate part of Greece, you can learn more about Greek culture and enjoy a unique landscape. You can also find accommodations that are affordable and clean. So, there really is no reason not to plan your next trip to this amazing Greek city.
Disclosure: Trip101 selects the listings in our articles independently. Some of the listings in this article contain affiliate links.
Get Trip101 in your inbox
Unsubscribe in one click. See our privacy policy for more information on how we use your data
Still Need Travel Insurance?
You can buy and claim online, even after you've left home. Travel insurance from WorldNomads.com is available to people from 140 countries. It's designed for adventurous travellers with cover for overseas medical, evacuation, baggage and a range of adventure sports and activities.
*5% off when you book with our promo code: TRIP101
*For our Canadian and US travellers, unfortunately due to financial services laws, we cannot provide a discount. This promotional code cannot be used with any other discount offer, including World Nomads Members' discount for travel insurance policy holders.