In this modern age, we always find the need to use our phones or laptops, as it is almost impossible to do some work or be connected in our social life without having to. Every now and then, it is not only vital but imperative for our health to take a break from the digital world, and the best way to do so is to simply disconnect, go back to the basics, and enjoy what mother nature has provided for us from the beginning. There has been a movement to appreciate the great outdoors again, and this is exactly what people who go to Denver, North Carolina look for. With the beautiful and tranquil Lake Norman as their backyard and playground, many come to enjoy its breathtaking views and all that the great lake has to offer. If you're one of those who wants to take a break here, we've compiled the best Vrbo accommodations in Denver for you!
The large back porch of this three-bedroom property is the perfect setting for your lake vacation, as it feels like having your own meadow at your own backyard! It's the perfect setting for a spectacular sunset view, where you can lay back and relax by the yard or have your own grill and barbecue party by the lake. You can also do some daytime sunbathing by the dock, or simply enjoy swimming or launching off your yacht or boat. The possibilities here are endless for you to enjoy and have an awesome vacation!
Cozy Lake House! Large Yard! Sleeps 8! Boating options available on site!

Accommodates: 8
Minimum Nights: 2
Refund Policy : 100% refund if you cancel at least 30 days before check-in.

Escape the hustle and bustle of city life with the marvelous views of Lake Norman, and exclusive private amenities with this lakefront property. It has its own private pool and gazebo. After a splendid day by the waters, enjoy the lovely unit with its open floor plan as its built for your own comfort and relaxation. This two- bedroom duplex is perfect for a couple or for a set of friends looking for a break from everyday life.
Waterfront Lake Norman Duplex w/ Pool & Boat Dock!

Accommodates: 4
Minimum Nights: 2
Refund Policy : 100% refund if you cancel at least 14 days before check-in.

Perfect for big family reunions, this southern-style lake house fits up to 14 people with 6 bedrooms and bunk beds for the kids. There's a game room for all the children, where there's a full-sized pool table, some arcade games, and ping pong by the garage. As for the adults, you can lounge around on the upstairs deck where you can just lay back and have your favorite cocktail. The house is secluded in a cove off the main part of the lake, and the whole family can have their own private party by the lakeside in the newly built gazebo for everyone to enjoy. Book your next family reunion here for an unforgettable vacation!
Jake's! Fun for Entire Family! Game Room, Lake Bar, boat rentals

Accommodates: 14
Minimum Nights: 0
Refund Policy : 100% refund if you cancel at least 60 days before check-in.

As you plan to disconnect from the digital world and detach yourself from the stresses of everyday life, go back to basics and rejuvenate with Mother Nature. This property offers you a place where you can do just that, as you can kayak, paddle board, and fish right at your own private deck. Once you tire of outdoor activities, the cozy house will give you all the amenities you'll need in order to ensure that you come out of this vacation fresh and well-rested. Ideal for those that just want to get out of city life.
Lake Norman Getaway

Accommodates: 6
Minimum Nights: 2
Refund Policy : 100% refund if you cancel at least 30 days before check-in.

Imagine being surrounded by nature in every corner of your own home. With this vacation home, you don't have to, as it offers you access to the sights and sounds of nature at your own leisure. From the master's bedrooms, it gives you direct access to the outdoor patio, where you can enjoy your morning cup of coffee. It also has a great screened-in porch and kitchen, where you can have a breath of fresh air and appreciate the greenery that surrounds the house. You'll also have your own deep water dock, where you can rent a power boat, or have your own boat and jet ski launch at your backyard. What a way to experience nature!
Waterfront Home has it all! (Pontoon Boat Available)
Built for small groups, this energy-efficient house was built for quality moments in mind. The house was made to have a warm atmosphere, ample natural light, glass windows facing the lake to ensure that you have the best view of the lake all throughout your stay with sunlight peering through. You also have your own small beach to launch your kayak, small boat, or paddle board. Animals of all kinds come as visitors here as well, such as the great blue heron, owls, osprey, and deer. For those intimate getaways, there's no other place like this.
Custom Lake Norman cottage on private road, built in 2012. Modern, private.

Accommodates: 5
Minimum Nights: 7
Refund Policy : 100% refund if you cancel at least 60 days before check-in.

Located just off the main part of the lake, this Vrbo accommodation is perfect for those looking for some private and quiet vacation, where they have a part of the lake for themselves to enjoy. With a huge deck in front of the lake, you can bring your own boat or jet ski and launch just right at the front of your doorstep. Or you can simply wade and relax, as the newly built aluminum dock and ladder makes it easy for you to get in and out of the water. The place has 4 bedrooms that can easily accommodate 11 people. It makes the property an ideal place for your friends and family for your lake getaway!
Waterfront Home , Couples Retreat, Girls Getaway,Fisherman welcome

Top guest reviews

The deck looks newer with composite floor (no splinters) and plenty of room for a swing table and grill

There is deep water off the dock

The walk to the lake is a bricked path to the newer aluminum decking (again-no splinters)

4 adults and 2 children comfortably accommodated

The kitchen is well stocked with anything you need for cooking / dining Clean up is a bit longer without a dishwasher

Even left us some delicious cookies and snacks

My wife and I were extremely satisfied with the home

Mignon was very hospitable and answered all our questions and concerns very promptly Overall clean house

It worked great for our family and the owners made sure that we had all the basic provisions and then some

Allie-Kat Mignon was an incredible host and even made us some delicious cupcakes that did not last long

still a very quiet area

Publix is just a few miles away for groceries

The cove is still and perfect for kayaking fishing paddle boarding and other water sports

We enjoyed peaceful lounging on the patio couch on the deck gazebo

This was a lovely location for a peaceful week-long respite

Read more reviews
This fully furnished property compares even to those that you see in the city, with its beautiful woodwork finish, and modern kitchen equipment and furniture. It can fit as much as 10 people and has all the necessary amenities you'll be needing for your vacation. What stands out with this house though, is the stunning view of the lake, as you can see blue from miles away, with the lots of greenery just hugging the outskirts of the lake. The boat docks can accommodate up to three boats, where you can do some fishing or simply enjoy the waters. If you're a water baby and just want to be surrounded by the beauty of Lake Norman, this is the perfect place for you.
Make Family Memories! Ideal location! 1/2 Off 3rd Night thru Memorial Day 2020!
Built for large groups, this 3,600 square feet (334 square meters) property boasts ample lakefront space, a built-in lakeside fire pit, a hot tub that fits up to 7 people, and your own personal dock with a swim ladder for easy access to the waters. With 5 bedrooms and some convertible beds, it easily fits up to 12 people. It even has a game room, where you can play billiards, some foosball, a TV and stereo set, and a personal bar. Get the gang together and plan your next vacation here as you wouldn't want to miss this!
Lakefront; 5+BR,3 Bth, HUGE Deck, Lakefront Firepit, Hot Tub, 203' on Lake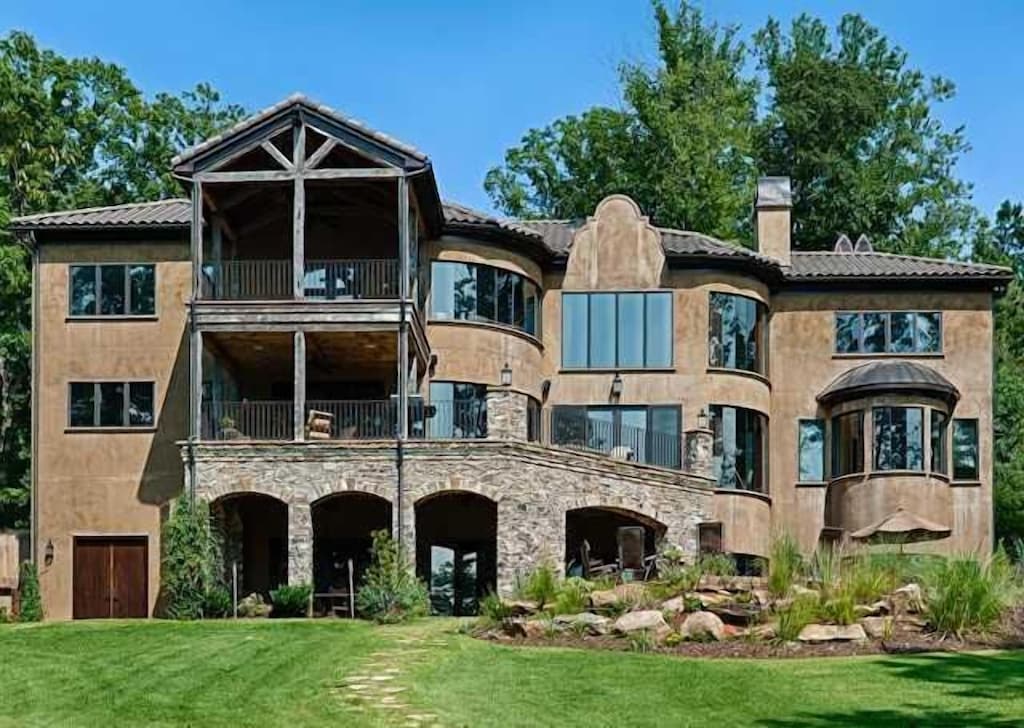 For a lake vacation like no other, stay in this luxurious property that offers the best accommodations. Once you enter the house, you can see the grandeur and attention to detail that was put into building the house, with beautifully handcrafted wood beams, heated floors, iron chandeliers, and wooden finishes all throughout the place. The master suite has a see-through fireplace, its own private view of the lake, and a lavish bathroom. Outside, there is a private pool, a hot tub, and fully equipped patio that stretches into the lake with your private dock. With six bedrooms all over the place, there's no better way to enjoy Lake Norman than with this villa!
Lake, dock, heated pool, spa,luxury,waterfront,near CLT ,pontoon rental on site.
Disconnect from the network and live your life
The modern society today is dependent on the digital space, either for work or to be in touch with the social network. That being the case, there is a benefit in disconnecting from all the pressures and conveniences that it brings, and remind ourselves that there is a life beyond social media and the internet. Sometimes the gadgets and the internet makes us forget what we really want out of life and dictates how we should live it. Reconnect with yourself and with nature in Denver and find what you really want to do in life. Because as they say, you only live once. Find the peace and calm in the secluded properties and bond with your soul.
Disclosure: Trip101 selects the listings in our articles independently. Some of the listings in this article contain affiliate links.
Get Trip101 in your inbox
Unsubscribe in one click. See our privacy policy for more information on how we use your data