Half Moon Bay is among the oldest coastal cities in San Mateo, California. This history-rich city survived the Gold Rush, earthquakes, and near bankruptcy in the early 1900s. The hidden coves and foggy coastline provided business opportunities for Canadian rum runners and local moonshiners, helping to revive the economy during the Prohibition. The former rum pubs along the coast are the small-town restaurants and bars you see today.
This city is home to gorgeous flower fields and redwood forests, along with awesome mountain ridges, ocean bluffs, and stretches of white sandy beaches. Its small-town charm, beautiful scenery, and fascinating historical buildings attract tourists by the droves. Below is a list of the best Vrbo vacation rentals in Half Moon Bay, California. Book one now!
Three blocks from the bluffs and the beach and 10 to 15 minutes to fine dining restaurants, tennis clubs, a golf driving range, an Olympic pool, and pilates and yoga centers is this impressive, two-level home, surrounded by a manicured garden and ideal for small parties. The ground floor features a fully-stocked, open kitchen and a dining table, set for 10. An archway leads to a morning room containing a twin bed and a small seating area. French doors open to the lush garden with a furnished patio near the bath and sauna. The family room has an indoor fireplace and a grand piano, great for singing along. The second floor showcases three spacious bedrooms with heating, air-conditioning, free internet, large wardrobes, and beds with thick cushions that sleep up to nine guests. The three bathrooms feature a tub and shower.
Comodidad costera con paseo corto a los acantilados y la playa

Accommodates: 9
Minimum Nights: 2
Refund Policy : 100% refund if you cancel at least 60 days before check-in.

Near the beach, beside the redwoods at Lobitos Creek Ranch, is this newly-remodeled rustic bunkhouse. To sleep six guests, there are two bedrooms containing a California king and a bunk bed that sleeps up to four guests and a living room couch that spreads out into a queen bed that sleeps two more. The dining area and a fully-equipped kitchen are on the same floor. Book at least one night and enjoy free Wi-Fi, free parking, a barbecue area, a basketball hoop, and a full bathroom with free towels. Mountain biking, hiking, kayaking, fishing, tennis, golf, sailing, and whale watching are all available in the area.
Bunkhouse privado en Half Moon Bay Coastal Ranch

Accommodates: 6
Minimum Nights: 1
Refund Policy : 100% refund if you cancel at least 30 days before check-in.

This gorgeous beach house in the exclusive Ocean Colony is near the beach and the Ritz Carlton Hotel. This luxurious mansion has five spacious bedrooms with enough cozy beds to sleep up to 10 guests. Each room has wide windows with awesome beach views and is furnished with a desk, flat-screen TV, chest of drawers, air-conditioning, and free Wi-Fi. Four ensuite bathrooms contain a plush spa tub, glass enclosed shower, marble countertops, and a basin sink. The living room has classy sofas, perfect for entertaining or lounging around the fireplace while watching TV. There's a casual dining area set for 10 and a smaller breakfast nook set for four next to the lavish open kitchen. Double doors open to a terrace with a fire pit and another outdoor dining area features awesome ocean views. Perfect for family reunions or corporate outings, this rental is best enjoyed with at least a two-night stay.
Espectaculares vistas al mar, acceso a la playa 5 BR casa cerca del Ritz Carlton

Accommodates: 10
Minimum Nights: 2
Refund Policy : 100% refund if you cancel at least 30 days before check-in.

Enjoy elegant surroundings for at least two days in this well-appointed vacation house, near the beach and the Ritz-Carlton Hotel. Its clean white walls, dramatic winding staircase, and arched windows make it ideal for a grand family vacation or an impressive business meeting. The living room has cozy seats for lounging around the fireplace or for watching cable TV. Double doors open to a furnished patio with a barbecue area and an outdoor fireplace surrounded by a landscaped garden. The formal dining area and breakfast nook are beside the fully-kitted kitchen, which caters to family-sized meals. Five bedrooms and three full bathrooms are equipped to host 12 guests. The golf courses, beach, and restaurants are all within walking distance.
Casa de vacaciones ejecutiva junto a Ritz-Carlton

Accommodates: 10
Minimum Nights: 2
Refund Policy : 100% refund if you cancel at least 60 days before check-in.

This huge four-bedroom bungalow that can host up to 15 guests is decorated with wood and wicker furniture for a relaxing, country-style vibe. Take a luxurious shower or a soak in the tub featured in the three bathrooms. Cook family-sized meals in the open kitchen and dine at the marble counters or at the six-seater dining table. Relax in the living room and watch cable TV by the fireplace. Dine al fresco or have a barbecue on the porch overlooking the grassy backyard. Book three nights and enjoy free Wi-Fi, free parking, heating, free linens, and laundry facilities. It's near the beach, ocean bluff, walking trails, downtown, and it's 15 minutes to the north to Piller Point harbor.
Cerca de la playa / Bluffs / Senderos / Ciclismo / Surf y minutos del centro

Accommodates: 9
Minimum Nights: 4
Refund Policy : 100% refund if you cancel at least 30 days before check-in.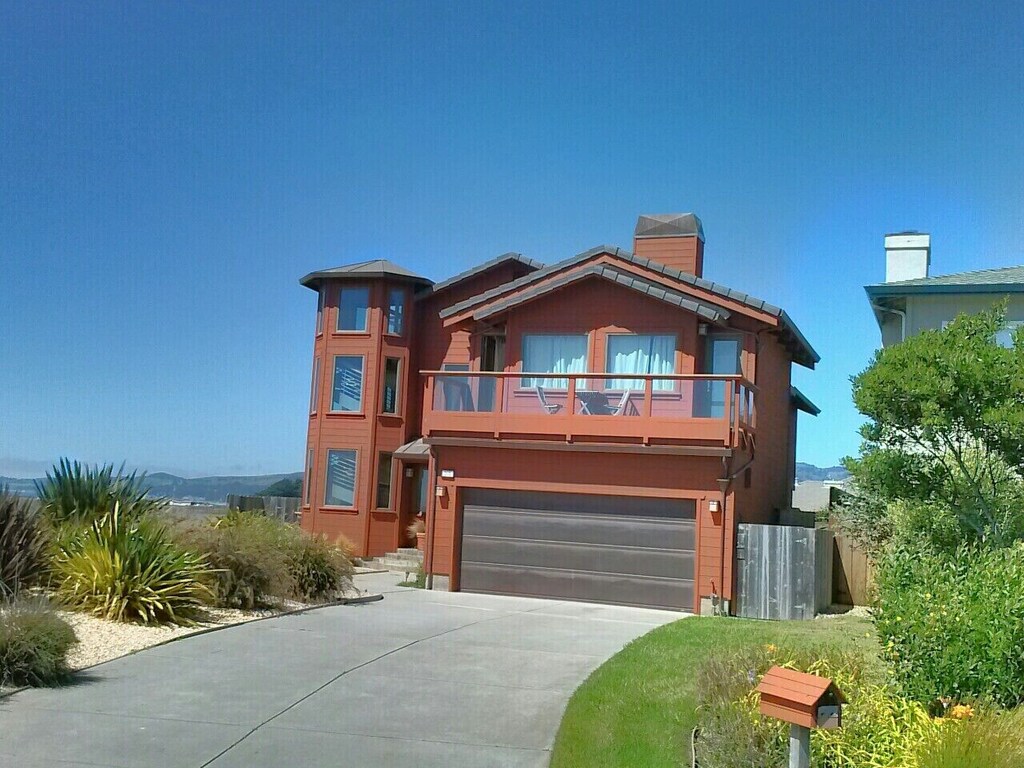 This beachfront home on a quaint cul-de-sac has access to a trail to the beach via the Coastal Walkway. This multi-level home has huge picture windows, offering breathtaking ocean views on every floor. The master suite and queen bedroom on the ground floor each have huge, thickly cushioned beds, large wardrobes, air-conditioning, cable TVs, and ensuite bathrooms, featuring a jetted tub and glass-enclosed showers. Sliding glass doors in the master's bedroom open onto the backyard deck with a relaxing garden view. The second floor has another queen-sized bedroom that converts into an office. Relaxing lounge sofas, a fireplace, and cable TV decorate the living room. Enjoy your morning coffee out on the front deck. The casual dining table is adjacent to the modern, open kitchen. Eight guests will enjoy free Wi-Fi, free parking for four vehicles, heating, free linens, and towels, for a minimum two-night stay.
Private Oceanfront Home with 180 Degree View of Half Moon Bay
With big rooms and bright interiors, this coastal home is suitable for grand family vacations. It's in an exclusive neighborhood and near the beach, coastal trails, Half Moon Bay Golf link, Ritz Carlton, and Mullins Restaurant. 10 guests can sleep comfortably in five spacious bedrooms, designed with luxurious, modern furniture. Three-and-a-half bathrooms feature an enclosed shower, a spa tub, and a basin sink. The living room has cozy, thick-cushioned sofas for chilling out by the fireplace and watching cable TV. There is a formal dining area and a small breakfast nook. The spacious open kitchen is fully equipped to cook large family meals. Outdoor activities include hiking, biking, taking picnics by the beach, or playing golf at the nearby golf course.
Coastal Family Retreat, near Ritz Carlton, spacious 5BR home, Beach Access, Golf
This beach house, in the exclusive Miramar neighborhood and near the beach, overlooks the hills, ocean, and Mavericks surf spot. It has three levels and the ground floor features a garage, a lovely patio with a seating area, a basketball hoop for practicing shots, and an outdoor box-type shower. The second floor features an open layout with a cozy living room, dining area set for six, a modern kitchen and access to a furnished deck with great outdoor views. To sleep six guests, the three bedrooms contain a double bed on the first floor, two twin beds on the second floor, and a king-sized bed on the third floor. Soak in the luxurious spa tubs in the two-and-a-half-baths. Children are welcome but guests must stay for at least three nights.
Coastside Miramar Beach House

Top guest reviews

the bathroom at the master room

Also went downstairs to read books and outside riding their scooters and shooting basketball

It does have 3 levels and we had to provide our own crib and highchair

The kitchen had everything we needed to make a delicious Thanksgiving dinner

The house is impeccably kept with plenty of space

good Friend came down and he and I went on Brewery and bar hoping

We also love how close it is to the ocean

Well stocked kitchen and owner was very accommodating Our family enjoyed our stay

The house was beautiful with perfect accommodations for us and our children

etc Entertained some guests from San Francisco and El Granada while kids stayed in TV room and played with toys

We hope to spend more time at the "Coastside Miramar Beach house"

We loved to be not too close to SF city

so no sand get's in the house

Half Moon Bay Area had grocery and other retail/restaurants available nearby but was also within footsteps from a beautiful quiet beach

Chinese place 2 5 blocks away was

Read more reviews
This adorable bungalow with a modern country-style motif and enough space to host four guests is near the coastal trail, steps to the beach and a mile away to Main Street. The garden is surrounded by colorful flowers, ideal for small picnics and frolicking with your pets with the sound of the hummingbirds singing and the ocean waves in the background. Clean white interiors and shiny hardwood floors are decorated with classy wood and metal furnishings. Guests are allowed to use the fully-stocked kitchen, books, picture frames, children's toys, and other home items. They can also relax by the fireplace and watch cable TV. The two bedrooms have thick cushioned beds, a desk, heating, and internet. The owners require at least a two night's stay.
Enjoy wide open spaces and listen to the waves from this adorable coastal house
This lovely Cape Cod-style home is in a gated community, near beaches, golf shops, and the Ritz Carlton. Five spacious bedrooms with various motifs are furnished with luxurious beds to sleep up to 14 guests comfortably. A baby crib, sleeper sofa, and futons are available upon request. The game room has cozy leather sofa chairs, perfect lounging while watching a ball game on the flat-screen TV. The four bathrooms contain a walk-in closet and a vanity sink. The deck, living room, and balcony offer breathtaking views of the beach and countryside. The huge professional kitchen has a breakfast nook and two other dining areas, good for eight guests. Soak in the outdoor hot tub or enjoy playing billiards. Children and pets are welcome. Guests must stay for at least three nights.
Stunning Ocean Views in Spectacular Golf Community

Accommodates: 14
Minimum Nights: 3
Refund Policy : 100% refund if you cancel at least 30 days before check-in.

Revisiting Spanishtown
While most of these accommodations may have a classic or country home facade, their interiors are very modern and opulent. You'll definitely have a luxurious stay that will make your visit to Half Moon Bay truly memorable. Whether you are traveling as a big group or as a small family, you'll find one that will suit your budget and preferences.
Disclosure: Trip101 selects the listings in our articles independently. Some of the listings in this article contain affiliate links.
Get Trip101 in your inbox
Unsubscribe in one click. See our privacy policy for more information on how we use your data