Nestled along the beach in the US state of California, is the destination of Palm Springs, one of the largest cities in the country. This purpose-built resort town is ideally the retirement destination, but of late, it has become a major beach destination in the United States, attracting thousands of beach holidaymakers. The year-round hot climate favors a lot, making it a year-round destination. The city is flourishing with all kinds of tourist facilities and endless types of accommodations for your next holiday. You can simply have a relaxing holiday or engage in golfing, swimming, hiking, biking and more. If you want to have both a fun-filled and relaxing time, you can book an apartment with a swimming pool. For your ease, we have put together a list of best Vrbo accommodations with a pool, in Palm Springs, California. Scroll down to learn more.
This budget, two-bedroom holiday home in Palm Springs, is designed for comfort and it reflects in everything from chic and modern decor to mood lighting, along with lots of natural light. The bedroom is equipped with a double bed, bathroom with shower and bathtub, and it's tastefully decorated with textures and fabric. In addition to a large swimming pool with comfy hammocks, sun chairs and umbrellas in the garden to soak the sun, there's a living room, kitchen, and a dining area as well. The home is decorated with a mix of modern, Spanish and Victorian-style decor.
Clásico español Bungalow - Vistas y piscina para Fin de semana escapada o invierno Retiro

Accommodates: 4
Minimum Nights: 28
Refund Policy : 100% refund if you cancel at least 14 days before check-in.

Located in the heart of Palm Springs is this spacious and luxurious accommodation for six. The house has three bedrooms, a bathroom with shower and a fully equipped kitchen for you to prepare your own meals. The highlight of the property is the location, amidst the lush greenery and a large gazebo in the garden for your evening get together. There's also a private pool here for a good fun time with your family. The multiple outdoor seating areas offer a different view and feel in each place, and it makes you want to come back again.
Centrally Located Mid Century Classic With Fantastic Views and Private Setting
This pocket-friendly accommodation in Palm Springs California is perfect for solo travelers and couples. The house has a double bed, a living area with a sofa bed and a kitchen unit in an open-plan layout. The studio is decorated with a modern interior and it offers a private pool with sunbeds and parasols and a seating area. You also get other facilities like a bathroom with a shower, fridge, wardrobe and a host of restaurants and bars just a few steps away from the home.
City ID #1813 & TOT Permit #8035
Stay in this spacious two-bedroom holiday home in Palm Springs, with a fantastic swimming pool in the center and surrounded by sun loungers and umbrellas with mountain views. The holiday home has a large and cozy living area, fully appointed with stylish furnishings, a dining area and a full American kitchen to prepare your own meals. The property is quite welcoming and lovely to spend your time in Palm Springs. There are other facilities as well, like Wi-Fi, parking, air conditioning and much more.
APARTAMENTO TOTALMENTE RENOVADO EN BILTMORE ESTATES EN GRAN SUR PALM SPRINGS!

Accommodates: 4
Minimum Nights: 30
Refund Policy :

Stay close to Downtown Palm Springs, in nature's bounty, in this stunning four-bedroom bungalow. The house adorns a contemporary interior and offers a queen-size bed in each room. In addition, there's an attached washroom with all rooms and a walk-in closet in two of them. Rich, lavish and extravagant are the words that describe this property. Everything is designed, keeping elegance and comfort in mind. There's a large swimming pool on the premises, with sunbeds and parasols where you can have your private parties. This is the main selling point of this gorgeous house.
Cerca del centro!

Accommodates: 8
Minimum Nights: 2
Refund Policy : 100% refund if you cancel at least 60 days before check-in.

This luxury property in Palm Springs is ideal for families and a group of friends on holiday. Located on South Palo Verde Avenue, the place is perfect if you are looking for something chic and bright in the heart of Palm Springs. This rental is surrounded by dramatic views of the mountains. This three-bedroom house also has a private swimming pool. There is ample outdoor seating space near the pool making it an amazing hangout place. All the bedrooms are equipped with double beds, lavish furnishings, a kitchen, and all other amenities to make your stay a memorable one.
Aquatini Mid-Century Modern Luxury Retreat! ¡Ofertas de última hora!

Accommodates: 8
Minimum Nights: 3
Refund Policy : 100% refund if you cancel at least 60 days before check-in.

Stay in style in this exclusive two-bedroom bungalow in Palm Springs. The house is immersed in luxury features making your experience truly unforgettable. The property adorns the finest fabrics and high thread count sheets. There are a full American kitchen and a large dining area in the house. A gorgeous garden welcomes you in the front, which also has a deck and a seating area. In the center lies a swimming pool with a poolside seating area and the perfect place for your parties.
¡Biltmore Phase 1 Poolside Paradise visto en el popular programa de HGTV!

Accommodates: 4
Minimum Nights: 28
Refund Policy : 100% refund if you cancel at least 60 days before check-in.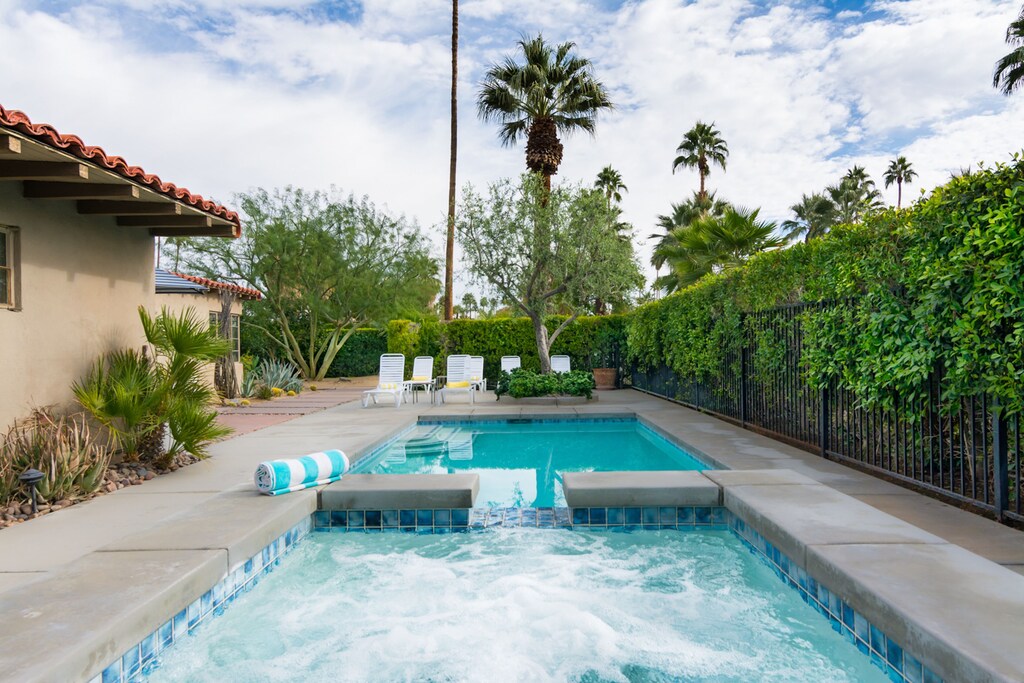 This luxurious four-bedroom villa is just the place to stay on your next visit to Palm Springs. Ideal for eight, the holiday home as tastefully designed bedrooms with queen-size beds, a study table, and it adorns modern decor and light color shades, along with extra luxurious features like a walk-in wardrobe and an open-air hot tub. Next to the hot tub is the swimming pool with views of the open blue sky and the canyon. The house is equipped with all other features like a light-filled living room, fully furnished with sofas and a TV, and the property also has a full bathroom with a shower, climate control, and much more.
Canyon View Artist Retreat
This grand, four-bedroom luxury house in Palm Springs is ideal for families or a group of eight. The house is surrounded by a colorful garden with multiple outdoor seating areas and dramatic views of the mountains. The house is bathed in white with light color shades and ample natural light, and it's decorated with an ultra-modern interior and comfy fabrics and furnishings to add to your comfort. The swimming pool has poolside dining and cabanas to enjoy your breakfast or party. The entire property is decorated with rich and modern fabrics for a good feel.
Stylish Mountain-View Oasis w/ Private Pool & Spa - Near Downtown & Golf
This three-bedroom holiday home in Palm Springs is ideal for families and a group of six. The property features an outdoor living area with sofas, a TV and a barbecue grill. The front yard garden has a small seating area where you can enjoy your morning coffee or evening barbecue parties and the lovely deck from where you can enjoy the scenic natural beauty. The home, all together, offers a modern living experience adding a little something extra to your holiday.
Totally private enclosed 10,000 sqft. lot

Accommodates: 6
Minimum Nights: 6
Refund Policy : 100% refund if you cancel at least 60 days before check-in.

Lavish accommodations in Palm Springs
Out of the wide range of vacation rentals with pools in Palm Springs, these are only a few.There are several other lavish homestays that will change the way you look at holiday living. Depending on your space requirement and budget, and whether you are traveling as a family, couples or with friends, you can choose from among Vrbos ranging from studios to deluxe bungalows. Most of these offer panoramic views either of the canyon or mountains.
Disclosure: Trip101 selects the listings in our articles independently. Some of the listings in this article contain affiliate links.
Get Trip101 in your inbox
Unsubscribe in one click. See our privacy policy for more information on how we use your data