A luau is a traditional Hawaiian feast accompanied by traditional music, fire dancing, and hula dancing. Among the Hawaiian people themselves, they combine the feast into a party to celebrate weddings, graduations or birthdays. Many exceptional luaus are laid on for the public to enjoy while visiting the beautiful islands of Hawaii. A welcoming ceremony includes the traditional floral lei and a cooling mai tai drink. Dishes served at luaus include Kalua pig, Lomi salmon, haupia and Opihi. So if you're planning to experience this beautiful tradition soon, be sure to choose among the top glamping spots or family-friendly hotels for your accommodation needs. Then read below for the best luaus in Hawaii, as rated by reviewers, tour operators, and food critics.
1. Old Lahaina Luau, Maui
According to a survey on "Best of Maui," the Old Lahaina Luau on Maui is a perennial winner. Frommers say the authenticity, cultural integrity, hospitality, and romantic beauty make it the top luau on the island. What started out as the Old Lahaina Café has grown over the years. The owners claim to have 100 percent occupancy, 7 days a week. Their offering is traditional Hawaiian cuisine, cultural dances, music and demonstrations, all while admiring a sunset ocean view.
Among the many dishes served is the traditional Pua'a Kalua pork which is roasted in an underground oven. I'a is a special, Maui-style fish dish, while Moa is a Hawaiian-style chicken dish, marinated in guava sauce and garnished with fresh pineapples. Vegetarians are cared for with a selection of stir-fried vegetables, including Maui onions, zucchini, broccoli, carrots, and sugar snap peas. Old Lahaina Luau is located at 1251 Front Street in Lahaina, Maui. Tel.. No. .
Old Lahaina Luau, Maui

Address: 1251 Front Street, Lahaina, Maui

Tel. No.: +1 808-667-1998

Website: Old Lahaina Luau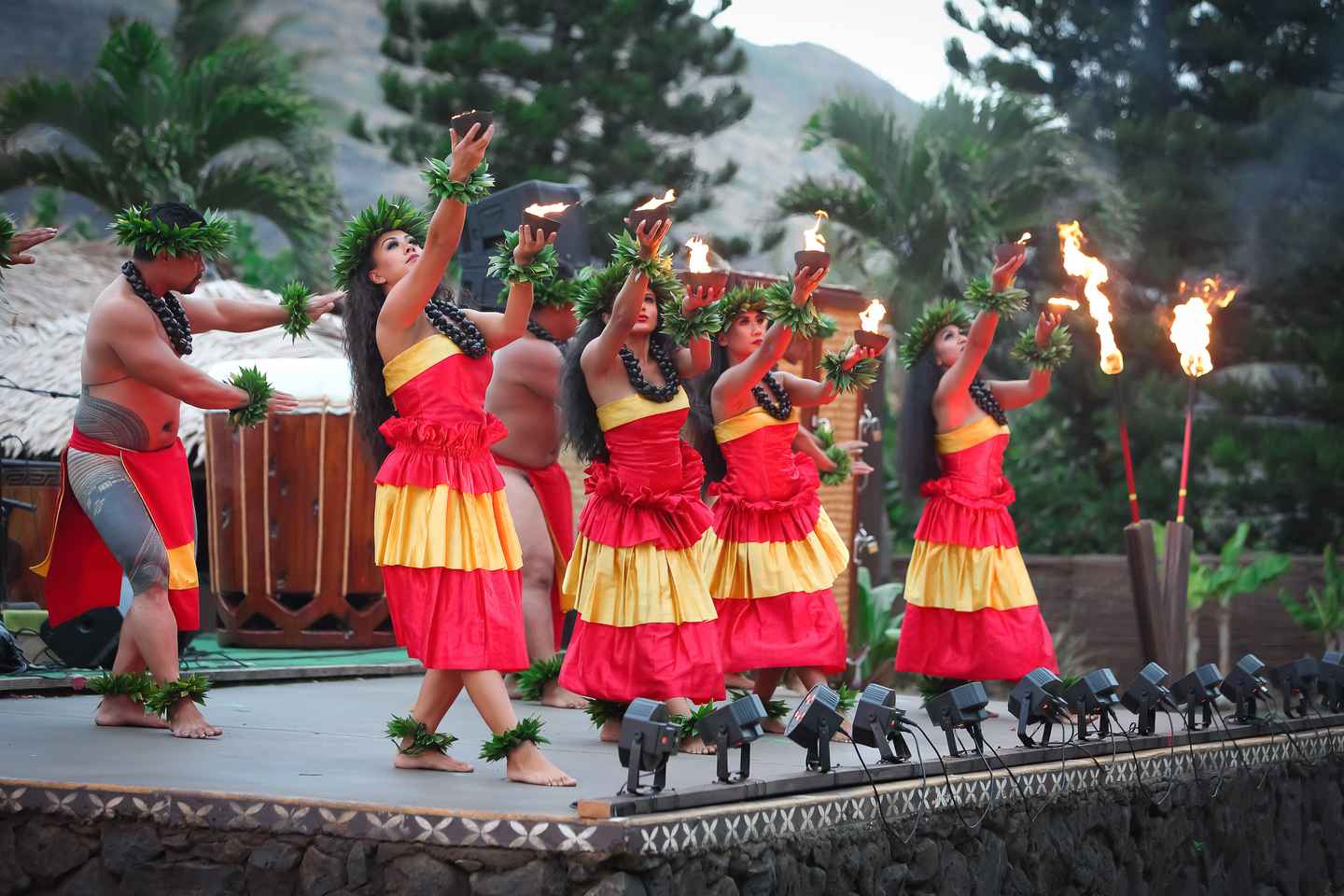 The Ka Moana Luau is rated five stars by Viator. Visitors of all ages first enjoy a series of cultural things to do, including learning how to dance the hula, play the ukulele, coconut-headband weaving or stringing a flower lei. Guests then relax with a buffet dinner consisting of a varied selection of specialties, including grilled mahi-mahi, Lomi salmon and Kalua pork. This is followed by an award-winning performance of Polynesian fire dancing and hula dancing. Visitors also get free tickets to Sea Life Park included in their bookings.
Ka Moana Luau, Oahu

Address: 41-202 Kalaniana ole Highway, Waimanalo, Oahu

Tel. No. +1 808-926-3800

Website: Ka Moana Luau
Oahu: Ka Moana Luau at Sea Life Park with Dinner & Show

Duration: 2.5 hour
3. Luau Kalamaku at Kilohana Plantation, Kauai
The evening is spent on the historic Kilohana Plantation and starts with a lei greeting and champagne reception. A four-course, sumptuous meal is then served including all the island favorites. When the appetite is well and truly satiated, visitors can then relax and sit back to enjoy a fascinating show including fire dancing, hula dancing, and traditional Hawaiian music. The evening's entertainment reenacts the tale of the first Tahitian voyage to the islands of Hawaii.
Luau Kalamaku was voted the "Best Luau Show" by travel site Lonely Planet.
Luau Kalamaku

Address: 3-2087 Kaumualii Highway, Lihue, Kauai

Tel. No. +1 877-622-1780

Website: Luau Kalamaku
4. Luau at Mauna Kea Beach Resort, Hawaii Big Island
This luau is considered to be the oldest and most stylish on the island. The luau is set in the grounds of the Mauna Kea Beach Resort in South Kohala. While it's considered the best, it is also smaller than average, making the evening feel like a celebration with family and friends. An all-you-can-eat buffet is served including all the top traditional dishes. The kids then head to the stage to learn how to hula, followed by a fascinating show of dancing, music and the fire knife dance.
The luau at Mauna Kea Beach Resort is rated the top luau on the Big Island by Hawaii Magazine. The hotel can be found at 62-100 Mauna Kea Beach Drive on the Kohala Coast of Big Island.
Luau at Mauna Kea Beach Resort

Address: 62-100 Mauna Kea Beach Dr, Waimea, HI

Tel. No.: +1 808-882-7222

Website: Luau at Mauna Kea Beach Resort
5. Smith Family Garden Luau, Kauai
This luau event is consistently voted one of the best in Hawaii according to Kauai Revealed. The luau is held in the gardens of the Smith family home on the Wailua River. A traditional feast is served including Kalua Pork, Chicken Adobo, Lomi Salmon, Beef Teriyaki and Hawaiian salads and desserts. The meal is followed by the Rhythm of Aloha show, including authentic and exciting multi-cultural performances hailing not only from Hawaii but also from Samoa, Tahiti, New Zealand, the Philippines, Japan, and China. The event is enjoyed in a torch-lit amphitheater.
Smith Family Garden Luau

Address: 5971 Kuhio Hwy, Kapaa, Kauai

Tel. No.: +1 808-821-6895

Website: Smith Family Garden Luau
6. Rock-A-Hula show with luau buffet dinner, Waikiki
Photo is only for illustrative purposes
For a luau experience with a difference, try the Rock-A-Hula show at the Royal Hawaiian Theater in Oahu. The four-hour show includes a great cast of performers taking the audience on a journey in Hawaii from the 1920s to the current day. Traditional Hawaiian dancers perform, while the Legends tribute artists sing covers of hits over the years and fire knife dancers show their skill. Hula lessons are also available.
The evening includes a welcome Mai Tai cocktail and a traditional luau buffet dinner. Guests with Premier seats can also visit the artists backstage in the Green Room. The Royal Hawaiian Theater is located at 2201 Kalakaua Avenue, Honolulu.
Rock-A-Hula show with luau buffet dinner

Address: 2201 Kalakaua Avenue, Honolulu

Tel. No.: +1 808-629-7469

Website: Rock-A-Hula show
7. Paradise Cove Luau, Oahu
The Paradise Cove Luau is held in the Hawaiian Village at Paradise Cove in Oahu, one of the great places to visit. Among the activities here are traditional arts and crafts, as well as cultural activities including the Imu underground oven ceremony, fire dancing, and hula dancing. First, there is a meet and greet with the traditional floral lei and a mai tai, after which guests relax with a full Hawaiian luau buffet dinner and tropical cocktail, before watching the exciting show.
The Paradise Cove Luau is rated 4.5 by Tripadvisor members. The Hawaiian Village is located at the Ko Olina Resort on the leeward coast of Oahu.
Paradise Cove Luau

Address: Ko Olina Resort,

Tel. No.: 92–1089 Aliinui Drive, Kapolei, Oahu

Website: Paradise Cove Luau
Soak in the sounds, colors and traditional cuisine of Hawaii
Take in the culture of the Hawaiian Islands while enjoying delicious food, tasty cocktails and exciting traditional entertainment at one of the best luaus in Hawaii. There are waterfall hikes to explore and street food to try as well, so be sure to check them out!
Disclosure: Trip101 selects the listings in our articles independently. Some of the listings in this article contain affiliate links.
Get Trip101 in your inbox
Unsubscribe in one click. See our privacy policy for more information on how we use your data