The ancient city of Toledo stands on a hill above the Castilla-La Mancha plains of central Spain. The city is well known for its mixture of Christian, Arab and Jewish monuments, located within the fascinating walled historic centre. Toledo is also the birthplace and former home of the Spanish painter El Greco. Toledo offers a wide selection of restaurants and tapas bars, serving the traditional local cuisine and more international offerings as well as the excellent wines of the region. There is plenty to see in the city, and we've outlined some of the best things to do in Toledo, Spain below.
1. Monastery of San Juan de los Reyes
First on the list of what to do in Toledo, Spain is a visit to the monastery. To give it its full title, the Monasterio de San Juan de Los Reyes is a church located on the outskirts of Toledo in Cigarrales. The monastery was built in the Isabelline style by the Catholic monarchs. The location of the parish is unique, as there are no homes in the area, with just a few streets surrounding the monastery. Of particular interest to visit are the two cloisters inside the church. However visitors are warned to be respectful if a service is being held.
Monastery of San Juan de los Reyes

Address: Calle de los Reyes Católicos, 17, 45002 Toledo

Website: Monastery of San Juan de los Reyes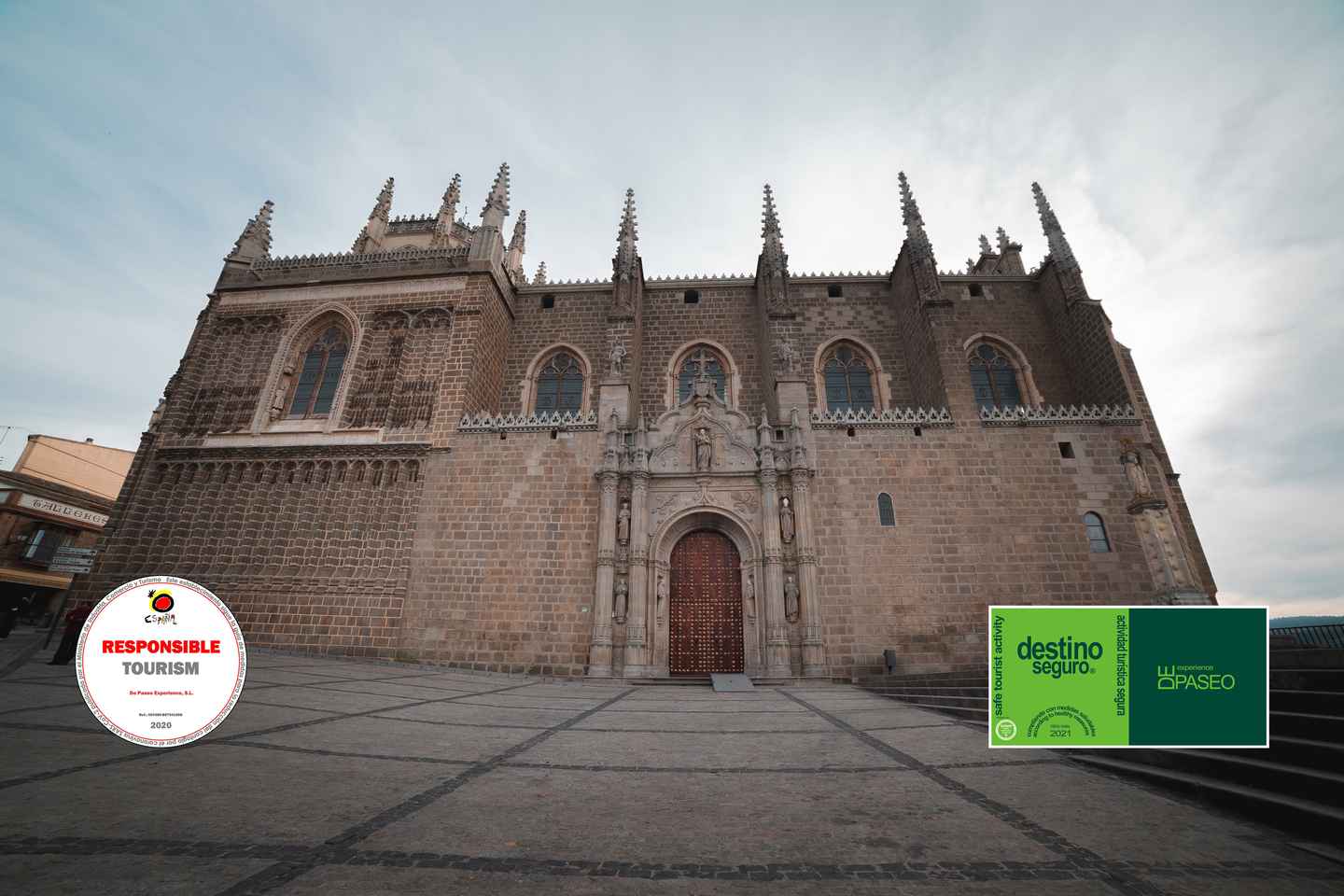 Construction began on the Toledo Cathedral in 1227 and is considered to be one of the greatest Gothic structures in Europe. The building was placed over the foundations of a former Visigoth Cathedral dating back to the 6th-century and the site was also used as a Mosque during the Moorish occupation in Spain. The building is in a Gothic style with French influences and has five naves and 72 vaults.
Toledo Cathedral

Address: Calle Cardenal Cisneros, 1, 45002 Toledo

Website: Toledo Cathedral
Toledo: Walking Tour and Tourist Pass to 7 Monuments

Duration: 3 hour
The Mezquita-Iglesia de El Salvador temple is a medieval structure combining the work of the Visigoths, paleo-Christians and Arabs. A primitive mosque minaret can still be seen today as the Bell Tower, as well as the remains of an Arab patio and a Christian cemetery. Inside the building is a unique pilaster, or rectangular column, decorated with scenes of the life of Christ.
Mezquita-Iglesia de El Salvador

Address: Plaza el Salvador, S/N, 45002 Toledo

Website: Mezquita-Iglesia de El Salvador
Toledo At Your Own Pace from Madrid

Duration: 5 to 8 hours
4. Plaza de Zocodover
What is Toledo famous for? Well, here it is. The Plaza de Zocodover was originally a market place where animals were sold during the Moor occupation. Nowadays visitors can enjoy the region's rich cheese and delicious wines at the many restaurants and bars lining the square. The plaza is the main town square of Toledo where various festivals and events are held. Visitors can also catch the tourist train here to travel through the city.
Plaza de Zocodover

Address: Plaza Zocodover, s/n, 45001 Toledo
5. El Greco Museum
El Greco Museum was built to house many artworks dating from the 16th and 17th centuries, including the work of Domenikos Theotokopoulos, a Cretan artist. Nowadays exhibits have been extended to include the Mannerist and Baroque artists. Of particular interest is a plan of Toledo and several male portraits painted by El Greco himself.
El Greco Museum

Address: Paseo Tránsito, s/n, 45002 Toledo

Website: El Greco Museum (in Spanish)
6. Caves of Hercules
The site where the Caves of Hercules can be found has a rich architectural past. In Roman times, a water tank was built here to supply inhabitants of the city, as part of a hydraulic network. The Visigoths built a Christian temple on the site and the Arabs later erected a mosque. As to the name, legend has it that Hercules built a structure on the site to practice magical arts and necromancy. Come to the caves, which is one of the best places to visit in Toledo, Spain.
Caves of Hercules

Address: Callejón San Ginés, 3, 45001 Toledo
7. Museum of Santa Cruz
The Museum of Santa Cruz is considered one of the most important provincial museums in Spain, not only for the old Santa Cruz Hospital that existed there, but also for the variety and wealth of the collections housed in the museum. The museum is in three sections. One is dedicated to Archaeology with exhibits from the Roman, Visigoth, Arabic and Mudejar eras. Another is dedicated to fine arts, with Toledo paintings on display dating from the 16th and 17th centuries, including the work of El Greco. The third section is dedicated to Industrial Art, with exhibitions of items of local craftsmanship and popular culture.
Museum of Santa Cruz

Address: Miguel de Cervantes, 3, 45001 Toledo

Website: Museum of Santa Cruz (in Spanish)
To this very day, the legacy of the three religions that co-exist are still visible in Toledo. Wander around cobblestoned alleyways and witness historical sites rugged in pale to deep terracotta colour. For a unique experience, get captivated by Toledo's natural beauty and see more from above on an hour of exciting hot-air balloon ride. Witness the Tagus river as it flows around the Old Town, experience its vast beauty looking down at the Alcazar of Toledo (a square stone-fortress in the highest part of Toledo) and the Cathedral. This is a relaxing way to have a wonderful 360-degree view of the of the city. It even becomes more magical with a touch of sunset. The package includes lunch, insurance and a certificate of flight completion. Cameras are also setup to capture your experience in photos and videos.
Hot air balloon flight over Toledo

Price: 165 USD

Duration: 3 hours
Toledo or Segovia Hot-Air Balloon with Madrid Transfer Upgrade

Duration: 3 to 6 hours
Toledo produces some of the finest wines in Spain. If you're a wine enthusiast, join this wine show located in the historical center of the city to get acquainted with some of Toledo's best. You'll be guided by sommeliers on the different tasting methods of a few selection. You will get to pair these wines with delicious Spanish tapas, which we hope would spark your interest in diving deeper into their cuisine! If you're in Toledo with your special someone, this tour is a great date night activity!
Toledo Wine Show in Historical Center

Duration: 1 hour
10. Restaurante Hierbabuena
Photo is only for illustrative purposes
Wind down with a delicious meal at Restaurante Hierbabuena. This restaurant overlooking Toledo and its river is known for its excellent selection of food. Their mushroom risotto croquettes and burrata are a must-try among their starters. For "carnes" or meats, diners swear by their veal sirloin and fried suckling pig chops. Restaurante Hierbabuena is a perfect date night restaurant, if you ask us! If you happen to be in Toledo with your family, bring them by for a sumptuous meal, too!
Restaurante Hierbabuena

Address: Ctra. Circunvalación, 1, 45003 Toledo, Spain

Website: Restaurante Hierbabuena

Opening hours: 1:30pm - 2am (daily)
11. Alcázar of Toledo
The Alcázar stands on the highest hill in Toledo and is located on the outskirts of the city. The site appears to have always been a fortified location with evidence found of its Roman and Moorish past. The current building was constructed under the order of Emperor Carlos V as a royal palace. While the former medieval castle was destroyed during construction, some battlement structures remain on the building's east façade.
Alcázar of Toledo

Address: Calle de la Union, s/n, 45001 Toledo

Website: Alcázar of Toledo
Editor's Note: There's no photo available at the time of writing
Stay active during your visit to Toledo. Take a 20-second zipline ride from Old Town Toledo, crossing one of its rivers, with a view of the medieval San Martin bridge on the side. The 180-metre (590.5-ft) zipline ride is Europe's longest urban zipline. The price includes all the equipment, photos, and insurance. A video package can be added at minimal cost.
Europe's longest urban zip line (180 m/590.5 ft)

Price: 14 USD

Duration: 30 minutes
13. Castle of San Servando
The Castle of San Servando dates back to the Roman era and was later a monastery under the Visigoths. An Arabic fortress was then built on the site. When King Alfonso VI took the city of Toledo in 1085, the fortress was converted into a monastery, dedicated to Saint Servando and Saint German, who the king claimed had saved his life in the Battle of Sagrajas. Nowadays the building is used as a unique hostel for travelers.
Castle of San Servando

Address: Subida Castillo San Servando, 45006 Toledo

Website: Castle of San Servando
Apart from its stunning hills and lush greenery, experience the best that the "City of Three Cultures" has to offer and stay in prime neighborhoods like San Anton, Central Toledo, and Antequeruela-Covachuelas.
San Anton
San Anton is one ideal area to consider basing yourself in when traveling to Toledo. It's surrounded by many parks as well as superb structures like Toledo Cathedral. This city juxtaposes modernity and tradition, making it a spot that offers a variety of accommodations like swanky apartments, charming lofts, and spacious townhouses.
Central Toledo
History enthusiasts must check out Central Toledo. It's surrounded by lovely plains and boasts a Medieval quarter filled with picture-worthy monuments. This ancient city is also a haven for modern art that art enthusiasts and creatives need to check out. Common accommodations in this area include historic hotels, condo properties, and hostels, among others.
Antequeruela-Covachuelas
Great for business travelers or a group of friends making their way around Toledo, Antequeruela-Covachuelas is a neighborhood worth exploring for a few days. Popular accommodations in this part of the city include apartments, boutique hotels, and homestays. This area is home to some of the most stunning cultural sights like temples and castles that make for a picturesque backdrop for your travel photos.
For a top-notch vacation in Toledo, we recommend booking these amazing places to stay:
A historical tour of Toledo
We hope that these Toledo attractions inspired you to take the first step and plan a trip. There are many more interesting sites on offer to enjoy Toledo's rich and historic past. You'll have to see it for yourself!
Disclosure: Trip101 selects the listings in our articles independently. Some of the listings in this article contain affiliate links.
Get Trip101 in your inbox
Unsubscribe in one click. See our privacy policy for more information on how we use your data