Cambridge or "The Town of Trees & Champions" as it's commonly referred to by locals, is a town in the Waipa District of the Waikato Region of the North Island of New Zealand. It's memorable for its leafy streets, heritage buildings, antique shops and beautiful thoroughbred horse studs. Cambridge town is a rich agricultural area and it features large dairy farms. In addition, the region is a prime tourist attraction with several museums and galleries and it is also a leader in the equine industry. Sporting activities like rowing in the famous Lake Karapiro, cycling and many more are known attractive activities for both tourists and locals alike. If you are planning a vacation in Cambridge to have an experience of the culture, check out these holiday homes you can in the area. Scroll down to learn about the best Bookabach holiday homes in Cambridge, New Zealand.
This stunning guest suite is located in a serene environment. Its location is unbeatable, just two minutes walk from the lake. Featuring two en-suite bedrooms, a lounge area and a kitchenette which opens on to a deck with a barbecue. One room has a king double bed and the other has two king singles. There is a double sofa bed in the lounge for an extra guest, meaning it can accommodate a number of six people. There are a separate toilet and hand basin. You are near all tourist attractions around the area including Hobbiton, Waitomo Caves, Rotorua and Don Rowlands Center, among others.
Watershed - Lake Karapiro

Accommodates: 6
Minimum Nights: 1
Refund Policy : 100% refund if you cancel at least 14 days before check-in.


Top guest reviews

My son asked if he could get a bed the same at home because it was so easy to fall asleep in

Very comfortable well sourced property with enough space for all five of us Cheers

Beautiful modern accommodation with everything you could need

Clean and comfortable accommodate Very pleasant stay in quiet surroundings

Judy is a warm and generous host

all your help and local tips

Lovely property and we were made to feel very welcome and to treat it like home

The accommodation was of a very high standard with great facilities

Everything you could need for a mini break and wonderful hosts Would stay again whenever in the region

The location is perfect for Lake Karapiro Huge and lovely Breakfast supplied too

(it's about 1 hours drive to Mangakino)

Spacey and fresh house in beautiful property

Beautiful Home set on a lifestyle block type place 10 minutes drive from popular wedding venues and cambridge centre Very comfortable beds with lobely homely touches over the place

It is one of the best B&B's

Read more reviews
Enjoy a relaxing feel of contemporary design from this cottage in Lexington Park. One bedroom one bathroom is full of elegance and space. Accommodating four guests comfortably, this getaway located in the heart of Cambridge's beautiful equestrian region is your perfect accommodation. You are provided with a queen bed and a queen sofa bed in the living area. The area location is perfect and boasts a major hosting venue for events such as weddings, cultural and sporting events and many more.
Lexington Park Cottage
Check out this beautiful getaway home in the hills. The beautiful scenery you get to enjoy during the sunset and sunrise is unrivaled. Bright, cheery and immaculate, the one-bedroom one-bathroom chalet in the shires is a perfect choice for a couple. It is right near where all the action is situated, being close to Cambridge's many shops and cafe's, Te Ko Utu Lake, cinema, day spa, velodrome, race course, markets, Lake Karapiro, Hobbiton Movie Set, Maungakawa and Maungataurari Scenic Reserves, Hamilton Gardens and local event centers. Also central to many more attractions in Waikato, such as Waitomo Glow Worm Caves, Wairere Falls, Tirau, Aroha hot pools, Putaruru Blue Springs, Mount Maunganui beach and Rotorua.
Chalet in the Shire, quiet and private, pet friendly, great location.

Accommodates: 2
Minimum Nights: 1
Refund Policy : 100% refund if you cancel at least 14 days before check-in.

Enjoy a satisfying escape to the countryside full of privacy and serenity, all offered in this stunning accommodation. It is a spacious country lodge featuring three large bedrooms and two bathrooms. The home is fully equipped and it includes a large kitchen, a walk-in pantry and laundry. The bright and comfortable living rooms and outdoor area are well furnished for relaxation. You will experience a refreshing classic country living in this lodge, that accommodates up to six guests.
Essene Country Lodge, Cambridge, Waikato, NZ

Accommodates: 8
Minimum Nights: 7
Refund Policy : 100% refund if you cancel at least 60 days before check-in.


Top guest reviews

Stained sheets and a very uncomfortable master bed

The cottage is modern spacious well-equipped and has a lovely feel to it

The cottage is modern spacious well-equipped and has a lovely feel to it

This property is spacious comfortable and modern

Very quiet private and peaceful Had all the amenities required - apart from a hairdryer :)

We loved what they had done with the property

My family and I love Essene Country Cottage

My family and I love Essene Country Cottage

as the weather was warmer

We felt so relaxed and comfortable here would definitely recommend

It's a 5 minute walk to a cafe

2 great cafes were close to get a coffee fix :)

It's a relaxing place to stay in the country but only 10-15 minutes drive to Hamilton and Cambridge

It's a relaxing place to stay in the country but only 10-15 minutes drive to Hamilton and Cambridge

The house is well equipped and the location in the middle of countryside is Just very relaxing

Read more reviews
Take a look at this perfect family getaway. Situated within 35 mins of Hobbiton and 25 mins to the Hamilton Gardens, this two-bedroom cottage with an open-plan dining comfortably accommodates a total of six guests. The dining sliding door opens out to a small deck and the steps lead down to a patio with a turtle pond feature. Well furnished, bright and spacious, the rental is near where all the fun is situated and you can visit Lake Karapiro for rowing, as well as enjoy kayaking and cycling.
Massey Country Cottage - 20 mins from Lake Karapiro, the Velodrome, Sanctuary Mt

Accommodates: 6
Minimum Nights: 2
Refund Policy : 100% refund if you cancel at least 14 days before check-in.


Top guest reviews

Comfy cottage with everything we needed

The place was roomy and clean; all the conveniences of a home

Clean and well appointed cottage has everything you need and then some Thanks for a great stay

The wifi signal was a little weak at times

He loved the dog Roxy and the turtles

Pleasant and tidy and made welcome by Kim

You can see that a lot of care is taken to make sure that guests are made to feel at home

lovely peaceful cottage Spacious and cozy nice dog :)

Comfortable tidy includes all necessities and even some creature comforts

Thank you to Kim for a great hideaway in Cambridge

Perfect location for us as we like the quiet and outlook of being just out of town but close enough to get supplies easily

The quiet country location appealed to us as a quiet retreat from city life for 5 days

Quiet and peaceful being in the countryside- but close to Cambridge town

Lovely flat lawn for him to kick his soccer ball Nice spacous cottage with all the amenities Lovely outlook to green pastures and hills Not far to Cambridge Karapiro and the Blueberry's at Monavale

Read more reviews
Perhaps this French cottage located in a dairy farm is worth taking a look at. Situated 8 km (5 miles) from Cambridge, this villa offers you a quaint one-bedroom self-contained cottage with a private spacious outdoor living area. The main living area with a kitchenette also has a single bed, and if required for children, we can set up another single mattress on the floor. Its French-style decor has been crafted for an enjoyable cozy stay. A well-equipped kitchenette and a barbecue are some of the highlights in the villa which comfortably accommodates four guests.
Little Villa - French Country Cottage

Accommodates: 4
Minimum Nights: 1
Refund Policy : 100% refund if you cancel at least 14 days before check-in.

A perfect getaway for two is found in this well-presented bedsitter cottage located in a lifestyle community. The accommodation is generously spaced and offers you an atmosphere to relax and unwind. It is positioned within a two-minute walk to the Red Cherry Cafe where you can purchase freshly roasted coffee and a bite to eat. Also, it's only a short drive to the Cambridge Village weekly market or the Tamahere monthly farmers market. You are also only a short drive to the top attractions around, including the cycling Avantidrome, Cambridge Golf Course, Lake Karapiro and the surrounding areas.
Stunning Secluded Country Cottage

Accommodates: 2
Minimum Nights: 1
Refund Policy :


Top guest reviews

was quite hot though cooled down to a reasonable level with the windows left open

to spend a night in the country

some road noise but space and the stock around certainly make you feel like you are in the country

Very clean A little small but well-stocked fridge (bread butter milk etc) and decent microwave Handy to velodrome and to town Suggest a hairdryer in the room

Lovely well equipped unit set in rural quiet surroundings Highly recommended

Generous continental breakfast and owner very good to deal with Will stay again

Perfectly met our needs for our Maadi week Lovely to be slightly rural yet so close to Cambridge Thoroughly enjoyed our stay in this wee cottage attached to garage on a beautiful property

Ideal for a couple comfortable and very very clean in a delightful country setting 2 minute drive to the Avantidome and 4 minute drive to town

Quiet location in the country close to Cambridge

Weeping Willow Cottage is situated in a quiet pretty rural location convenient for Cambridge with its tree lined streets the race track and the Avantidrome

Private room separate from the main house Room

Great little rural cottage attached to shed

Cute little cottage with all the basic needs and a few luxury touches Small but well-appointed and located walking-distance from coffee (yay) and a short drive or ride to town Would definitely re...

Read more reviews
This is the ultimate large family or group's vacation rental. The three-room retreat has two spotless and tiled bathrooms and comfortably accommodates nine people. The air conditioning with ducts to all rooms keeps the house at an even temperature. Situated in a secure area, you have nothing to worry about during your stay. There is a private backyard for relaxation under the olive trees, a barbecue, a complete kitchen to whip up a meal, a TV with Netflix and unlimited WiFi, among other highlights like two mountain bikes available for use. The villa is also close to the nearby shopping centers found just minutes away.
Villa 142 - Luxurious and Centrally Located

Accommodates: 9
Minimum Nights: 2
Refund Policy : 100% refund if you cancel at least 14 days before check-in.

This modern designed three-bedroom one-bathroom unit is furnished with relaxation and simplicity in mind. Accommodating up to eight guests, the elegant country cottage is definitely a fabulous choice for large traveling groups. The cottage has beautiful interior decor. It is situated in the countryside away from the hustle and noise meaning you get to enjoy privacy and it is a top pick if you want to place a tick on the 'unwind' checkbox. The location is unbeatable, with a great variety of bars, cafes and restaurants all within a few minutes' drive.
Modernized /Retro country cottage

Accommodates: 10
Minimum Nights: 2
Refund Policy : 100% refund if you cancel at least 14 days before check-in.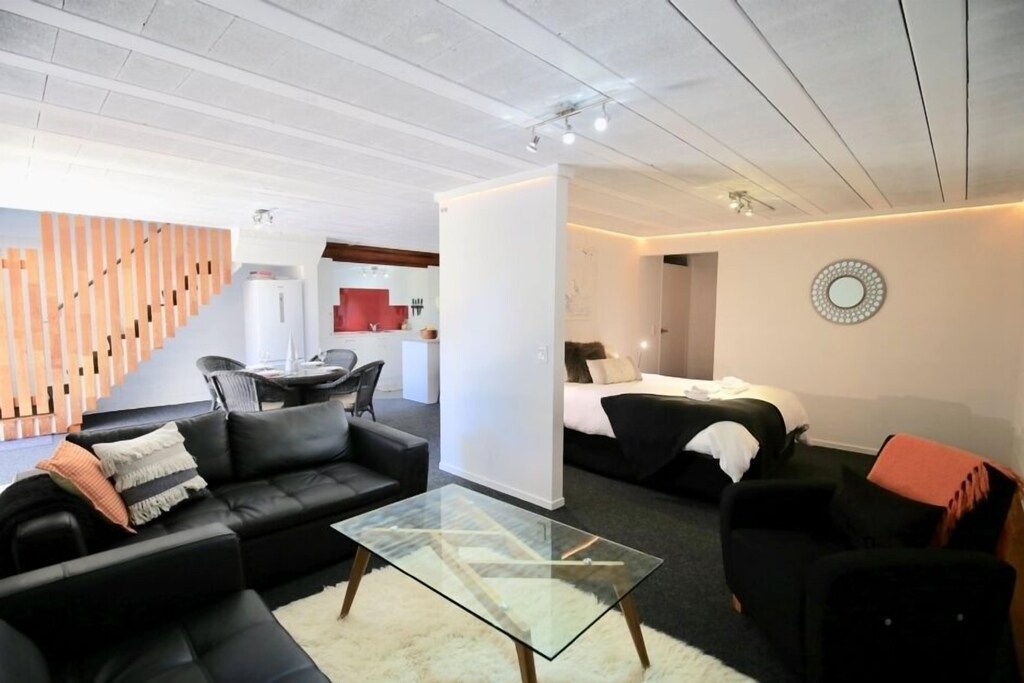 This modern contemporary one-bedroom and one-bathroom flat features a large comfortable bed, a large walk-in wardrobe to put away your luggage, a modern high pressure shower, subtle romantic lighting, well designed functional kitchen and a dining area, comfy living area to relax and watch TV or listen to your favourite music from the sound system available. You also get to enjoy much-needed privacy and a spacious outdoor living area with bar seating, lounge seating and a barbecue.
Stunning Self-contained Cambridge Accommodation
Cambridge's elegant accommodations
Beautiful horse studs, old English trees, wonderful shops, cafes, gardens full of roses, wonderful kiwi houses, these and much more are what awaits you in Cambridge. Take your holiday experience to a new level staying in these beautiful homes in Cambridge.
Disclosure: Trip101 selects the listings in our articles independently. Some of the listings in this article contain affiliate links.
Get Trip101 in your inbox
Unsubscribe in one click. See our privacy policy for more information on how we use your data