Northland, New Zealand, is endowed with geographical features like forests, hills, caves, and rivers that allow you to engage in fun recreational activities like rafting, off-road driving, and rock climbing. You can access this forested region by air, water, or road as there are airports or airstrips, well-maintained roads, and water taxis or ferries that are used in the transportation of people from one place to the other. On matters of accommodation, there's a wide selection of places to stay, ranging from hotels, apartments, hostels, motels, to holiday homes. These properties are spread all over Northland, in the countryside, near bodies of water, and in the town center. Read on to find out more about the amazing Bookabach rentals in Northland, New Zealand.
If you're looking for the perfect beach accommodation in Northland, look no further than this beautiful vacation home in Ahipara. It is located right on the beach, offering easy access to many outdoor activities, not to mention one of the most spectacular ocean views in the region. It can sleep up to five guests and features a fully equipped kitchen, a cozy living room, WiFi, a TV, and a balcony where you can sit back and enjoy the stunning view.
Ahipara Surf Breaks. Beautiful Views.

Accommodates: 5
Minimum Nights: 2
Refund Policy : 100% refund if you cancel at least 30 days before check-in.

This newly built house with ocean views is in a tranquil location, near Ruakaka Estuary, a wildlife refuge home to seabird species. It's situated at a walking distance to social amenities like supermarkets and cafes, as well as Waipu Golf Club. The spacious, modern house has appliances like a washing machine, dryer, dishwasher, and a stereo system. You can bask at the beach or on the house's huge deck as you enjoy a cool breeze or indulge in recreational activities like kayaking and swimming.
Marotere - Waterfront beach house

Top guest reviews

exceptionally clean & tidy

it's clean and spacious

property was very clean tidy and modern

the place was extremely comfortable and clean

the owners are very kind and we enjoyed our stay very much cheers

short stay owner very helpful and accommodating

grant responded to my queries quickly and was very helpful highly recommended

fantastic location a real piece of paradise the house just adds to the experience

great location great views nice and relaxing location

Read more reviews
Facing the water, this white-colored property has an open-concept layout with an upstairs bedroom that's endowed with a comfortable queen-sized bed for good night sleep. It has great interior finishings and a well-equipped kitchen with appliances like an electric kettle, fridge, and microwave. Enjoy spectacular views at the outdoor sitting area where you'll see yachts and boats leaving and coming into the dock, as you enjoy the ocean's cool breeze. You don't have to buy freshwater as the home has an adequate supply of fresh filtered rainwater. As the facility doesn't provide bedding and towels, you're required to carry your own or request to hire linen (but do so ahead of time).
Waterfront - 8 minute walk to Village- Linen optional -see below description.

Accommodates: 2
Minimum Nights: 2
Refund Policy : 100% refund if you cancel at least 60 days before check-in.


Top guest reviews

washing machine comfortable bed

Need to be careful in the loft bedroom as the ceiling is low in

the window view was a definite highlight of the house

the boats turning to face the tide

felt like our own little hideaway but

Only frustration was that the Wifi was sporadic and slow

Lots of birds during low tide

Clean light well provisioned for cooking heating

place was just like the photos and tidy Don checked in to make sure all was ok Would definitely recommend this place

A few reviews mentioned the mattress was very hard

The location is perfect for exploring the Bay of Islands from - just a short walk away from the centre of Russell

Very go location and amazing views

only a ten minute walk back into Russell for shops and food

Watching the tide come in and go out is mesmerising

We walked to Russell for our lunches and dinners and absolutely loved waking up to the sound of the water gently rolling in

Read more reviews
Located only eight minutes away from Russell"s town center, this recently renovated house has gorgeous sea views and is fully fenced. It comes with heaters in all rooms, WiFi, entertainment appliances like TV and stereo system, and a fully equipped kitchen with tools like an oven, microwave, dishwasher, and coffeemaker to cater to all your needs. There are two sitting areas with chairs and tables to relax and enjoy the cool breeze while seeing yachts and boats at Opua Marina.
Sea Range - stunning sea views of the inner harbour

Top guest reviews

cathy's place was so comfortable with breathtaking views

an amazing home in a beautiful corner of the world comfortable clean beautiful views

very clean and tidy :) cath was great and would stay again

well equipped great location and so comfortable

amazing stay great location and lovely house

Read more reviews
Away from the hustle and bustle of the city is this small waterfront cottage along Kaipara Harbour, on the edge of a 1000-acre (404.6 hectares) sheep and cow farm. In this quiet location, you'll enjoy beautiful ocean views and you can engage in recreational activities like fishing, and swimming with friends and family. You can also get tents for extra guests who are looking to join in on the fun. The cottage has a separate hot water shower that's behind the cabin.
Waterfront retreat on Kaipara Harbour

Accommodates: 3
Minimum Nights: 1
Refund Policy : 100% refund if you cancel at least 14 days before check-in.

Overlooking the ocean and its surroundings is this well-equipped cottage with appliances like a washing machine, telephone, wireless Internet, microwave, and grill for your everyday needs. Sit and relax at the patio with your loved one and enjoy the cool breeze and ocean views as you chat and sip on your favorite drink. You're at liberty to engage in recreational activities like kayaking and fishing, or swimming at the solar-heated swimming pool, all amid the quiet environment.
Stunning ocean front cliff top cottage

Accommodates: 2
Minimum Nights: 3
Refund Policy : 100% refund if you cancel at least 14 days before check-in.

If you're looking for a traditionally redecorated home in a quiet neighborhood in Northland, New Zealand, then this two-bedroomed beachfront cottage is a perfect choice. Being a furnished rental, amenities such as TV, dishwasher, internet, dryer, and stereo system are at your disposal in order to make you feel at home. From the facility's patio, you can see yachts, boats, and aquatic animals like dolphins and orcas as it's strategically positioned facing the ocean.
Lovely heritage accommodation

Accommodates: 4
Minimum Nights: 2
Refund Policy : 100% refund if you cancel at least 14 days before check-in.


Top guest reviews

a great apartment with everything we needed would highly recommend

hosts were friendly and helpful

the property managers lyn and kevin were lovely and helpful as always

a bonus is the owner's direct relationship to the history of it

lynda and garth the caretakers are friendly and informative

super friendly host highly recommend the place we'll be back

a wonderful location and a great place to stay

a great property in a beautiful location

beautiful location with plenty to do nearby

really amazing place for a couple of nights with friends great location to explore the area

add to that a perfect location and we had a delightful 4 night stay

Read more reviews
Relax and unwind in a waterfront property that's endowed with modern amenities and situated in a clean and well-maintained environment. This holiday home is only 10 minutes away from Russel Township and comes equipped with a comfortable queen-sized bed, modern bathroom, and a lounge with a TV, DVD player, and a stereo system. It also comes with a modern kitchen with utensils and appliances like a microwave, dishwasher, coffee maker, and an oven for all your daily needs. In addition, you'll be provided towels and bedding for free while staying at this quiet and private property.
Blossoms Nautical Bach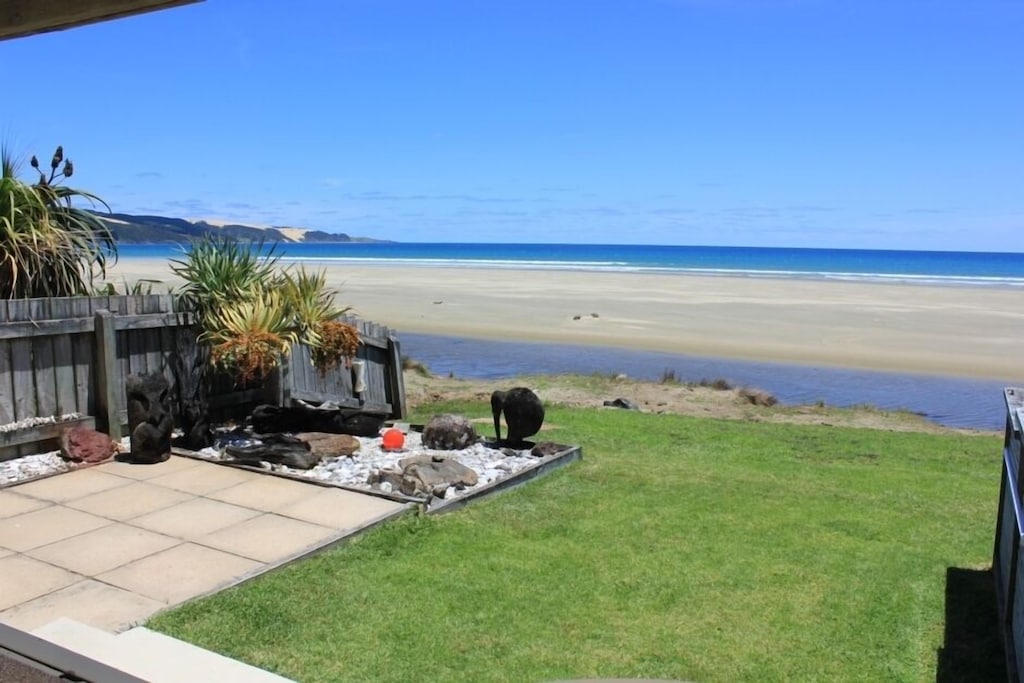 This beachfront duplex is fully self-contained and only a short walk to social amenities like shops and restaurants. It sleeps three adults and is ideal for couples looking to get away from their normal schedule and relax or engage in recreational activities like horseback riding, hiking, swimming, and kayaking. To add to the clean and accommodating atmosphere are amenities like wireless internet, spa pool, washing machine, and telephone for your daily needs.
Ahipara Tides Absolute Beachfront

90 Mile Beach (Ahipara), Ahipara, NZ
Being on the waterfront, you'll enjoy views of the ocean as boats pass by, sounds of waves and water, cool breeze, and fresh air all around the house. You can indulge in recreational activities such as swimming and fishing to pass time, or take a boat ride to Hokianga Harbour as you will have direct access to it. The cottage has free unlimited WiFi, mobile coverage, TV, outdoor hot shower, and a well-equipped kitchen for a good vacation. It's in a vibrant Kohukohu community that's near social amenities like shops, pubs, markets, and art galleries.
WATERLINE ~ Absolutely Waterfront!
Originally a residence of macadamia plantation workers, this property sleeps eight adults and has a large parking space of up to eight cars. It's a private residence that offers peace and tranquility in the countryside. You'll come across poultry and macadamia trees in this lush green location, offering a unique village setting that's ideal for families or a group of friends. There's a fully equipped kitchen with utensils and machines like microwave, fridge, and toaster. Pets like dogs and cats are allowed so you don't have to leave them behind while traveling.
We are next to the Twin Coast Cycle Trail

Accommodates: 4
Minimum Nights: 1
Refund Policy : 100% refund if you cancel at least 14 days before check-in.


Top guest reviews

she was very friendly and welcoming she made us feel at home

the hosts were very nice friendly and accommodating

Read more reviews
Great stays in Northland, New Zealand
Whether you're on a short stay or a long vacation in Northland, you're spoilt for choice on accommodation facilities to stay in. These Bookabach homes offer you the best Northland has to offer. Choose a facility that suits you well for fun-filled memories.
Disclosure: Trip101 selects the listings in our articles independently. Some of the listings in this article contain affiliate links.
Get Trip101 in your inbox
Unsubscribe in one click. See our privacy policy for more information on how we use your data