Situated along Lake Michigan, Chicago has everything you are looking for, whether you are a local looking for a romantic spot to take your date or just enjoying some romance. As you might know, the city of Chicago is known for its marvelous architecture, culture, and entertainment, not to mention great accommodations like Vrbo vacation rentals and hotels with fireplaces. This is a city that has a lot to offer, from romantic outings to fun-induced thrills. Whether it's summer or winter, don't worry, you will have plenty to do. So, if you find yourself holding hands while strolling down the streets with no place to go, make sure you scroll down and read about the best date night ideas in Chicago, Illinois, to take your sweetheart and enjoy some time together.
1. Relax in an ancient bath at AIRE Ancient Baths Chicago
Looking for something more relaxing for the two of you? Take a look at this one, located in a restored factory from the 1900s. It is very romantic with a cozy and peaceful atmosphere so that you can enjoy your time together. What a wonderful surprise to make someone happy. This is a great experience for the body and the mind.
AIRE Ancient Baths Chicago

Address: 800 West Superior St. Chicago, IL 60642, United States

Website: AIRE Ancient Baths Chicago

Opening hours: Sat - Sun: 8am - 11pm; Mon - Fri: 9am - 11pm

Price: From 90 USD - 800 USD
2. Have dinner at Alhambra Palace Restaurant
Editor's Note: Photo taken from the establishment's official social account
While there are plenty of restaurants with a view in the city, let's make this night more special and spice things up between the two of you. This is a very exotic place, so if you are looking for something more oriental, this is it. It has a truly unusual decor, but a very cozy place with a wide range of food and great shows. There are different rooms with different forms of entertainment in each, so when you make the reservation, make sure you choose something special and different for the occasion. You can choose between Salsa Tuesday or an exotic belly dance, and a lot more depending on the day of your date night.
Alhambra Palace Restaurant

Address: 1240 West Randolph St, Chicago, IL 60607, United States

Website: Alhambra Palace Restaurant

Opening hours: Sat: 11am - 2:45am; Sun - Thu: 11am - 10pm; Fri: 11am - 1:45am
3. Watch some magic tricks at the Chicago Magic Lounge
If you want to take your date to see a magic show by pros, then you must go to Chicago Magic Lounge, also known as restaurant and bar magic that has roots in the city going back to 1915. The ambiance is very exquisite, with a nice vibe, and you can also feel the magic in the air. Like Phil Collins says "I can feel it coming in the air tonight" and so will you because they always have lots of magic shows on stage for both of you to enjoy! Make sure you grab some drinks at the magic bar too; it offers you the opportunity to interact with a magician in an informal atmosphere.
Chicago Magic Lounge

Address: 5050 N Clark St, Chicago, IL 60640, United States

Website: Chicago Magic Lounge

Opening hours: Mon - Wed: 5:30pm - 11pm; Thu: 5:30pm - 12am; Fri - Sat: 5:30pm - 2am; Sun: 2:30pm - 4pm & 5:30pm - 11pm
4. Drop by Robot City Workshop
Interested in Robots? This spot might be just what you're looking for. A rather unconventional date-night idea, Robot City Workshop is perhaps the place to bring your technology nerd of a partner. Particularly, their Robot Date Night targets adults who would love to build their own robot using their easy-to-use DIY kit. A 24-hour advance registration is required to confirm your reservation. After this, you just have to enjoy your time together.
Robot City Workshop

Address: 3226 N. Sheffield Ave., Chicago, IL 60657, United States

Website: Robot City Workshop

Opening hours: Wed - Sat: 7pm - 9pm;

Price: 25 USD (with 50 USD deposit)
5. Have some fun at WhirlyBall Chicago
So are you ready to have a blast with your date? Here, you will find activities like whirly ball, bowling and laser tag. If you like to feel some adrenaline, its recommended that you try laser tag, although, as the name suggests, they are mostly known for WhirlyBall, which is a mix between lacrosse and basketball playing in bumper cars. Remember that it's always a good idea to perform some fun activities together!
WhirlyBall Chicago

Address: 1825 W. Webster Ave,Chicago, IL 60614, United States

Website: WhirlyBall Chicago

Opening hours: Fri - Sat: 11am - 1am; Sun - Thu: 11am - 12am
6. Go dancing at Ballroom Dance Chicago
Would you like to take her to do something out of the ordinary? Then just impress her and take her to a dancing lesson. It will be fun and you will have a laugh together! You can choose between wedding dance lessons, first dance lessons or swing dance lessons. With a nice staff and experienced instructors, it's your time to shine and show her your best moves!
Ballroom Dance Chicago

Address: 4039B N Ravenswood Ave, Chicago, IL 60613, United States

Website: Ballroom Dance Chicago

Opening hours: Sat: 11am - 5pm; Tue - Fri: 1pm - 10pm (closed on Sun & Mon)
7. Have cocktails at The Gwen's Curling Cabin and Rink
This is one of kind and a different type of date. A beautiful place with a very comfy vibe, nice decor and a very exquisite taste, this is a luxurious and romantic place to spend your time together, enjoying some cocktails alongside the breathtaking city view. So get on with it and amaze her because, you know she's worth it.
The Gwen's Curling Cabin and Rink

Address: 521 North Rush Street, Chicago, IL, 60611, United States

Website: The Gwen's Curling Cabin and Rink

Opening hours: Sun - Thu: 11am - 12am; Fri - Sat: 11am - 2am; Gwen Terrace: Sun - Thu: 11am - 11pm; Fri - Sat: 11am - 12am
Even at 1,353 feet (412 meters) in the air, you can still surprise someone and leave them speechless. After all, the Chicago Skydeck is one of the most romantic places in the city. Show her an exhilarating view over the whole city from the top of the Willis Tower, a famous building in Chicago. It makes a romantic spot especially at night, where you can see all the city's lights. Also, while you are there, make sure you go to the museum of cultural history and view some fascinating exhibits.
Skydeck Chicago Admission Ticket

Duration: 90 to 120 minutes
If both of you like to feel some adrenaline running through your veins, then you must definitely invite her to this ride. Expect an incredible view, because the scenery of the Chicago skyline at night is outstanding. You'll be amazed. While in the sky, the pilot will provide some comments on the city's history. Now, its time to surprise the one you love with something that they will not expect. Let's say that this one will leave you very high - in the sky.
Chicago: City Lights Helicopter Experience

Duration: 15 minute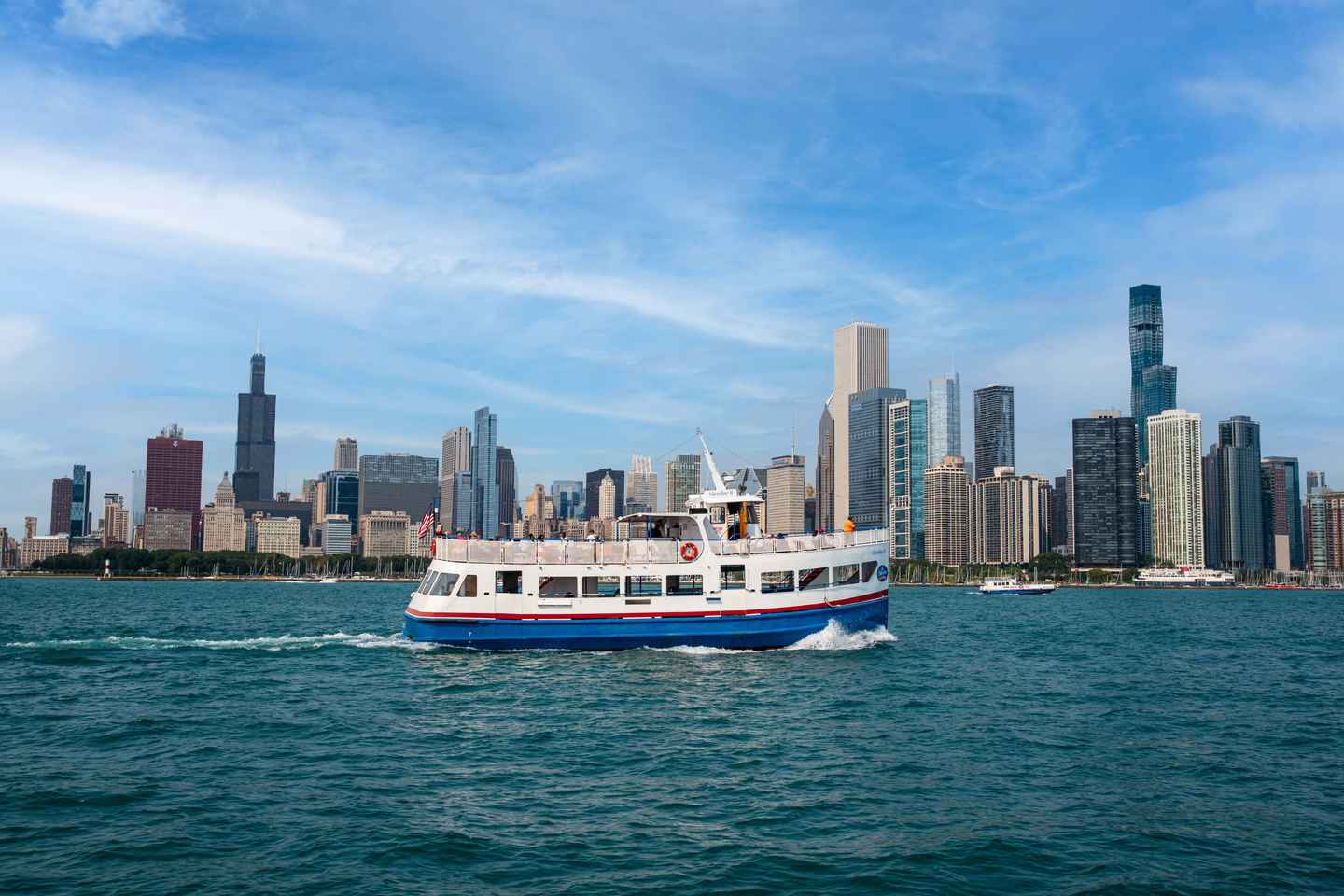 Amazing sightseeing of Chicago at night, is there something more romantic than that? Being able to share this kind of moment with your lover is the best feeling we can have. Floating past the city's iconic landmarks, learn about Chicago's history and its architecture during this cruise. At night, the sparkling city lights reflecting on the river will surely take your breath away and in the afternoon, the sunset vibe will blow your mind.
Chicago: Lake Michigan Skyline Sightseeing Cruise

Duration: 40.0 minute
Enjoy your date night in Chicago
Who doesn't like roaming the streets of Chicago holding hands and just living in the moment? Everyone enjoys these kinds of small things. And now that you've got the ideas, your plan is to put them into action. Let's try spicing things up between the two of you! Its time to do a proper date night, with everything that your loved one deserves. Be sure to check out the best dinner cruises and French restaurants in the city for more memorable experiences!
Disclosure: Trip101 selects the listings in our articles independently. Some of the listings in this article contain affiliate links.
Get Trip101 in your inbox
Unsubscribe in one click. See our Privacy Policy for more information on how we use your data