Grand Canyon is a massive landscape carved by Colorado River over 6 million years ago. This incredible canyon is 277 miles (446 km) long and 18 miles (29 km) wide, with a depth of over 6,000 feet (1,857 m). It is one of the most visited attractions in the USA, and for that reason, tourists love to rent cabins near the Grand Canyon to enjoy everything this park has to offer.
A great way to explore this beautiful natural structure is to go on a day hike. Most parts of the canyon are housed within Grand Canyon National Park, and there are lots of hiking trails here, ranging in difficulty levels. Even if you are a first-time hiker, you wouldn't have to worry because there will definitely be a trail that is suitable for you. Who knows? You might even find some fossils along the way! If you are up for an adventure, read this article to find out more about the best hiking trails at Grand Canyon, USA.
Bright Angel Trail offers visitors different difficulty levels. For the adventurous ones, opt for longer hikes to Plateau Point or Indian Garden and enjoy some dramatic views of the stunning canyon. For first-timers, you can choose the shorter 3-mile (4.8 km) or 6-mile (9.6 km) hike, both of which are equally amazing! You wouldn't have to worry about missing any essential hiking equipment as well, because backpacks and trekking poles will be provided.
Duration: 4 to 8 hours
Join a guided tour to explore the best of South Rim via South Kaibab Trail! You'll be able to see lots of gorgeous landmarks and learn more about the interesting geology and history of Grand Canyon along the way. The hike lasts for about five to seven hours, but you don't have to worry about going hungry because lunch and snacks will be provided. This is a great activity for an adventurous family! Take time off from your busy lifestyle, breathe, and experience the wonderful sceneries on this hike!
Duration: 5 to 7 hours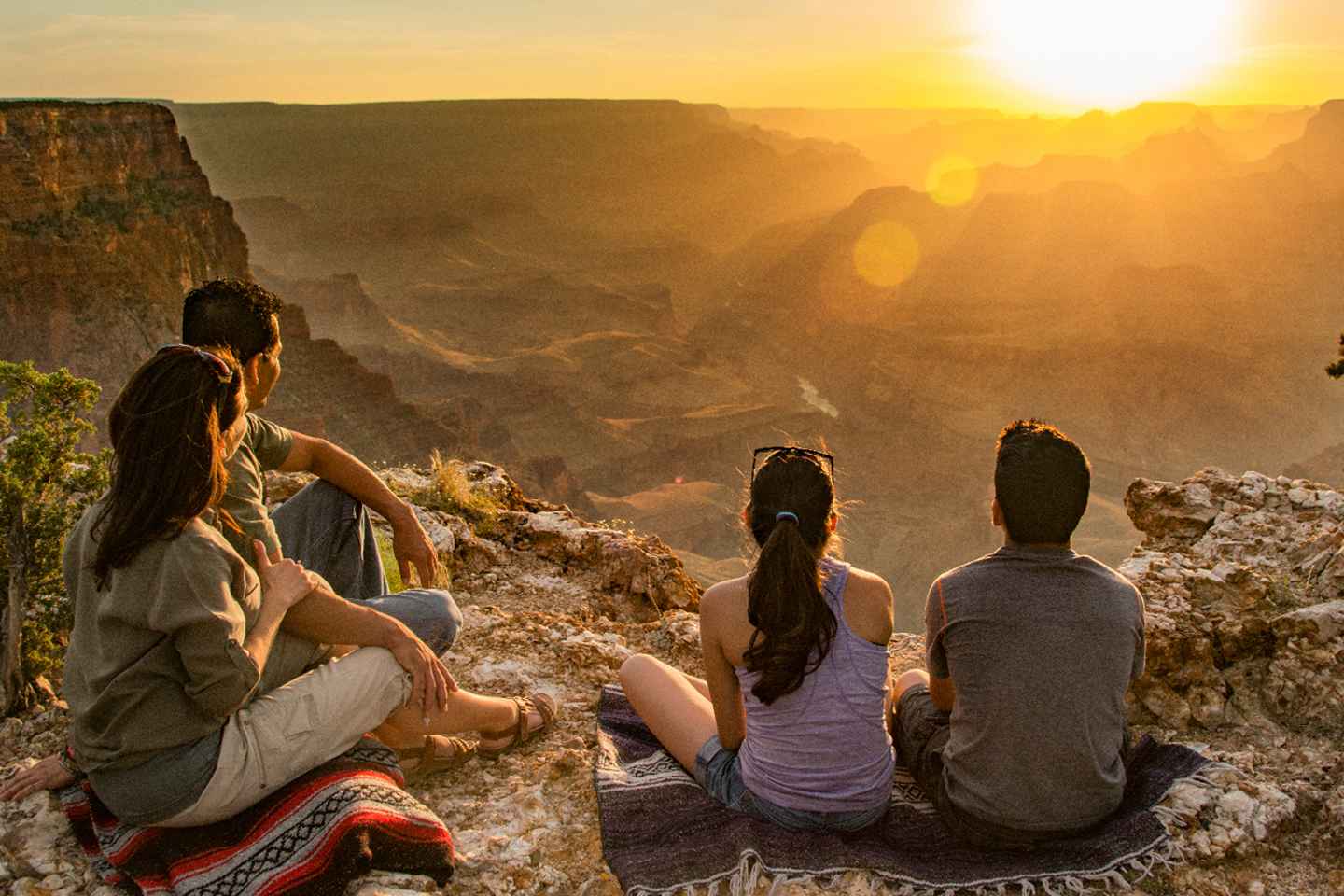 For couples who are interested in a romantic hike, you can opt for this three-hour guided tour to Hermit Trail, where you'll also pass by colossal rock layers at Yavapai Point, get scenic views of Colorado River in the gorge, and experience an unforgettable sunset from the hidden Hermit's Rest lookout point, away from the usual tourist crowds. Another highlight of this guided tour is the hike along the rim of the canyon, where you'll get to see authentic fossil beds.
Duration: 3 hour
4. Cape Final Trail
Cape Final Trail is located on Walhalla Plateau at North Rim of Grand Canyon. This is a short trail that is only about 2 miles (3.2 km) long, so it is a route recommended for hiking amateurs. A round-trip will take less than two hours, but you'll get to see an amazing view of Grand Canyon. If you are interested in extending your adventure, there are various campsites scattered throughout the trail. You'll just have to apply for a permit from Backcountry Information Center near the start of the trail. Do note that water is not available here, so you have to remember to bring your own!
5. Rim-to-Rim Trail
Rim-to-Rim Trail is a strenuous 24-mile (38.6 km) hike (one way) located within Grand Canyon National Park, and it is highly recommended for seasoned hikers because this will definitely be a tick off your bucket list! You'll need to be properly trained for this feat, and most people take more than a day to complete the hike, so it is advisable to gear up with your camping stuff and apply for a camping permit. The best time to embark on this adventure is during the months of May to October.
6. Grandview Trail
Grandview Trail is relatively short but very steep, located on South Rim of Grand Canyon. The 4.4-mile (7 km) round-trip trail leads to Coconino Saddle, where you'll see lots of beautiful sandstone cliffs. If that's not enough, you can take a longer hike to Horseshoe Mesa, which is 6.4 miles (10.3 km) round-trip. Enjoy the breathtaking views of the canyon and gorgeous wildflowers along the way. There are also designated camping areas with compostable toilets here. Just remember to apply for a camping permit!
7. Horseshoe Bend Trail
Horseshoe Bend Trail is definitely a great trail for everyone, especially if it's your first time at Grand Canyon. This 1.3-mile (2 km) hike is located in Vermilion Cliffs Wilderness Area, and it is one of the best paths that overlook the whole massive canyon at its highest point. If you manage to catch the beautiful sunset along the way, you're in luck because that is a truly memorable experience. This trail is dog-friendly as well! Just remember to put your furry kid on a leash.
8. Widforss Trail
Widforss Trail, named after famous American landscape artist Gunnar Widforss, is a 10-mile (16 km) round-trip trail located at South Rim of Grand Canyon National Park. To fully embrace the beauty along the trail, you'll need approximately six hours to complete it. This is a relatively easy trail with little steepness. You can get a 360-degree panoramic view at Widforss Point toward the end of the trail. Prepare yourself for a well-deserved picnic because the path ends at a picnic area with tables and chairs!
9. Cape Royal Trail
Cape Royal Trail is a great one for families with kids. You'll need only 30 minutes to complete the 0.6-mile (1 km) trail. Even though this is just a short and simple trail, with little to no steep steps, you can still get to experience the scenic views of the canyon, the natural arch of Angels Window, and even the gorgeous Colorado River!
10. North Kaibab Trail
North Kaibab Trail is located within North Rim of Grand Canyon, in Grand Canyon National Park. It leads to various hiking trails, which range in difficulty levels and elevation changes. The shorter hikes include trips to Coconino Overlook or Supai Tunnel, where you'll get to appreciate the rich beauty of the canyon. There is also a 9.4-mile (15 km) strenuous route that leads to Roaring Spring and an extremely difficult 28-mile (45 km) trail to Colorado River that descends about 6,000 feet (1,800 m). Note that it is not recommended to attempt these dangerous trails unless you've had lots of experience.
Experience the beauty of Grand Canyon
A trip to Arizona is not complete without ticking Grand Canyon off your bucket list. With so many trails available, you should totally see this majestic landscape for yourself! Just remember to be prepared and take note of the safety precautions before you embark on one of the most beautiful adventures ever.
Any must-sees we missed? Tell us about them in the comments section or write a post
here
to help out fellow travelers!
Disclosure: Trip101 selects the listings in our articles independently. Some of the listings in this article contain affiliate links.
Get Trip101 in your inbox
Unsubscribe in one click. See our Privacy Policy for more information on how we use your data