Its captivating history, complex culture, and fascinating diversity are just a few of the reasons that make Cairo such an attractive destination worldwide. The bustling capital combines the vibrant big-city lifestyle with some of Egypt's most treasured and history-rich landmarks. Cairo, one of the largest cities in the Middle East, is known for Nile River and its abundant biodiversity, Giza's majestic pyramids, beautiful architecture, trendy cafes, and cosmopolitan restaurants. Whether you're visiting Cairo for the first time, or if you've already seen the top landmarks and are looking to explore other sides of the city, check out this article to discover the best non-touristy things to do in Cairo, Egypt.
1. Visit Baron Empain Palace
With a history of over a century, Baron Empain Palace, also known as Le Palais Hindou, is a historic temple and one of the most prominent landmarks in Cairo, Egypt. The massive building is nestled in the center of Heliopolis, one of Cairo's suburban districts, and it has a rich and interesting history. Built by the same architect that created the Paris Metro, the palace boasts spectacular Indian and Cambodian details. Although it has long been abandoned, the stories around it are still alive. The palace is believed to be connected to the basilica where its founder is buried through underground tunnels. It was rumored to be the location for satanic rituals.
Baron Empain Palace

Address: El-Orouba, El-Montaza, Heliopolis, Cairo Governorate 11757
2. Go to The Cave Church in Garbage City
Also known as the Monastery of Saint Simon or Saint Samaan, The Cave Church has an interesting story and an even more spectacular setting, nestled between the steep rock formations of Mokattam Mountain. The region where the church sits is called "Garbage City" since it is home to a community of garbage collectors. When farmers started migrating from southern Ancient Egypt to Cairo, they settled around the city in search of work to escape poverty. Initially, they did what they were used to, which was raising animals such as pigs, chickens, or goats, but ended up doing something more profitable – sorting locals' waste.
The Cave Church

Address: Shawqi, Al Abageyah, El-Khalifa, Cairo Governorate

Website: The Cave Church

Opening hours: 9am - 5pm (daily)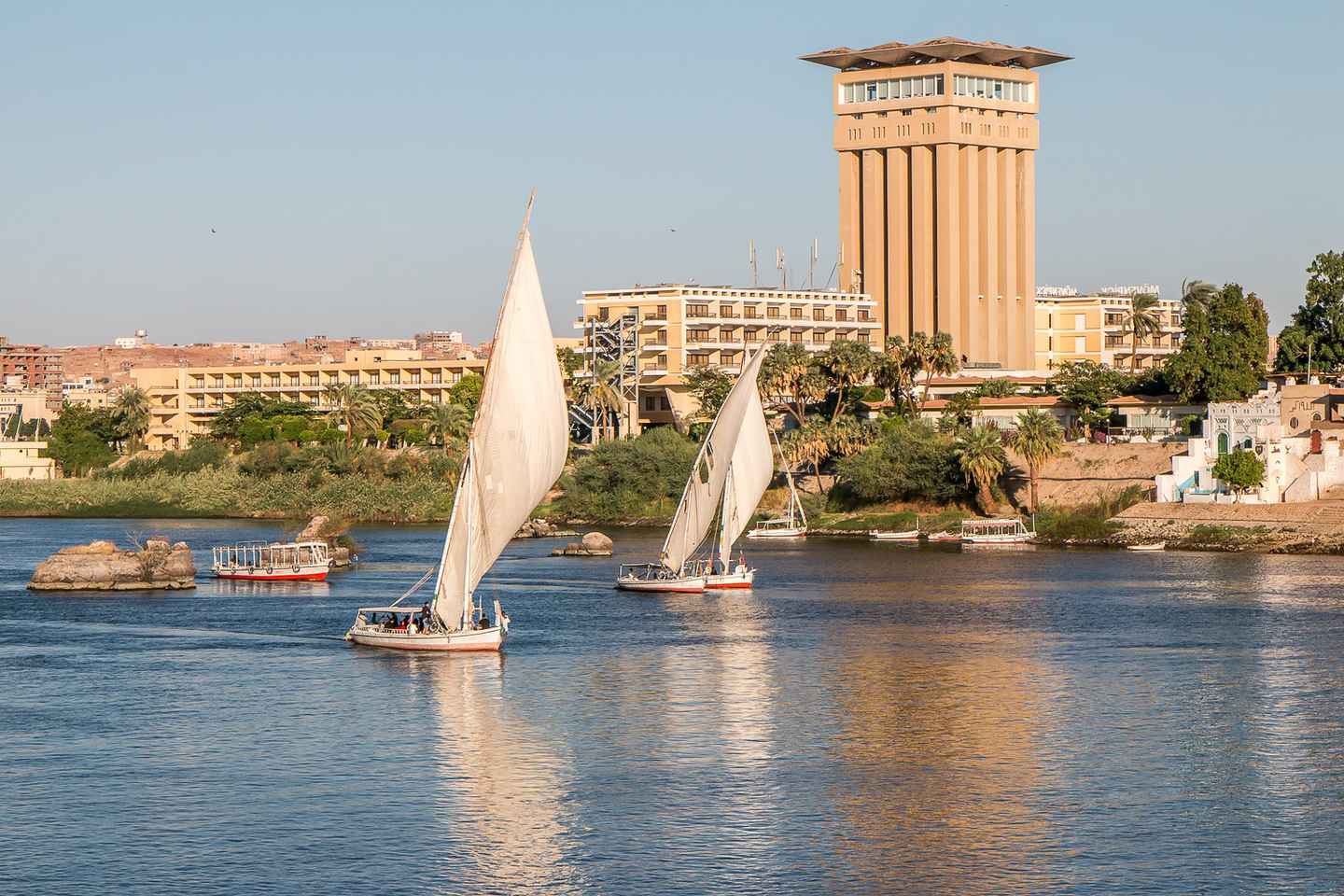 Travelers looking to have the full Egyptian experience must cruise the Nile. Whether it's for relaxation and taking in the spectacle put together by Mother Nature or watching a sunset over Cairo from the waters, the most authentic experience you could try is a felucca ride. Curious as to what a felucca is? This wooden boat is traditional to Egypt but comes in many shapes and sizes. The boat comes without compartments and people get to sleep out in the open and eat together on the boat's floor. You could also opt for a shorter felucca ride that lasts a few hours; either way, it's definitely an experience to cross off the bucket list.
The Nile: Felucca Ride with Meal and Transfers

Duration: 1.0 hour
4. Shop at Khan el-Khalili
If there's one thing Turkey and Egypt have in common, it's the colorful and buzzing bazaars that are a staple to both countries' culture and history. If you're planning on visiting Cairo and searching for awesome things to do, make sure you add shopping at Khan el-Khalili to your list. The famous bazaar is situated in the historic center of the city. It is packed with local sales people offering everything from paintings to carpets. Although you'll find anything you can think of there, the best things you can buy include silver and gold jewelry, traditional Egyptian shisha water pipes, leather shoes, handbags, and jackets. Don't forget to bargain for the best price.
Khan el-Khalili

Address: El-Gamaleya, El Gamaliya, Cairo Governorate
5. Eat a cupcake at NOLA Cupcakes
Photo is only for illustrative purposes
Satisfy your sweet tooth with a freshly baked cupcake at one of the NOLA Cupcakes locations in Cairo. The bakery uses the best ingredients, perfectly mixing them into gourmet delicacies. NOLA is the first local gourmet cupcake store in Egypt, opened by two young siblings. Today, the stores sell a wide variety of cupcakes, including best-selling Red Velvet, Vanilla, Pralines'N'Cream, and Chocolate. Their menu also includes seasonal flavors and various muffins, brownies, cakes, cake pops, donuts, and many more.
NOLA Cupcakes

Address: Several locations in Cairo

Website: NOLA Cupcakes

Opening hours: Hours may differ depending on location
Apart from sightseeing and exploring Egyptian cuisine and culture, why not take some time for yourself and try a pampering and relaxing experience? Similar to a Turkish bath, a hammam is a type of steam bath specific to the Muslim culture. Relax in a local hammam and get ready to have your body scrubbed and wrapped in a body mask, giving you the softest skin as a final result.
Egyptian Traditional Hammam Experience for Women in Cairo

Duration: 4 hours
7. Catch a Sufi dancing show at Wekalet el Ghouri Arts Center
Explore Cairo's artistic side and catch a Sufi dancing show at Wekalet el Ghouri Arts Center. The historic venue is a performing arts theater that hosts various cultural events and dance performances. Sufi dance is a traditional Egyptian whirling dance that involves colorful costumes and ancient rituals, blending Egyptian history, culture, and arts into one epic, spiritual, and inspiring show.
Wekalet el Ghouri Arts Center

Address: 3 Mohamed Abdo Street, Off Al Azhar street, Al Dar Al Ahmar, Cairo Governorate 12411
8. Grab a bite at Koshary Abou Tarek
A walking distance from The Museum of Egyptian Antiquities, Koshary Abou Tarek is a family-style restaurant serving local cuisine. People come here to taste Middle Eastern and authentic Egyptian cuisine while enjoying amazing service, delicious dishes, and vegetarian options. One of the most acclaimed items on their menu is rice pudding. However, what almost all their visitors come for is their delicious koshary, the Egyptian national dish, which is made of lentils, onion, rice, chickpeas, tomatoes, and various flavorful spices.
Koshary Abou Tarek

Address: Choppin ln Champollion, Cairo 11511

Opening hours: 7am - 11pm (daily)
9. Enjoy the mesmerizing sunset at Al-Azhar Park
Spread on 74 acres (30 hectares) of land, Al-Azhar Park is Cairo's most spectacular urban oasis. It is home to manicured gardens, lush greenery, and an iconic Ayyubid wall dating back to more than 800 years ago. Impossible to miss among all the concrete buildings, the park features a small lake, a plethora of alleys, gardens, pavilions, and vegetation galore.
Al-Azhar Park

Address: Salah Salem St, El-Darb El-Ahmar, Cairo Governorate

Website: Al-Azhar Park

Opening hours: 9am - 10pm (daily)
Probably the most representative images people have of Egypt are its pyramids and people riding camels in the desert. You can even combine the two and ride a camel into the sunrise with the legendary Giza pyramids as a breathtaking backdrop. To make sure you get a memorable experience, opt for a guided tour with hotel pickup and drop-off. A professional guide will take you into the desert where you will get to choose whether you want to ride a camel, a horse, or a carriage and enjoy gazing at the impressive pyramids.
2-Hour Camel or Horse Ride Excursion Around the Pyramids

Duration: 2 hours
Discovering Cairo's hidden gems for an authentic Egyptian experience
Almost every travel guide will recommend visiting the Giza pyramids, Mosque of Muhammad Ali, or The Egyptian Museum while in Cairo. Still, there's much more to the biggest city in the Middle East than meets the eye. Although the city itself is a very touristy destination, there are hidden gems waiting to be discovered. From eating cupcakes at the first local cupcake shop to enjoying a felucca ride at sunset, check out this article for the best non-touristy things to do in Cairo, Egypt.
Disclosure: Trip101 selects the listings in our articles independently. Some of the listings in this article contain affiliate links.
Get Trip101 in your inbox
Unsubscribe in one click. See our Privacy Policy for more information on how we use your data