What's a trip to Florida without a ride in the Everglades? The Everglades cover the south of the sunny state and are best described as a grassy, slow-moving river. There are lots of things to do here, and lots of things to see apart from the mangroves, marshes and the Pinelands, but the best way to explore them is all by taking an airboat. Giant boats powered by a fan or an aircraft of sorts is your answer to Florida adventures. On your way, you're sure to sight a plethora of colorful birds, reptiles and scary amphibians that are, nevertheless, thrilling! But remember, taking care of your surroundings while you're here is really important and respecting the reptiles' delicate habitat must be your responsibility. Research shows the Everglades may be shrinking, and this land is home to the widest range of birds and amphibians, and perhaps the purest oxygen. Here are some of the best airboat tours in Florida's Everglades, that you can take part in to explore this fascinating site.
Manatees are some of the kindest sea animals in Florida. It's a fun adventure that comes with swimming and snorkeling among manatees. The 1.5-hour ride takes you to a natural manatee habitat, where these giant puppies are friendly, welcoming and just adorable! It's not just the manatees you'll be able to spot- bears, eagles, panthers are some other species that sprawl in the Homosassa Springs Wildlife State Park. But always remember to respect nature and the manatees' humble habitat.
Crystal River Snorkeling, Everglades Airboat, Homosassa Tour

Duration: 12 hours
Start from Orlando to take a trip around the Kennedy Space Center and then the Everglades. On this ride, you'll get a chance to visit NASA's space headquarters and at the swamplands, spot alligators and other wildlife. For the child who dreams of becoming an astronaut, there is the Apollo/Saturn V Center to witness Neil Armstrong's first steps on the moon and for the other child who wants to be a zoologist, there are alligators and birds!
Kennedy Space Center, Everglades Airboat Safari from Orlando

Duration: 10 hours
This 30- or 60-minute airboat tour from Orlando takes you to wild-wild Florida. The swamps shelter massive alligators on land and giant bald eagles in the sky. With this combination and incredibly green landscape, the airboat tour shows the sunshine state in a very different light. It will be scary when the alligators are only a few meters away, but that's the adventure! And, don't worry, this family-friendly tour is safe and 100 percent fun!
Wild Florida Airboat Ride with Transportation

Duration: 6 hours
Start in Orlando and wade through mossy cypress swamps in the Central Everglades. In the south of Orlando, where lurking alligators are the soundtrack to your summer adventure, the creatures bask in the sun and give you the stares and the creeps. The airboat tour lasts for about 30 minutes to an hour. It is a fun and thrilling adventure that is also budget-friendly!
30-Minute Airboat Ride near Orlando

Duration: 30 minutes
The same swamps, the same airboat, but a different time. The one-hour ride by Boggy Creek Airboat Rides shows you Florida's orange skies in the evening, with the mirror-like water reflecting more shades of rust and orange. When darker, the captain will lead you through the black waters with a miner lamp, and when you spot gator eyes, they will glisten! This is perfect for the thrill-seeking Florida tourist, but just make sure you don't jump when you spot a red eye in the water!
1-Hour Evening Airboat Ride

Duration: 1 hour
Take a trip on the Sea Screamer to see the powder-white sands of Clearwater Beach. A short boat ride from Orlando, the Sea Screamer- a speedboat that lets you soak up the sun- takes you to a beautiful beach in Florida where you can just relax, swim in the turquoise water or just count on your luck to spot some jumping dolphins! The 12-hour day trip takes you to Florida's stunning Clearwater Beach and for a few extra bucks, you can enjoy lunch in a cozy little cafe while basking in the sun.
Clearwater Beach from Orlando and Sand Key Park Speedboat Tour

Duration: 12 hours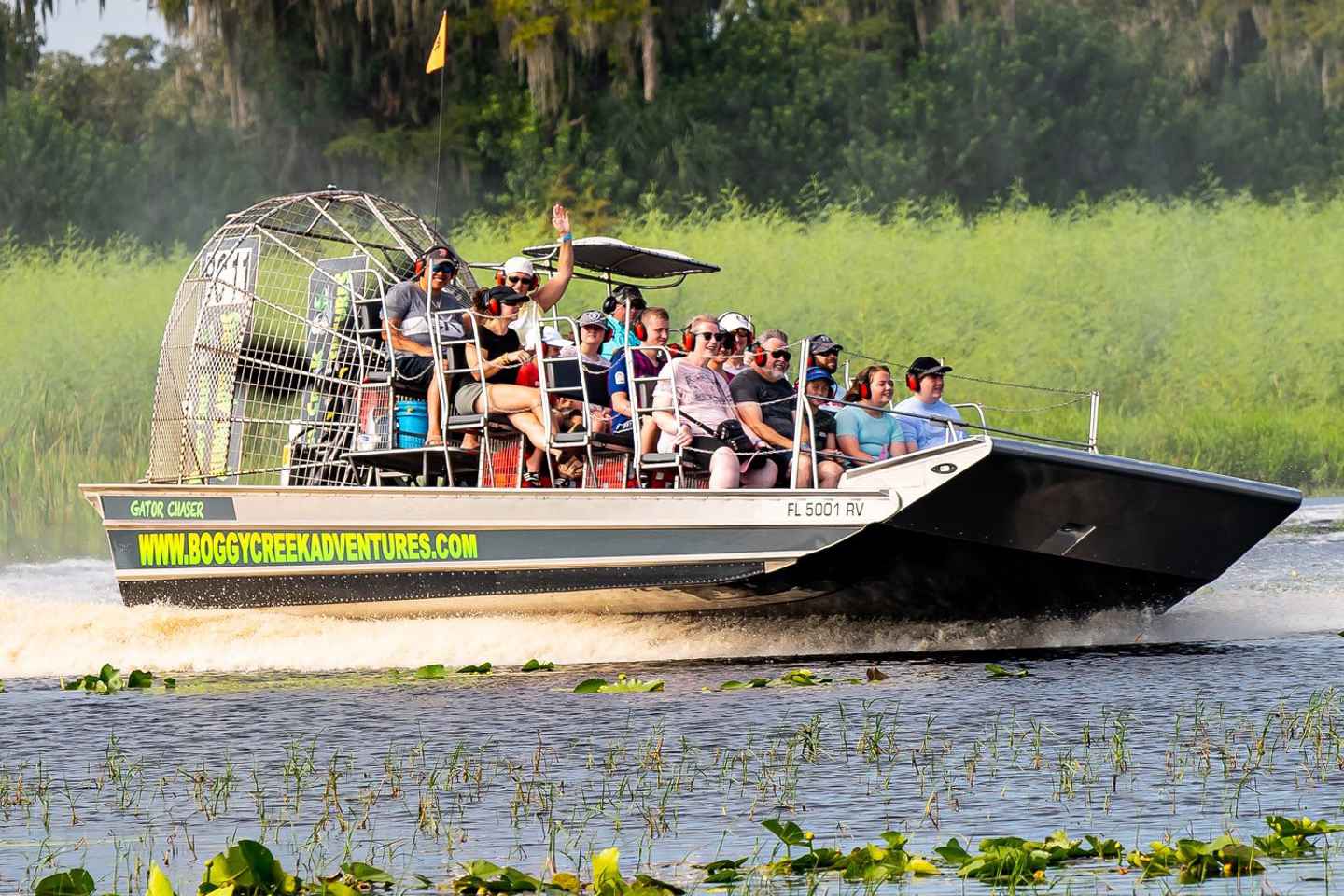 Cruising through Florida's tall grasses at up to 45 mph (72kph), this ride is great for the entire family, whether you just want to see the greens or spot some gators. Tour the Florida Everglades with a U.S. Coast Guard Captain and while you're enjoying the breeze, keep your eyes peeled for Alligators, turtles and birds in this natural wonderland.
Orlando: Boggy Creek Airboat Ride with Options

Duration: 30 to 4 minute
Another night-time adventure and there is a chance that this could be the most adventurous one hour of your life! Amidst the ruffles and the pushes of the tall grass and the swamp leaves, make sure you inspect all the glittering dots in the water- there's a chance it could be an alligator waiting to hunt its prey and consider yourself lucky if you get a chance to watch the fight. A certified master captain will navigate through the marshes and make the best of his experience spotting mush-monsters!
1-Hour Evening Airboat Ride

Duration: 1 hour
Lake Tohopekaliga is a local favorite for birdwatching and bass fishing, but it is more thrilling when you're on an airboat with a skilled captain, navigating through the mushes, spotting a pair of dangerous eyes peeping through the dark water. The lush green of the swamps and the blue sunny skies of Florida is like a watercolor painting- beautiful! An hour spent here is going to make you feel like you're in paradise, even when you're in the swamps! One Floridian said, "I lived in Florida for over 50 years and I saw and learned new things on this tour." That should convince you!
One Hour Airboat Tour from St. Cloud

Duration: 1 hour
Everglades: where there are beauties and beasts
Whether you want to swim with the manatees, see the dolphins swim or dare to make eye contact with a gator, the swamps have it all. It's great for families and better for friends doing something different from their routine. When you remove the glam from sunny Florida, you get the swamps but they're equally beautiful, refreshing and perhaps even more!
Disclosure: Trip101 selects the listings in our articles independently. Some of the listings in this article contain affiliate links.
Get Trip101 in your inbox
Unsubscribe in one click. See our privacy policy for more information on how we use your data