The entire region of Ontario is the wealthiest in Canada, for its abundance of natural resources and stable industries. This second-largest region of Canada is practically huge, larger than the entire region of Spain and France combined. The region has a large abundance of wilderness, large jungles, and diverse wildlife. There are over 250,000 lakes, which supply a huge quantity of fresh water. The largest city in Canada, Toronto is the capital of this region. Some other important cities are Hamilton, Sudbury, London, Kingston, Windsor, and Thunder Bay. No matter how enchanting the urban life of Ontario is, the real taste of the Ontario region is to be enjoyed by camping in the wilderness or exploring its provincial forests, lakes, and surrounding area. So while there are several incredible lakefront hotels and vacation rentals with a private pool, why don't you try tagging a recreational vehicle just behind your vehicle for a unique camping experience? Check out some of the options for teardrop trailer rentals in Ontario, Canada.
The mini camper trailer rental is cozy and compact, an excellent fit to explore the countryside and wilderness of Ontario. The small trailer has a queen-sized bed, comfortable enough for two. There are entrances to this trailer on both sides. The bright LED lights light up the interior and the exterior. There is an entire set of entertainment which includes radio, television, and DVD. The kitchen is located in the back and features a two-burner stove, sink, cookware, cutlery, dishes, and storage space. Ample storage space is also available under the bed. The trailer can be towed by any kind of four-cylinder car, SUV, or truck.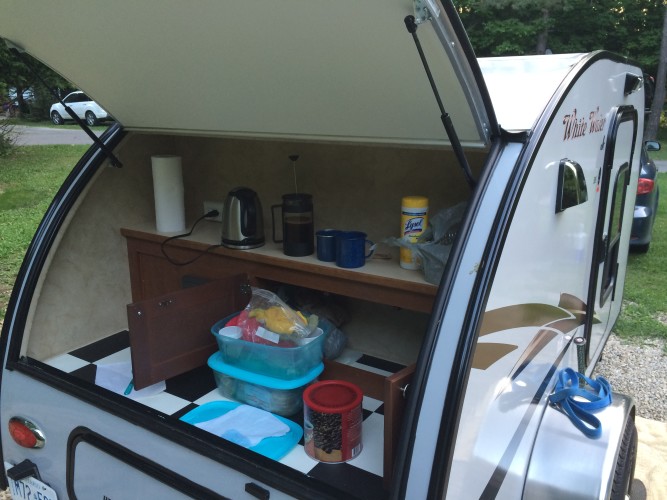 This portable teardrop trailer can be towed by any vehicle, even a small one, so you can explore the exciting things to do in Ontario. The comfortable mattress inside can accommodate two people. You would need seven-pin wiring for the lights. There is plenty of space in the back hatch for cooking, but note that you need to bring your equipment for cooking. Plenty of storage space is available in this air-conditioned trailer.
The cute teardrop trailer is a luxurious one to take a romantic camping trip. It is lightweight and easily towable behind lots of vehicles. Its big window offers an enchanting view of the outdoor areas. The front area has a huge television to keep you entertained and a comfortable seating space. There is a center table in between and storage space below. A leather couch which can be converted into a sleeping space is also available. The kitchen is located in the back gallery. It has a three-burner stove, a stainless steel microwave, and a sink. Overall, the trailer might be small, but it has all the facilities which are expected from a full-sized travel trailer.
Have a romantic getaway in this contemporary, well-lit, and portable RV that has a comfortable and roomy interior to easily accommodate two people. It's ideal for campers who prefer to stay in the comfort of their bedroom.
With a functional kitchen featuring a stove, sink, and fridge, you can easily prepare your favorite recipes on the road. There's a ceiling fan to keep you cool and an inverter to keep the power on. It is suitable for both tailgating and music festivals.
This pet-friendly teardrop camper rental has everything you need for fun camping. You can listen to your favorite songs on the FM radio with Bluetooth connectivity. There is a spacious double bed and a thermostat to keep you cool in the summer and warm in the winter. You will find a tailgate kitchenette with a propane burner, a fridge, dish soap, and camping utensils.
In addition, it offers mats and extra chairs. Apart from that, there's a water pump for a 10-gallon (37.85-liter) water tank.
Rent this small camper trailer and reconnect with nature. You'll have a delightful time in this well-stocked RV that boasts a full outdoor kitchen with a two-burner stove, sink, and microwave. Sleep comfortably in your king-size bed gazing at the stars through the skylight. You can bring your furry friend along with you.
Enjoy dining and barbecuing in the woods with the camp chairs provided. The host can also provide you with a screen room as an add-on. To use the air-conditioner, heater, and microwave, you'll require a campground with an electric connection.
This trailer provides an amazing stay at a gorgeous campground. It features end-to-end side windows that provide a vista, a dinette, and a full bathroom with a toilet and shower. You can prepare meals and clean up inside thanks to the two-burner stove and marine-style sink.
Moreover, there is also a refrigerator that works on electricity or gas. For an additional cost, you can rent a screened-in tent. You can also rent a recreational kayak for USD 10 per day to spice up your trip.
This solar-powered trailer contains a full kitchen with a sink, propane two-burner stove, microwave, and cooler, making it ideal for a brief camping excursion. You will have a comfortable queen-size bed with freshly laundered bedding for a restful night's sleep. There is a heater to keep you warm, and an air conditioner and ceiling fan to cool you down. It also contains an outdoor shower. You don't need to leave your four-legged pal at home as this RV welcomes pets.
The lightweight mini caravan can be tagged by any compact car. Yet, this compact trailer has a sleeping capacity for a group of four. In one corner, there is a double bed, while on the other corner the sofa bed can be converted to a double bed. There is also a table attached to this sofa bed which can be used for dining. There is a small kitchen inside the trailer with a stove and fridge. A fully functional sink is there to clean up after you have eaten. There is a number of windows in the trailer that not only deliver great views of the lake but also bring in lots of natural sunlight.
This small and cozy trailer is very easy to tag along. The small trailer opens on two sides, bringing lots of natural air and light. Two persons can sleep inside this comfortably. There is a ceiling fan to keep you cool in summer. The back of the trailer folds up to a small cooking facility with a two-burner propane stove and a fully functional sink. The small and compact size allows you to go to any camping spot you want.
The lightweight trailer can be tagged by a small-sized SUV or a van. The compact trailer has a comfortable queen-sized bed for a couple. On the other side, its dinette can be used as a dining area or it can be turned to another double bed for two people. The kitchen stands in the middle and features a propane cooktop, microwave, furnace, fridge, and sink. A stereo with indoor and outdoor speaker is available if you love music. During the winter, its heater is to keep you warm, whereas in the summer, there is a fan to keep you cool.
This lightweight trailer practically has every kind of facility. It has a cozy dinette which can be transformed into a full-sized bed for two. There is a fully equipped kitchen with a propane stove, electric fridge, furnace, and sink. A small toilet and shower are also located inside. Along with all these facilities, it is a very lightweight trailer, which can be towed by cars, vans, and small SUVs.
The interior of this classic R-pod is quite chic. The leather-finished dinette can turn into an extra double bed; plus, there is a regular queen-sized bed. A family of four can opt for a camping trip with this R-pod. The stainless-steel freezer and microwave stand on a side of the kitchen. A two-burner range is there to cook meals. The R-pod also has a small washroom with a shower. There is a hot-water tank and furnace for winters and the air conditioner keeps you cool in summer. A decent music system and television are available for your entertainment.
Tag along a home on wheels while camping
Tag along a home on wheels to explore the wilderness of Ontario when you book these cute teardrop trailers. They are small, easily towable, and serves the need of a comfortable place to stay in the night. So, book these trailers today and explore the beautiful beaches and other best places to visit in Ontario.
Any must-sees we missed? Tell us about them in the comments section or write a post
here
to help out fellow travelers!
Disclosure: Trip101 selects the listings in our articles independently. Some of the listings in this article contain affiliate links.
Get Trip101 in your inbox
Unsubscribe in one click. See our Privacy Policy for more information on how we use your data