Have yourself a lovely holiday in Edmonton, the capital of Canada's Alberta province. Nature lovers ought to head to Elk Island National Park, a forested park that serves as a refuge for bison, elk and many other birds. It is the perfect venue for a picnic and the more adventurous can have a camp there too. Muttart Conservatory is where you will find beautiful botanical gardens in glass pyramids with tropical and arid biomes. If you're looking to immerse yourself in art and culture, head to the Art Gallery of Alberta and Citadel Theatre, where you can visit art exhibitions and watch musicals, concerts, and ballets respectively. Shopaholics can shop till they drop in West Edmonton Mall, North America's largest shopping mall. The World Water Park is an indoor attraction at the mall that consists of waterslides, play features as well as a huge wave pool. There truly is something to do for everyone in Edmonton! If you are planning to head to this wonderful city all by yourself, you don't have to fret about the itinerary. Here you have 10 things that you can sign up for that are perfect activities to do when you are traveling alone in Edmonton.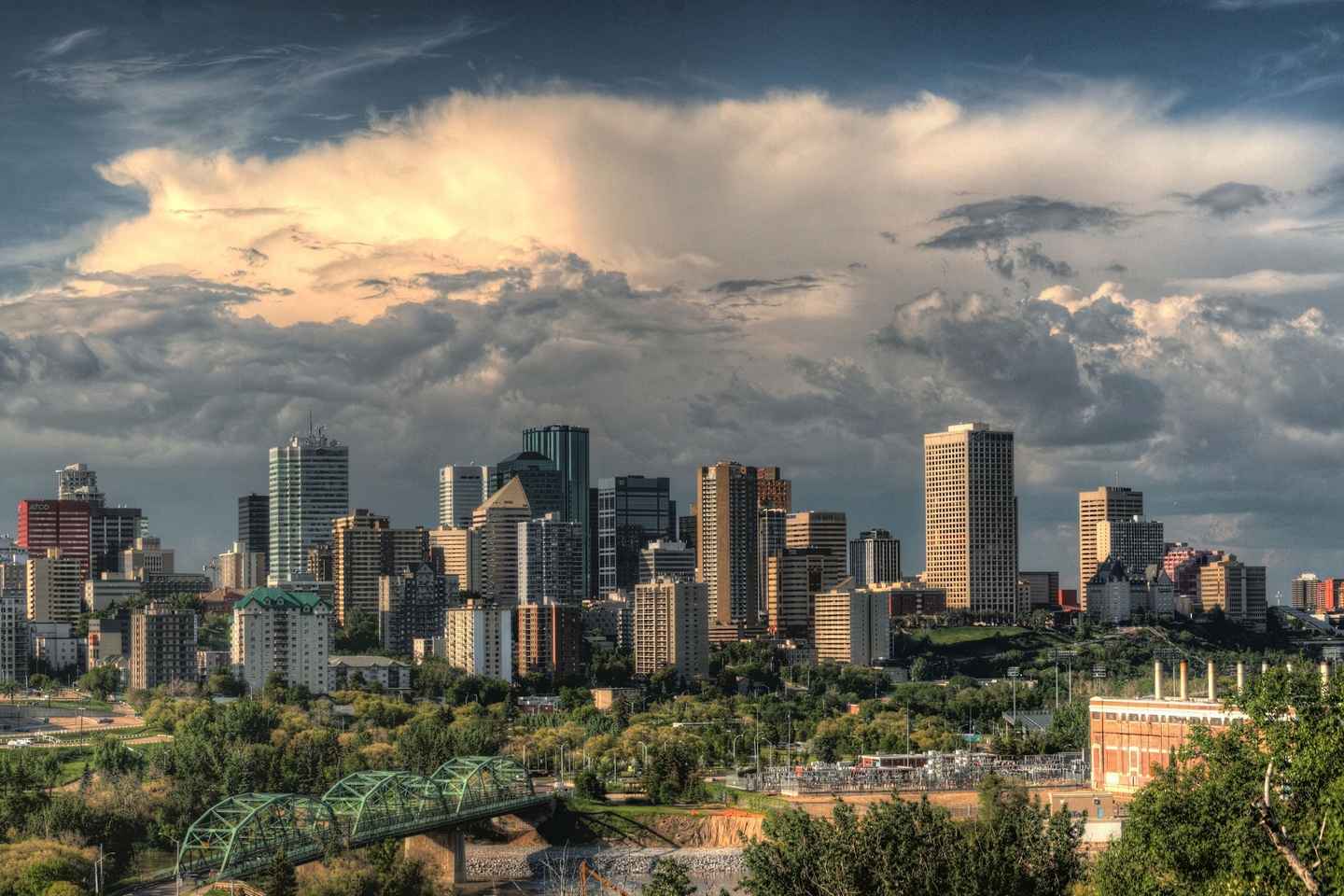 Who would know a city better than the locals? Sign up for a private walking tour with a passionate guide who is eager to show you the city of Edmonton from their perspective. Keep your ears open for useful tips and tricks to navigate the city! The tour would be between two to six hours and in that duration, seize the opportunity find out the places you have to visit, the best places to eat and the easiest ways to get around. You can choose to take public transportation to get around the city during the tour. For your comfort, a private car or taxi can be arranged too.
Duration: 2.0 hour
There is so much to learn about this prairie city, from the fur-trading past to the oil and gas-powered present. This 90-minutes coach tour explores some of the highlights and little-known gems of Edmonton. The places you will visit include Chinatown, Little Italy and the French Quarter. You will better understand some of the cultural influences on the city. There will be a stop available for photo opportunities too. If you're looking to gain some knowledge, this tour is for you!
Duration: 1 hour 30 minutes
Navigate the streets of Edmonton while playing a unique walking game — Wacky walks. Imagine playing a board game, in which a player is in control at every point of the game. There will be various checkpoints in the city and you have to answer a question and complete a wacky task at each checkpoint. Once you've completed all of the checkpoints, you will return to your home base. The game's objective is to have fun, be wacky, and enjoy the company of whoever you're playing with! Rest assured that you will have a remote guide that is just a call or text away for when you need help during your adventure.
Duration: 2 hours
Check out the craft beer scene in Edmonton through this guided tour that will bring you to some of the top craft breweries in the city. Get a taste of what the local brew-masters are brewing. This day tour will bring you to the following five breweries: Bent Stick, Situation Brewing, Blind Enthusiasm, Brewsters, and Yellowhead Brewing. Enjoy an a-la-carte lunch at Situation Brewing too! You won't have to worry about transportation because a professional chauffeur will drive you to the next brewery. You can look forward to taking home a swag bag as well as getting a discount on brewery purchases.
Duration: 6 hours 30 minutes
While the craft spirit scene in Edmonton only took off in 2013, the distilleries that have opened have been creating some tasty and creative libations. Tour and enjoy tastings at these three distilleries — begin with Strathcona Spirits, followed by Hansen Distillery and Rig Hand Distillery. Take the opportunity to try a local-infused cocktail! There will also be a lunch at The Almanac that consists of comfort food. You can also look forward to taking home a craft beer souvenir bag stocked with goodies, bottled water, and a snack.
Duration: 5 hours 30 minutes
3Quest Challenge is a digital adventure game that takes you around the city while you complete quests on your smartphone. There are three quests and each quest has three checkpoints. At each checkpoint, you'll answer a question to collect a clue and perform a challenge. You score a point for each correctly answered question. After you've completed your quests, return to your home base to solve the final puzzle using the clues you've collected throughout the adventure.
The objective of this adventure game is to have fun, score points, and correctly solve the final puzzle! Have no fear, you are not alone! A guide will be just a call or text away if you need assistance at any point of the race. An afternoon of fun awaits you and it's the perfect way to meet new people and enhance your solo traveling experience!
Duration: 2 hours
Pretend that there is a zombie apocalypse and that the whole world is in chaos. You need all that you can get to survive and you will have to scavenge the city for food, supplies, weapons, and shelter. Your smartphone will be used for this game. The more items you find, the more points you get and more likely you are to survive. Along the way, you will be asked to complete a challenge or answer a trivia question so as to be rewarded virtual weapons to ward off the zombies. Rival colonies are moving in to take what you worked hard to find. This is a competitive and exciting adventure game that will take you around Edmonton!
Duration: 2 hours
Through this tour, you will learn the nuances of a Pedelec e-bike before riding one. The tour will take you down to Mackinnon Ravine and you will pass by Edmonton's amazing river valley. You can head towards touristy landmarks or on an adventure through a trail network. The tour will let you witness nature's creations such as deer, squirrels, rabbits, coyotes, and birds. The e-bikes ensures that the riders are riding at the same speed but it remains challenging as each rider has to adjust the amount of assistance they are using. Race your new-found friends to the top of the hills and have the time of your life!
Duration: 2 to 5 hrs
Crazy Dash is a digital adventure walking tour that will make you do silly tasks while taking in the sights of Edmonton. You will get to visit monuments, historical markers and other important landmarks of the city. You will answer questions about your checkpoints, and complete crazy challenges through a smartphone app. A remote guide will assign you to 10 checkpoints around the city. Along the way, you will have to perform crazy tasks with your teammates. Your progress will be monitored by your guide and they may even give you challenges. This is a walking adventure that will bring you laughter and fun.
Duration: 2 hours
If you are a foodie, join this three-hour small-group gourmet tour and sample Edmonton's best bites! The entire tour includes brunch, a wine pairing, coffee, and a variety of treats from the farmers market located downtown. You will get the opportunity to learn about the history of Edmonton as you stroll while snacking. There are plenty of chances to explore Edmonton's art and culture along the way. There will be a local guide accompanying you throughout the tour and one of the highlights include a chef demonstration that will teach you about Alberta cuisine.
Duration: 3 hours 30 minutes
Explore the city of Edmonton today
There are many activities awaiting you in the city of Edmonton. May this interesting selection of activities be of aid while you plan the best itinerary for your solo trip ahead!
Any must-sees we missed? Tell us about them in the comments section or write a post
here
to help out fellow travelers!
Disclosure: Trip101 selects the listings in our articles independently. Some of the listings in this article contain affiliate links.
Get Trip101 in your inbox
Unsubscribe in one click. See our Privacy Policy for more information on how we use your data