Carvoeiro is a town nestled on the craggy and rocky coast of the Algarve in Portugal and is located is around 5 km (3 mi) to the south of Lagoa. The popular seaside destination features the Praia do Carvoeiro, the town's main beach, with fascinating cliff tunnels. Carvoeiro Boardwalk is a popular tourist attraction with many bars and restaurants along the way and plenty of amenities. The boardwalk also takes you to various scenic attractions and viewpoints as it curves around the coastline. There are a number of other attractive and sandy beaches to explore, as well as popular viewpoints, historic buildings, shops, cafes, and a selection of good restaurants. Read up on some of the best places to go and things to do in Carvoeiro, Portugal by scrolling below.
1. Marvel at the views from Alfanzina Lighthouse
Alfanzina Lighthouse is set on a rocky promontory on the Praia do Carvoeiro and is surrounded by sea caves and craggy rock formations. The lighthouse was built in 1920 and is a white, square tower with an annex and is crowned by a red lantern. It can be a little hard to get to the lighthouse, climbing over the rocks, but is worth the effort for the panoramic views which can be had from its location. You can take spectacular photos from the lighthouse itself, or hike around the coastline to capture an image like the one pictured here.
Alfanzina Lighthouse

Address: M1274, Carvoeiro, Portugal

Opening hours: 24 hours (daily)
2. Explore Fort of Our Lady of the Incarnation
Our Lady of the Incarnation is a chapel in Carvoeiro which houses the remains of a fortress that used to defend the fishermen's village against marauding pirates for a number of centuries. The fort was built in or around 1670 and is positioned high up on the cliff overlooking the cove at Praia do Carvoeiro. The ruins are of interest to visit and beautiful views can be enjoyed from the location. You can also pay a visit to the chapel on site.
Fort of Our Lady of the Incarnation

Address: Estr. do Algar Sêco 1, Carvoeiro, Portugal

Opening hours: 24 hours (daily)
3. Relax on the sandy stretch of Praia do Carvalho
This beautiful stretch of sand is enclosed by rocky cliffs, with a scenic rocky ledge in the center of the cliffs. The beach is accessed via a hand-dug tunnel through the cliff where marine fossils can be seen. Whoever dug the tunnel also dug out several porticos right on the cliff face. Surrounding the cove are a number of juniper and dwarf fan palm trees, the latter being the only native palm tree in Europe. It should be noted that there are no amenities at the beach and even in summer there is no lifeguard so it is probably not the safest place to take the children but is the ideal spot for a romantic day out with a picnic and good bottle of wine under the sun.
Praia do Carvalho

Address: R. de Algarve Clube Atlântico H15, Carvoeiro, Portugal
4. Browse for home decor and souvenirs at Porta 16
Estão prontos para a festa? Nós estamos! ? Are you ready for the party? We are! ? . . . . #shop #decor #gifts #porta16 #carvoeiro #CarvoeiroNoiteBlackWhite

Posted by Porta 16 on Saturday, 15 June 2019
Porta 16 is a quaint store in Carvoeiro which offers a range of home decor items and souvenirs to take home. Shop until you drop, while buying a bright-colored deckchair for the beach with matching cushions, choose from a range of scented soaps and other scented bath products. Decide on a coordinated set of towels, a colorful rug, or some attractive pottery to take home as gifts for your family and friends. All the products are artfully displayed in a quaint, traditional building in the heart of town.
Porta 16

Address: R. do Barranco 25, Carvoeiro, Portugal

Website: Porta 16

Opening hours: 10am - 12am (daily)
5. Stroll along Carvoeiro Boardwalk
The coastline around Carvoeiro consists of a series of grottos, caves, and jagged, weathered rocky cliffs. One of the safest ways to explore this picturesque coastline is on Carvoeiro Boardwalk. This securely fenced, wooden walkway skips the tricky to navigate cliffs and allows you to walk with comfort and ease while gazing at the stunning views along the coastline. The Boardwalk starts at Nossa Senhora da Encarnação Fort (Fort of Our Lady of the Incarnation mentioned above) and runs all the way along to the fascinating Algar Seco rock formation.
Carvoeiro Boardwalk

Address: Estr. do Algar Sêco 11, 8400-512 Carvoeiro, Portugal

Opening hours: 24 hours (daily)
6. Dine at Restaurante Ele e Ela
Restaurante Ele e Ela in Carvoeiro serves a range of delicious traditional Portuguese, European, and Mediterranean cuisine. While serving seafood, fish and meat, the restaurant also caters for vegetarians and vegans and offers gluten-free options. Choose from a selection of soups, salads, and starters, before experimenting with a delightful choice of entrees and desserts. Recommended dishes include a tasty prawn curry and lemon cheesecake. Please bear in mind your dish will be made from scratch so there can occasionally be a wait before the plate arrives on your table, but never fear, the friendly staff will keep you comfortable with wine or drinks while you wait.
Restaurante Ele e Ela

Address: R. do Barranco 28, Carvoeiro, Portugal

Website: Restaurante Ele e Ela

Opening hours: Tue - Sun: 6pm - 11pm (closed on Mon)
7. Enjoy a sundowner at Boneca Bar
This popular, long-standing bar and restaurant is tucked away among the rock formations at Algar Seco and is the perfect spot to enjoy a relaxing drink or meal after walking along Carvoeiro Boardwalk. Bear in mind that the bar is accessed via a steep staircase from the cliff-side car park above, which might be tricky for anyone with mobility issues. Relax with a delicious cocktail, good wine, or local beer while gazing at a colorful sunset, or tuck into typical Portuguese fare, including the popular grilled sardines and tender pork steaks.
Boneca Bar

Address: Algar Seco, Praia Do Carvoeiro, Faro, Portugal

Website: Boneca Bar

Opening hours: 10am - 12am (daily)
8. Soak up the sun on Praia do Vale de Centeanes beach
The pretty cove and beach are set at the foot of the surrounding steep and craggy cliffs. However, there is also an access area in a shallow valley close by where even those in a wheelchair can easily access the sand. This Blue-Flag-certified beach offers a range of amenities, including lifeguards, toilets and a small hut serving drinks and ice creams in the summer, making the beach the ideal place to take the kids. The crystal-clear water here is ideal for swimming, diving, and snorkeling.
Praia do Vale de Centeanes

Address: Sitiu Praia de Vale Centeanes, Carvoeiro, Portugal

Website: Praia do Vale de Centeanes

Opening hours: 24 hours (daily)
9. Take great photos at Algar Seco
Algar Seco is a range of cliff formations, caves, and crags carved from the limestone bedrock of the Algarve coastline. This particular rock formation lies at the end of the popular wooden walkway, Carvoeiro Boardwalk. Wonderful views can be enjoyed across the entire coastline from up here and the area is perfect for a visit to the Fort of Our Lady of the Incarnation, mentioned under number two above. After hiking the area, relax with a cold drink and a snack from the Restaurante Snack Bar Bistro Algar Seco while overlooking that wonderful view.
Algar Seco

Address: Estr. do Algar Sêco 16, Carvoeiro, Portugal

Opening hours: 24 hours (daily)
10. Tee off in the sunshine at Vale Da Pinta Golf Course
Ask any golfer, there is nothing quite like a day of golf in the sunshine, surrounded by beautiful scenery. Vale de Pinta Golf Course in Carvoeiro, Portugal has hosted the European Seniors Tours Qualifying Final on eight occasions. The course is respected for its challenging layout, set among beautiful scenery. The course was designed by leading golf course architect Ronald Fream and opened in 1992. The golf course features 18 holes and 27 greens, with varying tee points so that players can try different challenges each time they tee off.
Vale Da Pinta Golf Course

Address: R. do Pestana Golf Resort, Carvoeiro, Portugal

Website: Vale Da Pinta Golf Course

Opening hours: 7am - 5pm (daily)

Price: From 70 USD
11. Partake in a little retail therapy at Ale-Hop Carvoeiro
Ale-Hop is a range of stores in Portugal and Spain, offering the best in gifts, things for the office, back-to-school items, summer and winter fashions and accessories, and home decor at affordable prices. Products are updated regularly to keep up-to-date with the latest fashion trends and plenty of original, innovative, and fun items are on sale. If you don't manage to make it to the Ale-Hop in Carvoeiro, their website offers online sales.
Ale-Hop Carvoeiro

Address: R. do Barranco nº 24, Carvoeiro, Portugal

Website: Ale-Hop Carvoeiro

Opening hours: Fri - Mon, Wed: 9am - 1am; Tue, Thu: 10am - 1am
12. Grab a cup of coffee and snacks at Pastelaria Lé Doce - Ledoce Coffee
Pastelaria Lé Doce in Carvoeiro, Portugal is a popular bakery, coffee, and snack bar, selling delicious cakes, pastries, and biscuits, freshly baked each day. The bakery also offers a range of tasty salads, sandwiches, and light meals, all backed by their excellent signature coffee and a range of cold drinks. The cafe is open for breakfast and lunch, or just for a good cup of coffee to revive you as you explore the town.
Pastelaria Lé Doce

Address: Edifício Aurora Sol, R. do Barranco BL 2 LJ G, Carvoeiro, Portugal

Website: Pastelaria Lé Doce

Opening hours: Wed - Mon: 8am - 7pm (closed on Tue)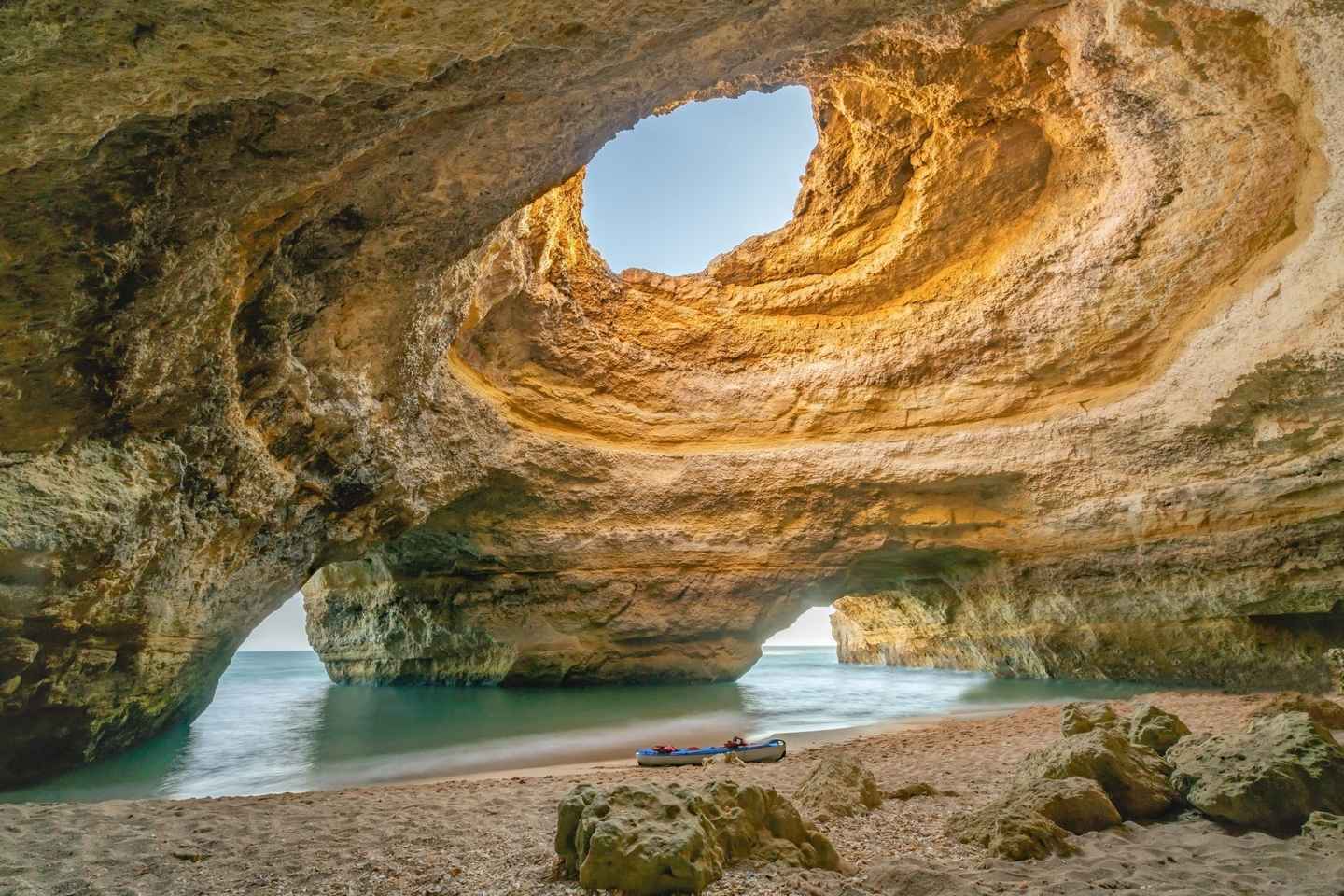 The Carvoeiro coastline is peppered with fascinating and craggy rock formations and hidden coves and beaches. There is also a range of hidden caves to see along the way, including Benagil Cave. The fascinating cave can be accessed by boat tour or on a paddleboard. As a matter of interest, fossilized shark teeth are often found in the caves – a perfect souvenir to take home from Carvoeiro! You will soon see exactly why Algar de Benagil is considered to be among the most stunning caves in the world. It is very easy to see why.
Portimão: Benagil Small Group Boat Tour

Duration: 1.5 hour
Stark and beautiful scenery in Carvoeiro, Portugal
Have a great vacation exploring the fascinations of Carvoeiro's craggy and rocky coastline, lie on golden, sandy beaches, and swim in the crystal clear water. Head to various viewpoints along the coast to take great photos and selfies, go shopping in town or dine at one of the best restaurants in the town. End the day with a sundowner at a bar on the beachfront after exploring all the best things to do in Carvoeiro, Portugal.
Disclosure: Trip101 selects the listings in our articles independently. Some of the listings in this article contain affiliate links.
Get Trip101 in your inbox
Unsubscribe in one click. See our Privacy Policy for more information on how we use your data