Long Beach is the place to go if you're searching for a change in scenery. A fusion of urban and nature-centric areas, Long Beach is both the local's and tourist's urban waterfront playground. Not only does this city offer a waterfront, but it also provides guests with the opportunity to tour the 1930s ocean liner, to visit museums, and to go to their infamous aquarium. Enjoy seeing sea lions and dolphins perform and interact in their natural habitat, live performances, and get to cruise the canals of Naples. Look no further, and you will get to visit Disneyland, Universal Studios, or even Hollywood! So much to do, you don't even know where to start. Lucky for you, we've made a list of things to do in Long Beach, California. Check it out below.
1. Shop 'til you drop at Shoreline Village
Editor's Note: Photo taken from the establishment's official social account
Shopping is one of the best activities in Long Beach - not only do you get to splurge, but you will get to do it in such a beautiful and scenic space. Shoreline Village is the place to be for such an occasion. This shopping center is comprised of a vibrant boardwalk where you can shop and dine against the stunning views of the harbor. Craving simple refreshments after a long walk? Or perhaps you plan on taking your partner here on a romantic date. All that and more are possible here.
Shoreline Village

Address: 429 Shoreline Village Drive, Long Beach, CA 90802, United States

Website: Shoreline Village

Opening hours: 10am - 9pm (daily)
2. Live like a local in Belmont Shore
Belmont Shore is one of the hippest neighborhoods in Long Beach. It's one of the popular spots here since it's home to quite a lot of restaurants, specialty shops, and even offices. This seaside district hosts fun events like Belmont Shore Bike Week, Bayshore Bazaar, and 3rd Thursday Nights, reinforcing a sense of community. If you want to experience living like a local, walk the streets of Belmont Shore and see about the latest cultural happenings for yourself! There's plenty of rental homes in the area too.
Belmont Shore

Address: Long Beach, CA
3. Take a tour of Rancho Los Alamitos Historic Ranch and Gardens
Looking for a fun (and free!) way to see more of Long Beach? Add Rancho Los Alamitos Historic Ranch and Gardens to your itinerary. This land was once the home of native people and workers and has become a significant part of California's history. The ranch served as a farming land, a ranching region, and so much more over the years and was an integral part of building communities. Get to know this piece of the past by taking a tour of Rancho Los Alamitos. Located along Bixby Hill Road, the neighborhood of Bixby Knolls is less than 15 minutes away.
Rancho Los Alamitos Historic Ranch and Gardens

Address: 6400 E Bixby Hill Rd, Long Beach, CA 90815, United States

Website: Rancho Los Alamitos Historic Ranch and Gardens

Opening hours: Wed - Sun: 1pm - 5pm (closed on Mon & Tue)
4. Hang out with friends at Alex's Bar
Editor's Note: Photo taken from the establishment's official social account
For a fun night out with friends or family, take them to Alex's Bar! This popular punk rock bar is notable for its live music and macabre interior. With a slogan like "Turning down the suck since 2000", you're bound to have a good time with your crew! You may chance upon some of the up-and-coming acts that could be your next favorite artist. With an overflowing beer list, forget your worries for one night and lose yourself in good music, good food, and good company.
Alex's Bar

Address: 2913 E Anaheim St, Long Beach, CA 90804, United States

Website: Alex's Bar

Opening hours: Tue - Fri: 4pm - 2am; Sat - Sun: 12pm - 2am (closed on Mon)
5. Spend a quiet afternoon at Bixby Park
Editor's Note: Photo taken from the establishment's official social account
One of the best places to unwind and appreciate Long Beach's scenery is Bixby Park, which is found along the Bixby Knolls neighborhood. You can jam with the community when there's a performance at the bandshell or participate in the latest cultural activity at the community center. When you're with the little ones, let them run around the field and have fun at the playground or even play with them at the several sports facilities available here. While you're at it, why not have a barbeque picnic with your loved ones at this city park?
Bixby Park

Address: 130 Cherry Ave, Long Beach, CA 90802, United States

Website: Bixby Park

Opening hours: 6am - 10pm (daily)
6. Take a relaxing stroll in Bluff Park
For your private day trip, don't miss the chance to take a relaxing stroll in one of the most beautiful city parks in Long Beach, California. This park along Ocean Blvd has the best view of Pacific Ocean, located on the corner of Ocean Boulevard. Bluff Park is accessible to wheelchairs which makes it a whole lot better. Joggers, dog walkers, and even cyclists frequently visit the park for their paths. Bluff Park is not exactly the park with all the play equipment, rather, it's a park with a breathtaking view.
Bluff Park

Address: Ocean Blvd & Redondo Ave, Long Beach, CA 90803

Website: DBluff Park

Opening hours: Whole day
7. Experience art come to life at the Carpenter Performing Arts Center
Through artistry, education, and cultural experience does The Carpenter Performing Arts Center fulfill its mission. Through their artistic performances, they are able to provide learning and service between the university and its audience. This entertainment center is situated on the campus of California State University. They will definitely bring their audience no less than a world-class performance.
Carpenter Performing Arts Center

Address: 6200 E. Atherton Street, Long Beach, CA 90815

Website: Carpenter Performing Arts Center

Opening hours: Monday - Friday (10am - 5pm)
8. Explore the Pacific Island Ethnic Art Museum
Art lovers must not miss this place! Pacific Island Ethnic Art Museum on Alamitos Ave was founded on October 14, 2010. Their mission is to incorporate the variety of cultures of the Pacific Islands, with a specific highlight on Micronesia. These cultures are expressed through art, clothing, tattoos, and many other forms, all of which are immortalized in a permanent collection in the Museum. They provide educational programs, rotating exhibits, as well as living art. Through this, they are able to serve the community through the preservation and raising awareness of the ethnic and living arts of the Pacific Islands.
Pacific Island Ethnic Art Museum

Address: 695 Alamitos Ave, Long Beach, CA 90802

Website: Pacific Island Ethnic Art Museum

Opening hours: Wednesday - Sunday (11:00am - 5:00pm)

Price: 3 - 5 USD
9. Stop for a game at the Walter Pyramid
The Waler Pyramid on Bellflower Boulevard is one of the most popular indoor multi-purpose arenas on-site the campus of Long Beach State University. Famous for their volleyball and basketball games for over 20 years, it can hold up to 4,000 individuals in-stadium. Due to its unique architectural design, this has been recognized as an icon of the university, and it also represents the city of Long Beach. This has become one of the finest athletic facilities for collegiate members in the western United States.
Walter Pyramid

Address: 1250 N Bellflower Blvd, Long Beach, CA 90840

Website: Walter Pyramid

Opening hours: 7pm (subject to change)

Price: 5 - 15 USD
10. Appeal to the artist in you at East Village Arts District
The East Village, also known to be the East Village Arts District, is a dynamic place to live and and an excellent spot to visit for those with a love for arts. With galleries and restaurants within the walls of restored historic architecture, here you can work, play, shop and dine. This area is situated around the southeast of downtown Long Beach, along East Ocean Boulevard. Tourists can find their artsy selves emerge as they discover new aesthetics.
East Village Arts District

Address: 301 E. Ocean Blvd, Suite 1900, Long Beach, CA 90802

Website: East Village Arts District

Opening hours: Whole day
11. Enjoy a day at El Dorado Park Golf Course
El Dorado Park Golf Course is the place to experience the uninterrupted luxury of having perfectly aesthetic views of landscapes at every turn. This golf course has practice facilities and teaching instructions from certified professionals. Weddings and other special events can be held here in the club if one wants to maximize that picturesque view. The green spaces offer a place to unwind and relax from the hectic stresses of everyday demands.
El Dorado Park Golf Course

Address: 2400 N Studebaker Rd, Long Beach, CA 90815

Website: El Dorado Park Golf Course

Opening hours: 6am - 9pm
Take this chance to explore the alleged haunted cruise ship the "Queen Mary." Having decades of history and an immense number of stories, this World War II-era cruise ship allows tourists and guests to spend a night. Learn about the ship's history, design, and even it's mechanisms as you go about. This floating museum is definitely the wrap around scary yet educational adventure your thrill-seeking self has long been searching for.
The Queen Mary

Duration: 4 to 6 hours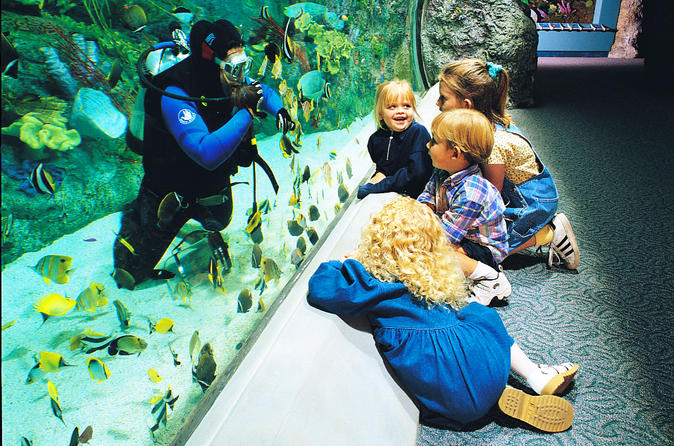 Delve under the sea and explore that hidden world of the Pacific Ocean. Explore the Aquarium of the Pacific and observe penguins in their frozen homes, or visit a teeming shark lagoon. Even get to see adorable and cute otters play in the kelp forest. In this aquarium, you're really in it to experience the wildlife, such as the sharks and stingrays alongside them. All these in just a single day!
Aquarium of the Pacific with Transportation from Anaheim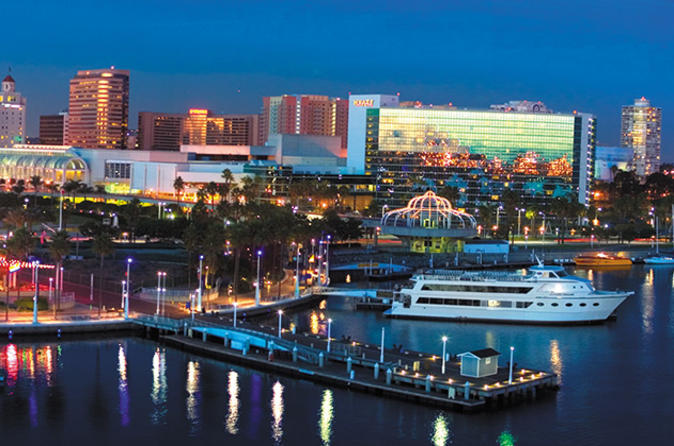 This dinner cruise is definitely an effortless luxury. Spend your evening dining on a cruise as it sails around the harbor. Watch the cityscapes as you enjoy your sit-down four-course dinner. The bright city lights and silhouettes are definitely complimentary to the live music. A dance floor is available for you to use, maybe even bring your partner for a dance. This all-inclusive tour comes with the food, gratuities, and a glass of champagne.
Long Beach Dinner Cruise
For only 15-minutes, tourists and locals can behold the stunning and wonderous views of Catalina Island from this beach town. If you're lucky, you can spot dolphins or even whales as you soar across the Pacific. During this helicopter tour, the pilot will guide and provide verbal context as you embark on a scenic journey. Watch as Catalina Island's cliffs emerge from the horizon. No worries, you'll be descending safely on a centrally located Pebbly Beach Heliport. Definitely an IG worthy experience!
Catalina Island Helicopter Flight from Long Beach
A fun experience in Long Beach
From modern facilities to picturesque views, to nature parks down to modern and artsy streets, Long Beach has it all. It has a host of other attractions worth checking out, including Earl Burns Miller Japanese Garden, Rainbow Harbor, Alamitos Bay Marina, ShoreLine Aquatic Park, Rancho Los Cerritos Historic Site, Junipero Beach, Naples Island, and more.
Here, you will find yourself immersed in a multi-cultural experience. Now your only problem is, what do you want to do first? Here in Long Beach, both locals and tourists will always have something to do. Plan your trip soon!
Disclosure: Trip101 selects the listings in our articles independently. Some of the listings in this article contain affiliate links.
Get Trip101 in your inbox
Unsubscribe in one click. See our privacy policy for more information on how we use your data