South Australia is filled with mesmerizing wonders that are incomparable to other parts of the continent. There are countless natural attractions like the Cleland Conservation Park, and the lush beaches of the Fleurieu Peninsula. Surfing, swimming and beach bumming are beloved activities on South Australian beaches. There is also the Eyre Peninsula, where the eye-catching Lake Macdonnell, the Instagram-able pink salt lake is found. For families traveling together, a trip to the Adelaide Zoo is a must. It is home to Wang Wang and Fu Ni, Australia's only breeding pandas. Apart from wildlife and nature, South Australia boasts a wide array of farmers' markets and fusion cuisine. From Chinatown to the Campbelltown Food Trail, there's a ton of local flavor and rare produce to indulge in. Experience a melting pot of cultures and check out the best things to do in South Australia below.
Spend 90 solid minutes of your trip learning about what makes Coffin Bay Oysters an institution in South Australia. Oyster farming is a rather unique craft and knowing the foundation is key to understanding its popular demand. Coffin Bay Oysters has a purpose-built Saltwater Pavilion that showcases the growth cycle of oysters, from infancy to full maturity. Those who decide to sign up for this tour will be wading through stunning crystal clear waters and learn how to shuck oysters first-hand. After all the wading, you're bound to salivate over the freshest Eyre Peninsula seafood and go oyster tasting for a memorable way to cap off the tour.
Oyster Farm & Tasting Tour -Coffin Bay

Duration: 1.5 hours
Marvel at some rustic architectural beauty and learn about the history of the Burra Copper Mine. It's just two hours away from Adelaide and sits right between Clare Valley and the Outback. This former mining town of the 1840s is now a popular tourist attraction that showcases the underground dugouts and abandoned mining sites. Walk down memory lane in the Burra Regional Art Gallery to find out more about the miners and the people who made Burra the mining capital that it once was.
Bungaree & Burra UnEarthed

Duration: 8 hours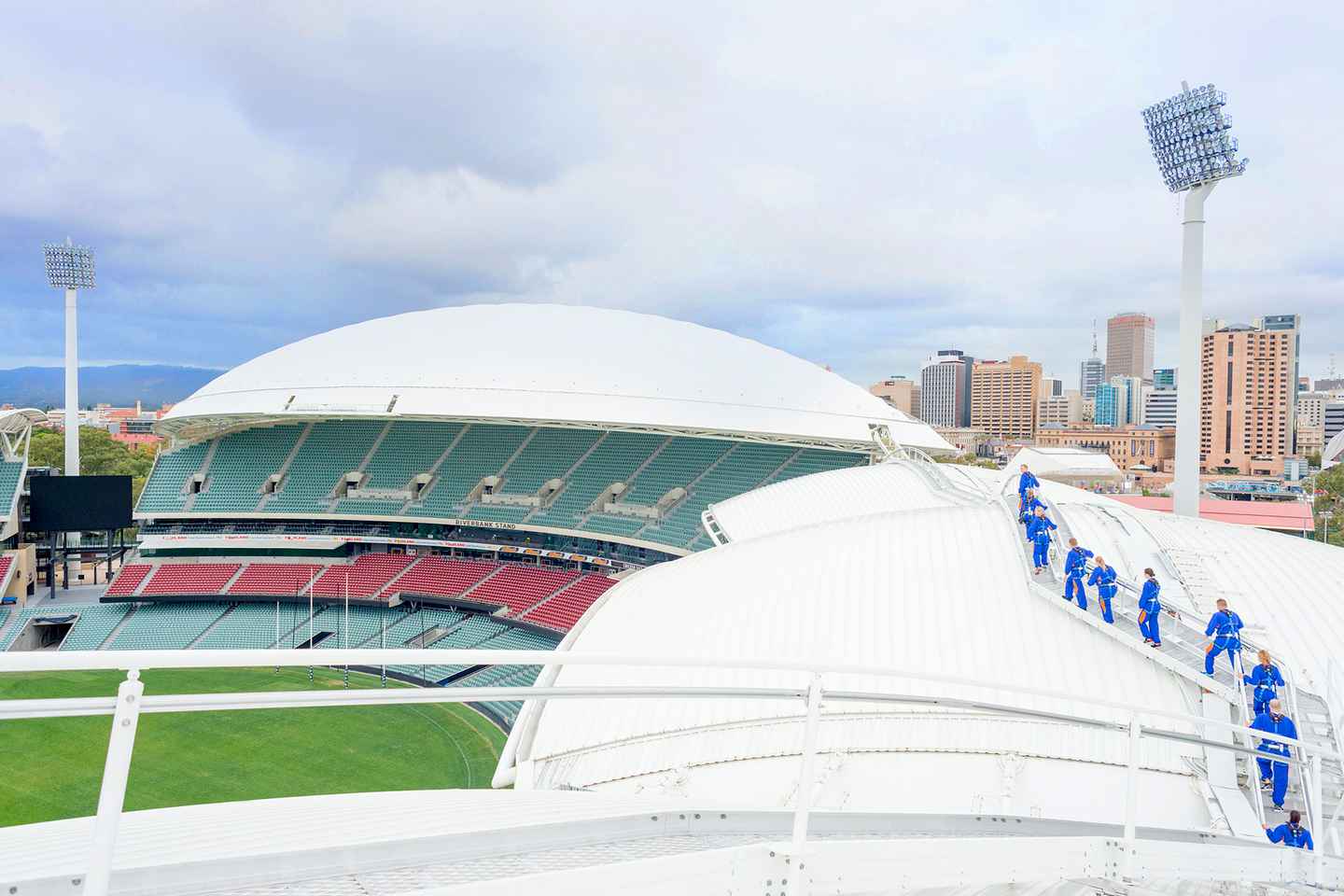 Have a memorable sightseeing experience when you book a few hours jumping off the roof of Adelaide Ova. This experience is for thrill-seekers and adrenaline junkies looking to go big than go home. Get stellar views of Adelaide from a lean out point at 164 ft (50 m) off the ground. This experience is two hours long and provides safety equipment and a climb suited to participants. Apart from a memorable snapshot of the stunning views, those who book this experience will get to take home an achievement certificate among other memorabilia.
Adelaide Oval 2-Hour Rooftop Climb Experience

Duration: 2.5 hour
4. Swim with giant Australian cuttlefish at Stony Point
Photo is only for illustrative purposes
For marine life explorations, venture off to Stony Point in the winter. Grab the opportunity to swim with giant cuttlefish, which are most sought after during their breeding season. Due to the rocky seabeds, the accessibility of this activity is what makes it popular. With the waters just being waist-deep, snorkeling to see the cuttlefish can be done with ease. Giant Australian cuttlefish begin congregating in the Upper Spencer Gulf come mid-May, but the most ideal time to see them is from June to July. Booking tours are also possible, if you wish to have a guide, which is perhaps ideal for first-timers.
Stony Point

Address: Stony Point, Eyre Peninsula
5. Take an Instagram-worthy picture of Lake MacDonnell
"Do it for the Gram" as the kids say! Visit the renowned Lake MacDonnell to bask in the beauty of the lake's bright pink pigment. Located in Point Sinclair Road in the town of Penong, Lake MacDonnell is iconic to many tourists simply for its color, but what many don't know is that the lake was part of an old mine. Throughout the years, the algae levels in the water spiked due to the amount of salt in the lake, thus, the more algae, the brighter the pink color appears. The best time to venture out to this one-of-a-kind natural sighting is in the spring or summer time.
Lake MacDonnell

Address: Point Sinclair Road, Penong, Eyre Peninsula, South Australia

Website: Lake MacDonnell

Price: Free
6. Land on the Mars-like red soil of Kanku-Breakaways Conservation Park
Get a first-hand experience of seeing the majestic scenery Kanku-Breakaways Conservation Park has to offer. This park sits in one of the most protected areas in South Australia. Spread across 15,000 hectares (37,069 acres) of red land, it boasts rare native flora species like acacias and mallee, among others. The park is owned by Antakirinja Matu-Yankunytjatjara Aboriginal Corporation (AMYAC) and is open daily. Popular activities to try in this conservation park include camping, bushwalking, and mountain biking.
Kanku-Breakaways Conservation Park

Address: Hutchison St, Coober Pedy

Website: Kanku-Breakways Conservation Park
Learn more about the underrated fusion cuisine in South Australia through your taste buds. There's a ton of flavorful dishes waiting to be devoured in this food tour. Hosted by a local foodie, a food tour around Adelaide Central Market is a sensory, interactive gourmet experience that gives travelers the chance to try a variety of local food and know where they are sourced. This farmers market has been around for over 30 years. Here, travelers will also discover Australian native foods and drinks locals never fail to get enough of. Some of these include bush tucker and seasonal fruits. Those with dietary needs won't have to sweat it since the tour will cover alternative tasting options.
Central Market Food Lovers Tour

Duration: 1.5 hours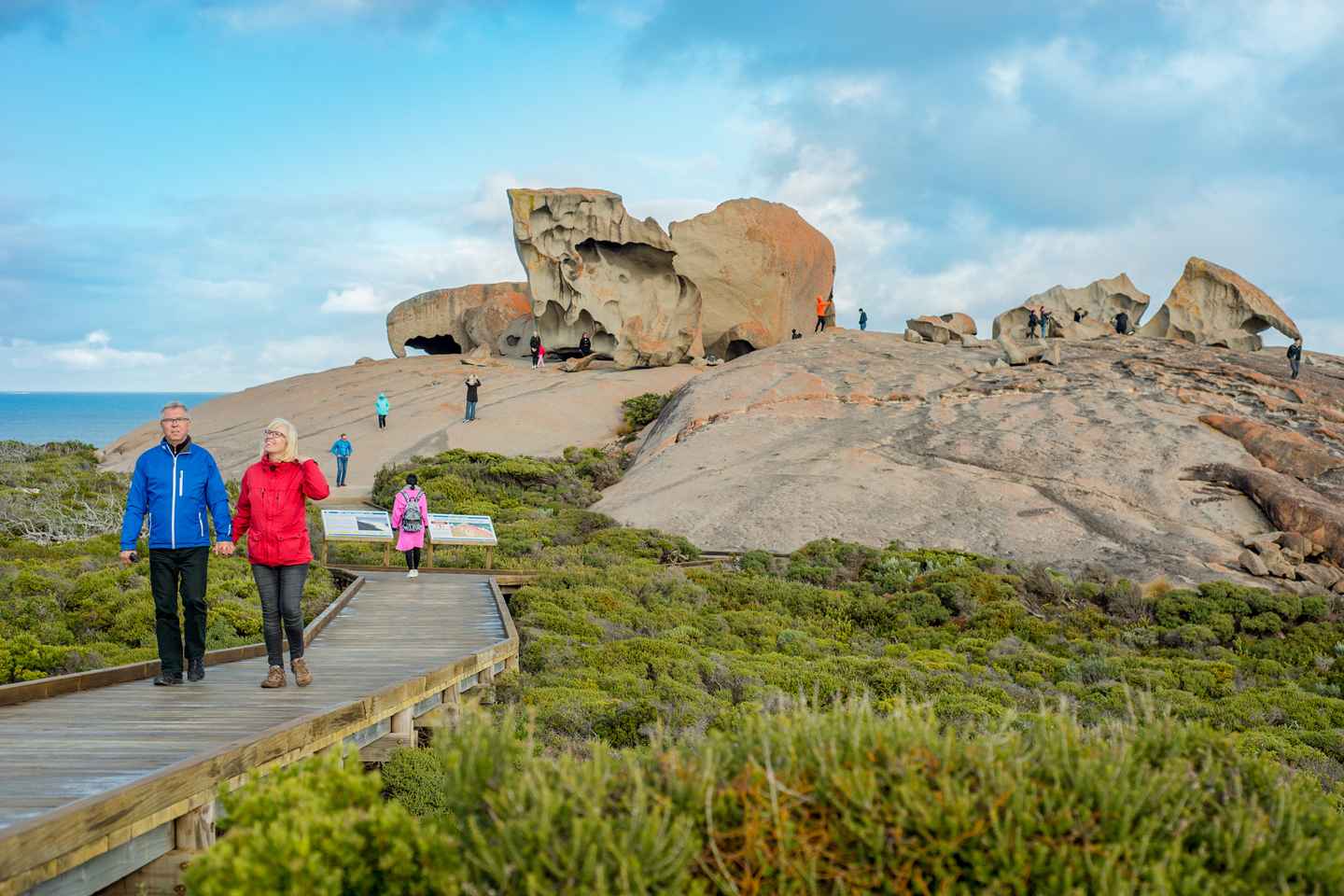 Get ready for an educational and exhilarating time at Kangaroo Island. Book this day-long round-trip to Kangaroo Island from Adelaide or Glenelg. It will give participants the chance to see native wildlife up close, some of which include the famous wallabies, koalas and kangaroos of South Australia. This tour will take you around the island by ferry and also offers views of South Australia's rare sea lions at Seal Bay Conservation Park. Other landmarks worth visiting include the historic ruins at Admirals Arch and Remarkable Rocks. A two-course lunch is provided on this tour as well as a guide to ease you into South Australia's finest sights.
Kangaroo Island Full Day Experience by Ferry Including Lunch

Duration: 16.0 hour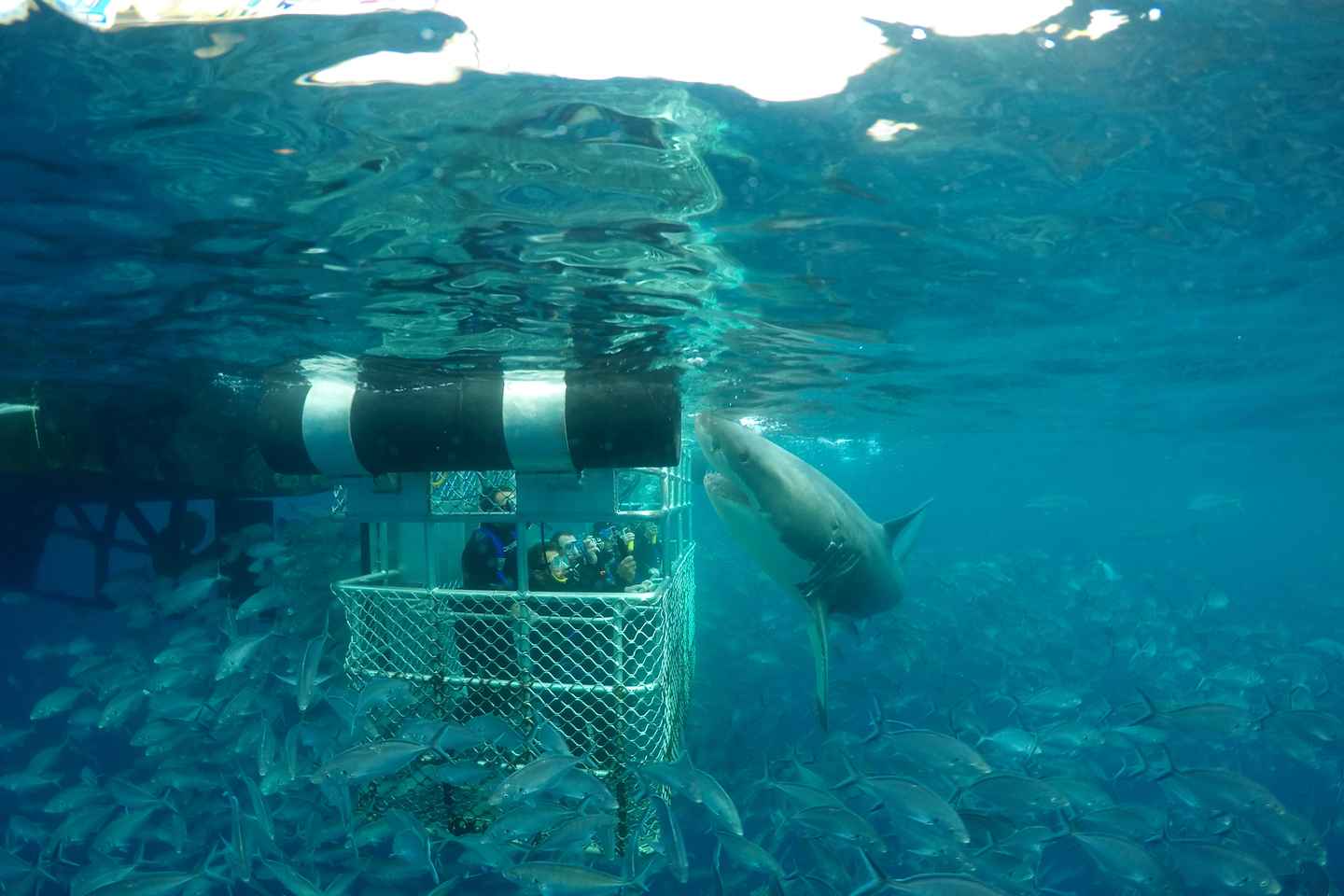 This one's not for the faint-hearted. Dare to participate in this day-long experience and see Great White Sharks up close in their natural environment. Calypso Star Charters is an advanced eco-certified diving facilitator. Proper safety measures and protocols are observed and will be relayed to participants. Diving equipment is provided like a wetsuit, mask and gloves, among others. The cages used in the tour are specially designed and will give participants 45 minutes each to see and interact with the sharks. Thrill-seekers and adrenaline junkies are bound to have quite a diving experience in these South Australian waters.
Great White Shark Cage One-Day Diving Experience

Duration: 12 hour
Wine lovers cannot miss out on this one-of-a-kind winetasting master class. Let First Drop Wines show you a good time sniffing, swirling, and slurping the most pristine Barossa Shiraz. This world-class bottle of wine is worth more than 800 USD. Enjoy an hour-long tour learning the intricacies of oaks and colors, and distinguishing terroir from texture, among other things. This interactive experience is hosted by a local wine connoisseur in Barossa. Barossa Shiraz encourages using spittoons throughout the tour to promote responsible drinking. Proof of legal age is also required in this tour for those traveling with some minors.
Shiraz Masterclass with First Drop Wines

Duration: 1 hour
Explore the beautiful South Australia
See the underrated wonders South Australia has to offer. Whether it's wine tasting in the vast lands of Barossa Valley or going snorkeling with giant cuttlefish, there's definitely one-of-a-kind experiences to take part in when in this part of Australia.
Disclosure: Trip101 selects the listings in our articles independently. Some of the listings in this article contain affiliate links.
Get Trip101 in your inbox
Unsubscribe in one click. See our privacy policy for more information on how we use your data