On the shore where the crystal turquoise Caribbean Sea meets the dense green mountains of Sierra Nevada de Santa Marta, at North Colombia, lies Taganga. A small fishermen village with a mix of adrenaline-boosting activities, relaxing time, and cultural experience promised within its landscape. Ten minutes away from Santa Marta's market, Taganga is easily reached by bus for only 1500 COP (0.50 USD). And famous for its rather cheap, action-packed activities, Taganga is an attraction for many hikers and backpackers from around the world. From diving, snorkeling, fishing, swimming, mountain trekking, to volunteering, the village includes a variety of hostels, restaurants, and diving centers that accommodate your budget and ensures that you enjoy your stay with a budget as low as 20 USD per day. Check out the exciting things to do in Taganga, Colombia.
1. Unwind at the fascinating Taganga Beach
With an average daily temperature of 30°C (86°F) and average night temperature of 24°C (75°F), Taganga is a perfect spot for chilling out on the beach. A beach shared with the harbor and surrounded by soothing mountain greenery, Taganga Beach is a nice place to unwind during weekdays. However, it remains a bit crowded over the weekends as the Colombians of Santa Marta head to enjoy their time out.
Taganga Beach

Address: Taganga, Santa Marta, Magdalena, Colombia
2. Appreciate the soothing shoreline of Playa Grande Beach
A 15-minute walk from Taganga Beach is the Playa Grande Beach. A captivating and soothing shoreline along the Pacific Coast, Playa Grande beach is a nesting home for leatherback turtles. This 7-feet (2.1 meters) long reptile comes to the beach at night to lay its eggs between May and October. That is why the beach closes before 6pm to make room for its night visitors. Known for its small waves, Playa Grande is a perfect spot for snorkeling, kayaking, and surfing, yet, it is a bit challenging for swimming due to strong currents. Watching the sunset on the beach is also not to miss.
Playa Grande Beach

Address: Santa Marta, Magdalena, Colombia

Opening hours: 7am - 5pm (daily)
3. Visit the incredible Tayrona National Park
A 150-square kilometer (58 square miles) park with an extension of 30 kilometers (18.6 miles) in the Carribean Sea, Tayrona National Park is a famous natural Colombian protectorate. Tayrona National Park is a one-hour bus ride from Santa Marta. Home to more than 400 hundred different species of birds and animals, including some endangered species like the cotton-top tamarin, the park is significant for its deers, bats, mantled howler, and oncilla. With the rich coral reefs alongside, the coconut palm trees, dense forests, and rivers alongside the Tayrona Park hiking and mountain biking experience are a must. The entrance fee for the park is 56000 COP (17.5 USD) with an additional mandatory insurance fee of 2500 COP (0.75 USD) and you need to reserve in advance. You can spend your day on a hammock which costs 40000 COP (12 USD), a tent between 40000 - 60000 COP (12 - 18 USD) for two, or you can stay at a hotel.
Tayrona National Park

Address: 8W4M+HM Neguanje, Santa Marta, Magdalena, Colombia

Website: Tayrona National Park

Opening hours: 8am - 5pm (daily)

Price: 18.5 USD onwards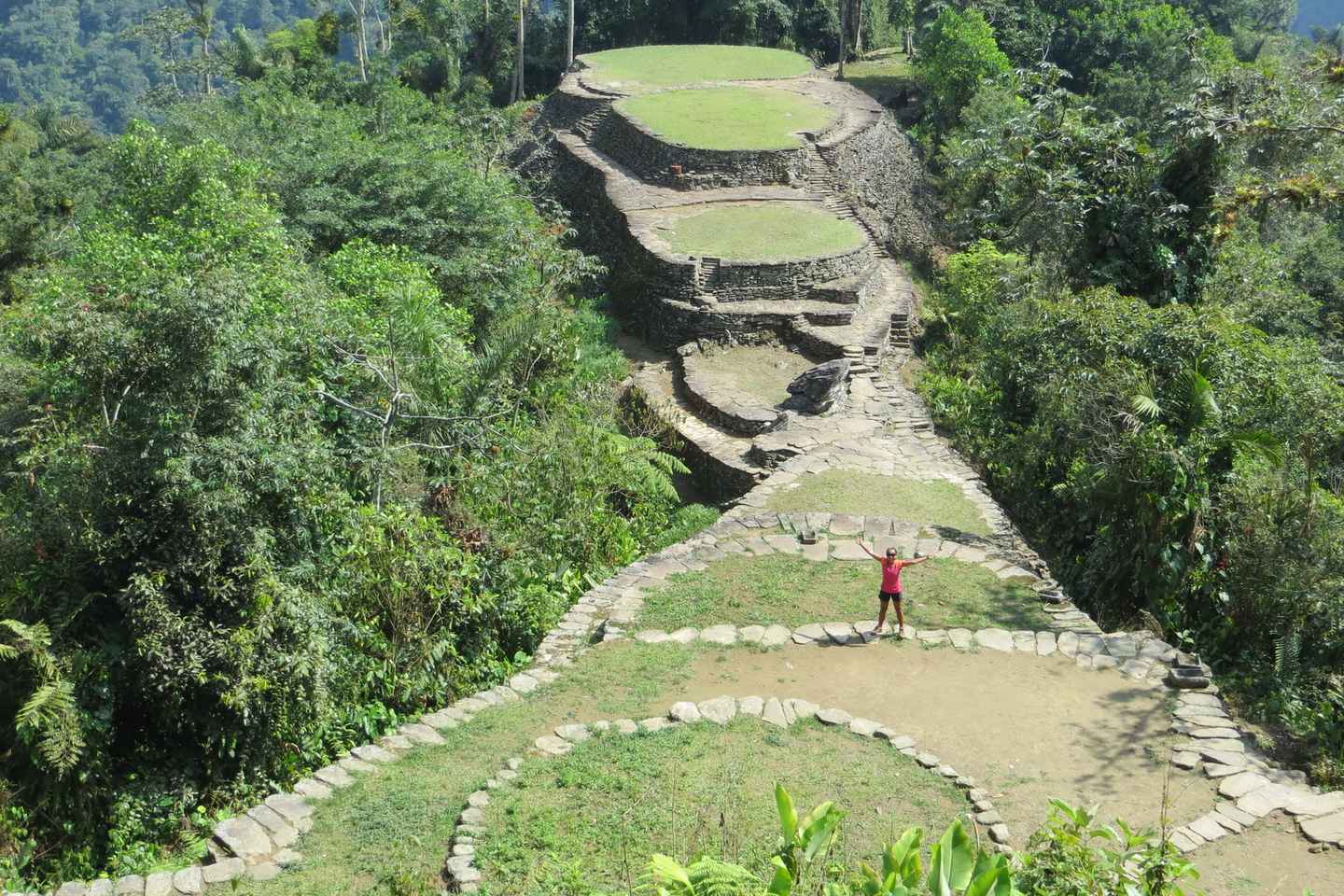 Far away in the dense forest of Tayrona Park hides "Ciudad Perdida" or "Lost City". A pre-Hispanic ancient city that is believed to have been of significant importance centuries ag. It is indeed the best hike in South Colombia. A serious trek that takes four to five days leaves you with one of the most exotic and worth-every-penny kind of experience. This is an unpaved rocky trek with breath-taking scenery, flowing river, amazing waterfall, unusual birds, and a marvelous view of Santa Marta city. Carry your own stuff so, join a group, and follow your guide's instructions. At the end of the trek, you will have to cross 1200 steps to come face to face with the amazing destination.
Santa Marta: 5 Days to Discover the Lost City

Duration: 5.0 day
5. Go fishing at Taganga Beach
One of the many interesting experiences in Taganga is fishing. Originally a fishing village, Taganga offers you the opportunity to trap your catch of the day. Not only that but Taganga also offers you the experience to get on a fishing boat with the local fishermen and catch your own meal. There you can enjoy fresh lobster, good ceviche, and experience a new activity.
Fishing in Taganga Beach

Address: Taganga, Santa Marta, Magdalena, Colombia
6. Become a certified diver
The amazing colors of the underwater life at the Carribean are best enjoyed through a deep dive. Considered one of the cheapest places in South America to get a diving certificate, Taganga offers its visitors a nice affordable diving experience. It is important though to make sure you dive with professionals, so choosing a diving center is very important. There are plenty of diving centers in Taganga, and even at the top-quality shops, the open water certificate might cost something around 275 USD. Most centers choose to dive around Tayrona National Park for its suitability for beginners. Also, as a protectorate, Tayrona is famous for the colored corals, turtles, lobsters, moray eels, angel and tiger fish. The water is usually warm all year round.
Ocean Lovers Diving Center

Address: Calle 15, 1B-14, Taganga, Santa Marta

Website: Ocean Lovers

Opening hours: 7am - 7pm (daily)

Price: 67 USD onwards
7. Surf the gushing waves of Taganga
Known for its world-class waves, Taganga is considered a good surfing spot. Although the strong coastal currents are a bit challenging for swimming, yet, some consider this Colombian spot to be great for learners and professionals. Paddle surfing also is available and you can also opt for paddleboards for a more diverse experience.
8. Keep the marine biome clear
An area rich in the aquatic population, Taganga invests in maintaining the beauty of its wild sea life. Fundación Calipso Dive Center and Tayrona National Park offer Taganga's visitors a good chance to volunteer in conserving its coral reefs as well as educate the local fishermen and control lionfish through their midwater marine nursery. So, if you like to leave your mark wherever you go, this program might be good for you.
Calipso Dive Center

Address: Cl. 14, Santa Marta, Taganga, Santa Marta, Magdalena, Colombia

Website: Calipso Dive Center

Opening hours: 8am - 7pm (daily)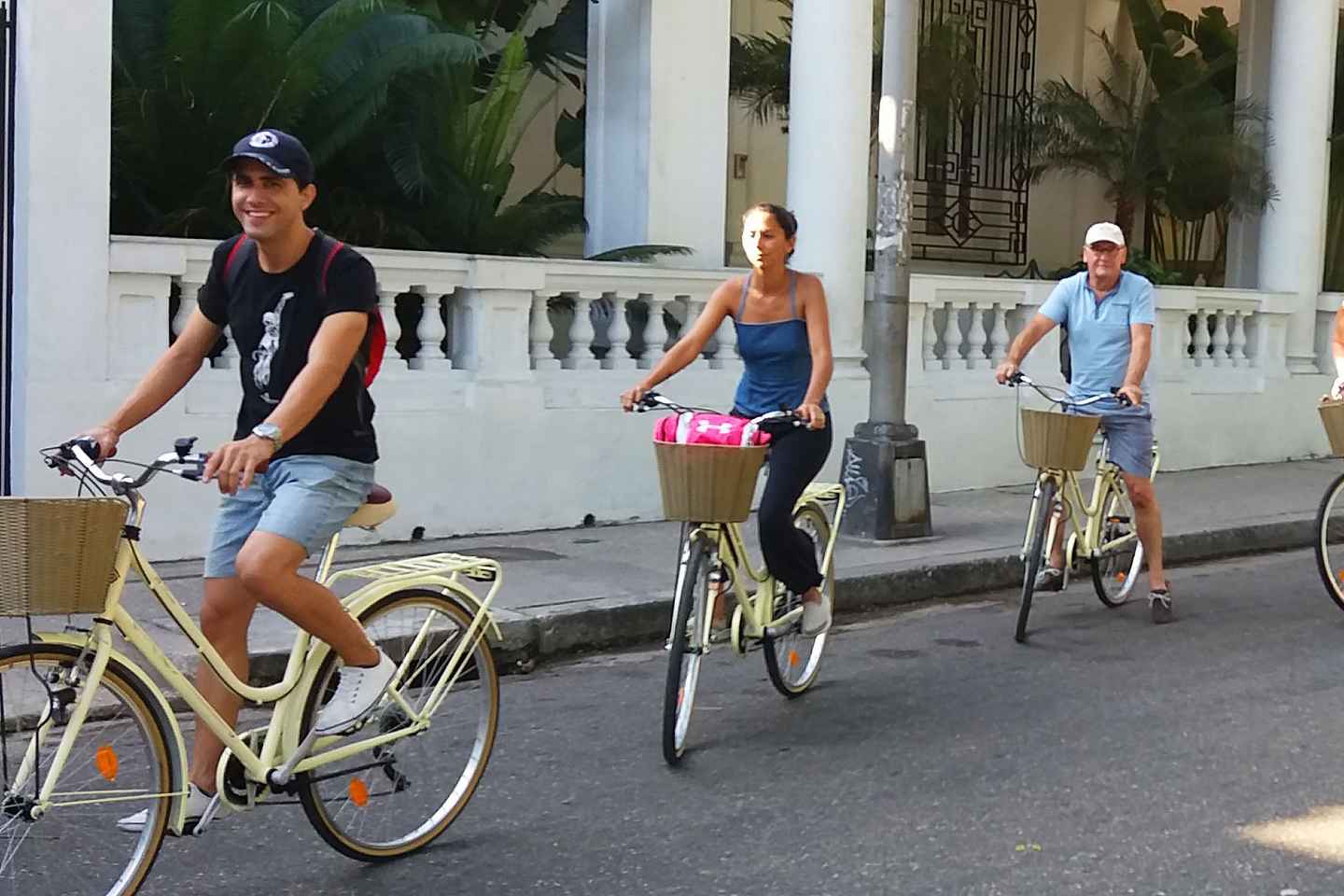 A very interesting way to tour the city and the neighboring mountain scenery is through biking. Besides the trek, a birds-eye view of Taganga and the Sierra Nevada, you also get to meet new people along the way. There are different tracks for different skill levels. The tours can be completed in one day or it could expand to six days depending on your abilities. All tours are guided and equipped with first aid kits.
Santa Marta: Flexible Bike Rental Service

Duration: 1 to 7 hour
10. Indulge in delicious sea food at El Muelle De Taganga
For a fishing village like Taganga, fresh seafood is a must-try. El Muelle Taganga is a fine-dining eatery offering Colombian and Carribean cuisine with a nice sea view. Cazuela de Mariscos is their famous seafood dish that you should not miss if you like lobsters. Also, if you are into cooking, you can ask for the restaurants with straw huts, there you can buy the fish that you want for a couple of dollars and enjoy a nice meal.
El Muelle De Taganga

Address: Carrera 1 No. 18-95 Costado Sur de la Playa, Taganga, Santa Marta Municipality Colombia

Opening hours: 9:30am - 7pm (daily)

Price: 25 USD
Feel the coastal vibe in Taganga
Although Taganga is a small village, yet, its unique coastal location between the Carribean and the Sierra Nevada makes it a destination packed with activities. Whether you are a backpacker looking for a new adventure or a traveler looking for a good break, Taganga has something for you. The beautiful scenery combined with a variety of water activities, hikes, and even volunteering experience along with its affordability makes Taganga a good destination.
Disclosure: Trip101 selects the listings in our articles independently. Some of the listings in this article contain affiliate links.
Get Trip101 in your inbox
Unsubscribe in one click. See our Privacy Policy for more information on how we use your data