San Antonio was founded as a Spanish Mission and Colonial Outpost in 1718 and subsequently became the first chartered civil settlement in 1731. It's one of the fastest growing cities between 2000 and 2010, and it boasts of a lot of cultural attractions, like the Riverwalk. It's a city park and network of walkways along the banks of the river and is lined with bars, shops, restaurants, and historic missions. If you're planning a trip here soon, check out the list of cabins and vacation rentals for a comfortable stay during your fun-filled vacation. The area is suffused with music during the summer. Keep reading to find out about the best things to do indoors in San Antonio, Texas.
1. Marvel at the awe-inspiring Natural Bridge Caverns
The Natural Bridge Caverns–discovered in 1960 by a group of graduate students–is one of the top caverns to visit in the world! Check out many impressive natural features–including ones that resemble a chandelier and a watchtower–as well as a plethora of stalagmites and stalactites. These amazing caverns also feature formations named Grendel's Canyon and Pluto's Anteroom that you must discover. The temperature inside is a constant 70 degrees Fahrenheit (21.1 degrees Celsius).
Natural Bridge Cavern

Address: 26495 Natural Bridge Caverns Rd, San Antonio, TX 78266

Website: Natural Bridge Cavern

Opening hours: 9am - 4pm (daily)
2. Visit The Witte Museum
Discover the interplay of nature, science, and culture at The Witte Museum in San Antonio. It is a Smithsonian Institution affiliate location. With galleries exhibiting the wildlife of Texas, the early people of the Pecos, Texan heritage, and an adventure through the human body, Witte Museum offers a packed day of fun and learning. The high-tech and immersive exhibits that are featured in the museum will be sure to delight individuals of all ages while also providing exciting educational elements. Visting The Witte Museum is also one of the best things to do with kids in San Antonio!
The Witte Museum

Address: 3801 Broadway St, San Antonio, TX 78209

Website: The Witte Museum

Opening hours: Mon, Wed - Sat: 10am - 5pm; Tue: 10am - 6pm; Sun: 12am - 5pm

Price: 14 USD (Free on Tue: 3pm – 6pm)
3. Treat your kids to a day at The DoSeum
Editor's Note: Photo taken from the establishment's official social account
If you have children and are looking for indoor activities, The DoSeum should be your number one location in San Antonio as it is a museum designed specifically for kids! With a focus on science, technology, engineering, and math, The DoSeum's 68,000 square-foot (6,317.4 square-metre) interactive space provides a fun and educational experience for kids! Curated for ages 10 and under, The DoSeum is also completely handicap-accessible and a perfect indoor location for families with young children. Make sure to add this must-visit, kid-centered museum to your list of locations to visit in San Antonio when you want to stay indoors. Make sure to purchase your tickets online in advance as tickets at the door are first-come, first-serve.
The DoSeum

Address: 2800 Broadway St. San Antonio, TX 78209

Website: The DoSeum

Opening hours: Mon, Thu - Sat: 10am - 1pm, 1:30pm - 4:30pm; Sun: 1:30pm - 4:30pm (closed on Tue & Wed)

Price: 14 USD
4. Stop by Briscoe Western Art Museum
Editor's Note: Photo taken from the establishment's official social account
A museum that celebrates the American West's art and culture, Briscoe Western Art Museum features art and artifacts including restored stagecoaches, Native American artifacts, and other items across three floors. With San Antonio River Walk just outside the front doors of the museum, the building is situated in a beautiful part of the city and was originally the city's public library before being converted to a museum. When in San Antonio, visiting Briscoe Western Art Museum is a must-do indoor activity to learn about the peoples, landscapes, and history of the American West!
Briscoe Western Art Museum

Address: 210 W. Market Street San Antonio, TX 78205

Website: Briscoe Western Art Museum

Opening hours: Thur - Mon: 10am - 5pm (closed on Tue & Wed)

Price: 12 USD
Located in the heart of downtown San Antonio, two blocks from the Alamo and one block from the Riverwalk is the Buckhorn Saloon and Museum. For the past 100 years, it's been known as a gathering place of people who love good conversation, great food, and spectacular wildlife exhibits. Currently, it houses a café, a gift shop, a shooting gallery and the Buckhorn and the Texas Ranger museums. The Buckhorn Museum has wildlife from all over the world. It boasts of fish from each of the seven seas, and animals from every continent, including the prized record holder, the famous "78 Point Buck." The Texas Ranger Museum was established in 1936 and exhibits priceless artifacts that tell stories about half a century of ranger history.
The Buckhorn Saloon & Museum and Texas Ranger Museum Admission

Duration: 1 to 2 hours
This is two tours in one! Visitors can learn how to make beer and how to make bourbon. It is an intimate, immersive experience that includes a detailed guided tour, a souvenir pint glass, and three samples of products. The tours last approximately one-and-a-half hours. There is also a tasting room, which is a great way to experience beer, whiskey, and unique beer cocktails. They have a simple, rotating menu that always has something new and exciting. Meat and cheese plates and light snacks are available for purchase.
San Antonio Ranger Creek Brewstillery Tour

Duration: 1 hour
Situated along the city's famous River Walk, The Hard Rock Café is the number one tourist destination in Texas. The San Antonio cafe has three floors of patios where visitors can relax and enjoy the great Texas weather and picturesque views of the San Antonio River with its slow-moving tourist barges. It has an outdoor patio that offers one of the best dining spots on the River Walk. The inside of the cafe offers spectacular attractions to guests of all ages. Their servings are also extremely hefty, so guests should be prepared to consume a lot. It's also ideal for events as it can hold up to 600 guests. Visitors can dine surrounded by a collection of music memorabilia that is big enough to fill a Spanish mission, including Ozzy Osbourne's black velvet jacket, Eddie Van Halen's Charvel guitar, and a piece of the original stage used by Selena Quintanilla.
Hard Rock Cafe San Antonio

Duration: 2 hours
This San Antonio food tour takes visitors to various neighborhoods to experience new scenery and delicious food. It's part city tour and part culinary adventure. Guests will enjoy zipping from place to place to taste some of San Antonio's most classic dishes and new-comer favorites. Food and fun lovers will enjoy this unique way to jump-start Saturday nights and even date nights! It's a three-hour tour on Saturdays from 5 p.m. Please note that alcoholic beverages are not included in this package.
Taste San Antonio Food Tour

Duration: 3 hours
NOTE:: This paragraph is hidden in published article because one of the property is invalid for more than 2 years
This is an aquarium that features a variety of amphibians, an interactive Lorikeet and Parakeet Aviary, and a number of cold water and tropical fish. It also features sharks, a stingray touch tank and a rainforest filled with reptiles. The goal of this aquarium is to promote interactive experiences between children and the world under the ocean. Guests can hand-feed sharks, rays, bird, and fish. They hope to inspire future ocean explorers and conservationists.
San Antonio Aquarium Admission Ticket

Duration: 1 to 10 hours
NOTE:: This paragraph is hidden in published article because one of the property is invalid for more than 2 years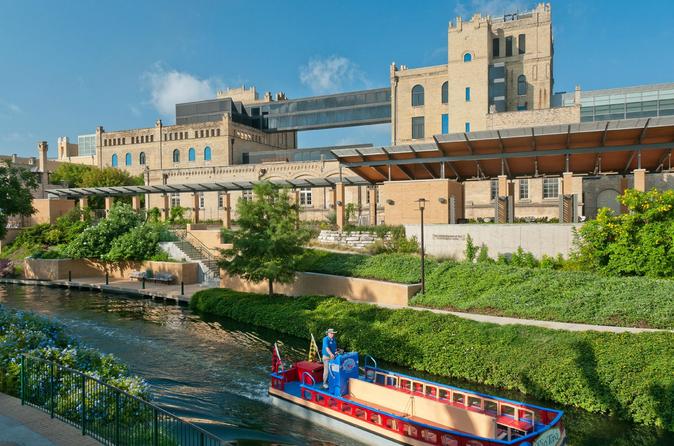 The aim of the San Antonio Museum of Art is to collect, preserve, exhibit, and interpret works of art, as well as represent a broad history and cultures of the world. The museum conducts more than 500 guided tours and provides 400 educational programs annually. These include lectures, concerts, films, workshops, scholarly symposia, and art activities.
San Antonio Museum of Art Admission

Duration: 1 to 11 hrs
NOTE:: This paragraph is hidden in published article because one of the property is invalid for more than 2 years
This is a one-of-a-kind experience that gives visitors valuable information on the days of battle that resulted in the formation of the Great State of Texas. It showcases artifacts never seen before, including Santa Anna's Uniform, Bowie Knives, and items owned by Davy Crocket. It also is presented from both Texan and Mexican perspectives, which gives visitors the chance to experience that specific time in history, to see Alamo in a different setting. There are 11 galleries with more than 250 authentic artifacts from Texas Revolution and the Battle of Alamo.
Battle for Texas Interactive Adventure

Duration: 60 minutes
NOTE:: This paragraph is hidden in published article because one of the property is invalid for more than 2 years
Guests can enjoy a VIP tour of each brewery and distillery, learn the craft of beer making, learn how to differentiate between different varieties, and have tastings at each location. Guests can learn to appreciate a beer like a true connoisseur, without having to worry about drinking and driving because transport will be provided, along with snacks. The total tour is expected to last five hours and will stop at three places along the way.
San Antonio Whiskey Distillery and Brewery Hopper Tour

Duration: 5 hours
iFLY is an entertainment company that created modern indoor skydiving. They make the dream of flight a reality by giving customers "wings" in a safe and reliable environment. Through one-on-one coaching, each Flight School student learns a progression of flying skills in a fun group setting. Every session is taught by an experienced flight instructor who is highly trained in safety standards and certified by the International Bodyflight Association (IBA).
San Antonio Indoor Skydiving Admission with 2 Flights & Personalized Certificate

Duration: 1 hour 15 minutes
Enjoy San Antonio
Whether you're here for the historic sites or for the fun indoor activities, you're sure to have your fill of fun. Take some time to relax, unwind, and enjoy a fun-filled weekend with your friends and family.
Disclosure: Trip101 selects the listings in our articles independently. Some of the listings in this article contain affiliate links.
Get Trip101 in your inbox
Unsubscribe in one click. See our Privacy Policy for more information on how we use your data