Idaho Springs is a town located in the mountains of Colorado that's been there for over 160 years. The town was founded as part of the gold rush but the name "Idaho Springs" is said to come from local Native American legend when the chief and his tribe would journey to the nearby hot springs and bathe in its supposed healing waters. The town is beautifully surrounded by mountains and the old historic downtown is a great place to check out and see the humble origins of the town. If you're planning on visiting the area, these great Vrbo vacation rentals in Idaho Springs, are some of the best.
Feel like a mountain man but still live in the modern world at this gorgeous accommodation. Located in a canyon, there are no other people around for over 2 miles (3.2 km). You'll be nestled in the Mt. Evans area where you can fish for trout, hike the nearby trails or just lounge in the secluded area surrounding the home. The accommodation sleeps up to 10 people and is fully equipped with bedding items and things for the kitchen. Cosy up by the wood-burning stove or head to one of the nearby ski mountains. WiFi and TV access are included.
Arapaho Cliffs Log Cabin en Chicago Creek

Accommodates: 10
Minimum Nights: 2
Refund Policy : 100% refund if you cancel at least 60 days before check-in.

This mountain property is a gorgeous place to spend some time with friends in the woods and mountains. The home is surrounded by forests and natural landscapes and there is also a hot tub located right next to the river which runs right by the cabin. On top of that, there is also a sauna so after a long hike you to relax your bones. Enjoy the gas grill or the fully equipped kitchen then fire up the fireplace and get cosy on those colder evenings. A TV, WiFi and linens are all provided.
Una cabaña de lujo frente al río en la montaña: el mejor lugar para relajarse, esquiar y hacer rafting en Colorado

Accommodates: 6
Minimum Nights: 3
Refund Policy : 100% refund if you cancel at least 60 days before check-in.

This large home can accommodate up to 14 people and despite its name, it is a great place all year round. The home is within driving distance to five ski resorts and is only 30 minutes to downtown Idaho Springs. The large home also comes with some great amenities as well like a ping pong table and a wood-burning stove to keep warm. TV, internet and laundry facilities are also included and during the summer the area is great for fishing and outdoor activities.
Grande Mountain Home para los esquiadores, Familia y Amigos

Accommodates: 10
Minimum Nights: 2
Refund Policy : 100% refund if you cancel at least 60 days before check-in.

Sleeping up to six adults, this mountain home provides both great privacy in the mountains while still being close to town. There are three bathrooms on site and if you're travelling with kids, there is an additional space for up to four kids to sleep. The home has a large dining and entertainment area as well as two wood-burning fireplaces to keep cosy during the winter.
Serene Mountain Home
Just because you're in a log cabin it doesn't mean you have to live like you're in one. This luxurious log cabin is tucked away in the mountains and has a beautiful wooden bridge to access the property. The river that runs through the area is perfect for doing some fishing off of but if that's not for you, then head to the hot tub and have a soak while you listen to bubbling of the water and the sounds of nature. Spend your evening by the fire pit outside or the fireplace and get cosy in the mountains.
Increíble cabaña personalizada! Reserve 3 noches, 4ta noche con descuento!

Accommodates: 12
Minimum Nights: 3
Refund Policy : 100% refund if you cancel at least 60 days before check-in.

This old-west inspired home will be your home away from home in Idaho Springs. The accommodation sleeps up to four people and is packed with everything you'll need for a great stay. The kitchen comes fully equipped and the private deck space is perfect for enjoying your morning coffee and taking the sun or sipping on an evening cocktail. The home was built in 1905 and has been renovated and decorated over the years offering modern amenities like WiFi, TV and laundry facilities.
Stay in Historic Downtown Idaho Springs!! Private Parking-2 King Beds-"Bonanza"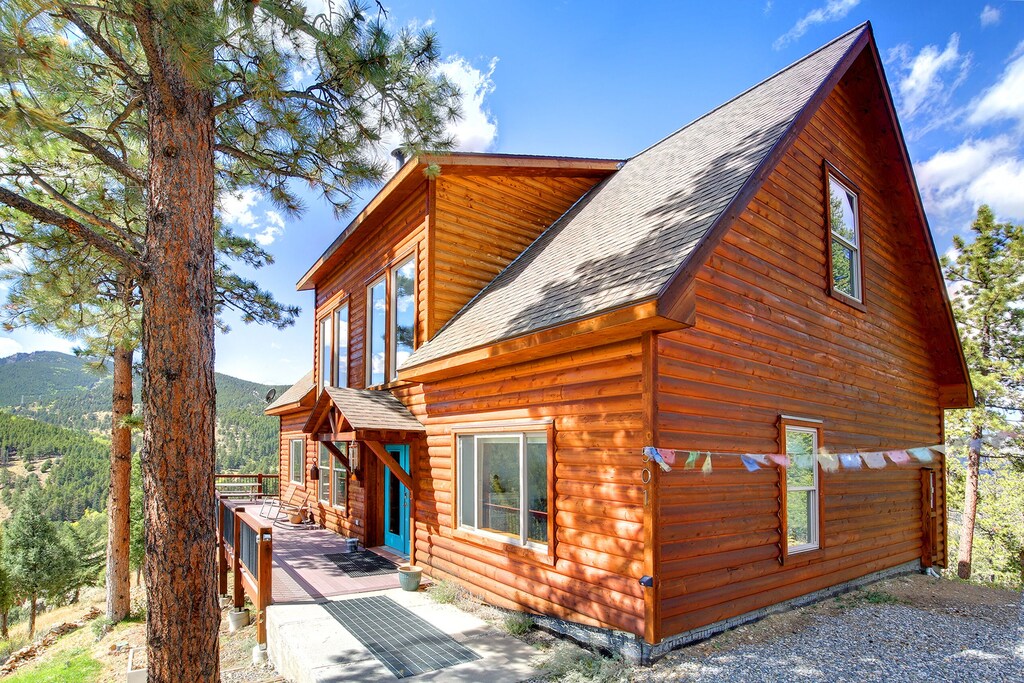 Located on the side of the mountain overlooking the Rockies, this mountain home is absolutely beautiful. The home features a wraparound deck with breathtaking panoramic views of the countryside. The open-concept home has a fully equipped kitchen as well as a living room with a fireplace. There's plenty of storage space here for people who are bringing ski equipment with them and the home is eco-friendly, relying on solar power to power the home. TV, WiFi and laundry facilities are included.
Stunning Modern Mountain Home-amazing Views. Skiing, Biking, Hiking, Climbing!
Maybe you don't want to spend all your time in the mountains and would prefer a home closer to Idaho Springs instead. Well, this large home is perfect for you. Sleeping up to five people the home comes with everything you'll need for your Idaho Springs stay. Enjoy some amazing mountain views from the property and bring your furry little friends to run around the backyard. There is also a patio for outdoor dining and a grill for outdoor cooking. Parking, TV and WiFi are all included.
Mountain town living!
This home is located in the historic downtown area of Idaho Springs. There is space to accommodate up to five people and it is a good place for those who want to be near the centre of town and not too far off. The home is an open area with a delightful breakfast nook that gets lots of sunlight in the mornings and the living room area which is just off from the kitchen has a smart TV. Shops restaurants and ski resorts are nearby and the home is equipped with WiFi, parking and laundry facilities.
Historic Home Located A Minutes Walk From Hot Springs and Downtown Idaho Springs

Top guest reviews

1 bathroom might get tight for addtl guests

So cute and had everything we needed and more

They had games and movies and enough sleep area to fit more than 5

Great location close to downtown area Great to have washer/dryer

Clean quaint house in a great location Walked to dinner and stores Very fun

Walking distance to many great local shops and restaurants in the area

A little get away for my mom and me

Read more reviews
Located on over 3 acres (1.2 hectares) of property, this home is a gorgeous spot in the mountains where you can feel relaxed and peaceful. Listen to the sounds of nature that surround the home or hop in the on-site hot tub located next to a river running by the home. Hang out in the large leather couches and enjoy some TV or cook something up in the fully equipped kitchen and dine in the large dining area with seating for up to 10 people. Enjoy your morning coffee in the atrium area where you can watch the sunrise and the water running downstream.
Beautiful River Front Colorado Property in the Mountains - Skiing and Denver
Historic Colorado
Idaho Springs is a perfect place to spend some vacation time. The area is not only historic with a lot of things to see but the surrounding area is beautiful and full of nature just waiting to be explored. Listed above are some of the best accommodations offering a comfortable stay during your holidays.
Disclosure: Trip101 selects the listings in our articles independently. Some of the listings in this article contain affiliate links.
Get Trip101 in your inbox
Unsubscribe in one click. See our privacy policy for more information on how we use your data