Bangkok, the capital city of Thailand, is one of most popular destinations for all travellers in the world. It is a touristic place, where people can find almost anything they are looking for. Visitors get to enjoy staying in spa hotels or hotels near nightlife. Located in the central region of Thailand, it has growing population of eight million. The city is surrounded by nature, but is a concrete jungle. As a hub of modernity, technology, skyscrapers and multiculturalism, Bangkok has a unique way of preserving their culture and traditions. In Bangkok, it is convenient to move around the city by train, which serves as a highly used mode of public transportation, as are taxis and tuk-tuks. There is a huge number of expats living in the city, which has added to the multiculturalism of the city. If you are looking for a weekend getaway away from the city, here is a list of the best weekend trips from Bangkok, Thailand.
Hua Hin is one of the major districts of Prachuap Khiri Khan province in Thailand and it is about 198.7 km (123.4 miles) from Bangkok, or a 4-hour ride by train. It is a place of nature, with amazing beaches and a fresh atmosphere. Most tourists visit Hua Hin for its clean beach and air. It is considered a calmer place and is ideal for families.
You can visit the beaches, enjoy the water park, and be stunned by the new Venezia-themed shopping and attraction village. Hua Hin has a tropical savanna climate, with heavy rain from September to November. The highest temperature was recorded at 38.7°C (101.7°F) and lowest at 14.9°C (58.8°F).
Hua Hin Private Car Charter Custom Tour from Bangkok with Private Car Charter
Located in the northern part of Thailand, Chiang Mai is the largest city in the region, with more than one million people. It is one of the most popular cities in the country to visit and to work as an expat. Chiang Mai was awarded the UNESCO title of Creative City. People visit Chiang Mai to explore the Old City, which is surrounded by a city wall on all four sides with gates that include Tha Phae Gate at the east, Chang Phueak Gate at the north, Suan Dok Gate at the west and Suan Prung Gate at the south.
The distance between Chiang Mai and Bangkok is 688.2 km (428 miles) and it will take an hour and 30 minutes to get to Chiang Mai by plane. Apart from the city and nightlife, people spend their time here visiting the temples and elephant sanctuaries, as well as river rafting, hiking and splashing at Chiang Mai's Grand Canyon. Most things here, from food to accommodation, are less expensive than other Thai cities. Chiang Mai has tropical savanna climate with the highest temperature at 42.4°C (108.3°F) and the lowest at 3.8°C (38.8°F). It is mostly cooler from November to February.
Chiang Mai City and Temples Half-Day Tour

Duration: 3 hours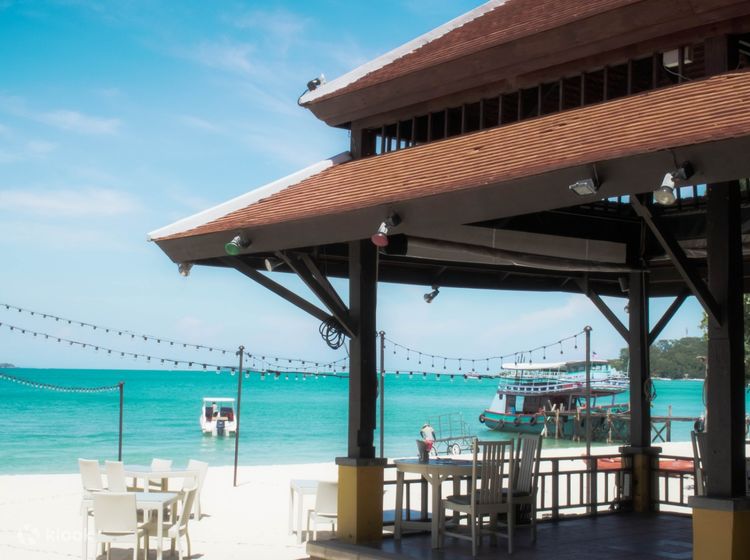 Located in the southern part of Thailand, Ko Samet is an island off the coast of Rayong Province in the Gulf of Thailand. It is a small island, yet there's so much to do here. It is one of the best weekend getaways for people in Bangkok. From Rayong, you can take a ferry to the island at its various piers. The island has unique and absurd structural figures of an ogress and mermaids which attracts tourists, not to mention the clean beaches, restaurants and bars.
The nightlife is the best time at the beach and is where no one sleeps. You can also swim and fish at this beach or simply relax. The distance between Ko Samet and Bangkok is about 168 km (104.3 miles) or a 5-hour drive and you can get a ferry to reach the island within 30 minutes.
Koh Samet Private Beach Speedboat Tour from Pattaya/Rayong
Located off the coast of Pattaya, Koh Larn is a beautiful destination to enjoy time at the beach and get a tan. It has numerous beaches and Tawaen Beach is the most popular among them. You can watch the sunset, hike the hills, indulge in the exotic fresh seafood and make all your wishes come true while snorkelling, sailing or underwater sea walking on the gorgeous coral reefs. Koh Larn is about 98 km (61 miles) from Bangkok, so once you get to Pattaya, you can take a 15-minute ride on a speedboat to the island.
Small-Group Day Tour from Bangkok: Pattaya and Coral Island

Duration: 13 hours
Kanchanaburi is a town located in the western part of Thailand. It is filled with nature and historical events from the 18th century. You can visit the elephant sanctuaries, where the elephants are well-kept and loved. You can also visit the famous Erawan National Park and Srinakarin National Park, which is surrounded by nature and gentle waterfalls. The distance between Kanchanaburi and Bangkok is 144 km (89.5 miles), or about a 2 hour and 45 minutes' drive.
Erawan Waterfall and Bridge over the River Kwai

Duration: 10 to 11 hours
Khao Yai is one of the largest national parks in Thailand and, due to its unique design and rich nature, it is a UNESCO World Heritage Site. It's filled with lush green mountains and valleys and it has European-style town where you can shop for a variety of things and relish the delicious food. The distance to reach Khao Yai from Bangkok is 122 km (76 miles), which is about 2 hours and 30 minutes' drive.
Khao Yai Private Car Charter Custom Tour from Bangkok: National Park, Palio Village, Chok Chai Farm, and More
Krabi is located in the southern part of Thailand and it is one of the top destinations in Thailand. The distance between Krabi and Bangkok is 783 km (486.5 miles) and you can reach it in a 1 hour and 10 minute flight from Bangkok. There are a lot of things to do and see in Krabi, from the white sandy beach to adventurous outdoor activities. Koh Lanta, Koh Phi Phi and Koh Talabeng are the most visited islands in Krabi Province, where you can enjoy snorkelling, hiking on the cliffs, fishing, scuba diving and taking a speedboat adventure to the next level of fun.
Krabi 4 Islands Day Tour by Speedboat or Longtail Boat United Kingdom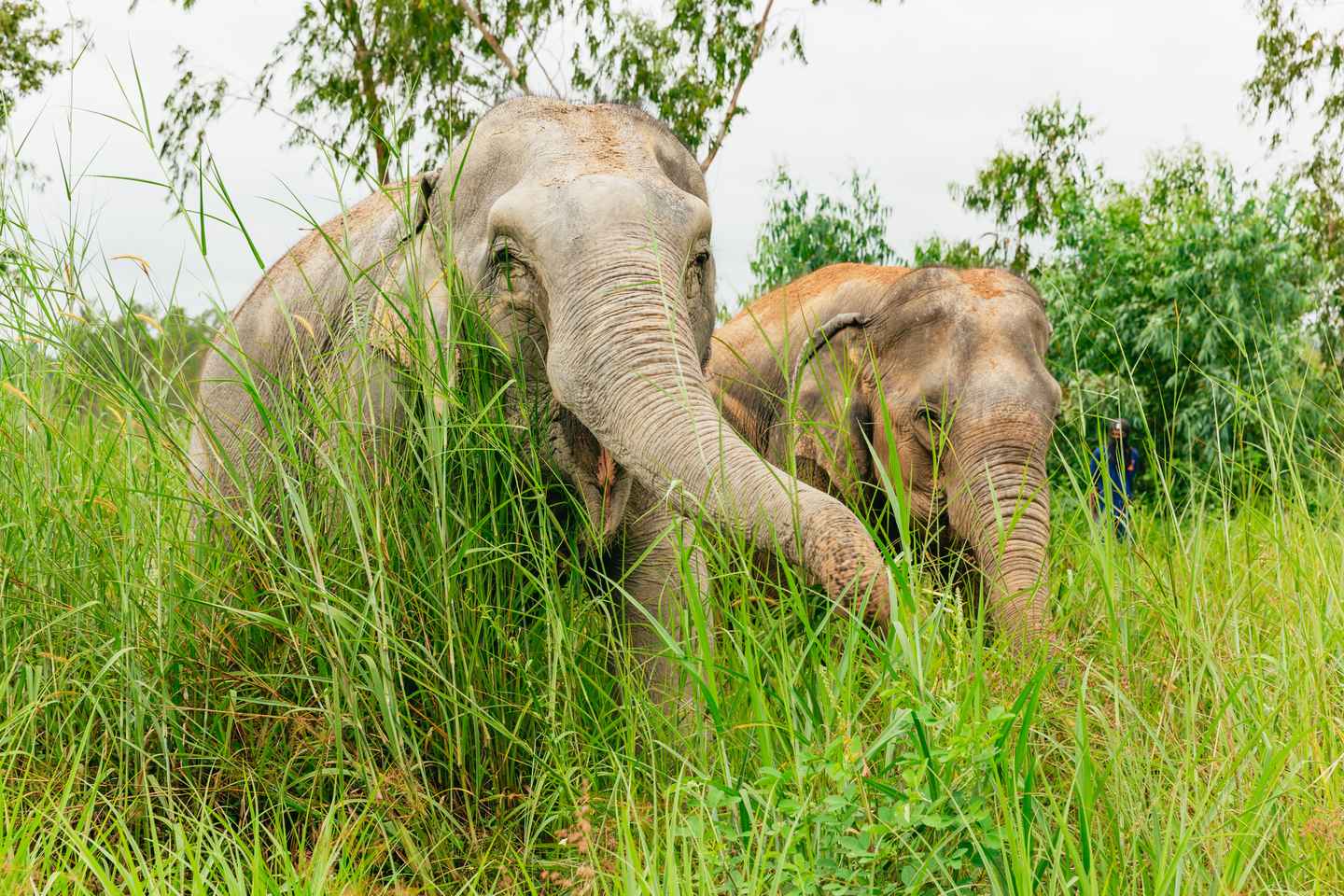 Pattaya is an exciting coastal city located near Rayong in the southern part of Thailand. Pattaya is known for its large beach resorts, conveniently located to the city. If you plan to visit Pattaya, you must see the tallest Buddha statue at Wat Khao Phra Bat, witness the serene nature of the Sanctuary of Truth, marvel over the beautiful flowers at the Nong Nooch Tropical Botanical Garden and get blown away by its nightlife. Pattaya is 150 km (93.2 miles) away from Bangkok, or 2 hours of driving.
From Bangkok: Pattaya Ethical Elephant Sanctuary Day Trip

Duration: 8.0 hour
Located in Chonburi Province, Koh Si Chang is a coastal town near the Gulf of Thailand and it is 75.1 km (46.7 miles) from Bangkok. It was built by King Chulalongkorn (Rama V) of Thailand as a place to relax. Therefore, most people visit Koh Si Chang for pleasure, visiting the beach and sightseeing. If you plan to go to Koh Si Chang, you have to visit the Summer Palace, Bell Stone and the temples. However, if you are interested in outdoor activities, you can definitely go kayaking, fishing and snorkelling here.
Private Koh SiChang 1 Day Trip

Duration: 1 day
Choose the best trip for yourself!
Bangkok offers plenty of theme parks and other attractions. Living in a crowded city, however, get quite exhausting and exasperating, so you need to take some time out and give yourself a break from all the hustle and bustle. It's a great idea to plan a weekend trip from Bangkok, where you can enjoy your quality time and relax.
Disclosure: Trip101 selects the listings in our articles independently. Some of the listings in this article contain affiliate links.
Get Trip101 in your inbox
Unsubscribe in one click. See our Privacy Policy for more information on how we use your data