If you think that 36 hours are not enough to get the 'feeling' of a city you visit for the first time, then you should reconsider. With the right planning and of course the willingness to spend time outside your cozy hotel room, everything is possible. Naturally, you won't see everything, but the most important sights, certainly. In Copenhagen, these include some notable museums, a couple of must-see palaces, popular squares and shopping areas, famous bars and restaurants, a renowned amusement park, and why not, an evening in a movie theatre. Keep on reading to discover how you can manage to squeeze all these things in your agenda during your 36 hours in Copenhagen, Denmark.
Day 1: Afternoon - Visit the National Museum of Denmark and stroll through Nyhavn District
One of the first things you should do when you visit Copenhagen is definitely to visit the National Museum of Denmark. The museum contains an excellent collection displaying Danish history as well as other foreign cultures. Exhibits show the unique eras of the Vikings, the Ice Age and also religious artwork from the Middle Ages, while they do include coins and other objects from the ancient cultures of Italy, Greece, Egypt, and the Near East.
After taking in all the Danish history, head on towards the famed Nyhavn district (aka New Harbour), one of the most vibrant districts of Copenhagen. Its bustling streets are aligned with colorful 17th and 18th-century townhouses, fine restaurants and a number of cafes. The waterfront district enjoys views of the canal which is home to beautiful, historical wooden ships, creating the perfect scenery for your commemorative photo. During your stroll, you will come across the Veteran Ship and Museum Harbour, and also the Memorial Anchor, an important landmark of the city.
National Museum of Denmark

Address: Prince's Mansion, Ny Vestergade 10, 1471 Copenhagen

Opening hours: Tue-Sun: 10am to 5pm / Mondays closed

Entrance fee: Adult day ticket: 14.50 USD (95 DKK)
Day 1: Evening/Night - Dinner then visit Christiania
Once you are done walking and sightseeing, step in any of the many restaurants found here in Nyhavn to satisfy your hunger before you move on to a unique nighttime experience. It's time to discover Christiania, a city-within-a-city known for its 'free' mentality, and a rather popular spot to hang out. Christiania beer garden or else Nemoland is a well-known cafe that tends to get overly crowded especially during the summer months where people sit by the picnic tables sipping on their -what else- cold Christiania beer. Quite often they host live music performances, so you might be lucky to attend one. And well, if you're done early, get some sleep cause a pretty full schedule awaits you the following day.
Cafe Nemoland

Address: Fabriksområde 52, Christiania, 1440 Copenhagen

Opening hours: Sun - Thu: 11am to 12am / Fri & Sat: 11am to 3am

Website: Nemoland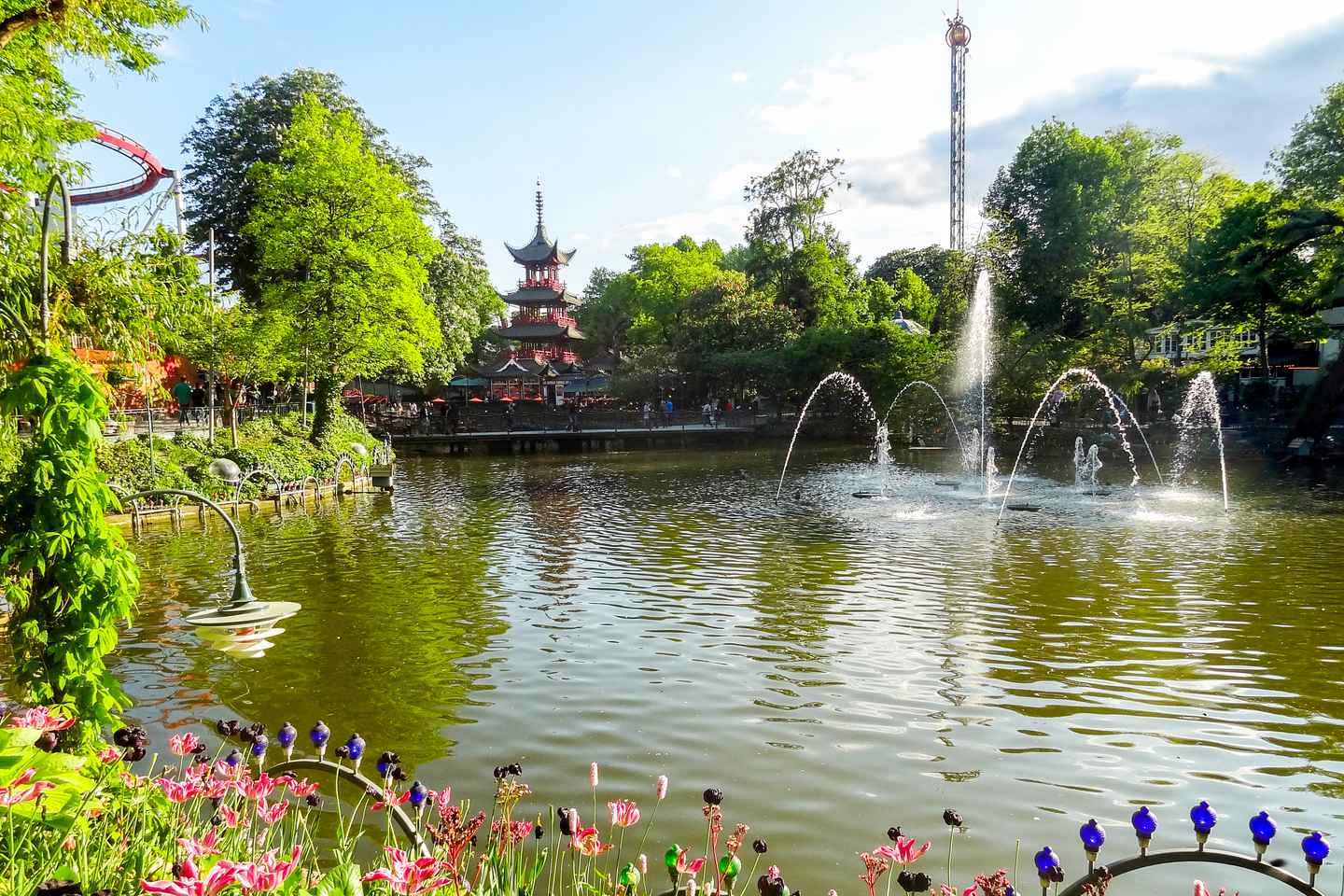 Start your day with a good breakfast and gather up all your energy for a super exciting day. First stop, the spectacular Tivoli Gardens, the world's most visited seasonal theme park and the second-oldest theme park in the world. A haven for kids and adults alike, Tivoli Gardens offers a wide range of events, including theatrical plays, music performances, dancing shows, many thrilling rides, and of course a number of stalls selling food and drink in case you get exhausted.
After having fully entertained yourself, head to the National Aquarium Denmark, that hosts an impressive number of 20,000 sea animals. Whether you want to have a close up with a sea otter or dive with the sharks (for the masters of scuba diving) or even plan your kid's birthday, rest assured your experience here will be unforgettable.
National Aquarium Denmark

Address: Jacob Fortlingsvej 1, 2770 Kastrup

Opening hours: Mon: 10am to 9pm / Tue-Sun: 10am to 5pm

Entrance fee: Adult ticket: 25.90 USD (170 DKK) / Children (3-11): 14.50 USD (95 DKK)
Copenhagen: Tivoli Gardens Admission Ticket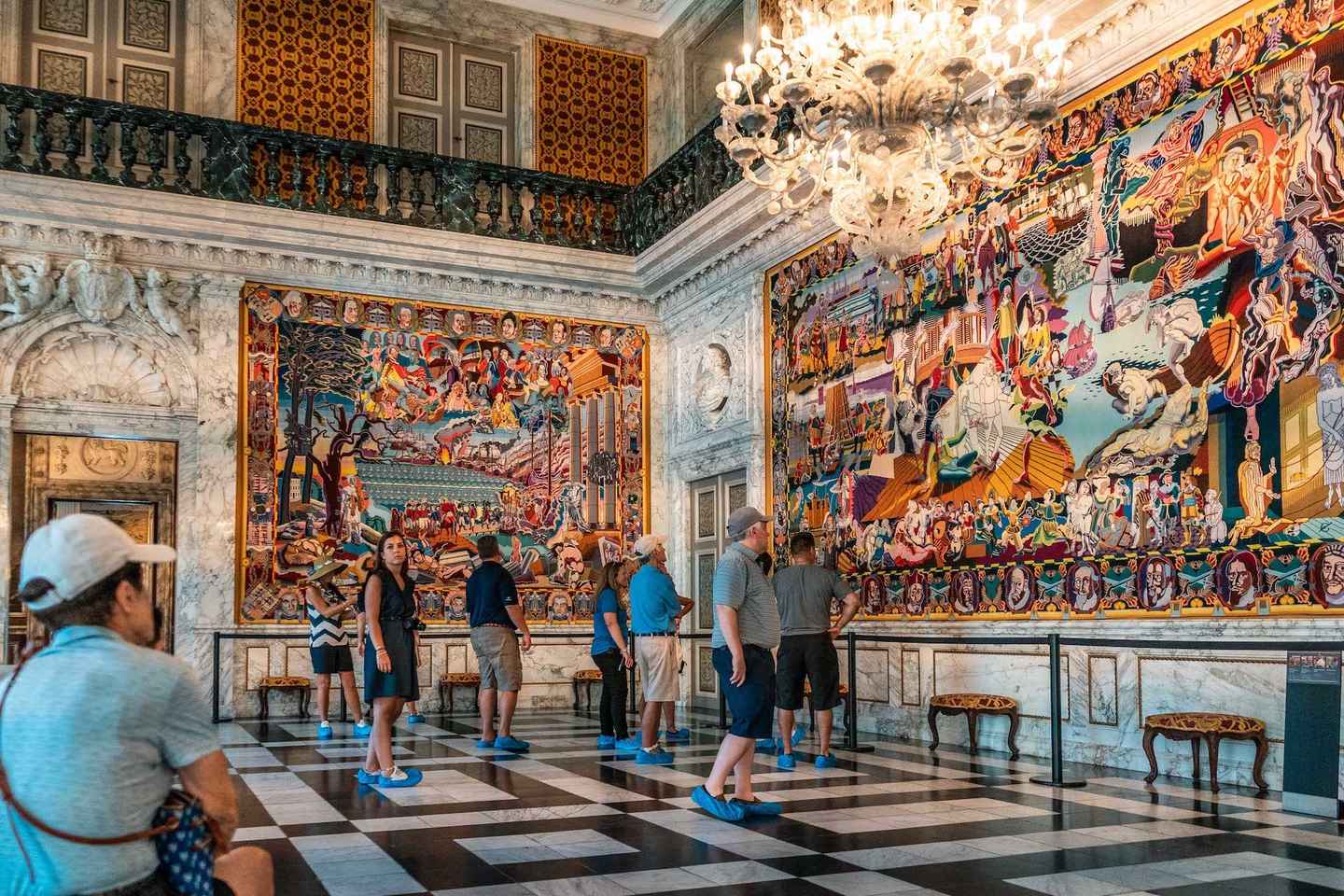 More sightseeing is coming your way, so get ready to visit the imposing Christiansborg Palace, which hosts the Danish Parliament, the Supreme Court, and the Ministry of State as well. The Palace offers guided tours, for instance in the Royal Kitchen or the Royal Reception Rooms, while there are numerous palatial rooms and halls for guests to explore. Another palace, this time the Rosenborg Castle, a renaissance castle built in 1606 originally as a summerhouse, will be your next visit. Here, you get the chance to see the crown jewels, and the coronation chairs, along with 400 years of royal history. The Castle is a fine example of King Christian IV's architectural projects and is set amidst the marvelous King's Gardens. Return to the common people's world and walk to the City Hall Square, a popular spot with lots of happenings, where you can grab something to eat and relax at any of the nearby coffee shops.
Rosenborg Castle

Address: Øster Voldgade 4A, 1350 Copenhagen

Website: Rosenborg Castle

Entrance fee: Adults 16.80 USD (110 DKK) / Children free
Copenhagen City & Christiansborg Palace Private Walking Tour

Duration: 2.5 hour
Day 2: Evening - Have a late lunch and catch a movie at Vester Vov Vov
It's certainly time for lunch, so go have an amazing lunch experience in the classical Danish restaurant Schonnemann that was established in 1877. More than 110 homemade and fresh open-faced sandwiches, endless selected schnapps, and well-brewed beer are daily served here, so you can't go wrong with this place. Get some more rest but at the same time keep yourself entertained at this truly beautiful Vester Vov Vov cinema. Movies at this cinema are less mainstream and being tourist-friendly, they do play movies with English subtitles. The lovely cafe is also worth a visit, so buy a coffee and bring it to the movie theatre.
Vester Vov Vov

Address: Absalonsgade 5, 1658 Copenhagen V

Website: Vester Vov Vov

Restaurant Schonnemann

Address: Hauser Plads 16112 7 Copenhagen K

Opening hours: 11.30am to 5pm (two sittings at lunchtime: 11.30am-2pm and 2.15pm-5pm)
Day 2: Night - Cocktails at Bronnum or Lidkoeb
What's better than finishing your day with a cocktail (or more) in Bronnum or Lidkoeb cocktail bars (or both). Bronnum is located within a historic-listed building and will absolutely amaze you with the fabulous interior decoration. Lidkoeb is tucked away in a back alley and features two floors for cocktails and one more floor exclusively dedicated to whiskey. They are both very popular bars, so the choice is up to you.
Bronnum

Address: August Bournonvilles Passage 1, 1055 Copenhagen K

Website: Bronnum

Lidkoeb

Address: Vesterbrogade 72b, 1620 Copenhagen V

Website: Lidkoeb
Day 3: Morning - Shopping in Stroget
Last day in Copenhagen, and naturally, many travelers would love to do some shopping. So, after you have a lovely breakfast, walk through Stroget, one of Europe's longest pedestrian-only streets. On your way, you will find numerous shops, small and big, budget-friendly ones or expensive brands, ideal for all pockets. But there is more to see and do while in Stroget; beautiful historic sights in the medieval part of the city, cute sidewalk cafes and restaurants, as well as many street entertainers, will make this morning stroll a pleasant and memorable experience.
Discover the Little Mermaid statue's home
Don't worry if you don't manage to see everything in Copenhagen; with this itinerary, we've got you covered. You will get to see the most important sites and you will no doubt have plenty of fun.
Disclosure: Trip101 selects the listings in our articles independently. Some of the listings in this article contain affiliate links.
Get Trip101 in your inbox
Unsubscribe in one click. See our Privacy Policy for more information on how we use your data