The metropolis of Taipei is arguably Taiwan's most famous city, known around the world as a popular travel destination in Asia. But there's more to the beautiful island of Taiwan than just its capital city.
Hualien County lies on the east coast of Taiwan and is a mere 2 hours away from Taipei by train. It is the largest county by area in the country and it is famous for some of the most breathtaking natural scenery in Taiwan. Ask any traveller who has been to Taiwan and Hualien will almost certainly be listed as a highly-recommended place to visit.
And since Taiwan is becoming a popular trend in the world of travel lately, here's a list of 7 amazing things you can do in Hualien County.
1. Admire how the sea and sky merges at Qingshui Cliff (a.k.a Ching-Shui Cliff)
Located around the southern part of the Suhua Highway is Qingshui Cliff, a collection of coastal cliffs overlooking the Pacific Ocean. There is a scenic viewing area along the Suhua Highway where most tourists will make a stop at on the way to Taroko National Park where one can easily spend close to half an hour at.
Complete with a viewing pagoda for a better vantage point, to say that the view here is majestic may well be an understatement. Many aspiring photographers can be found here taking advantage of the wonderful scenery where on days with perfect weather conditions, the crystal blue water of the Pacific Ocean seems to just disappear into the sky. Or is it the other way round?
2. Take a relaxing break at the Qixingtan (a.k.a Chishingtan) Scenic Area
The last of the natural scenic areas on this list, the Qixingtan Scenic Area (or beach) overlooks the Pacific Ocean and is one of the most beautiful beaches in Taiwan.
Famous for its half-moon shaped gulf, Qixingtan Beach provides a lovely, serene area for visitors to relax and unwind at for a typical day at the beach. In the distance, you can see the Qingshui Cliffs amongst the clouds in the sky in a perfect blend of natural artistry. Around the beach, there are food and souvenir vendors selling their wares and there is also a bicycle trail for those who would like to enjoy a breezy ride.
However, do note that swimming is not allowed and is actually extremely dangerous due to the rough waves at Qixingtan.
3. Embark on an epic food trail along Zhongshan Road
I think it's rather safe to say that every traveller loves food and that for most travellers, going on a food hunt in a new city is almost as certain as the sun rising in the East. Well, foodies will not be disappointed by what's on offer in Hualien and the good news is that the best of the best can all be found on Zhongshan Road, the busiest road in Hualien City.
I'm confident that you'll be spoilt for choice as you travel along the length of Zhongshan Road, but just to help you start off on your gastronomic adventure, here are two must-visit eateries: Gongzheng Baozi, which is famous for their *xiaolongbao *(steamed mini meat buns); and Mr. Goose, THE place in Hualien for delicious goose meat (cold-cuts, not roasted). Bon appétit!
4. MORE food at Dongdamen Night Market
Continuing along the trail of Zhongshan Road, you will find a huge night market at the eastern end of the busy road. Known as Dongdamen Night Market, this newly established area houses an extensive variety of shops and stalls, some of which are famous stalls that have relocated there from other night markets.
Needless to say, food is the number one attraction here with many stalls selling Taiwan's most famous street food such as crispy fried chicken chops, grilled meat, fried ice cream and much more! You can also find several carnival-type game stalls creating a fun atmosphere.
One stall that you will not forgive yourself for missing is the grilled meat stall called Di-Yi-Jia-Kao-Rou-Chuan, one of the most popular grilled meat stalls around. You'll know it by its red neon sign and more tellingly by the fact that it's the only night market stall which operates using a numbered coupon system.
5. Catch a local performance at Dongdamen Night Market
While you're snacking on some delicious fried chicken or trying to shoot down plastic bottles with an air rifle at Dongdamen Night Market, you might suddenly be greeted by the harmonious musical sounds of the locals.
Yes, it's quite a common trend for locals to perform at night markets in Taiwan and more so in quaint towns like Hualien County. Most of the time, the performances are done by the aboriginal people of the city in an effort to raise money for community projects. Friendly, talented and heart-warming, these performances often captivate those who throng the night market and make for an experience that is hard to forget.
6. Stock up on mochi products
Although mochi is traditionally a Japanese culinary invention, it is one of the flagship products in Hualien. And there is an enormous spectrum of mochi products that can be found in the city, with many outlets along Zhongshan Road specialising in such products.
However, by my own recommendation, do pay a visit to the Jota Food Enterprises factory (most tour buses will stop by here), a mochi manufacturing facility which also doubles up as a sort of 'mochi mall'.
You can find almost any imaginable mochi flavour and variety, including coffee mochi cookies and matcha mochi ice cream, all of which make for great souvenirs!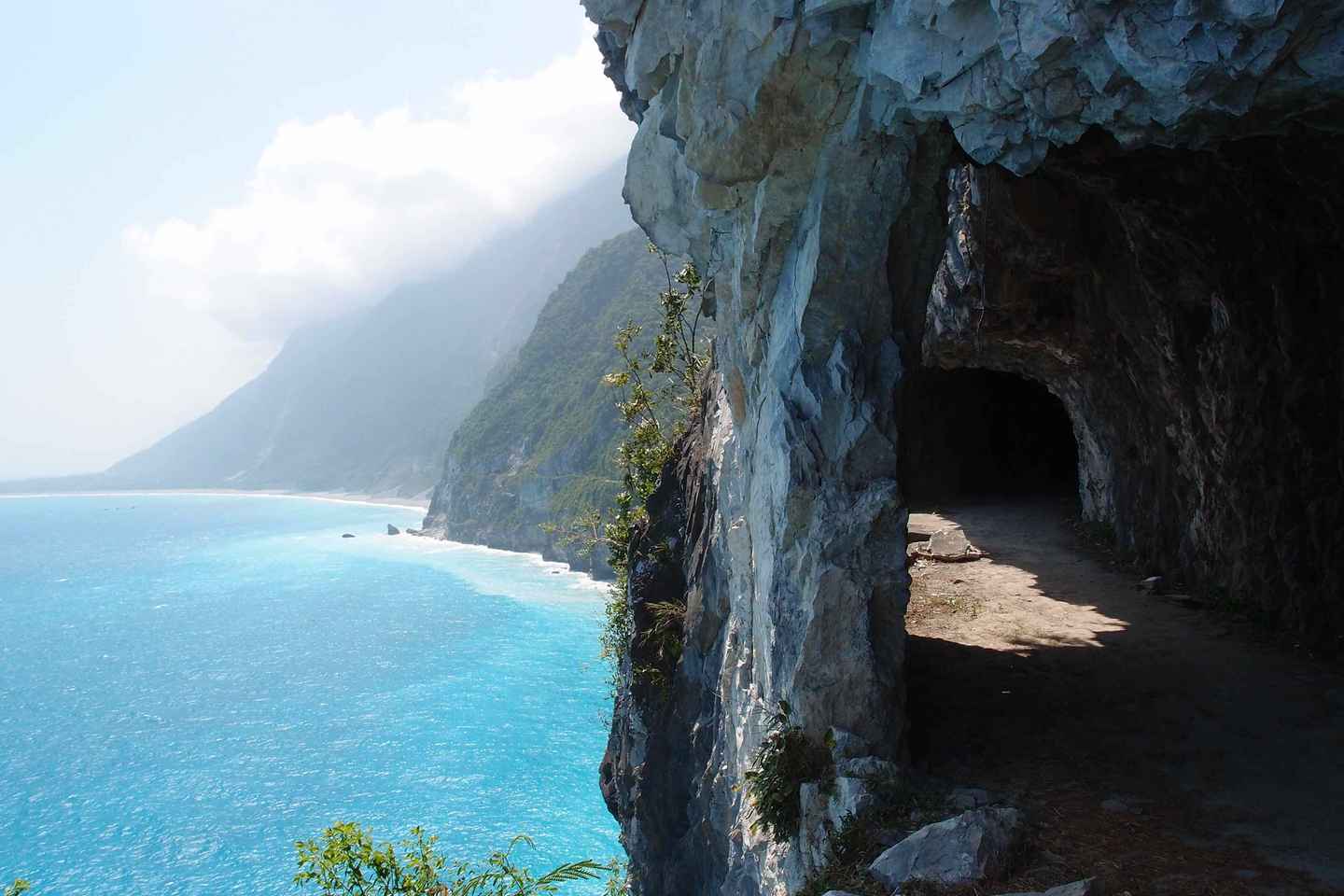 Taroko National Park is without a doubt the most popular destination for tourists in Hualien. The mountainous scenic area is home to an abundance of flora and fauna and houses many scenic walking and hiking paths. Because of its geographical position, expect the climate at Taroko to be wet and mildly chilly all year round.
Exploring the natural haven of Taroko, one will find plenty of breathtaking scenery of springs, rivers and picturesque hills. Sights not to be missed in Taroko include the Eternal Springs Shrine, Swallow Grotto and the Tunnel of Nine Turns.
Being an area surrounded by natural marble, be sure to grab some souvenirs made from the natural stones found in the park before you leave!
If you want to find out more, why not book a tour that will let you explore Taroko with a professional guide to accompany you.
Taroko Gorge National Park: Private Tour from Hualien City

Duration: 8 hour
A true gem of the east coast
With so many wonderful things to do and so many picturesque views to take your breath away, Hualien is no doubt a travel destination which holds its own against Taipei.
It is highly recommended to visit Hualien in spring as that is when the cherry blossoms bloom and the county is at its prettiest (although, in my opinion, it's pretty all year round!)
So, what are you waiting for? If you're visiting Taiwan anytime soon, you simply MUST visit this charming place, a true gem on the east coast of Taiwan!
Disclosure: Trip101 selects the listings in our articles independently. Some of the listings in this article contain affiliate links.
Get Trip101 in your inbox
Unsubscribe in one click. See our privacy policy for more information on how we use your data