If you've never been to Nagasaki before and want to get to know the city over a short trip, then we have everything planned and covered for you. Just book the tours and the hotel and you're all set! Of course, do remember to show up at the meeting point and pack your camera to capture your perfect Nagasaki trip!
Day 1 – Welcome to Nagasaki!
Start your first day indulging in the signature food of the city, as well as the historical atmosphere of Nagasaki!
The hotels recommended are both near Nagasaki Station, which means greater convenience for getting around. At the same time, they pride themselves on a breathtaking view of the city. Head to Platform 5 in the airport for the airport limousine bus headed for Nagasaki Station. Alternatively, you may even hire a taxi outside the airport at 15,000 JPY (150 USD) for a 4-hour tour of anywhere you want to go. This may be more flexible, because while the hotels are near JR Nagasaki station, they require 10 minutes transfer by car from there. If you intend to join the recommended tours in the rest of this list though, just head straight back to the hotel for a good rest before setting off!
More hotels around Nagasaki
Best Western Premier Hotel Nagasaki

Address: 2-3, Akizuki-cho, Nagasaki-city, Nagasaki

Price: Standard room, 2 adults (130 USD onwards)

Access: From Nagasaki Station or KOH-TSU KAIKAN Airport Limousine Terminal 10 minutes by taxi (Fare: about 1,500 JPY or 14.50 USD) 13 minutes by local bus (Fare: 150 JPY or 1.50 USD)



The Hotel Nagasaki BW Premier Collection

Address: Takara-machi 2-26

You might be interested in these Airbnbs!
Lunch: Champon Noodle (12pm to 1pm)
Champon is a dish inspired by Chinese cuisine, but it is a local specialty of Nagasaki. Champon noodles comprises pork, seafood and vegetables; a soup made from chicken and pig bones is then added to create a fragrant broth. Ramen noodles for Champon are special for the dish. Head to Amu Plaza near Nagasaki Station to try your first bowl of local specialty! The restaurant also has other Nagasaki food such as sara-udon. Meanwhile, you can also go around the mall to do some shopping for fashion apparels.
Guangdong, daiwanryorikojoko

Address: Amu Plaza, 5F, 1-1, Onouemachi, Nagasaki-city, Nagasaki

Opening Hours: 11am to 11pm (last order 10:15pm)

Access: At JR Nagasaki Station

Contact: +81 95-808-1502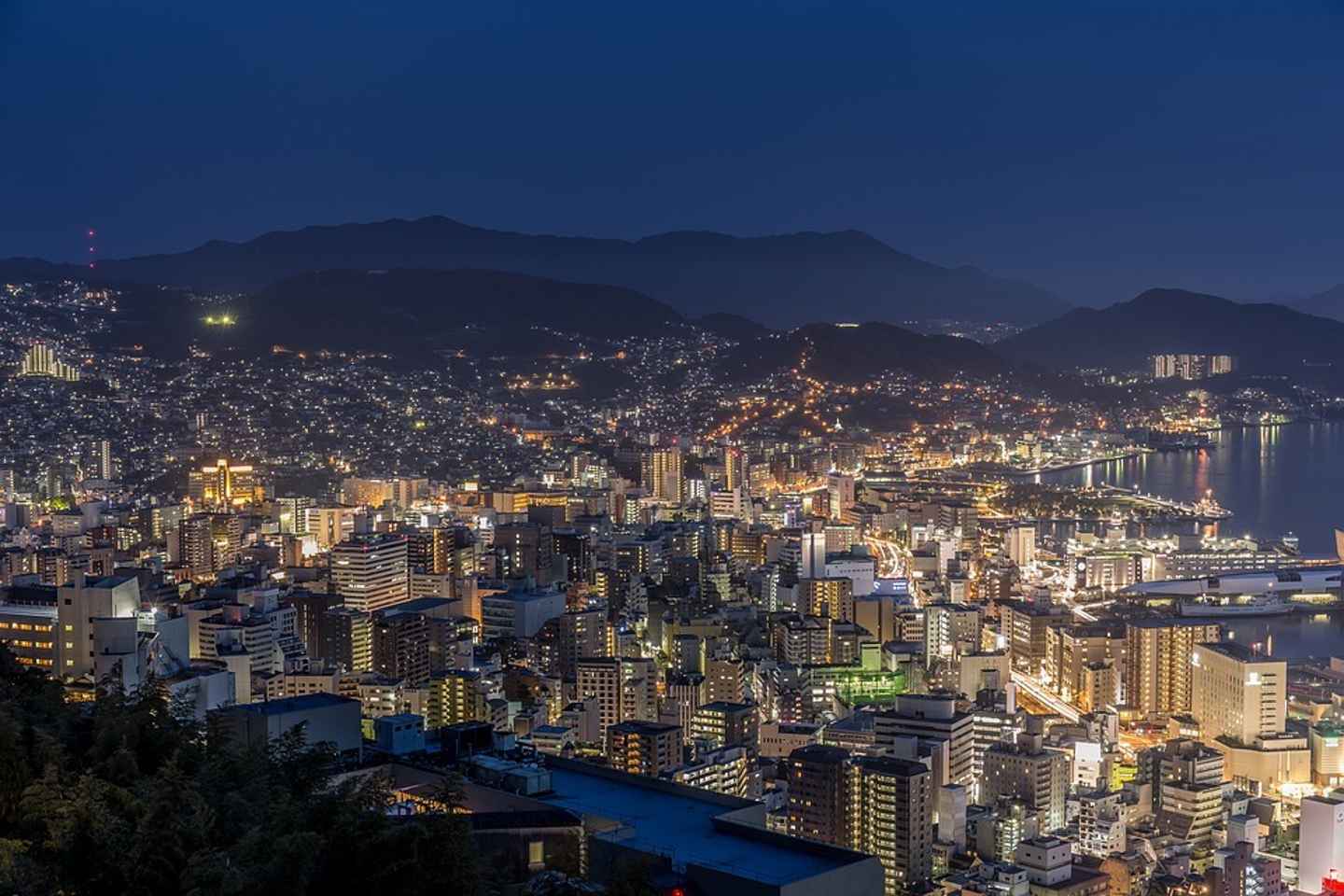 Nagasaki is a place filled with historical legacies, unique cultural and traditional monuments. There are many options for history tours around the city. If you prefer going your own pace (and a cheap option), there's a self-guided audio tour of the city you can take. Otherwise, there's a tour offered by Voyagin, enjoy a private guided tour and the comfort of a private vehicle as you explore the dark past of the city. This sightseeing tour is bound to satisfy both your curiosity about the city's past, as well as your Instagram followers. Should you prefer to have this tour on your own, just follow the itinerary! The tour starts from a desired location within Nagasaki City, or your hotel.
Nagasaki Self-Guided Audio Tour

Duration: 3 hour
Nagasaki Peace Park and Atomic Bomb Museum (1pm - 3pm)
Nagasaki Peace Park commemorates the atomic bombing in 1945, which destroyed wide areas of the city. The massive Peace Statue is now an icon and one of the most photogenic spots in Nagasaki. Right above the park is the Nagasaki Atomic Bomb Museum. Take your time around the place to view various monuments, as well as the Hypocenter Park. In the right season, blooming cherry blossoms adds to the serenity and scenic beauty of the place.
Nagasaki Peace Park and Atomic Bomb Museum
Address: 7-8, Hiranomachi, Nagasaki-city, Nagasaki Prefecture

Price: 200 JPY or 1.90 USD (For the Museum)

Opening Hours: Closed from December 29 to 31

Duration: around 3 hours required.

Access: (On your own) Line 1 or 3 in ten minutes from the JR Nagasaki Station.
Visiting Dejima, Dutch colony (3pm - 5pm)
Dejima was a man-made island in the port of Nagasaki constructed in 1636. It was historically significant for being the location where Dutch residents were separated from the Japanese population at a time when Japan was less open to foreigners within its borders. While the surrounding area of Dejima has developed much since, visitors get to see the reconstructed historical structures, including residences, warehouses, walls and gates. Find more from "Why Does Nagasaki Feel So Dutch?"
Dejima

Address Dejima-machi, Nagasaki-city, Nagasaki

Price: 510 JPY or 4.90 USD (For the Museum)

Access: (On your own) Line 1 to Dejima tram stop from Nagasaki Station, 120 JPY or 1.20 USD, 5 minutes.

Opening Hours: 8am to 6pm (until 7pm in summer and peak seasons). Admission ends 20 minutes before closing
Glover Garden (5pm - 6pm)
Glover Garden is an open-air museum and former Western residence built in Japan's era of seclusion. Visitors can enjoy a panoramic view of Nagasaki City, capture picturesque scenes of flower beds in the garden, as well as admire architecture of the Dock House.
Glover Garden

Address 8-1, Minami Yamate-machi, Nagasaki-city, Nagasaki

Price: 610 JPY or 5.90 USD.

Opening Hours: 8am to 6pm (until 9pm in summer and peak seasons). Admission ends 20 minutes before closing

Access: (On your own) Line number 5, Ouratenshudo-shita station. Entrance is next to Oura Catholic Church.
Souvenir shopping in Glover Garden street (6pm - 7pm)
Within the vicinity of Nagasaki's former foreign settlements, streets near Glover Garden will similarly be an eye-opener. Head back to the streets near the entrance and perhaps go to the famous Hollander Slope to shop for the perfect souvenir before you head back for the day.
Dinner: Omurice (Western dish)
After a full-day tour, you might want to settle for a simple dinner near your hotel. Restaurant Tree of Apple back at Amu Plaza might be your answer to rounding off your day with delicious Omurice (Omelette Rice). Serving omurice and pasta, and 30 kinds of desserts, it may be the perfect end to your trip to former foreign settlements. Omelette rice accompanied by Japanese curry or other assortment of sauces, along with its mushy, fluffy texture, is something to look out for in your trip!
You can find more suggestions in "A Guide to 12 of the Best Food in Nagasaki"
Day 2 - Play hard and rest well
Breakfast - rise and shine
Breakfast is served at the hotel, and you can most likely choose between a Western or traditional Japanese breakfast set. Japanese traditional breakfast usually includes fried fish, some rice and miso soup. Convenience stores do sell pretty delicious rice balls and other small munchies for less picky eaters. Or, you could always have the trusty cup noodles. As long as you fill yourself up, for we have a long day ahead.
Morning drive/Trek at Mount Inasa (8am - 9.30am)
What better way to start the day than a healthy morning exercise? Mount Inasa is a 333-metre (1092 feet) high mountain in close distance to Nagasaki's city centre, which boasts an amazing view over the cityscape. Fret not, you do not have to trek 333 metres to enjoy the wonderful scenery, there is 1-2 buses per hour between Nagasaki Station and Inasayama bus stop for 150 JPY (1.50 USD) one way, but it is still a 15-minute climb from the bus stop to the summit. There are gondolas, but they start operating at 9am, which costs 720 JPY (7 USD) one way or 1230 JPY (12 USD) for a round trip. You could climb up and enjoy the rewarding scenery after a bit of hard work, and take a ride down the gondola when it starts. Or you could take a car/taxi (2000 JPY or 19.40 USD one way) directly up the summit, but where's the fun in that, right?
Mount Inasa

Address: 8-1, Fuchimachi, Nagasaki-city, Nagasaki

Access info: 7 minutes from JR Nagasaki Station by Nagasaki Bus 3 or 4, to Nagasaki Ropeway Front. Ropeway up to the summit takes about 5 minutes.

Opening hours: 9 am - 10 pm

Contact: +81 95-861-3640

Entrance fee: 1,230 JPY or 12 USD (round trip)
Huis Ten Bosch is a theme park in Nagasaki which recreates a Dutch town. Named after one of the residences of the Dutch Royal Family. It is spacious and suffused with an European atmosphere with windmills, beautiful gardens, picturesque canals and its unique architecture. Depending on the season, various events takes place in the theme park, be it a tulip festival during spring or a fireworks competition in summer.
The resort is divided into 2 areas, the Theme Park Zone and the Harbour Zone. Both have multiple free and paid attractions, though most are at the theme park. The Theme Park Zone houses various amusements in the buildings of its reproduced Dutch old town, with haunted houses, mirror maze, Ferris Wheel and more. The Harbour Zone mainly has a theatre and a replica of the Palace Huis Ten Bosch, which houses an art museum. Plenty of places to eat and relax, though it might get a little pricey, as with most theme parks. All in all, a pretty fun place to spend the day with your family, or a cherished one.
Huis Ten Bosch

Address: Hausutenbosu-machi, Sasebo-city, Nagasaki Prefecture

Access info: Few minutes' walk from Huis Ten Bosch station which is about 1 hour 30 minutes from Nagasaki station via Japan Railway Nagasaki Line

Opening hours: Depends on season, please check official website. No fixed holiday

Entrance fee:1-day passport costs 6,700 JPY or 68 USD for adults
After a day of exertion, it's finally time to kick back and relax. A one and a half hour direct bus ride from Nagasaki Station, here lies the country's first resort targeted at foreign guests with Western and Japanese-style hotels here. Now, it's one of Japan's most famous hot spring resorts. Enjoy the fully natural hot springs of Unzen in the hotels in the area. A recommendation would be Unzen Miyazaki Ryokan, a Japanese traditional inn that has been around for quite a while, with excellent hospitality and scenic views, and not to mention the amazing hot springs. Dinner is traditional Nagasaki cuisine that are prepared from seasonal ingredients, especially the sumptuous seafood fresh from the Nagasaki coastline.
Unzen Miyazaki Ryokan

Address: 320 Unzen, Obama-cho, Unzen-city, Nagasaki (see map)

Price: 22,680 JPY or 220 USD per person when there are 2 adult guests. Breakfast and dinner are included.

Access: Direct bus from Nagasaki Station (100 minutes, 1800 JPY or 17.50 USD), or bus from Nagasaki Station > Isahaya Station > (90 minutes, 1350 JPY or 13.10 USD) Unzen Miyazaki Ryokan
Unzen Jigoku (Unzen Hell) (8am - 10am)
Unzen Jigoku got its name from the picture that the hot water and gases paint from spouting out of the earth. White steam and the smell of sulphur will surround you as you stroll through this hot spot of volcanic activity. The "hells", or the steam vents and gushing hot springs from which milky, acidic and sulphurous water bubble up out of the ground, were once used to execute Christian rebels after the failed Shimabara Rebellion. Within walking distance from the hotel, this is an amazing place to tour around as you learn more about its historic significance.
Unzen Jigoku

Address: 320 Unzen, Obama-cho, Unzen-city, Nagasaki
Check out from hotel (by 10.30am)
Unzen Miyazaki Ryokan offers a free shuttle bus service all the way to Nagasaki. The bus leaves at 11am, arrives at Isahaya at 12pm, and at Nagasaki by 1pm.
Lunch - Local food buffet (1.30pm - 2.30pm)
At Unzen Mikado Hotel Hokan, the hotel offers a sumptuous lunch buffet at an astonishingly low price. You will even get to savour the Shimahara local gourmet of guzouni. From appetisers to desserts, the one hour eat-all-you-can meal will surely be a great way to end your trip.
Unzen Mikado Hotel Hokan

Address: 5292-2 Fukaechoko, Minamishimabara, Nagasaki Prefecture

Price: 1000 JPY or 9.70 USD per adult (excluding tax) and 600 JPY or 5.80 USD per child (excluding tax)

Opening Hours: 11.00am to 2.00pm, last order at 1.30pm. Open everyday

Contact: 0957-72-5420
Just have fun!
Hope this itinerary will be a fun one for you. Just bring yourself, a camera, and be prepared to have a fun time in Nagasaki!
Disclosure: Trip101 selects the listings in our articles independently. Some of the listings in this article contain affiliate links.
Get Trip101 in your inbox
Unsubscribe in one click. See our privacy policy for more information on how we use your data