Nestled in Central Europe, Austria is a must-visit country and we are going to tell you just exactly why. Featuring pristine mountain peaks, stunning Alpines, architectural monuments, and tiny villages, Austria has many reasons for every tourist to fall in love with this place. When visiting this beautiful country, cruise through the countryside that has famous hiking and trekking trails, explore the music culture and architecture, and ski in the most famous Alps - Austria surely caters to all kinds of tourists. Start planning your trip here and consider staying at some of the best castle hotels and wellness hotels in the country. And to help you with your itinerary, check out some of the best places to visit in Austria.
1. Mostviertel
Located in the southwest portion of Lower Austria, Mostviertel is a known area for making perry and cider. The region offers healthy land conditions for growing fruit trees and has become the center for a thriving Most-production industry. These mosts are usually made into schnaps which is a staple in Mostheurigens or heurigens. These are local taverns where expert winemakers offer their seasonal creations. What greets you in Mostviertel are lone and charming farmhouses enveloped by vast lands and fruit groves.
2. Bregenz
If you want to catch some stunning views of the Swiss and German Alps, Bregenz is the place to do so. The capital of Vorarlberg state, it is nestled on the eastern end of Lake Constance. Along with the views this town offers, tourists can sit in the cable car and go up to the Pfander Mountain or hike up through the trails to enjoy some of the most pristine views of Lake Constance. Also, the historical and the architectural marvels should not go unnoticed when you explore this beautiful town. And if you are visiting Bregenz during the months from July to August, you get a chance to witness the annual Bregenz Festival, a one-of-a-kind music festival that is performed on the lakeside platform.
3. Graz
If you are a history buff, you will feel right at home here at Graz. The capital city of Styria, Austria, Graz is a total feast to the travelers' eyes and tastebuds. This city boasts a number of restaurants, shops, and museums that are well-nestled in the narrow streets, inspired by a mix of Renaissance and Baroque architecture. Other than these marvels, you will also find the historic Murinsel, Schlossberg, and Kunsthaus, that are equally amazing, making it a must-see place in Austria.
4. Vorarlberg
A mountainous region nestled in Western Austria, Vorarlberg attracts tourists from all over the globe for its pristine landscapes of the alpines and the ski resorts. Because of its location, Vorarlberg is home to plenty of outdoor activities such as hiking, skiing, and trekking. You will find gorgeous trails going through the forests, making this a perfect location to get lost in nature. And when you are not meandering through the trails, you can hop in a cable car and enjoy the valley views, and you can also explore the city's many museums and other architectural attractions.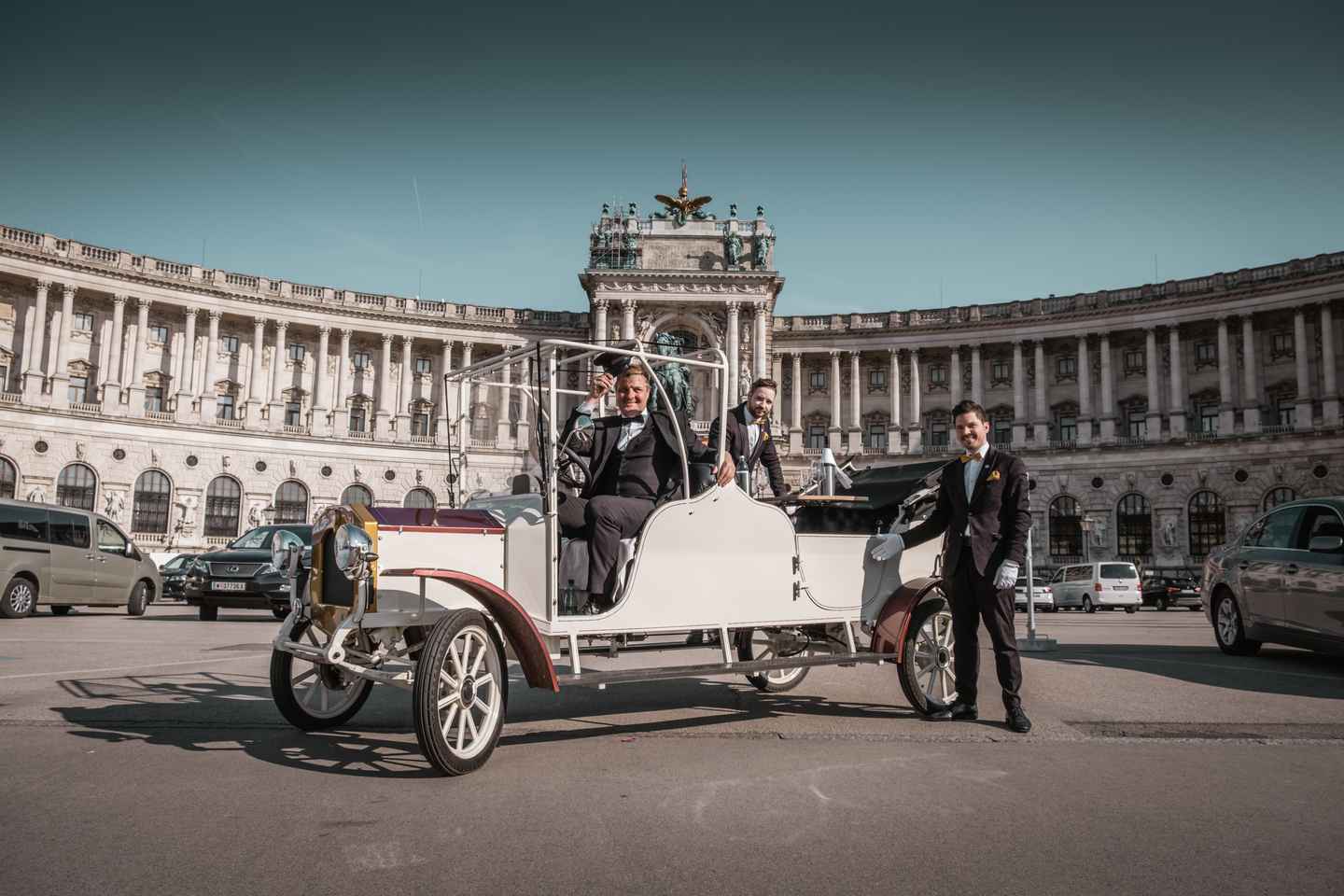 Don't know where to visit in Austria? Why not the capital? Home to architectural marvels, Vienna is situated east of the Danube River. Although the city is filled with rich history, architecture, and culture every step of the way, it is hugely shaped and influenced by the masters and city residents Beethoven, Mozart, and Sigmund Freud. As you explore the most stunning city in Austria, let the city's magic grow and flow over you when you witness the majestic attractions including Schönbrunn Palace, St. Stephen's Cathedral, The Hofburg, Belvedere Palace, and tons of charming parks. And lastly, don't forget to taste the famous Viennese coffee after you check out one of the most legendary opera houses of all time - Vienna Opera House.
Vienna: City Sightseeing Tour in an Electro Vintage Car

Duration: 40 to 1.5 minute
6. Wachau
Situated near the Danube River, the Wachau Valley is renowned as the best tourist destination in South Austria. Famous for its rolling green meadows, historic mansions, and vineyards, this town has a natural and unparalleled grandeur that will make you fall in love by the time your trip comes to a close. Featuring plenty of architectural charms, Wachau Valley is home to some of the most stunning monasteries, mansions, and castles that will make this place a must-visit in Austria. In fact, this city is also a perfect destination for a wine connoisseur to taste the best wines in the country and around the world.
7. Worthersee
A renowned summer destination, Worthersee is a region in Austria that is nestled amidst the alps and falls close to the border of Italy and Slovenia. Travelers from all over the world are drawn to the beautiful lake of Worthersee that is famous for swimming, canoeing, and boating during summer. Other than basking in the sun and partaking in the lake activities, one can also explore popular attractions such as Minimundus, Pyramidenkogel, Garden Europe, and many others.
8. Burgenland
Home to gorgeous castles and other architectural monuments from the 18th century, Burgenland is a wine-producing region situated in eastern Austria. When you are here, make sure to book a vineyard tour and taste some of the best wines in the world. In addition, you could even wander around the museums and go explore Seewinkel National Park.
Nestled on the border of Germany, this charming little town of Austria boasts views of the Eastern Alps. Encompassed by green fields, rich art, and stunning old buildings, Salzburg is one of the top destinations in Austria–and for a perfect reason. While exploring the marvels of Salzburg, you will be mind-blown as you visit Fortress Hohensalzburg - a fortress on the hilltop built in the 11th century, Mirabel Palace - the magnificent gardens and palace from the 17th century, and Salzburg Cathedral - a domed museum and cathedral with breathtaking architecture.
Salzburg Sightseeing Small-Group Day Tour from Munich by Rail

Duration: 10 hours
10. Tyrol
A heavenly paradise, Tyrol is a beautiful state famous for its folklore, ski resorts, and historical attractions. Home to popular landmarks such as Golden Roof, Ambras Castle, Kufstein Fortress, and more, this state is a perfect destination for travelers yearning to find raw beauty intertwined with historical and architectural wonders. Also, home to the popular city Innsbruck, this location boasts Renaissance and Baroque buildings that are absolutely perfect to capture some stunning shots.
11. Bad Gastein
A renowned ski and spa town, Bad Gastein is a perfect destination for adventure and total relaxation. Nestled on the High Tauern Mountain, this town in Austria attracts adrenaline enthusiasts from around the globe for its hiking trails, biking trails, and ski resorts, all year round. Along with this, you can also explore the Gastein Waterfall, attend jazz shows, try restaurants, and sample Bad Gastein's vibrant nightlife.
12. Salzkammergut
If you are looking for a place to relax and unwind during your Austria trip, this town right here has to be it. Filled with the cleanest blue lakes in the world and magnificent mountain ranges, this Austrian region is famous for its fairy-tale villages, luxurious spas, winter skiing, and picturesque hiking trails. While vacationing here, you can check out the pastel-hued houses at Hallstatt, the Ice Cave on Dachstein Mountain, and the underground salt mines at the Salzwelten Lake.
13. Carinthia
Encompassed by the Grossglockner, the highest mountain in Austria, Carinthia is flocked by tourists for its alpine lakes, forests, old architectural monuments, and the mountains. Nestled in the eastern Alps, this region is infused with raw beauty that will have your mind blown every step of the way. As you explore, you will find yourself admiring the Gothic charm of Hochosterwitz Castle, learning about the historic buildings, and tasting wine at Klagenfurt - the wine capital of Carinthia.
14. Zell Am See
Zell Am See is a town in Austria that has a plethora of scenic options and adventures around every corner. This serene, lakeside town has sparkling blue waters where you can either enjoy swimming or go cycling by the lake. And the city is also close to the famous Salzburg mountains that boast ski slopes of international acclaim. Whatever you choose and wherever you go, the experience will be unlike any and truly memorable. And while exploring, make some time to head to any of the charming coffee shops and sip a nice brewed coffee whilst enjoying picturesque views of the city.
15. Styria
A riverside state capital in Austria, Styria is renowned for its spas, castles, and wines. Attracting tourists all year round from all over the world for its dramatic landscapes of rugged mountains and forests, this region is home to many of the rare and native wildlife species. The famous attractions here include buildings featuring a mix of Baroque and Renaissance architecture, an artificial island made of only steel and glass, and art museums. These attractions are truly a sight to behold.
16. Saint Anton am Arlberg
Ever wondered how beautiful the villages in Austria is? Here's your chance. There's many reasons why Saint Anton am Arlberg should be on your must-visit list. Home to Tyrolean Alps, this village is one of the popular ski regions in Austria that is also famously referred to as the "cradle of alpine skiing." Other than boasting numerous, stunning ski resorts, this village is also home to pristine lakes, mountain peaks, temples, museums, and water parks.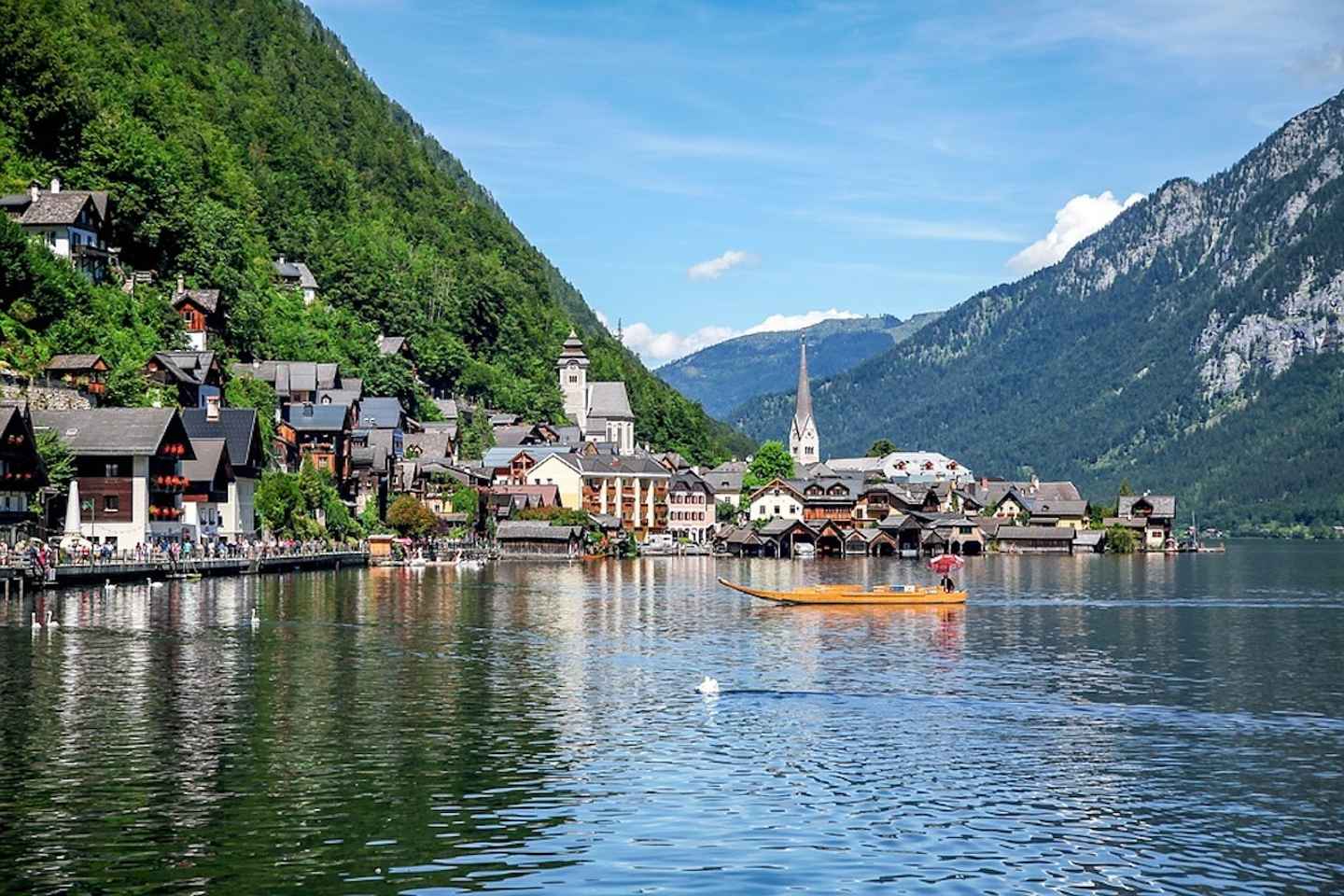 Overlooking the beautiful Lake Hallstatt, this Austrian village is a mountainous region that was once reachable only by boat or by the mountain trails. Today, Hallstatt has become a famous tourist destination and is also a UNESCO World Heritage Site that houses beautiful architectural landmarks such as Kalvarienberg Church, Museum Hallstatt, The Charnel House, Hallstatt Salt Mine, and many other attractions and archaeological artifacts.
From Salzburg: Half-Day Tour to Hallstatt

Duration: 5.5 hour
A picturesque town, Innsbruck is renowned for being a winter sports destination and also for its stunning architecture. With pristine views of the mountains, Innsbruck is indeed a beautiful town–and you will be spoilt for choice with a number of things to indulge in. Be it walking around the magical old town and checking out the Golden Roof or Ambras Castle, you will make amazing memories and also a chance to get a post-card worthy shot of every landmark. And, if you fall under the category of "adrenaline seekers," you can take the plunge off the Europa Bridge, take a hike up the charming fields, or go skiing down the rolling mountains.
4-hours Innsbruck City Tour
Spend a beautiful vacation in Austria
A popular destination for tourists from all over the world, Europe is home to beautiful architecture, culture, art, and rich history. And "the land of music," Austria, proudly offers everyone a chance to explore these wonders. This Central European country is filled with architectural landmarks including castles, museums, historical streets, and many old buildings across the whole country. Whether you are a history buff or an adrenaline enthusiast, Austria has something for every kind of traveler.
Disclosure: Trip101 selects the listings in our articles independently. Some of the listings in this article contain affiliate links.
Get Trip101 in your inbox
Unsubscribe in one click. See our privacy policy for more information on how we use your data