Almunecar is a tropical town that sits upon a hill of two rivers, in the province of Granada. Besides rugged hills, magnificent beaches and lush olive groves, there are many medieval era structures to explore. Visit Almunecar's Old City, Plaza de Constitucion, Moorish Castle, Castillo de San Miguel and other sun-kissed plazas. Visit the archaeological museum and Parque Majuelo, then tour the contrasting Carrera de la Concepcion, an attractive busy avenue. Beach lovers should spend the afternoon at Cotobro Beach and take a trip to Parque Botanico El Majuelo and Aqua Tropic Park. Almunecar has a long coastline, that accommodates 25 long sandy beaches, secluded coves and the town's main beachfront. Water sports, traditional cuisine, historical sites, horse-riding, hiking; whatever you choose to do, Almunecar will make you fall in love with Spain all over again!
1. Visit Almunecar's Old City
Almunecar's Old City is one of the most picturesque spots of Granada. The whitewashed buildings, cobblestone streets, grand squares, boulevards and courtyards define Spanish era. Then again, the Old City is abundant with chic boutiques, cafes, bars and restaurants. Stroll around Almunecar's Old City, take pictures of the geranium pots placed on balconies and grab a steamy coffee in one of the masked courtyard cafes.
All in all, Almunecar's Old Town in Granada has sustained the essential Spanish essence along with the Roman influence. There's a bit of everything from ancient times and yet with the comforts of modernism. This area is most preferred by the Solo travelers, couples, backpackers, families and hitch-hikers.
Almunecar's Old City

Opening Hours: 10:00 am - 2:00 pm. Afternoon hours: 5:00/6:00 pm until around 8:00 pm
2. Explore the ancient Roman Aqueducts
The drive to the aqueducts is packed with scenic market gardens and cherimoya orchards. When you reach here, take a walk around the circular Roman Aqueducts, and admire the impressive sections. This Roman architecture has many stories to tell, that is why we recommend a guided tour. The aqueduct served as a fresh water supplier, and was important to the salting fish industry.
The aqueduct is situated between rivers Rio Verde and the Rio Seco, to the north of Torrecuevas. Enjoy the panoramic view of Rio Seco, Rio Verde Valley and Torrecuevas village. As a matter of fact, the last aqueduct discovered in the 20th-century, is in the centre of Almunecar town. Either way, you will be flabbergasted with the marvelous series of architectural antiquity. There's a lot to learn and carry forward!
Almunecar's Roman Aqueducts

Address: Plaza del Azoguejo, 1, 40001 Segovia, Spain

Website: Roman Aqueducts
3. Take a hike to Castillo De San Miguel
Castillo de San Miguel is the most interesting castle in Almunecar! Notice the pyramid shaped battlements at the top, and note that the castle was declared a cultural monument in 1993. Although, the most fascinating part of the tour is the multi-media display, about the 3 civilisations who lived here. The stories primarily revolve around Romans, Moors and Christians.
The castle is bound by the remains of the original city walls. The original fortification dates back to 1st-century BC, thereafter the castle was expanded to include 40 towers, a drawbridge and 3 gates. The castle offers spectacular views, however also make it a point to visit the Archeological Museum which is a part of the tour. Above all, the washroom is behind the ticket office.
Castillo De San Miguel

Address: Castillo de San Miguel, 18690 Almunecar, Granada, Spain

Website: Castillo De San Miguel
4. Shop at Almunecar's Weekly Market
Photo is only for illustrative purposes
Who doesn't enjoy shopping right? Especially if it's reasonable, fashionable and offers traditional Spanish feria dresses. When you are in Almunecar, take time to visit the popular weekly market, which is held every Friday morning. The exact location is behind Almunecar's McDonald's. Shop for feria dresses in all sizes, other clothing, bags, shoes, jewelry, hats, and local food items. This weekly market is the best place for traders to exchange for essentials, comfort goods and luxury goods.
The market was originally called "Mercadillo Los Viernes" which translates into the Friday Market. The market offer everything from staples, handcrafted goods, apparels, footwear, home appliances, artifacts, stationery and much more.
Almunecar's Weekly Market

Address: Mercadillo Viernes, Calle Larache, Almunecar, Spain

Website: Almunecar Friday Market
5. Spend the afternoon at Cotobro Beach
Almunecar has a long coastline, with beautiful sun beaches and sandy pebbled coves! Cotobro Beach, however, is the prettiest amongst them all, with the best beach environment and sea side cafes. Take a swim, laze at the sun deck or relish authentic mediterranean cuisine at one of the cafes by the bay. Cotobro Beach is set to help you relax, and enjoy every moment of your being there. We have heard that cafe Con Leche serves out-of-this-world apple pie! Dine at the beach restaurants, soak in the beach vibes and create unforgettable memories for life. Do capture the gorgeous sunset by the bay, in hearts and cameras.
Almunecar's Cotobro Beach

Address: Paseo de Cotobro, 18690 Almunecar, Granada, Spain
6. Get close with nature in Parque Botanico El Majuelo
Parque Botanico El Majuelo is a botanical garden in Almunecar. This place is free to visit, and is one of the loveliest spots of the city. The park management even organizes Jazz festivals, which locals acclaim to be the best. During summer, stroll around the small El Majuelo Park, that is thriving with numerous stunning sculptures and species of trees from all across the globe.
Visitors enjoy the shade, ruins, craft souvenir shops, stone statues and Roman fish salting pans. This beautiful representation of history with nature is an interesting place to visit and it is very close to the beach. After you visit, dine at one of the amazing tapas bars or restaurants in the area.
Parque Botanico El Majuelo

Price: from 3.50 USD

Address: Av. Europa, s/n, 18690 Almunecar, Granada, Spain

Website: Majuelo Botanical Gardens
7. Discover artifacts in Cueva De Siete Palacios
Visiting a cave excavated by the Romans is a thrilling adventure in modern times. More so, when you find out that the museum houses a unique 7th-century Egyptian funerary vase. These Roman caves have a special atmosphere, and a broad range of artifacts representing the history of Almunecar. Visiting this archeological museum is a true historical experience!
In addition, when you purchase a ticket for this museum, you also get access to the Miguel Fortification and the Cueva De Siete Palacios. The artifacts are impressive, and the history is engaging, but they don't have much information available in english.
Cueva De Siete Palacios

Address: 18690 Almunecar, Granada, Spain

Website: Cueva De Siete Palacios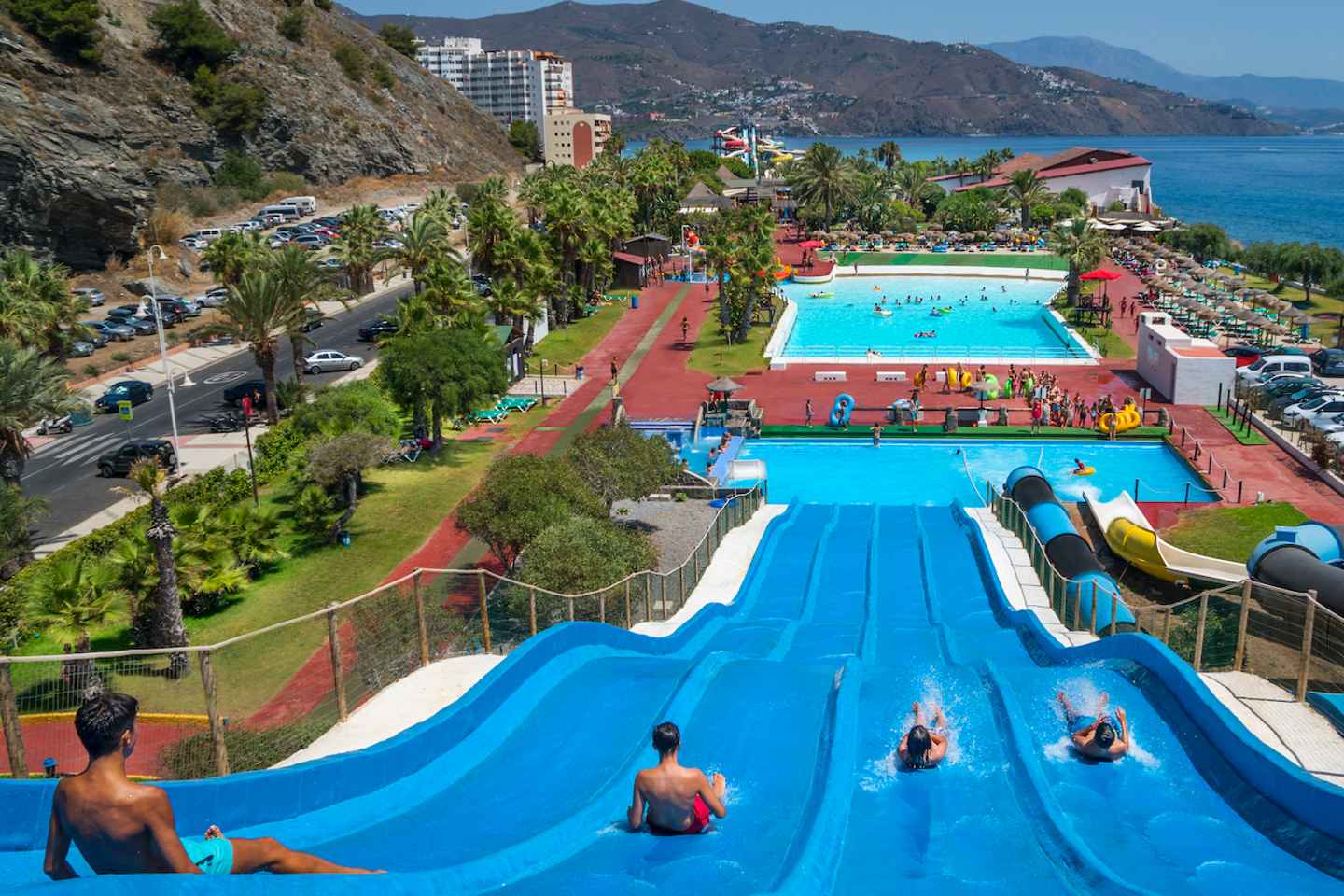 Almunecar is located along the coast of the colossal Mediterranean Sea! When visiting Almunecar's coastline, you will find many things to do and if it's too hot, hit the Aqua Tropic water park. The aquatic park has amazing rapids and impressive water slides, topped with a waterfall lake. You cannot miss Kamikace, which apparently is the highest and steepest water slide around. The Aqua Tropic Park, is the best place to beat the heat in Almunecar and the most preferred spot for a family holiday.
Visitors find this park extremely exhilarating, with plenty of rides for all age groups. Also, the park is equipped with great wave pools, bars, chill-out areas and fountains. A slice of pizza with a drink will cost you 10 USD and you can get an ice cream for 3 USD per cone. Although, get here early if you need a locker, which will cost you 5 USD. The family excursion will cost your pocket around 65 USD, and booking in advance will ensure skipping the queue as well as discounts.
Aqua Tropic Water Park

Address: Paseo Reina Sofía, S/N, 18690 Almuñécar, Granada, Spain

Website: Aqua Tropic
Granada: Aquatropic Water Park Ticket

Duration: 1 day
Exclusive tips before you travel
On your trip to Almunecar, carry comfortable clothing, shorts, and bathing suits to enjoy the ideal sub-tropical climate. You may have to walk a lot around the castles, beaches and other historical sites, therefore carry comfortable shoes. Families can take the kids to the zoos, amusement parks and aquariums for additional fun activities, while couples should take a day out for a boat tour and water adventures. Whatever you choose to do, you will keep coming back to Almunecar for more. Feliz Viaje!
Disclosure: Trip101 selects the listings in our articles independently. Some of the listings in this article contain affiliate links.
Get Trip101 in your inbox
Unsubscribe in one click. See our privacy policy for more information on how we use your data