Chicago is famed for its rich history, stories of gangsters and sports fans. There are so many things to do in Chicago that it can be hard to know where to start! In order to get a comprehensive view of the city, this guide will take you through the eight best things to do in West Chicago, Illinois.
1. Kline Creek Farm
There's so much to do at Kline Creek Farm that it's hard to know where to start, from exploring the grounds to meeting the historical costumed actors who operate the historical farm. On your visit, you'll learn about 19th-century farming traditions - from baking all the way to ice cutting and you'll get a chance to see a historical reconstruction of a successful farm in the 1800's.
Be sure to visit the farmhouse to see the historical artefacts and see the thriving hub of the house, with the history kept alive by the working actors. When visiting Kline Creek Farm, please be aware that pets are not able to join you on this trip.
Kline Creek Farm

Address: 1N600 County Farm Rd, West Chicago, IL 60185, USA

Website: Kline Creek Farm
2. West Chicago City Museum
The historical and cultural hub of West Chicago, the building of the West Chicago Museum dates back to 1884. The museum aims to bring the community a centre for art and culture and it prides itself on being a centre point for the community. In their words, "[t]he museum vows to encourage and fulfil the cultural needs for expression, as well as promote acceptance and understanding of the West Chicago community".
Your visit here will be made interesting through the exhibits and artwork and you can rest happy knowing that by visiting the museum, you'll be helping out the West Chicago Community. It's the perfect way to give back to a town that offers visitors so much.
West Chicago City Museum

Address: 132 Main St, West Chicago, IL 60185, USA

Website: West Chicago City Museum
3. Turtle Splash Park
If you're looking for a fun day out with the kids, look no further than Turtle Splash Park. This large water park offers fun for all ages in its waters. Zip down the flumes which twist and turn and immerse yourself in the waterfall which cascades down rocks into the main pool - this is the perfect place to visit during the warm summer season.
The park is set to be busy during high season, so our advice is to go early and to make a day of it - you'll be a firm favourite with the little ones in your group.
Turtle Splash Park

Address: 129 W. National St., West Chicago, Il 60185

Website: Turtle Splash Park
Chicago is known for its dark past - stories of mobsters, molly's and infamous shootouts fill the cities streets with mystery. What better way to learn about Chicago's dark side than to go on an Old Chicago gangster bike tour around the city.
You'll ride around the most notorious neighbourhoods, glide past where Al Capone organised his most dastardly crimes and ride through Chicago's Red Light District - famed home of the mobsters. This is the perfect tour if you're looking to learn about the underbelly of Chicago culture and it's going to make for one interesting ride.
Old Chicago gangster bike tour

Price: from 36.30 USD
5. Taste some amazing Chicago deep dish pizza
It would be a crime to write about Chicago and not write about one of the cities main exports - Chicago deep dish pizza, which, along with the Chicago Bulls and Al Capone is what Chicago is most famed for. This pizza is most well known for being more like a pie: its thick dough crust is heavily laden with melted cheese, rich tomato sauce and any topping you want, from meat to vegetables.
You can get deep dish pizza anywhere in Chicago but you absolutely must try Pequod's for a pizza to remember. Pequod's has been a staple in Chicago for the past 25 years, cementing it as a firm fixture within Chicago's culture.
Pequod's Pizza

Address: 2207 N. Clybourn Ave, Chicago, IL 60614

Website: Pequod's Pizza
6. Explore Cantigny Park
Cantigny Park is a wonderful location to visit if you're looking for a place to get away from the heat of the city streets. The park is famed for its abundance of flowers, trees and bushes, creating the perfect place to stop for an afternoon. If you're a history buff, head to the back of the park, where you'll find two museums to explore: the First Division Museum, which celebrates the American Infantry and the McCormick Museum, which celebrates the life of Robert R. McCormick - the colonel of the First Infantry Division, during WWI. Whatever your interests, this park and its gardens are a beautiful way to spend a day.
Cantigny Park

Address: 1S 151 Winfield Road, Wheaton, IL 60189, USA

Website: Cantigny Park
7. Visit one of West Chicago's amazing bars
When you're looking for a way to unwind after a day of exploring charismatic Chicago, head to one of West Chicago's famed bars. We, here at Trip101, absolutely adore Hawthorne's Backyard - the bar with attitude and it's the perfect place to stop and enjoy beers and wings to celebrate another day spent in the gorgeous city.
Hawthornes Backyard

Address: 1200 W Hawthorne Ln, West Chicago, IL 60185, USA

Website: Hawthornes Backyard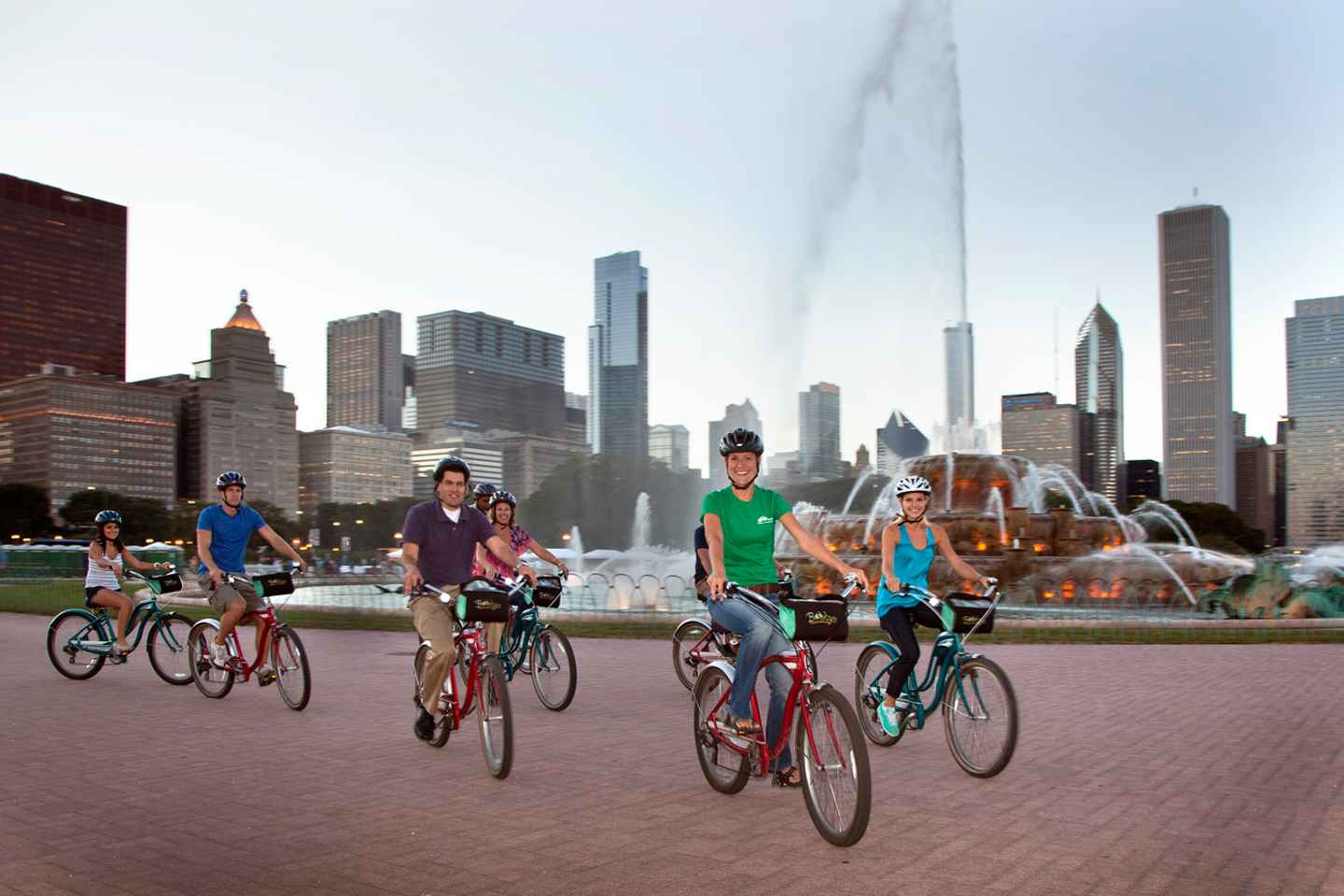 One of the best ways to explore a city is via bike, where you can see the landmarks as the wind whizzes past you but, Chicago being Chicago, a normal bike tour isn't enough. On this tour, you'll be riding like the wind through the city at night and seeing some of Chicago's finest attractions and hot spots from the comfort of your own two wheels.

We highly recommend taking the bike tour on a Wednesday or Saturday night, so that you can watch the Navy Pier Fireworks. Children are able to join in on this tour but they must be strong and confident at riding their own bike to keep up with the pack.
Chicago Sites Night Tour

Duration: 4 hour
Chicago Chicago - The city with it all!
We hope you have an amazing time in Chicago. This city really does have it all - from the bike tours to the deep dish pizzas - everything about this amazing city will fill you with amazing memories to come and you'll be counting down the days until you can come back.
Disclosure: Trip101 selects the listings in our articles independently. Some of the listings in this article contain affiliate links.
Get Trip101 in your inbox
Unsubscribe in one click. See our privacy policy for more information on how we use your data