The state of Queensland is considered as a paradise in Australian tourism. The land is known for its white sandy beaches, rainforests, turquoise seas, and numerous wildlife parks. Queensland has a whole city devoted to just amusement parks, and then there is a city that is also called the Gateway to the Barrier Reef. The province also offers tremendous camping opportunities, and as a matter of fact, today's article is entirely focused on that topic. We even understand that not everybody owns a four-wheel drive, and not all of us can arrange a stay permit. Hence, the options that you're going to see in the list below include a variety of campgrounds that fit all situations. Carry on this read to know more about them. We have prepared an index here that shows you the best campsites in Queensland, Australia.
1. Whitehaven Beach camping area
Our first location is based at Whitsunday National Park, which is located approximately 100 kilometers (60 miles) northward of Mackay. This park includes 23 islands and 11 camping zones, while the Whitehaven camping area is situated on the east coast of the larger island. The campsite is blessed with white sand and turquoise waters; this is also the starting point of the seven-kilometer (four-mile) long beach stretch. It's already a renowned spot for scuba diving and snorkeling, yet you could also see turtles and humpback whales if you arrive during their season.
Whitehaven Beach camping area

Address: Whitehaven beach, Whitsundays QLD 4802, Australia

Website: Whitehaven Beach camping area

Opening hours: 24 hours (daily)
2. Notch Point
Notch Point camping area is based within Yarrawonga Park Reserve that is nearly 90 kilometers (55 miles) to the south of Mackay. This is a natural site, which means that there won't be any amenities; however, it's free to camp for up to seven days. Think about Notch Point only when you have a four-wheel vehicle, as the route is pure off-road and features many water crossings. Safety should be your priority here because it is needless to say that this region has a crocodile-hazard. Anyway, when you get there, you will see the ocean on one side and scenic hills on the other. Again, you shouldn't be reckless in the waters due to the shark hazard.
Notch Point

Address: Notch Point Rd, Ilbilbie QLD 4738, Australia

Website: Notch Point

Opening hours: 24 hours (daily)
3. Nightfall Wilderness Camp
This place is not suitable for people who are looking for a regular camp stay, but the experience is closer to a jungle resort. Being located within Lamington National Park that comes in the southeastern corner of Queensland, Nightfall Wilderness Camp should be an appropriate spot for honeymooners as well as for rookie campers. This is because the campsite features permanent safari tents that comprise amenities like king-sized beds, kitchenette, lounge, and bathtub with showers. However, the location is still very much secluded since it's already in the jungle. Furthermore, only eight guests can stay in the camp at a time, to maintain privacy.
Nightfall Wilderness Camp

Address: 3009 Christmas Creek Rd, Lamington QLD 4285, Australia

Website: Nightfall Wilderness Camp

Opening hours: 24 hours (daily)
4. Cylinder Beach's campground
Brisbane is a really significant metropolitan to be visited by the tourists as well as the citizens of this land. For those having such a plan, they get an added advantage to go camping near this big city with the given campsite. Cylinder Beach's campground is located on the northeastern corner of Stradbroke Island (also known as Minjerribah), which is situated next to Brisbane. The amenities are plenty here, and you have the option to reserve powered as well as unpowered campsites. You can also try other locations on this island if you can settle for even fewer comforts; like Flinders Beach and Main Beach.
Cylinder Beach's campground

Address: 300 Dickson Way, Point Lookout QLD 4183, Australia

Website: Cylinder Beach's campground

Opening hours: 8am - 4pm (daily)
5. Elim Beach Campground
Elim Beach is located in the north of Queensland, approximately 400 kilometers (250 miles) northward of the city of Cairns. Although being a remote place, it's a famous tourist destination. And the seclusion is not just the only feature that Elim Beach offers; camping in the shades of paperbark woodland on pure-white silica beach is also a pleasure. Furthermore, the red and white sand dunes and vast seashore to explore after every low tide is another allure. A permit will be required to stay and a four-wheel drive isn't needed here.
Elim Beach Campground

Address: Hope Vale QLD 4895, Australia

Website: Elim Beach Campground
6. Bigriggen Park
Bigriggen Park is a privately owned camping and caravan park in Queensland, located nearly 111 kilometers (68 miles) to the south of Brisbane. Being a suitable option for both motor homes and tent campers, Bigriggen Park is an ideal family camping site that offers plenty of amenities. Since the camping area is a natural area that is situated between Burnett Creek and Logan River, you should expect friendly trespassers like kangaroos, possum, and birds. On top of that, these two water bodies stay running even in the middle of drought months, so swimming and fishing are also possible throughout the year.
Bigriggen Park

Address: 196 Bigriggan Rd, QLD 4287, Australia

Website: Bigriggen Park

Opening hours: Sat - Thu: 8am - 6pm; Fri: 8am - 8pm
7. Fletcher Creek
Fletcher Creek camping area is situated approximately 45 kilometers (27 miles) from the town of Charters Tower in northern Queensland. This is another free campsite on our index that is suitable for caravan and tent campers. What we like about Fletcher Creek is that, regardless of being a free encampment, it still features plenty of amenities like flush toilets, sheltered picnic tables, grillers etc. Furthermore, the campground is established right next to Burdekin River, so fishing is also possible. Again, the site lies very close to Dalrymple National Park; this little park is known for its fossilized limestone and natural settings.
Fletcher Creek

Address: River Ranch QLD 4680, Australia

Website: Fletcher Creek
8. Bushy Parker Park
Bushy Parker Park camping area, also known as 'Vincent Park' lies under an hour's drive from Townsville; a big city in north-east of Queensland. It's an ideal location for motor-home campers who're touring the coastal Queensland region. It is settled behind the Bruce Highway, and people can use the space free for up to 48 hours. The amenities include a shaded lawn, restroom, picnic tables, griller, and a play area for kids. The key benefit of staying here are stores in close proximity, and Balgal Beach within a walking distance.
Bushy Parker Park

Address: Rollingstone St, Rollingstone QLD 4816, Australia
9. Mount Barney National Park
This is one of the most scenic camping locations on our index, and it's located approximately 120 kilometers (74 miles) southwest of Brisbane. It is worth noting that Mount Barney National Park shows dissimilar camping options for motor-homes and tent campers. While tents are allowed inside the national park (except the prohibited zones), the caravans can only be stationed beyond its boundary. Acquiring a permit will be required to camp inside, however, that's not the case with external privately-run campgrounds. Mount Barney Lodge, Flanagan Reserve, Bigriggen Park, and Lake Maroon Holiday Park are the options for trailer campers.
Mount Barney National Park

Address: Burnett Creek QLD 4310, Australia

Website: Mount Barney National Park

Opening hours: 24 hours (daily)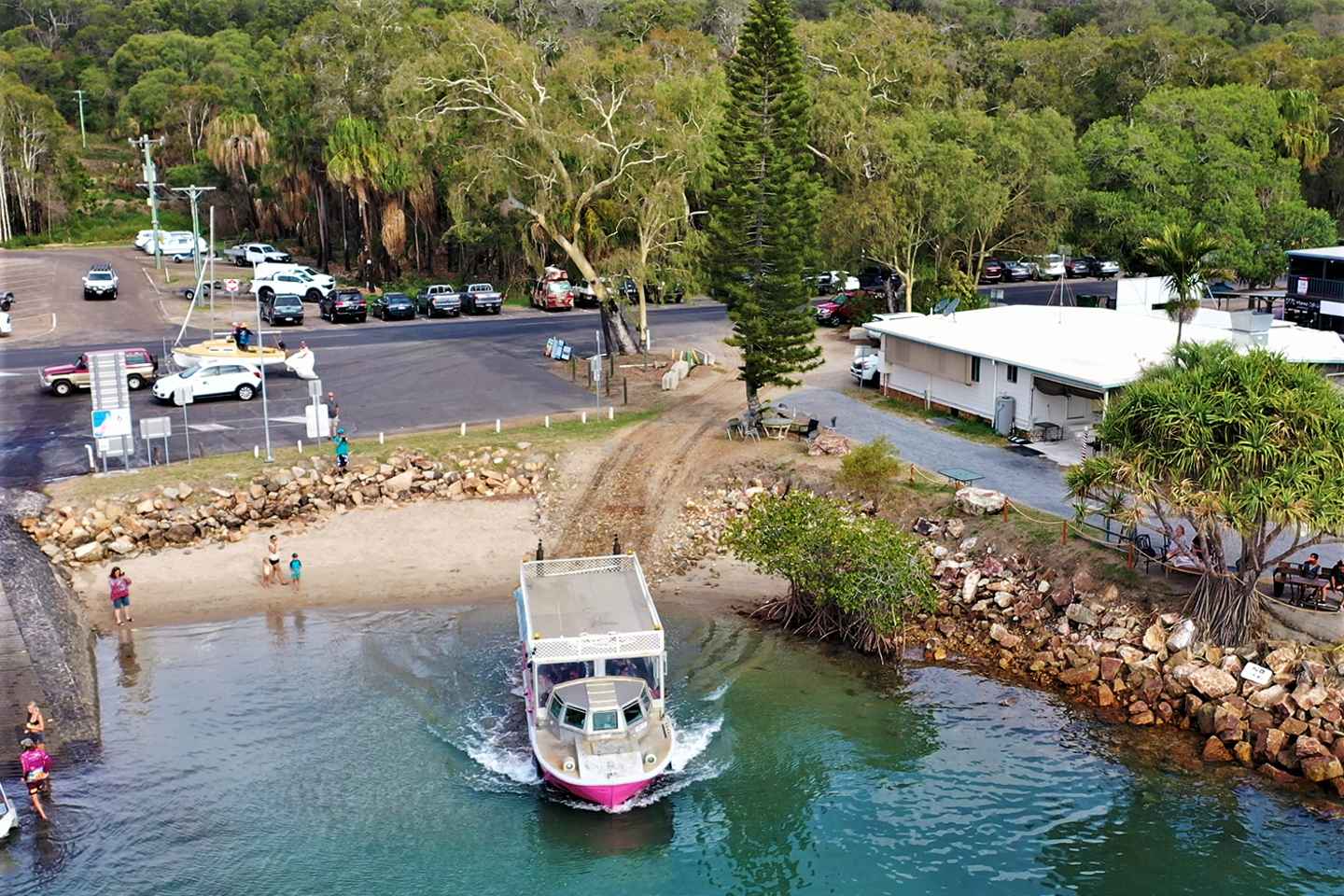 Eurimbula National Park features 17 campsites in total, and six people accommodation is the set limit per campground. The encampments can be set on two locations, Middle Creek and Eurimbula Creek. The beach lovers should opt for Middle Creek as it's situated on a beach at Bustard Bay. And those who prefer jungle settings should go camping near Eurimbula Creek; this is eucalyptus woodland, which is positioned right behind the bay. Both locations have their pros and cons; while the beach receives full sun but no shadow, the wilderness has mosquitoes and insects. A permit will be needed to camp here, and people should only come here in the dry season in high clearance four-wheel-drive vehicles.
Eurimbula National Park Tour: Picnic on the Beach

Duration: 2.0 hour
Choose from our list above
On our index of the best campsites in Queensland, Australia, we have given you choices from reserved areas, woodlands, as well as remote locations like Elim Beach. While many of these locations are free to camp, some even require a permit to stay. And, again, there are many sites that need a four-wheel drive to reach. Furthermore, there are campgrounds literally next to the roads. Select one as you feel appropriate.
Disclosure: Trip101 selects the listings in our articles independently. Some of the listings in this article contain affiliate links.
Get Trip101 in your inbox
Unsubscribe in one click. See our Privacy Policy for more information on how we use your data