Everybody loves a vacation. Given the opportunity, there is no limit to the amount of fun that you can afford to give yourself, especially if you're financially secure enough. If you're planning on going on a tour from the city of Boston to the sandy peninsula of Cape Cod, then there will be no shortage of fun experiences. With exciting activities including day trips, ferry rides, excursions, and sightseeing cruises of Cape Cod, you are sure to have the time of your life. Read on to discover the best tours from Boston to Cape Cod, Massachusetts and check them out.
Enjoy a day's trip from Boston to Martha's Vineyard, a small island located south of Cape Cod. You will be provided with complimentary snacks, bottled water, and guidebooks during the trip. Experience this exciting cruise across the waters to Martha's Vineyard which is a popular destination among tourists because of the pleasant weather during summer as well as the beautiful beaches along its coast. Get an opportunity to explore the small island's attractions including the vineyards and its towns during the tour.
Martha's Vineyard Daytrip from Boston with Round-Trip Ferry & Island Tour Option

Duration: 12 hours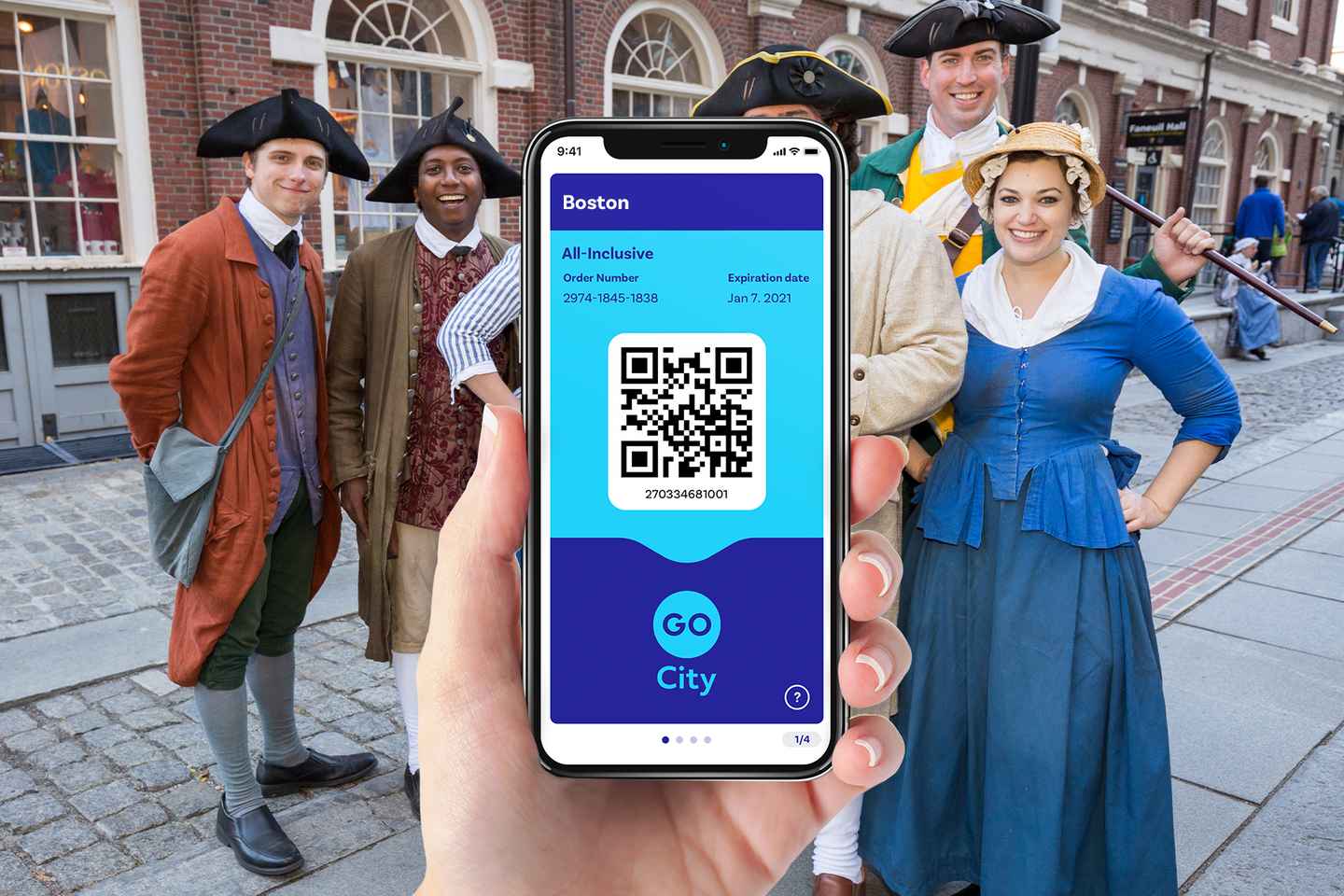 This voucher allows you to save up to 55% for top attractions. Yes, you read it correctly! With the Go Boston Card,a multi-attraction pass, you can get up to 55% off normal tickets and gate passes. You'll get a chance to visit the top attractions including the Boston Duck Tours, New England Aquarium Whale Watch, and many more. What's great about the pass is you get to save on some extra cash which ultimately means more for for less. Be sure to take up this exciting offer.
Boston: Go City All-Inclusive Pass with 40+ Attractions
This is a small group trip from downtown Boston to Cape Cod. You and your team of 14 or less will get an opportunity to visit and learn about the history of the southern New England museum and Garden. The museum features a lot of unique exhibit galleries, antique, and art. The garden is a remarkable and beautiful setting for garden enthusiasts, as it is filled with flowers, trees shrubs native to the town. Also join exciting trails and fun outdoor activities. Then the group heads to colonial-era Plymouth to discover the Plimouth Plantation, the famous Plymouth Rock, and much more.
Boston to Plymouth Day-Trip including Quincy, Plimoth Patuxet and Mayflower II

Duration: 11 hours
You will experience this hassle-free journey to Cape Cod by boarding the ferry. The journey lasts about an hour and a half and you get to enjoy all of the comforts of the luxurious ferry which offers a fast and convenient way to the peninsula. On board the ferry, there is a concierge desk to help plan your trip to Cape Cod. As you enjoy the picturesque views of the Boston city skyline and Boston Harbor Islands, know that art galleries, shopping centres, restaurants, landmarks, and great sandy beaches await on the other end.
Boston to Provincetown & Cape Cod High Speed Ferry One-Way

Duration: 1 hour 30 minutes
If you would ever like to know about the history of sea voyages and all the exciting adventures that occurred along the coastal strip of Cape Cod then this trip is definitely for you. The exciting ocean cruise will lead you to the historic landmark of Whydah Pirate Museum. The museum displays artifacts recovered from an 18th-century vessel used for piracy and the slave trade. On the way, you will also encounter unique landscapes and architecture, as well as feel the refreshing breeze around Cape Cod during the cruise.
From Boston: Cape Cod Excursion with Cruise

Duration: 7 hour
Explore Cape Cod as well as its oldest town of Sandwich. Experience its rich history as you tour the coastal strip. Cruise the Lewis Bay and if you are a great pirate enthusiast, then this is your chance to get to know about the exciting and historic adventures and history of pirates who cruised across the seas of the coastal waterfront towns long ago. Check out the amazing museum displays and artifacts and treasures recovered from ship wreckage. For the foodies, visit the amazing seafood restaurants and have a bite of the local delicacies. Encounter unique landscapes and architecture, as well as feel the refreshing breeze around Cape Cod during the cruise.
From Boston: Cape Cod Harbor Cruise and Pirate Museum

Duration: 9 hour
Cape Cod is a popular summer destination with beautiful sandy beaches and great summer weather. It's no wonder the population seems to more than double during this time. Although during fall the number of visitors in Cape Cod is not comparable, the town is equally as exciting and thrilling to visit. This nine-hour guided tour on a luxurious bus will take you to Cape Cod's top attractions including the Sandwich Glass Museum and the John F. Kennedy Memorial, and will also let you cruise along Lewis Bay, among other sightseeing activities.
Cape Cod From Boston: Autumn Day Trip and Sightseeing Cruise

Duration: 9 hours
From the beautiful sandy beaches to the great summer weather in Cape Code, you can always find more reasons as to why the peninsula is always packed with visitors from the area and beyond especially during the summer. Take this nine-hour guided summer tour on a luxurious bus. It will take you to top attractions from Boston to Cape Cod including the Sandwich Glass Museum and many more. You will also take part in exciting sea cruises along Lewis Bay and also get spare time to shop, go sightseeing, and relax along the beaches on the ocean's coast.
From Boston to Cape Cod Day Trip, with Sightseeing Cruise

Duration: 9 hours
This is a small group trip from downtown Boston to Cape Cod's oldest town of Sandwich where you and your team will experience history showcased in the southern New England heritage museum's unique exhibit galleries, antique autos, American art, and vintage carousel. The garden tour is for the garden enthusiasts, filled with flowers, trees, and shrubs native to the town, trails and also features lots of fun and outdoor exploration. Along the way you will be provided with complimentary snacks and drinks as you travel over the world's widest sea level canal, the Cape Cod Canal.
From Boston: Small Group Day Trip to Plymouth and Cape Cod
A 10-day cruise has never been this thrilling. Experience this New England fall foliage tour. See the historic Merrimack town, explore the lighthouses and rocky landscape of Maine, as well as take a cruise on the mountain lake. This is a unique adventure that will include lots of fun and sightseeing. You will also get to explore the summits of the White Mountain on a tour that involves visiting Cape Cod. Adventures will be done on foot and on sailboat and other sightseeing vessels.
10-Day New England Fall Foliage Tour including Cape Cod
Adventures from Boston to Cape Cod
Join in on great and exciting adventures from Boston to the Cape Cod peninsula. The trips are fun and focus on interesting attractions unique to Cape Cod which you can find along the way. Check out the rich history of the beachfront town of Cape Cod and explore. Dine in the array of great restaurants offering seafood varieties. Also, don't forget to carry your camera!
Disclosure: Trip101 selects the listings in our articles independently. Some of the listings in this article contain affiliate links.
Get Trip101 in your inbox
Unsubscribe in one click. See our privacy policy for more information on how we use your data