With its charming green spaces, unique outdoor activities and delicious local food, Sydney deserves to be on the priority list of your couple travel bucket list. Whether you're the adventurous kind or the laid back type, you'll surely find an enjoyable activity in this city that both you and your partner will like.
Prepare to fall in love over and over again as you try out the most romantic activities that the Harbor City offers. Read on and get an idea of what to do for your next couple vacation!
1. Watch a movie at an outdoor cinema
Take your usual movie date night up a notch! Best experienced during summer, Sydney has open-air cinemas where you can sit back and relax while catching latest releases and award-winning films. There is St. George Open-air Cinema for an instance, which is located at the harbor's edge and backdropped by magnificent views of the Opera House and the Harbor Bridge. Meanwhile, if you love both movies and beaches, you should check out Ben and Jerry's Open-air Cinemas in Bondi. Bring your own picnic blanket or a pillow for a more comfortable outdoor screening experience!
2. Have a picnic under shady trees
Located in the heart of the city, the Royal Botanic Garden offers a well-manicured space where you can bring a packed meal to share with your loved one. Whether you're coming for breakfast, lunch or snacks, you'd surely find a good spot in the 30-hectare lawn. After enjoying your meal, feel free to take a stroll and check out a variety of themed gardens. Take time to smell the flowers, watch the birds and admire towering trees. Get lost together in the splendor of it all — trust us, it wouldn't feel like you're in a middle of a bustling city.
3. Get breathtaking views of the sunset
Sydney's most beautiful sunsets happen during autumn. You can watch it from anywhere in the city, but if you're planning to take your partner with you, you might as well choose the best spot. If you're feeling extra adventurous, try the BridgeClimb offered at the Sydney Harbour Bridge and be at its summit just in time for twilight. With the bridge standing 141 meters, the whole climb takes approximately 3.5 hours. Are heights not your thing? Opt for a more relaxed sunset activity at the Bondi to Bronte Coastwalk. Go for a long walk, then take off your shoes and feel the sand on your toes!
4. Go star-gazing
You've probably seen it in movies a hundred of times and thought it was a cliche, but nothing still beats a firsthand star-gazing experience. Sydney Observatory offers guided night tours where you will be allowed to use the telescopes and see the stars scattered at the night sky. The observatory also hosts exhibits and a "beanbag planetarium" where you can learn more about the mysteries of the universe. Even if you and your partner are not astronomy enthusiasts, this makes for an enjoyable and unique night out. In any case, here's an idea to make the mood more romantic: try reading your date a couple of love poems relating to the stars!
5. See a theatre play or a musical performance
Most of us know Sydney Opera House as one of the city's most iconic landmarks. However, it's more than just a great backdrop for your postcard-perfect photos. You can come here if you're considering to take your partner for a classy date night. The performances you can watch at the Sydney Opera House are not actually limited to operas. There's a variety of theatre plays and musicals by local and international acts which you can choose from. If your partner is into this kind of shows, it would be nice to surprise her with a ticket or two!
6. Bike around a park
Seize a sunny day by going out and cycling around a park! Spanning 220 hectares, the Centennial Park located in the Eastern suburbs is a spacious playground for both kids and kids-at-heart. It has its own cycling trail which is 4 kilometres in length. Another good choice for a cycling activity is the Sydney Olympic Park which hosts the 100-hectare Bicentennial Park. It is smaller than the Centennial Park, but boasts of equally beautiful park views and lawns where you can rest after biking. If you don't have your own bike, both parks have a bicycle rental service you can avail for a few dollars.
7. Read a book and relax in a local cafe
Editor's Note: There's no photo available at the time of writing
Glebe, a suburb located in the Inner West of Sydney, is a haven for bookworms. For second-hand books and other cheap finds, make sure to catch the Saturday market held in the grounds of Glebe Primary School. If you're coming on a weekday, there are also shops you can visit like Gleebooks, The Cornstalk Bookshop and Kinokuniya Bookstore. After shopping for books, loosen up and treat your partner to a warm cup of coffee. There is a Sappho Books Cafe & Wine Bar for an instance, a popular nook for coffee-loving bookworms. Completing the funky vibe of the cafe is a graffiti-clad courtyard. Plus, there's no wifi — you can totally enjoy your date without being too busy with your smartphones!
8. Ride a seaplane, a helicopter or, better yet, a hot air balloon
Feeling fancy? Spoil your special someone by booking a seaplane ride for you two! Feel your hearts flutter as you catch a glimpse of the Harbour City from above, starting from Rose Bay all the way to Bondi Beach or Palm Beach. Another option is a helicopter ride offered by Sydney Helicopters in Parramatta. Meanwhile, if you're willing to shell out more to make your partner feel special, why not try a hot air balloon ride? Balloon Aloft has different flight packages you can choose from. Hint: if you're planning to propose a wedding or you're celebrating something big, this would be a great idea!
9. Enjoy refreshing cocktails by the waterfront
Wind down after a whole day of touring by enjoying refreshing cocktails at the waterfront. Opera Bar, situated near the Opera House thus its name, has an alfresco drinking area where you can have your cocktails along with great harbor views and live music. The performances start by 7:30 PM on weeknights and as early as 2:00 PM on weekends. Also included in the list of popular places for cocktails in the city is Cafe Sydney. Nestled on the rooftop of the Customs House, it features an outdoor terrace, a cocktail lounge and a private dining area.
10. Meet and greet with underwater creatures
Who said SEA Life Sydney Aquarium are just for kids? You and your partner can also enjoy a fun-filled day here! Aside from the regular tour packages, you can try snorkelling to meet some of the country's most beautiful underwater animals without actually having to leave Sydney's Central Business District. Some of the creatures you might encounter include a Maori Wrasse, a Leopard Shark and White-Tip Reef Sharks. If you have no prior snorkelling experience, you don't have to worry because this activity is open to all. After all, you're doing this with your loved one — wouldn't it be fun to try something new together?
An intimate dinner will always be a date night classic. How about having it while on board a cruise? Captain Cook Cruises departs daily from the Sydney Harbour and they have five different dinner packages you can choose from, ranging from six-course meals to three-course meals. There's also live music for VIPs and a wide array of drink choices like house spirits, beers, wines and soft drinks. Also, take note of special holidays and other celebrations in Sydney. The cruises offer more entertainment than the usual when there's one!
Sydney Harbour Sunset Dinner Cruise

Duration: 2 hours
12. Bask in a secluded beach
When coming to Sydney with your loved one, make sure to pack a nice beach outfit. Your romantic trip won't be complete without visiting, at least, one of Sydney's secluded beaches! At the Reef Beach located in Balgowlah Heights, you can take a dip in the calm waters or simply enjoy the slow-paced life away from the busy streets and skyscrapers. If you're lucky, you might even chance upon a wedding held in one of its quiet nooks! Meanwhile, for more active couples who wants to try other water activities, you can go to Milk Beach for fishing and snorkelling or to Gordon bay for surfing. Don't forget your sunglasses and sunblock too!
13. Check out contemporary art pieces
Have a laid-back weekday rendezvous! Visit the Museum of Contemporary Art or MCA, located at the Circular Quay, where you will find exhibits of various local and international artists. To learn more about modern art, you may take the guided tour and download the MCA app on your smartphone. Just make sure to bring your earphones so you can listen to the audio guides and artists' interviews. The best thing about coming here? Entrance is completely free! If you would like to stay longer, you can hang out at the cafe in Level 4 while enjoying a few drinks.
14. Join a wine tasting tour
Hunter Valley, particularly known for its wine growing industry, would make for an exciting getaway for two! Departing from the Sydney centre, you can take a wine tasting tour which usually includes a wine cellar and restaurant visits. Some tours even allow guests to see how grapes are harvested and try it firsthand. Staying overnight wouldn't be a problem since many hotels and B&Bs in Hunter Valley cater especially to couples.
15. Find the perfect pair for your wine
Just like you, wine is better when it comes with a pair. Take your partner to Fort Denison and have a sample of Australian farmhouse cheeses! The cheese tour provides transportation to and from the island, and it would be convenient to book in advance. An expert will teach you about the history of the local dairy industry and, most importantly, how cheese and wine are paired. Sparkling drinks and canapés are also served during the tour. After the tasting experience, you can join a 30-minute tour around Fort Denison conducted by a NSW National Parks and Wildlife Ranger.
16. Take a nature trip
Nature trips are more romantic than you think it could be. For a quick weekend getaway, you can go on an adventure together at the Royal National Park. It is the second oldest national park in the world, easily accessible from the city proper. Enjoy holding hands while exploring hiking paths like the Lady Carrington Drive and the Coastwalk. You can also hike up the Bungoona Lookout, a popular spot for birdwatching and panoramic views of the Hacking River. If you wish to stay overnight, some areas like North Era allow guests to camp out. Tip: make sure to obtain a map or a guide at the Visitor's Centre for easier navigation around the park!
17. Relive your childhood days
Remember that giddy feeling you get when going to an amusement park as a kid? Experience that all over again but this time, double the giddy feeling because you're spending it with your loved one! Here, you can try a variety of thrilling rides, including Hair Raiser, Wild Mouse, and Rotor. There's also a carousel, a dodgem hall and a breakdance ride. End the day by cozying up and enjoying the view from the Ferris Wheel. If you're coming during summer, go on a Sunday because Luna Park offers a Ferris wheel dining experience on such days. Try it to make your vacation more memorable!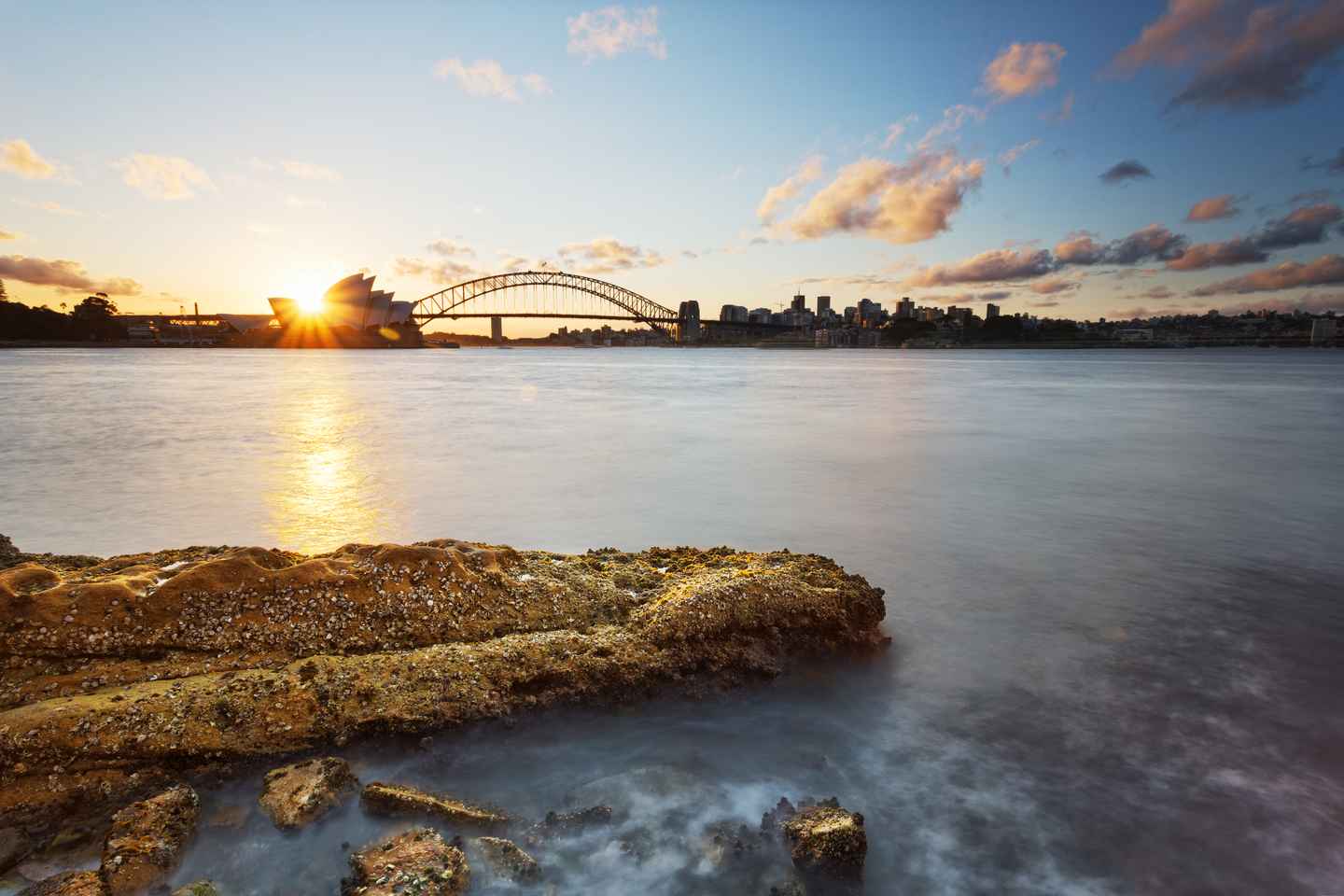 Can't get enough of the harbor? Rent a double kayak at Port Jackson, more commonly known as the Sydney Harbor, and enjoy paddling your way around while soaking up captivating views. Recommended for water-loving couples, kayaking is a great activity to build your trust and teamwork. At the end of the day, you will realize that whatever it is that you do together, a combined effort will always bring good results. You may also kayak further to Shark or Clarke Island. Just make sure to pay for the entrance ticket in advance at the Cadmans Cottage in Sydney Harbor.
Sydney: 2-Hour Guided Kayak Tour

Duration: 2 hour
19. Spend a night at the zoo
Spending a night in a zoo might seem unromantic, but not in Sydney's Taronga Zoo. They offer a "Roar and Snore" overnight package, a unique camping experience in safari tents. These tents are equipped with fully dressed double and single beds, ensuring guests a comfortable stay. Wake up to stunning views of the harbour the next morning and enjoy the privilege of seeing the zoo before the crowds come in. Guests will also have an encounter with animals like Giraffes, Seals, Lions, Snow Leopards and Meerkats. Other activities included in the package are guided walks and a bird watching activity.
20. Take a dance class
Learn a new dance step or two with your partner at the Sydney Dance Company. From hip-hop to lyrical, you will surely find a dance class which you can try as a couple. Also, it doesn't matter if you're trying it out for fun or you're keen on sharpening your skills because they welcome both beginners and intermediate-level dancers. Price per person and class start at $20. Learning a new thing is much better when shared with a loved one. So put your dancing shoes on and share a sweet moment on the dance floor!
A city of love and possibilities
If Europe has Paris, Australia has Sydney. Love blooms all year round in the Harbor City, so come and see it with your loved one — heart to heart and hand in hand!
Disclosure: Trip101 selects the listings in our articles independently. Some of the listings in this article contain affiliate links.
Get Trip101 in your inbox
Unsubscribe in one click. See our Privacy Policy for more information on how we use your data