Not only is Delhi the administrative capital of India, it is also considered by some to be the culinary capital as well. If one takes a lazy stroll along an alley, say Gali Bhairo Wali, it can lead to an amazing feast of authentic Mughlai food. The many lanes and by-lanes of Delhi are filled with a succession of food joints, dealing in a variety of cuisines. From mouth-watering kachoris - those stuffed fritters fried to a golden tint served with thick chutneys or spicily prepared potato curry - to colorful and equally tasty chaats with so many types, Delhi is a haven for binge eaters. Food and eclectic food stalls are the cornerstones of this city. They conjure up menus with all the wonders that hungry souls can imagine. It is certain that in a food tour, your taste buds would experience some of the best Indian food ever. Check out this list of the top food tours in Delhi, India.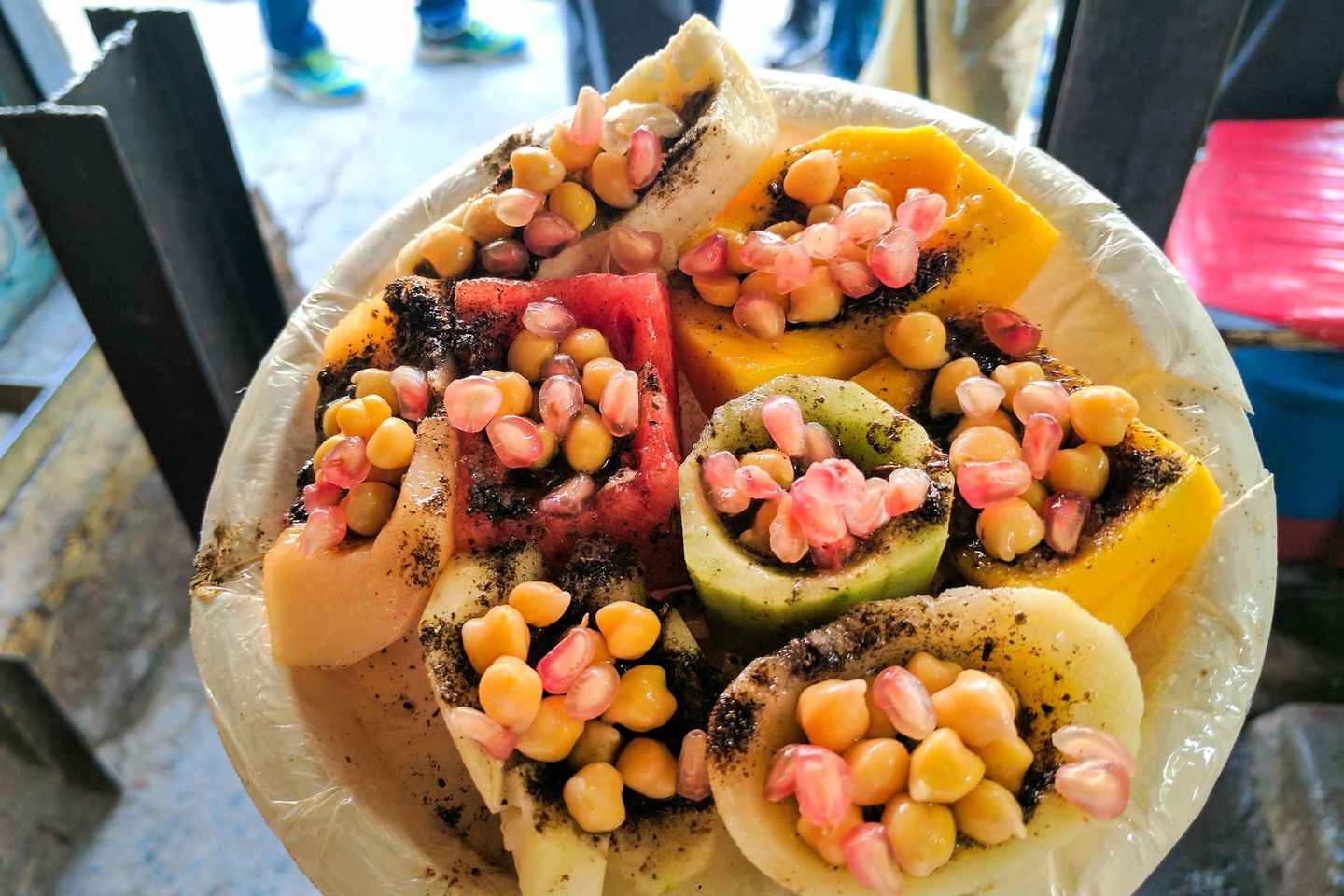 Old Delhi still tells tales of India's heritage, especially about its huge array of food items. After a brief tour of Gurudwara Sis Ganj and it langar (community kitchen service), you will be plunging in busy streets and starting the hand-to-mouth journey. Once you're done tasting popular Indian fritters - sweet jalebis - and hot samosas, you will head to the famous Paranthe Wali Gali. The place revels in Indian flatbread with delicious stuffing. A lot will follow before the walk is rounded off by a frozen kulfi with over 50 selections.
Eat Like a Local: Chandni Chowk Street Food and Walking Tour

Duration: 4.0 hour
Get lost in the pleasures of food in the quaint world of Old and New Delhi. Much like the nuances between uptown and downtown in some urban areas, you'll find diversity in these two sides of Delhi. The place is all about satisfying rumbling stomachs and expectant tongues. The city is packed with labyrinths of lanes and alleys, lined by shops where you'll find some of the best street food in the world. Guided by a professional, travel on foot, rickshaws and the metro, and visit joints selling steamy Tibetan dumplings, shawarma, aloo chaat, and a lot more.
Food Walk tour of Old & New Delhi with a local guide

Duration: 4 hours
After the day's heat subsides, the city slips into a new mode altogether. This food walk explores the streets in the evening and takes you to wonder-filled passages filled with the best of Indian food. How a union of chickpeas cooked in hand-pestled spices along with flatbreads can be awe-inspiring, you wouldn't understand until tasting chole bature. The evening will become more promising as it progresses. It is certain that paani puri will hold your attention. These are hollow, spherical crisps to be filled with a medley of chutneys, spices, yogurt, and chaat. Open wide to savor that burgeoning snack and immediately, attain the first level of nirvana; paani puris are uncontested winners of street food.
Evening Food Tour

Duration: 3 hours 30 minutes
A two-hour tour by foot through Chawri Bazaar, one of the oldest street markets, will get you set for the day. Every nook and cranny of this vast place is filled with delectable food. Many food stalls have roots dating back to centuries. From aloo tikki and creamy kheer to other indigenous items, the place has tradition trapped there in the food business. Food is fuel here.
Delhi Food Walk and Cooking Class With A Chef

Duration: 8 to 9 hours
Consisting of the most sought-after food outlets and restaurants, this tour is planned to provide the best delights to suit your palate in the early hours of the morning. Steaming hot milk tea and different sorts of fried breads along with rich curries will stir you up nice and good. Also, you'll get an exotic whiff of masalas from Khari Baoli, an entire market of spices. This does say a lot about the essentials of Indian cooking and its many levels of flavors in the food.
Breakfast Walk in Old Delhi

Duration: 4 hours
Your taste buds will have to work overtime in order to accommodate the range of tastes that Delhi has to offer. While listening to a slice of history and anecdotes, gorge into tangy dahi bhalla and hot tikki chaat. To counter the explosion of spices, chew on convoluted and syrupy jalebis. Rest assured, your evening will be sorted perfectly with Delhi sweets - gulab jamun or rasmalai - in tow.
Old Delhi Street Food Tour

Duration: 4 hours
If you've gone beyond appreciating the local food of Delhi, an evening at Bukhara will take praises even further. Enjoy the grace of fine dining with elements of authentic tandoor while basking in the ambiance. The place retains the old-world charm and you can take a guided tour of the kitchen and have a candid talk with the chef. Look out for Dal Bukhara, a rendition of tandoor-cooked lentils with key ingredients. Delhi, quite justifiably, remains unique in tradition and food.
Bukhara: a Unique Indian Food Experience at ITC Maurya

Duration: 2 hours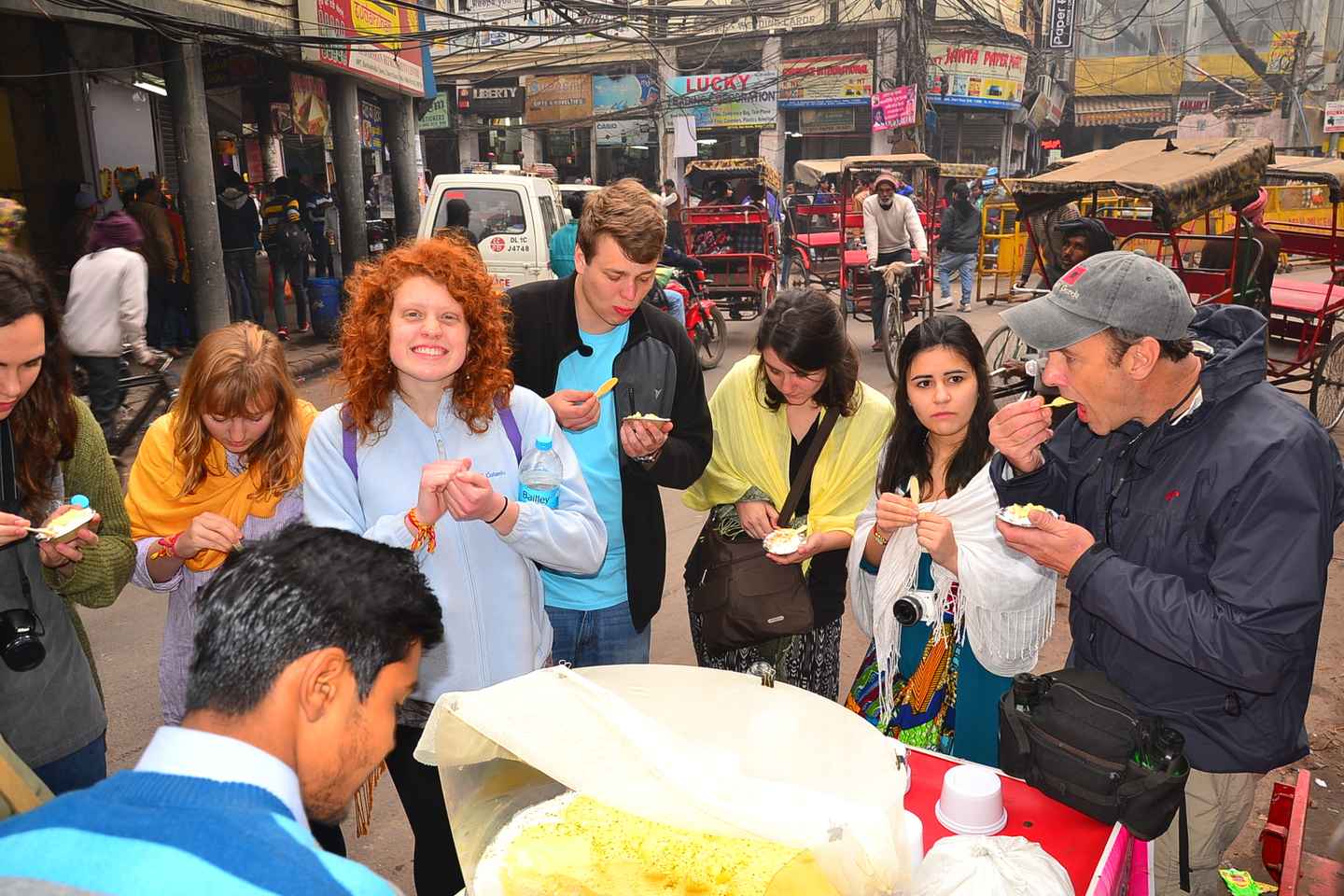 The special aspect of this tour is that, through the entire walk, you'll be accompanied by a local chef. Not only will he provide you an insight into the life and ways of Old Delhi, but will take you to 10 oldest food joints. The tour is estimated to be around four to five hours long. Enjoy watching cooking techniques, even engage in conversations, and you might learn really interesting facts about the local cuisine and culture.
Old Delhi: Food Tour With Local Chef

Duration: 4.0 hour
Just like its location in the subcontinent, Delhi will take up your empty stomach and pacify it effectively. Among the mélange of cuisines, Delhi has added its own taste to the preparations. This tour meanders through the city and will take you to the most popular establishments of renowned places. Khan Market abounds in varieties of chicken dishes that you can wash down with a big tumbler of lassi.
Delhi Small-Group Taste of India Food Tour

Duration: 5 hours
Savor the best street food of Delhi
Delhi has some of the best street foods that you can try in entire India. Vendors sell a variety of freshly prepared mouth-watering local dishes, which will definitely make you try some. Check out these tours to savor the best of Delhi.
Disclosure: Trip101 selects the listings in our articles independently. Some of the listings in this article contain affiliate links.
Get Trip101 in your inbox
Unsubscribe in one click. See our privacy policy for more information on how we use your data