The best way to explore a sprawling metropolitan like Houston is through walking tours. It allows you to get in excellent contact with the various attractions, engage the tour guides and get answers to any fascinating attractions you come across. Houston has an enviable experience awaiting anyone in need of detailed walking tours. Whether you are a looking for history, or you are a huge fan of NASA, Houston walking tours have something for everyone. Houston also offers plenty of places to stay in ranging from affordable hotels to unique Airbnbs. So if you are planning a trip to Houston, you should never forgo these tours, and to help you out, here is a look at some of the tours you must never miss. Scroll below to find out more about the most popular walking tours in Houston, Texas.
Embark on a journey through the beating heart of the city, where captivating culture and enthralling history await through this downtown Houston walking tour. Available from October to April, this tour showcases the city's vibrant attractions while delving into the intriguing past that shaped Space City. Armed with Howdy's Ultimate Guide to Houston, you'll gain insider knowledge to explore the city like a seasoned local. Marvel at architectural wonders such as JPMorgan Chase Tower and soak in the atmosphere of Notsuoh as you learn about its colorful history.
The tour also unveils the charm of the Downtown Historic District Market Square, revealing the fascinating story of the iconic Townhall Bell. Indulge in the allure of La Carafe, Houston's oldest commercial building, where candlelit ambiance sets the scene.
Duration: 2 hours
Step into the vibrant world of Montrose and let your taste buds be your guide on this three-and-a-half-hour culinary exploration with a Houston tour guide. Discover four remarkable restaurants, each boasting a unique flavor and atmosphere that perfectly captures the essence of this dynamic neighborhood. Meander through vintage shops, residential enclaves, and lively bars, all while admiring colorful murals along the way.
Indulge in a mouthwatering Southern breakfast, savor a craft-infused cocktail that tantalizes the senses, and treat yourself to scrumptious desserts. Rain or shine, this gastronomic adventure promises to delight every palate.
Duration: 3 hours 30 minutes
An exciting excursion in Houston, Texas, think of this tour as a two-and-a-half-hour journey of the historic district of Houston which will go through pubs as a costumed guide recounts some of the creepiest ghost stories of the city. The tour will take you through four bars situated in various historic buildings, each with its own spooky story. This tour is primarily a blend of ghost stories and drinks at bars as you reminisce over rumors of hauntings and spine-numbing tales.
Duration: 2 hours 30 minutes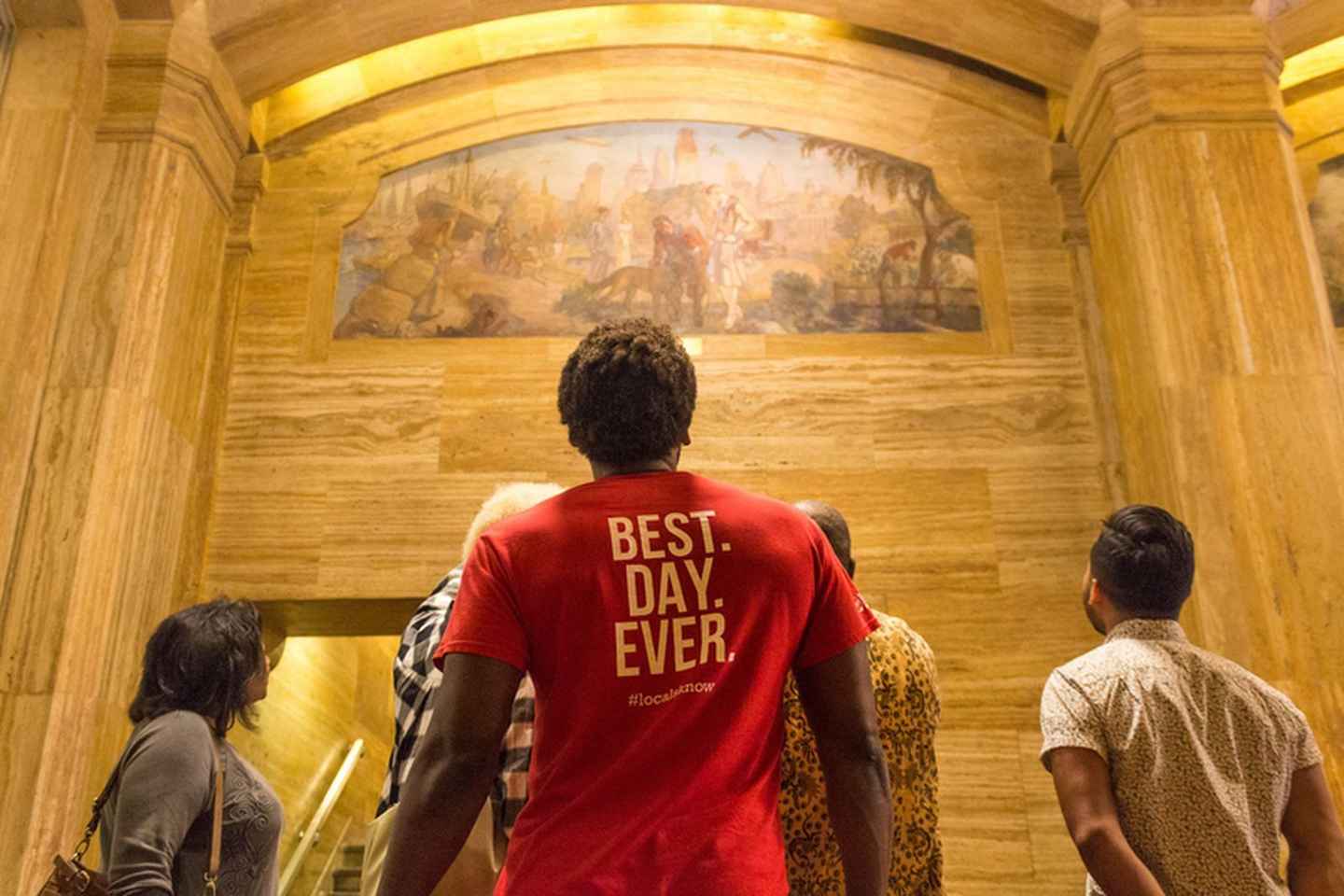 Not known to many people, there is a comprehensive system of underground tunnels beneath the city of Houston. These tunnels were constructed way back in the 1920s, and they remain functional to date, though not much activity goes on now in this underground infrastructure. This tour in Houston last for two hours, and it will take you on a journey where you will learn more about the city's history, architecture, and art. You will also be treated to magnificent deco treasures and sculptures made by some of the most famous artists in the world. Additionally, the tour will give you a chance to explore both the new and old sections of the tunnel that are still open for public use.
Duration: 2 hour
The Wacky Adventure Walk Game is a unique walking game, ideal for getting to know several locations around Houston. The game is very similar to a board game where power shifts from one player to another, only that with this one, instead of navigating on a board, you will be going through the city streets with the help of your smartphone. The idea behind the game is for the players to have fun, discover some interesting facts about the city while being a little quirky and enjoying the company of the playmates. The game begins with one of the players being designated as the King or Queen. You then start going from one checkpoint to another throughout the city, and at every checkpoint, players will have to answer certain questions and also perform certain tasks for the Queen or King. The entire game takes about two hours to complete, and it is done entirely on foot. There is a virtual guide embedded in the mobile phone app to help you out should you get stuck or need any assistance.
Operation City Quest may be compared to a real scavenger hunt, where you will use your smartphone together with a remote guide to discover over 150 statutes, monuments and other points of interest within the city. It is full of trivia and challenges which makes it interesting for families to get the most out of their Houston walking tours. The game takes about two hours to complete. During the game, players will answer trivia questions and perform various challenges. Each challenge or trivia comes with points depending on the level of difficulty. The primary objective of the game is for the players to have fun, lead and get as many points as they possibly can, which will, in turn, make them know more about the city.
This is an adventure walking tour which will take you to various sites around the city as you perform certain silly tasks. The sites could be anything and anywhere, ranging from sculptures to historical markers and other vital landmarks within Houston. With friends and family, Crazy Dash Walking Adventure makes it possible for you to explore the city and get to know a little more through answering questions on the various checkpoints as well as completing the various challenges. The game begins by you setting out to 10 checkpoints in various locations around the city, and at every checkpoint, you will be required to answer a question. Throughout the game, expect to perform some very crazy tasks, but they will be fun, and you will be amazed at how fast the two-hour duration of the game will elapse.
Stories of ghosts and cities are not new, but if you have an interest in paranormal activities, then this is one of the Houston walking tours you must never miss. The tour lasts for about two hours, and it takes you to downtown Houston where you will discover some of the most famous and creepiest haunted stories of the city. With each tour, you will have an EMF reader so that you can tell where the ghosts would probably be lurking as you go about the trip. You will also be provided with ghost hunting equipment for you to explore the several old buildings and historic streets where it is possible that you may experience some paranormal activities. It may sound scary, but it is a fascinating tour in Houston.
Duration: 2 hours 30 minutes
If you are a foodie, or you love great flavors, then this is a tour you must never miss. The trip will see you visit the southwest neighborhood of Sugar Land with stops in three or four of the best restaurants in the area for a sample of their respective cuisines. The tours are always for groups of thirteen people to keep it small and allow everybody to have personal experience. The tour is not just about sampling menus at the restaurants, but also discovering certain facts about Sugar Land. The tour is for persons over the ages of thirteen years, and they are available throughout the year, so be mindful about the weather and dress appropriately.
Duration: 180 to 210 minutes
Enjoy Houston walking tours
Houston is teeming with attractions, and you may need a couple of days or even weeks to visit all of them. However, and if you are looking for a fun-filled family-friendly way to get the most in a short time, then your best bet is the Houston walking tours. Check out the above tours, and you will not be disappointed.
Frequently asked questions about walking tours in Houston, Texas
1. Which walking tours in Houston are good for avoiding crowds?
If you are looking for tours in Houston where you can avoid crowds, you can opt for the Food Walking Tour in Houston Montrose where you venture into lesser-explored neighborhoods known for their diverse and authentic dining options.
2. Which walking tours offer visitors a chance to explore downtown Houston?
Want to go on a tour where you get to immerse yourself in the vibrant atmosphere of downtown Houston? Look no further than this Howdy H-Town Downtown Walking Tour where you can embark on a journey through the beating heart of the city.
Disclosure: Trip101 selects the listings in our articles independently. Some of the listings in this article contain affiliate links.
Get Trip101 in your inbox
Unsubscribe in one click. See our Privacy Policy for more information on how we use your data