So you have a connecting flight from Frankfurt and are wondering what to do with a layover of 24 hours or less? Then this is the article for you to read!
A layover at Frankfurt International Airport (FRA) provides passengers the opportunity to do a lot of things both inside and outside of the airport. Frankfurt International Airport is one of the busiest airports in the world, serving as a hub for Lufthansa, which is the largest German airline. The airport is situated about 8 miles (12.9 kilometers) from downtown, thus making the city easily accessible for tourists who have a long layover in Frankfurt Airport.
If you enjoy this list of things to do and you're planning a longer stay, check out the hostels in Frankfurt for your accommodation needs.
What about the Visa?
Do be aware, however, that you may need a Transit Visa. Some nationalities are required to obtain a visa prior to their arrival and if they wish to leave the airport and go around the city. Additionally, citizens of some countries are not allowed to leave the transit area, even with a valid Transit Visa; this visa merely allows a person to fly via Germany. If you have a Schengen Visa, this should cover you. People from most North American countries, Australia, New Zealand, the EU, and the UK do not need any visa to enter Germany. If you are planning to stay inside the airport, within the transit zone, you do not need a visa on top of any that you may need to fly via the country. Do ensure that you check visa requirements before you travel to avoid disappointment and potential problems.
What can you do at the airport on a layover?
There are quite a few things you can do if you wish to remain in the airport. You could maybe catch some sleep, do some work, shop, watch planes coming and going, or explore the interiors.
When you have a Frankfurt airport layover of more than 5 hours, you can confidently step out of the airport (subject to holding an appropriate visa, if required) and have a look around the city. But if it is a shorter layover, you can still make the best of the few hours you have.
The queues for the airport immigration at Frankfurt airport can be long at times, and you might have to walk quite a bit inside the airport. So if you have a layover of 5 hours or less, it is best to spend it inside the airport exploring what is on offer. Some nationalities cannot pass into the main part of the airport, and must remain in a secure transit area. There is generally access to shops and eateries though.
How you can spend your time in Frankfurt Airport?
a) Shopping:
Well, who doesn't like shopping, especially if it is duty free! Spend time checking out about 100 shops inside the airport. These are open at different times but normally between 6 am and 10 pm every day.
You might be interested in these Airbnbs!
b) Dining
There are lots of cafes and restaurants where you can grab a quick bite to eat or a full meal at the airport itself. Sample local German cuisine, or sink your teeth into varied international fare.
c) Storage
In case you are finding it tough to take your luggage along with you while going around the airport, you can use the storage services facility in one of the terminals and store it temporarily. You can leave your luggage while you explore the city or the airport during your transit; just drop your bags at the left luggage facility.
There are three such facilities: two are located in Terminal 1 (Hall B, Level 1 Arrivals and Hall B-C, Level 2 Departures), and the other is in Terminal 2 (Hall D, Level 2 Arrivals).
Prices vary depending on the size of the item and the length of storage time, but as a rough guide, it costs 4.50 EUR (5 USD) to leave a regular bag for less than two hours, 7 EUR (7.80 USD) for between two hours and 24 hours, 0.50 EUR (0.55 USD) to store a coat or a jacket for up to 24 hours, and 9 EUR (10 USD) to leave a bulky bag for up to 24 hours.
d) Lounges
If you don't want to stay at a Frankfurt Airport hotel, you can spend time at the airport lounges, but usually for a fee. If you are flying business class or first class with particular airlines, or have some other privilege pass that permits lounge access, lounges in Frankfurt Airport include Air Canada, Cathay Pacific, Emirates, Etihad, Lufthansa, Air France / KLM, and Iberia. Some allow other passengers to pay for temporary access. Any passenger can pre-arrange, and pre-pay for, entrance to the Vip Lounge. More details are available on Frankfurt Airport's website.
e) Kids
If you are travelling with kids, you can spend time at the fun play area in the airport. Baby-changing facilities are also available.
f) Wi-Fi
You can get free internet connectivity around the clock. Frankfurt Airport is the first major German airport to offer free, unlimited, and 24-hour Wi-Fi access to passengers, so you can play on your phones, tablets, and laptops, surfing the web, catching up with some work, or even streaming a movie. There are more than 300 connectivity hotspots, and you'll also find charging points, so no fear of your battery going flat!
g) Entertainment
Entertain yourselves at the airport casino, called Players Island. This Frankfurt Airport attraction is located in Terminal 1, Area B, Level 0, and has the latest generation of slot machines, internet terminals, BigCash Club etc.
h) Relaxation and Pampering
Fancy a soothing massage between flights? How about a manicure or pedicure to arrive in your final destination feeling like a million dollars? Or, maybe you'd like a great new haircut? Reflexology, aromatherapy, and foot massages are amongst the other services offered in the airports spa and beauty salons.
i) Plane Spotting
Head to the large and modern Visitors' Terrace, located on Level 4 of Terminal 2, and you can choose a seat in the sun or shade to watch the plentiful plans taking off and coming in to land.
j) Miscellaneous
Along with the fact that the airport gives you a chance to get your clothes cleaned or even altered, you will also find a pharmacy, banking and post office services, and money exchange outlets inside of the premises.
k) Tours
Want more? Well, you could take a tour of the airport itself with the Airport Sightseeing Tour, where you can decide whether you want to take a mini-tour, a maxi-tour, or a night / sunset tour. Sounds pretty exciting, doesn't it?
For those who have more than 5 hours but less than, or around, 24 hours of transit time, there are several things to do around Frankfurt Airport. Use your time to explore Frankfurt's delights.
Transport is not at all a problem if you wish to head to the city from the terminal. Frankfurt Main Station is about 15 minutes from the airport. Once you are in the city, you can opt to travel around by train, bus, rented car, taxi, or even a rented bicycle. You can even book a quick stay at the best vacation rentals and budget hotels if you please.
Taxi2Airport

Taxi2Airport is the easiest and most reliable way to get to and from the airport. Through secure online payments, you can book your airport transfers in advance, saving up to 35% on your journey.
Here are some things to enjoy on your Frankfurt layover:
Frankfurt not only boasts architectural marvels and a remarkable quality of life but it also offers a plethora of delicious local cuisine that will satisfy any foodie. So, during your layover, take time to sample some of the best desserts and beers available in Old Town. Food tasting tours that last up to 5 hours are also available to give you the best food experience tailored to your own preferences.
With the help of a food expert guide, you can learn all about Frankfurt's culture while you munch on traditional German fare.
Traditional German Food and Frankfurt Old Town Private Tour

Duration: 2 to 5 hours
Local drivers know Frankfurt like the back of their hand, so there's really no one better to escort you through the must-see attractions and historical landmarks of the city. Enjoy the convenience of being picked up at the airport and having your luggage left in the car so you can explore freely. Wi-Fi is also available in the air-conditioned car so you can post your best shots as you go.
At the end of the three- to four-hour tour, your driver will take you back to the airport in time for your next flight.
Frankfurt Impressions Express

Duration: 3 to 4 hours
3. Shop at Goethestrasse
The Goethestrasse is a very popular shopping district located at the centre of Frankfurt. You can take the S8 or S9 from the airport to Hauptwache; exit the station onto Schillerstrasse. From there follow the crowds. It is said that Frankfurt's elite go to The Goethestrasse to shop. Sounds great! Go on and treat yourself; it's okay to splurge a bit since you are technically on vacation, right?!
4. Visit the German Stock Exchange
In the same area as the Hauptwache and The Goethestrasse, just a few streets away and within walking distance, you will find the headquarters of the German Stock Exchange, similar to Wall Street in USA. It is the world's tenth-largest stock exchange. Also, check out the iconic statue outside the building that is dedicated to the bull and bear markets.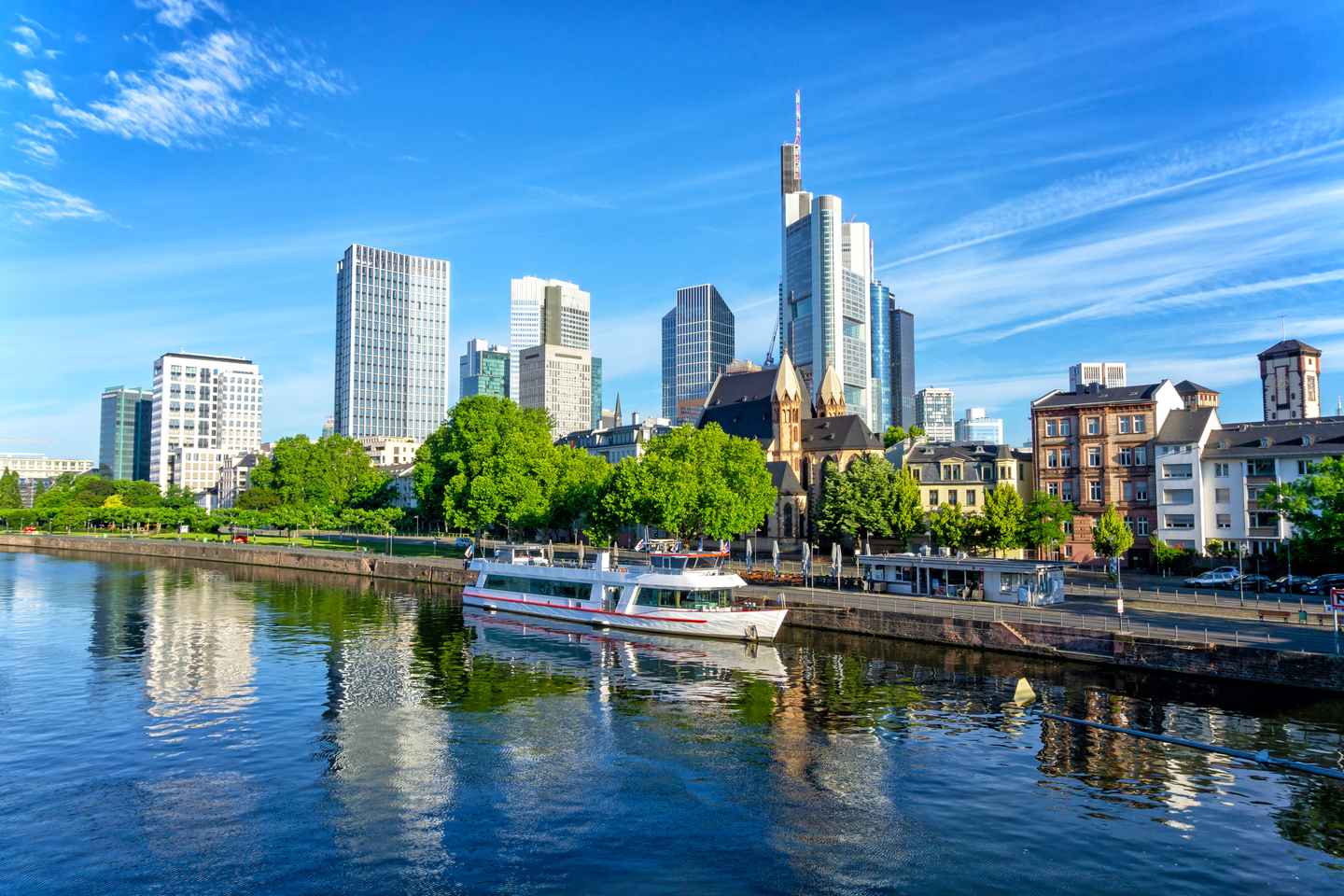 Main Tower can be reached in just 9 minutes by walking from the Stock Exchange. Main Tower is the 4th-largest skyscraper in Germany. Here, you will find a restaurant on the top floor, called Main Tower Review, which is known for its stunning panoramic views of the city's skyline as well as its delicious German cuisine. Note that the restaurant has a minimum purchase of 37 EUR (41.50 USD), so make sure you take your wallet!
Frankfurt: Skip-the-Line Main Tower & Old Town Private Tour

Duration: 2.0 hour
6. Take a trip to the top of MyZeil Shopping Center
To reach MyZeil Shopping Center, you can take the S9 or S8 to Hauptwache. Take a trip up to the top where the view of the city's skyline is amazing as well as free! Want to buy something? Fret not, MyZeil is a famous shopping locality, so when you head there, do check out the shops. Additionally you can have lunch as well on the patio. There are lovely shops in this area and you can spend quite a few hours in this place. Keep track of your time though!
7. Try the local apfelwein
It becomes almost a sin if you enter Frankfurt but leave without tasting apfelwein, also called ebbelwoi by locals. Wherever you go in Frankfurt, you will be able to find this wonderful drink, a type of tasty apple wine or cider, so don't forget to taste this local delicacy on your layover!
8. Visit a funky bar
Located in the funky student district of Bockenheim is a bar that is known for its off-the-beaten-path look and feel. It is called Zum Tannenbaum. This place is only a 15-minute train ride from the touristy spots near MyZeil and Goethestrasse. You can just take the S3, S4, S5, or S6 from the Hauptwache to Frankfurt West and Zum Tannenbaum is then just a short walk from there. It really feels as though you have stumbled upon a delightful and traditional German beer house.
Plan per your layover time
If your layover is on a Sunday, keep in mind that many venues may be closed; make sure to plan a bit before you arrive to avoid disappointment. Also, don't forget to factor in plenty of time to get back to the airport, if going outside, especially if you will be travelling at peak times. You don't want to miss your connection because of a traffic jam! Enjoy plenty of activities on your Frankfurt layover, both in and out of the airport.
Disclosure: Trip101 selects the listings in our articles independently. Some of the listings in this article contain affiliate links.
Get Trip101 in your inbox
Unsubscribe in one click. See our Privacy Policy for more information on how we use your data