Heidelberg is a college town in Baden-Württemberg and the fifth-largest city in the state. It is best known for Heidelberg University, which was founded in the year 1386. The town has several places of interest which draw roughly 11.9 million tourists from many parts of the world. Aside from it being a tourist destination, Heidelberg is also home to several internationally-renowned research facilities, such as the Max Planck Institute and the European Molecular Biology Laboratory.
Heidelberg has also earned the title of the 'City of Literature', granted by the UNESCO Creative Cities Network. Budget hotels and Airbnb vacation rentals are available if you're looking for a place to stay. There are also plenty of attractions nearby, making a trip here worth your time. If you want to learn more, read on as we talk about the top day trips from Heidelberg, Germany.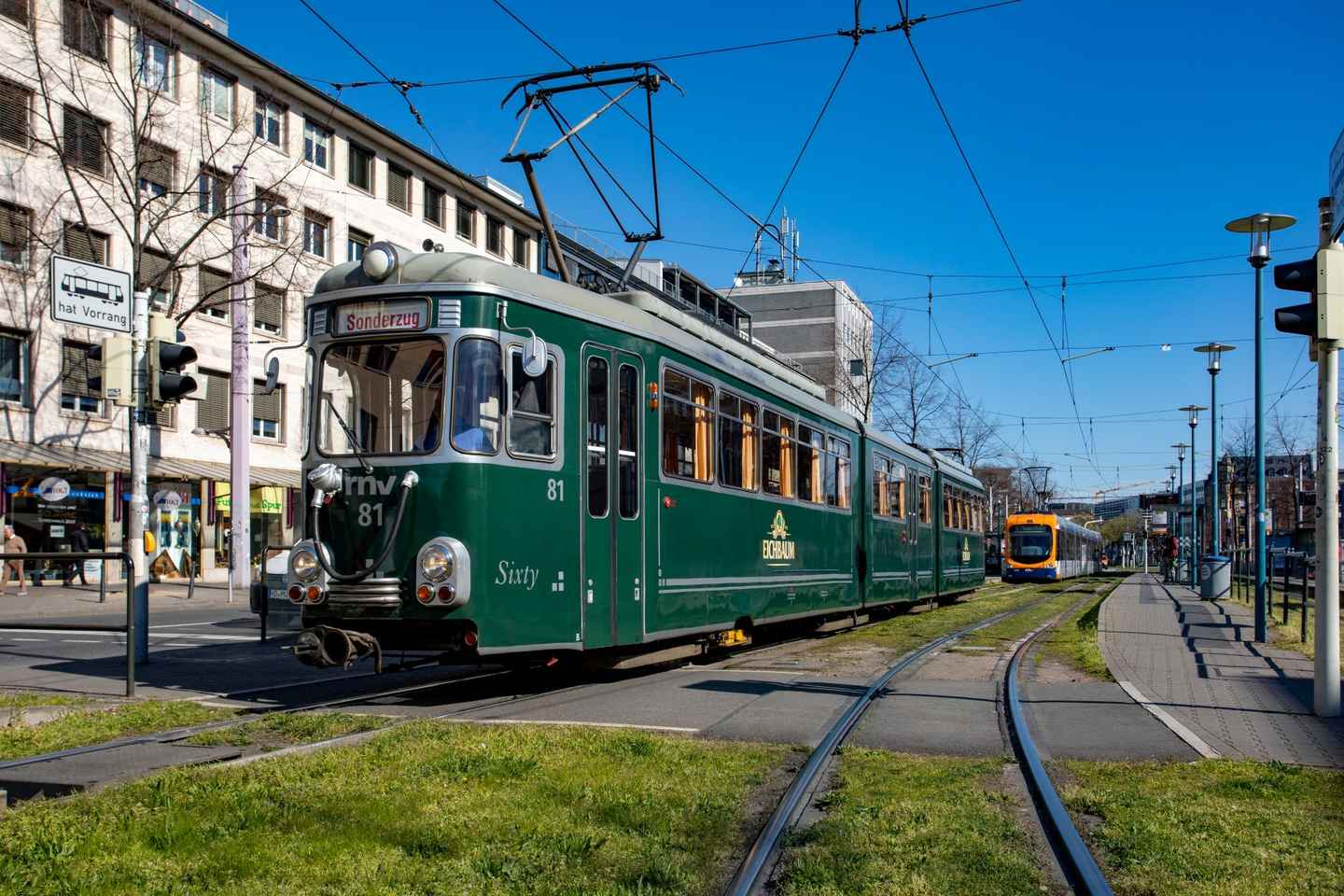 Mannheim is a vibrant city that blends history, culture, and modernity. Visit the impressive Baroque-style Mannheim Palace, or stroll through the peaceful Luisenpark, home to beautiful gardens and a butterfly house. Check out the Kunsthalle Mannheim Museum, which boasts an extensive modern and contemporary art collection for a dose of culture.
For a shopping experience, head to Planken, the city's main shopping street, and browse a range of shops and boutiques. End your day by savoring the local cuisine and wine at one of the city's restaurants and wine bars.
Mannheim: Guided City Tour with historic tram

Duration: 2.0 hour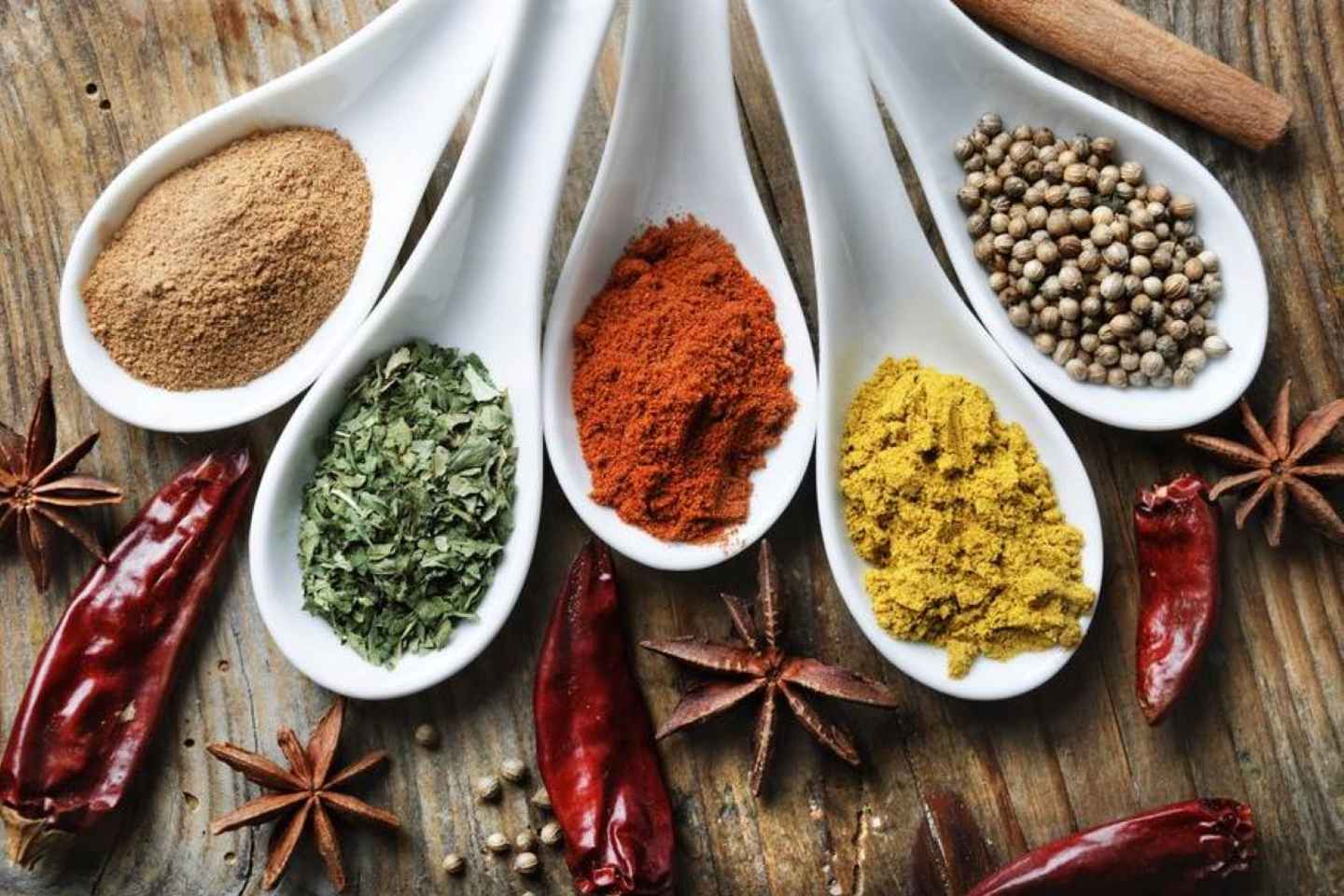 Schwetzingen is a small town in southwestern Germany with rich history and beautiful Baroque architecture. A must-see attraction is the Schwetzingen Palace, a stunning 18th-century palace and garden complex that once served as the summer residence for the Electors of the Palatinate. The palace is adorned with opulent interior decoration, including frescoes, stuccowork, and marble floors.
Another must-visit attraction is the Schwetzingen Castle Theater, a Baroque theater that still hosts operas, concerts, and other cultural events today. End your day by indulging in local cuisine and wine at numerous restaurants and vineyards.
Schwetzingen: Caribbean Cooking Class with Meal and Drinks

Duration: 3.0 hour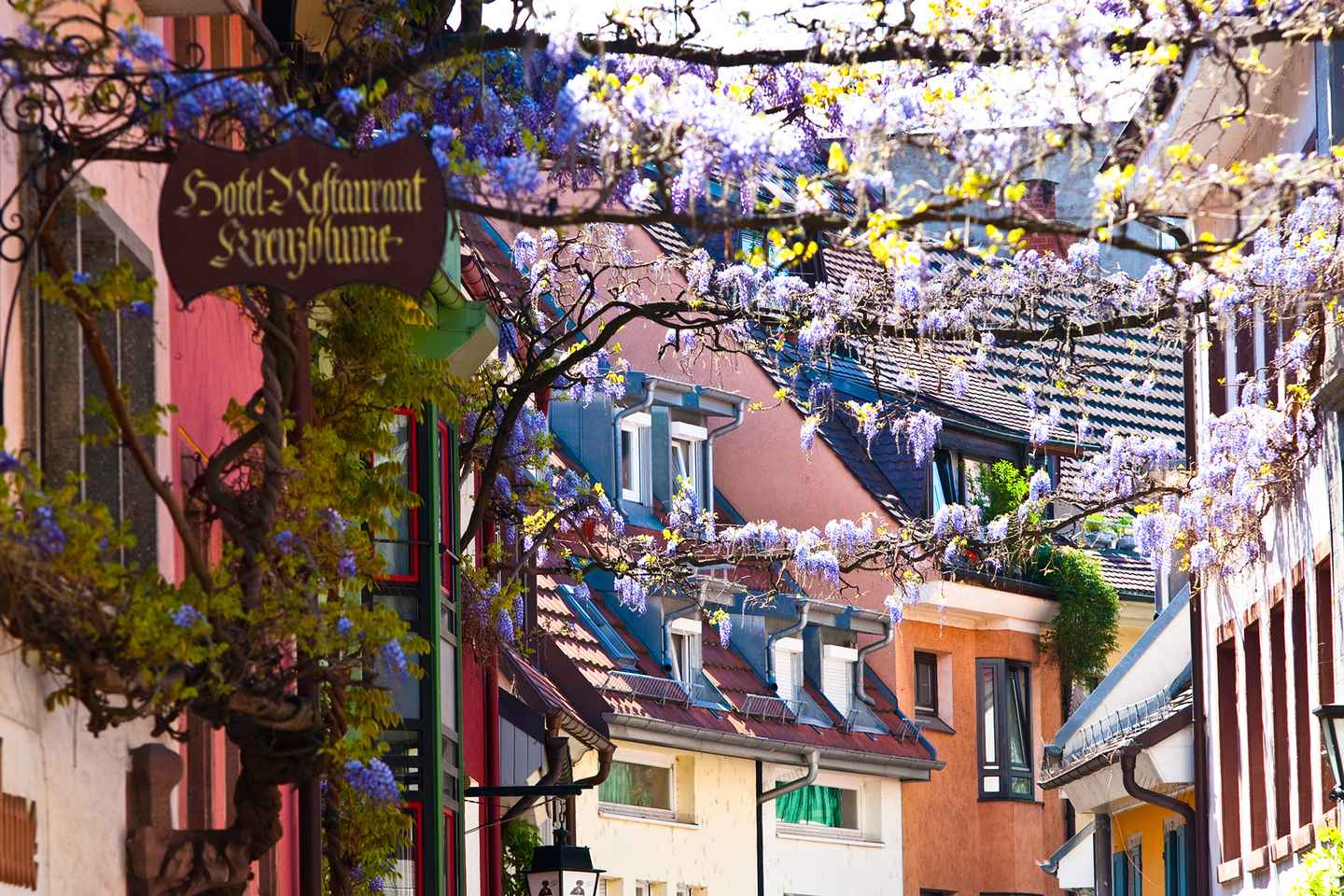 One of the best places to visit near Heidelberg in one day, Freiburg has a lot of things to offer to its visitors – from its architectural wonders, pleasant streets, shopping districts, and even hiking destinations. If you're a fan of gothic-style buildings, going to Freiburg is going to be worth it because you'll have the opportunity to see gargoyle statues around the historic old town. Joining a day tour makes your trip to Freiburg hassle-free – you'll get a friendly tour guide who'll educate you while you're fascinated by the many wonders of this college town.
Freiburg: Gässle, Bächle and More City Tour

Duration: 1.5 hour
4. Speyer
At the heart of Rhineland-Palatinate lies the town of Speyer, famous for its Romanesque cathedral, which draws in people from many parts of the world who are looking to be amazed by medieval structures that still stand tall today. Of course, the town has several other places of interest to visit, such as the Old Town Gate, the Mikve, and the Transportation Museum, to list a few. Its main industries are electrotechnology and oil refining.
5. Neckarsteinach
Castles may be things of the medieval age, but they are still just as appealing today just as they were a few hundred years ago! And that's why you should join a day tour to Neckarsteinach, where you'll get to explore not just one, not even two, but four castles! The town is near Heidelberg, just 15 kilometers (about 9 miles) away, so going here won't take much of your time! There's also Nibelungenpark, where you can enjoy and take pictures of fascinating statues, which is a breath of fresh air if the castles get too overwhelming!
6. Baden Baden
Finding relaxation near Heidelberg is possible within just a few miles, all thanks to the Spa Town of Baden Baden, which offers natural hot springs for locals and tourists to chill and experience the good life in Germany! The town's name is said to be derived from the word 'baden', which means 'bathing' and for good reason! But its springs aren't the only reason to visit Baden Baden – you can also try to invoke Lady Luck's blessings by going to the famous Casino Baden Baden!
In the heart of southwestern Germany lies a town full of things of awe, Trier, the oldest Roman city in all of Germany! There are several medieval structures to visit here, which is a great way to learn about the history of medieval Germany. Structures such as the Porta Nigra, Trier Cathedral and treasury, the house of Karl Marx, and wine tasting sites are some of the offerings that the city is proud of.
Trier Private Walking Tour

Duration: 2 hours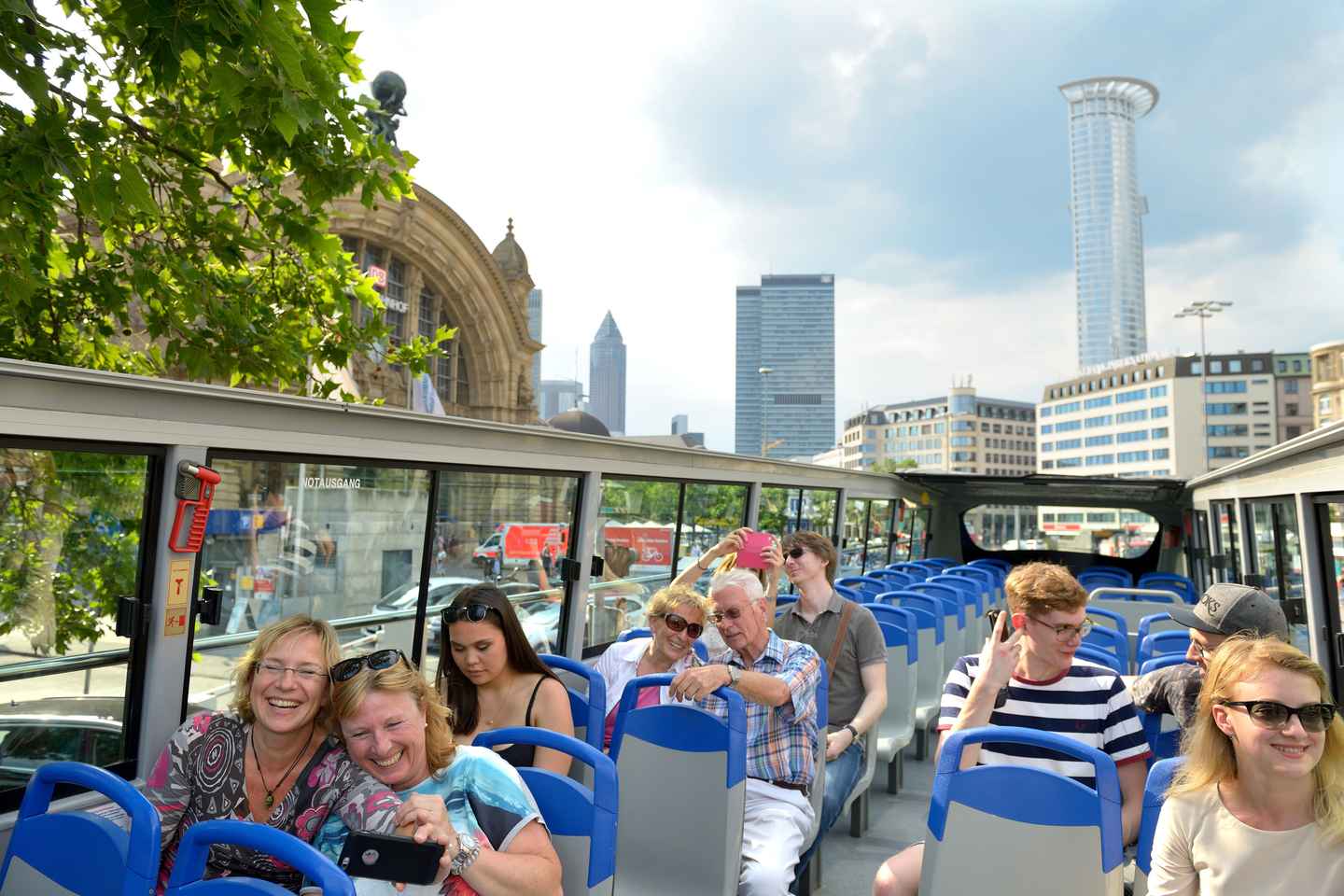 A walking tour is great, but if you're looking for something different, go for a double-decker bus tour through the streets of Frankfurt! By joining this tour, you'll get to see, learn, and appreciate some of the most famous places near Heidelberg, including St. Paul's Church, the Goethe House, Senckenberg Museum, and the Alt-Sachsenhausen district. The good thing about a double-decker bus tour is that you have the freedom to stop anywhere, as many times as you want, for the whole duration of the tour!
Frankfurt: Hop-on Hop-off Day Skyline or Express City Tour
9. Bonn
Bonn is one of Germany's oldest cities and was founded in the first century BC. That can only mean one thing – there are a lot of remnants from the Romans to explore here! Not only that, but did you know that Bonn is where the yummy gummy bears were invented, which are enjoyed by children and children at heart all over the world? This means you'll get the chance to visit the very factory that produces them. Bonn is also a place where history buffs will find solace through the many museums that consider the city their home.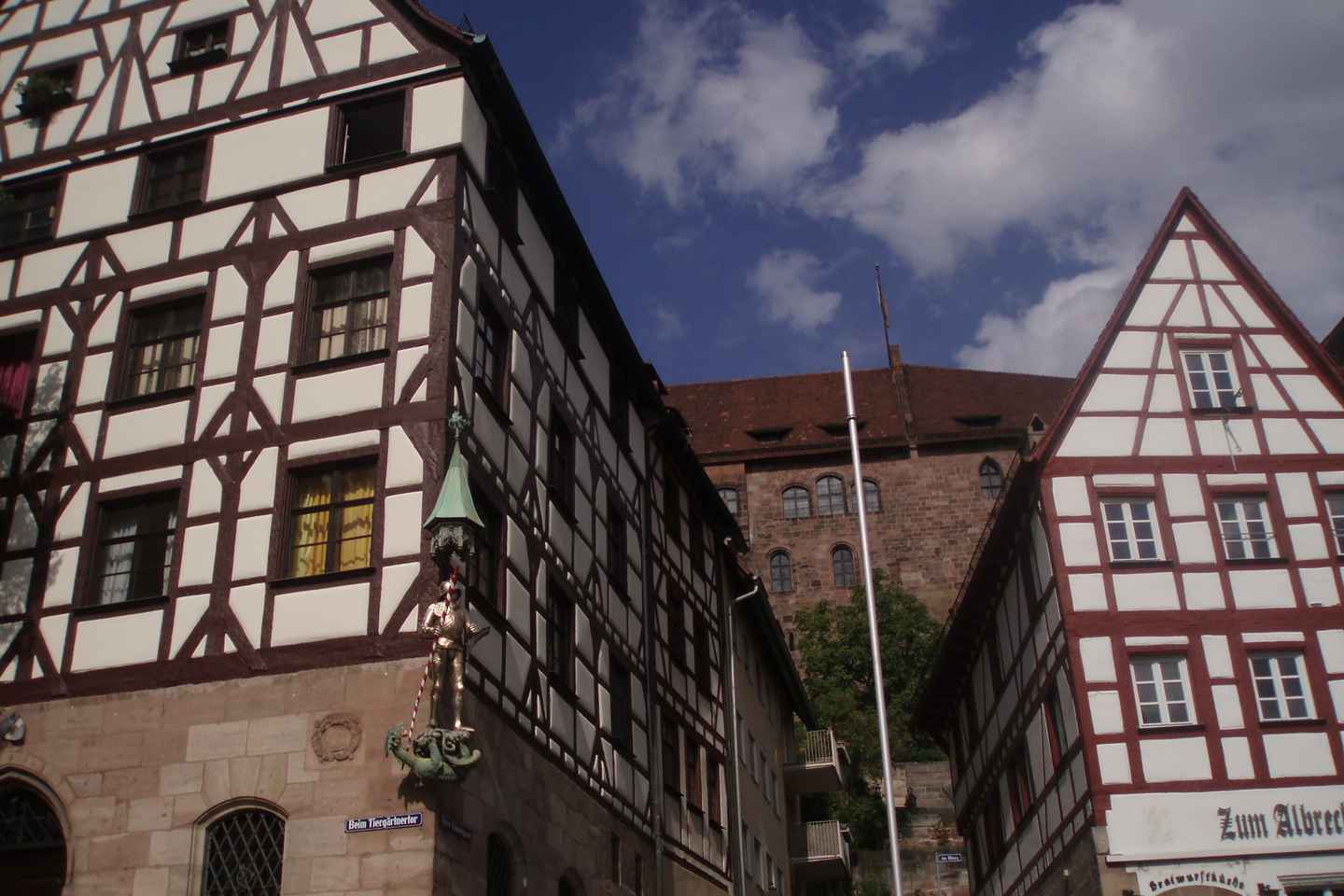 Nuremberg is the second-largest city in Bavaria and is home to a whopping 54 museums that highlight the food, culture, and history of Germany! People who have a thirst for knowledge will definitely like it here! Nuremberg is also famous for its culinary tourism and foodies come from far and wide to sip the local beer, enjoy Nuremberg sausages, and taste the local Christmas bread, called lebkuchen.
You can go here without a guide, but we recommend joining a day tour because you'll be accompanied by a knowledgeable and English-speaking host, who'll take away the hassle of having to explore the city yourself and keep you entertained and informed along the way.
Nuremberg: 1.5-Hour Private Tour through Historical Old Town

Duration: 1.5 hour
11. Weimar
Weimar is yet another town worth paying a visit to if you're wondering where to go near Heidelberg. It is for its many historical sites, such as the Goethe House, National Museum, and the Duchess Anna Amalia Library. For people who tour the world for different tastes and flavors, there are several restaurants here that will satisfy your culinary curiosity, such as the Restaurant AnnA and Gretchen's Cafe & Restaurant. For vegans, Tara Indian Dhaba is a great place to dine.
Not all tour guides are the same and certainly not when you go on a day tour to Rothenburg ob der Tauber, where tour guiding is taken to the next level! The guide who will accompany you will not only inform you about the many historical wonders of the town, you'll also be kept entertained by a song or two while you stroll the streets of Rothenburg ob der Taube. You'll also get to learn a lot about the medieval music of the country. So, if you're a history buff who happens to be a music lover, you know which day tour to take!
Medieval Musical Tour of Rothenburg ob der Tauber

Duration: 1 hour 45 minutes
Enjoy the historic sites near Heidelberg!
There are a lot of places to explore in Heidelberg and its vicinity. Whether your reason for traveling is to broaden your horizons or purely for leisure, it's a good start to join one of these top day trips from Heidelberg, Germany!
Frequently asked questions about day trips from Heidelberg, Germany
1. What are the best things to do near Heidelberg with kids?
If you're with a kid, one of the best places to visit near Heidelberg is Bonn. This historic city is home to a gummy-bear-making factory. Kids and kids at heart will surely have a grand time tasting the different flavors of gummy bears, as well as checking out some plush toys and other merchandise.
2. What are some indoor activities near Heidelberg?
Some indoor activities near Heidelberg include exploring the Kunsthalle Mannheim Museum in Mannheim, watching an opera in the Schwetzingen Castle Theater in Schwetzingen, and trying your luck in the famous Casino Baden Baden in Baden Baden.
Disclosure: Trip101 selects the listings in our articles independently. Some of the listings in this article contain affiliate links.
Get Trip101 in your inbox
Unsubscribe in one click. See our Privacy Policy for more information on how we use your data