Many people experience spiritual awakening when they spend time in the Indian subcontinent. Temples and holy sites adorn the landscape, and worship is closely integrated into daily life. For the Hindu pilgrim, Pushkar Lake is an important religious location. Pushkar Lake is the site of the foremost Brahma Temple in the world. It is located in the north Indian state of Rajasthan, in the Ajmer district. The sanctity of the lake waters gives it a power to heal diseases and absolve sins. Surrounded by hundreds of temples and 52 Ghats (lakeside embankments), and fortified by the legend of Lord Brahma's divine lotus petals falling to the earth to create sacred springs, its significance in Hinduism is undeniable. Here's our comprehensive guide to Pushkar Lake.
Things to do
Explore the bathing ghats
Ghats are stone steps used as public bathing places and are integral to Hinduism. They are used for worship and sacred bathing rituals. The Hindus believe that waters surrounding ghats can cure diseases. From 12 Ghats, the number of descending stone steps in Pushkar Lake's divine waters is now 52. One of the most significant of these is the Gau Ghat, believed to be where Lord Brahma performed a yagna or ritual sacrifice. It is at Gau Ghat the ashes of Mahatma Gandhi were immersed, and so it was renamed Gandhi Ghat. In the lake, there are ten ghats that are declared to be India's Monuments of National Importance. When you decide to visit the lakeside, remember that you are stepping on hallowed ground and should be respectful always.
Visit Jagatpita Brahma Mandir (Brahma temple)
In Hinduism, Brahma (Svayambhu with four faces) is the creator and the father of dharma (natural universal laws). He is one of the Trimurti, the Hindu Trinity of Brahma, Vishnu, and Shiva. Jagatpita Brahma Mandir in Rajasthan is the most eminent of the temples dedicated to Lord Brahma, and there are few of them. Sanyas sect priests are in charge of the temple. Within the 14th century building is a marble murti (icon), which depicts Brahma in the seated Vishvakarma form. Although partly renovated through the years, the key aspects of the temple remain the same, including the hamsa or bird motif and the shikara or spire which stands out because of its red color.
Jagatpita Brahma Mandir is located at Brahma temple road. You may take a rickshaw to reach the temple. It is open all days of the week and you may enter the premises without a fee. Opening hours are 5 am - 1:30 pm and 3 pm - 9 pm (Summer); 6 am - 1:30 pm and 3 pm - 8:30 pm (Winter).
Attend the Pushkar fair
The month of Kartik (October - November) is the time for the five-day Pushkar fair, which is celebrated in honor of Lord Brahma. The Hindus believe that having a ritual bath in Pushkar Lake on Kartik Poornima, the day of the full moon when the fair ends, leads to salvation. As such, Kartik is pilgrimage season for Hindus, and a great opportunity for tourists and travelers to witness religious and cultural events.
Pushkar Fair is also a livestock fair where people trade camels, cows, goats, sheep and horses. The fair starts with a camel race, and features dances and games for visiting pilgrims and tourists on holiday. Locals sell intricate handicrafts and exquisite fabrics. Excitement is in the air, and music and singing fill the space between. This year, the fair is scheduled from 22nd November 2020 to 30th November 2020.
Traveler's tips
"Pushkar Passport" alert
Tourists going to the lakeside receive a red thread on the wrist from priests who conduct blessings, rites and accept donations or fees. The red thread is known as Pushkar Passport, which informs those in the area that wearers have already given what is asked in return for a service. If you wear one you won't be bothered again. It has become a concern for tourists who hear about scams and harassment happening in the area. You can avoid the "passport" altogether by refusing flowers or any rites offered. A puja (bath), ritual, or blessing is not compulsory, no matter what they say. Just say 'no' firmly, walk away quietly, and enjoy your visit.
Your ticket to a hot air balloon ride
This year, the Pushkar Fair, also known as the Pushkar ka Mela or Kartik Mela, is a nine-day affair. If you're up for it, you can take a hot air balloon ride for an unparalleled view of the town. That kind of experience would be hard to forget. For this once-in-a-lifetime opportunity, you must coincide your visit to Pushkar with Kartik Mela 2020, which kicks off with a Harmony Marathon on 22nd November.
How to get there
By land
It takes at least two hours to travel from Jaipur to Pushkar. Traveling by taxi or driving is the fastest, clocking in at around two hours and five minutes. If you take the bus, it will take you a bit longer, about two-and-a-half hour. Go for semi-deluxe and deluxe bus trips offered by Rajasthan State Road Transport Corporation (RSRTC), if you're prepared for long distance travel by road. Jaipur to Pushkar buses leave every half hour.
The train will take you there faster than a bus would, and it's the safest and most convenient option. Hourly trains leave Jaipur to Pushkar and the fare is quite reasonable.
By air
If you are coming from Kolkata, Delhi, or Mumbai, then you may travel by air to Jaipur. Afterwards, it's a three-hour journey from Jaipur airport to Pushkar, in a taxi.
Pushkar Lake information
Pushkar Lake

Address: Pushkar, Rajasthan 305022, India

Department of Tourism: Rajasthan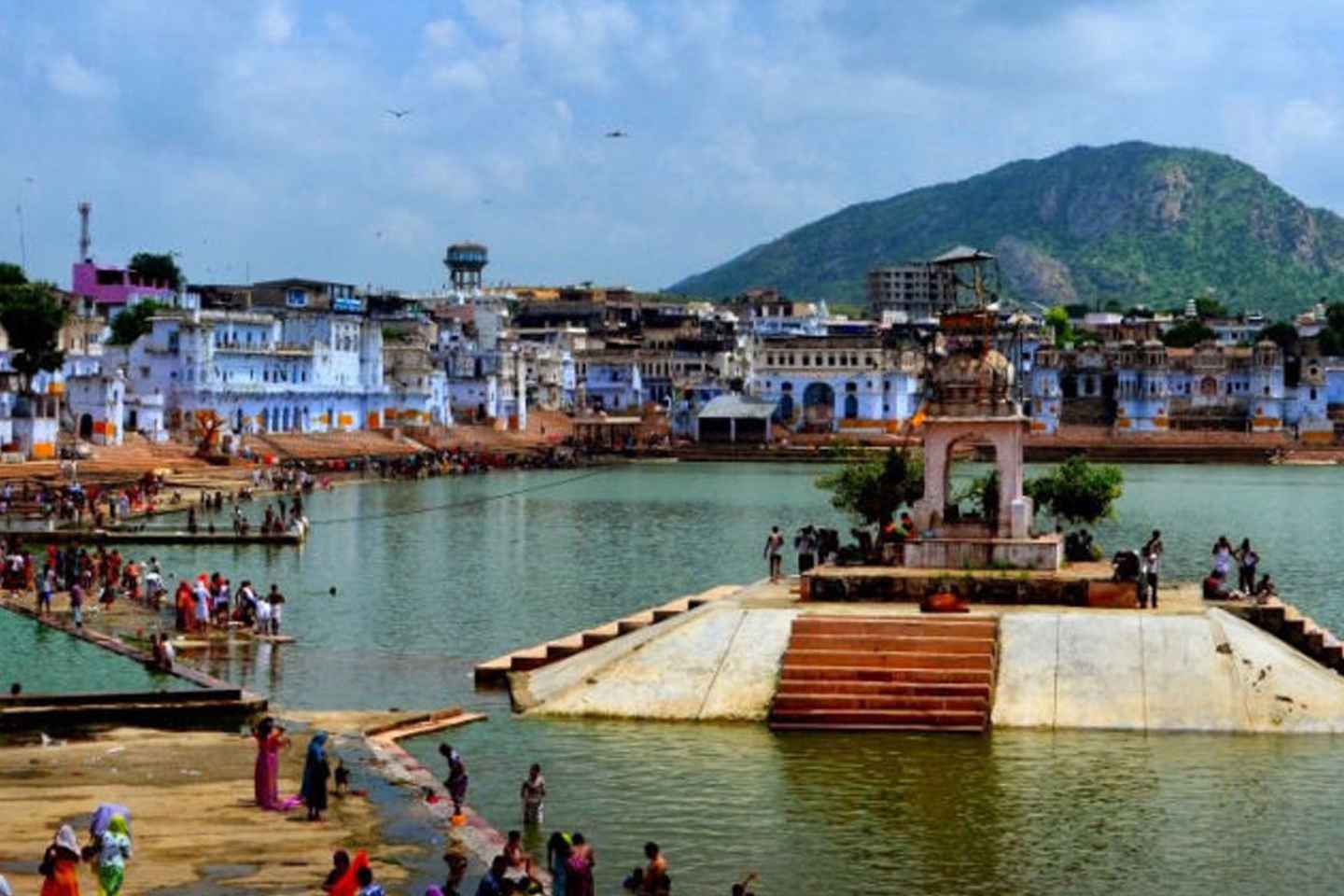 Private Day Trip to Pushkar From Jaipur

Duration: 10 hour
Disclosure: Trip101 selects the listings in our articles independently. Some of the listings in this article contain affiliate links.
Get Trip101 in your inbox
Unsubscribe in one click. See our privacy policy for more information on how we use your data