New Delhi, the capital of India, is a cultural melting pot. It's also home to rich artefacts from the yesteryears, detailing the history of the country. Of these artefacts, India Gate is perhaps the most renowned. The 42-metre (138-foot) high stone arch was built in memory of 90,000 soldiers from the Indian Army who died at war, including WWII. Designed by Lutyens in 1921, the monument has become one of the country's most revered works of art and a prominent feature in both tourist photos and archival records alike. If you're planning a visit here, check out this guide to India Gate, New Delhi, because it has all you need to know!
Things to do / highlights
Honour martyrs at Amar Jawan Jyoti
Amar Jawan Jyoti is an 'eternal' flame, which means that it is always burning. It was installed after the Indo-Pakistan War of 1971, in honour of the countless martyred soldiers of the Indian Armed Forces who gave up their lives in the name of the country. The symbol of the memorial is one that is recognised country-wide - an inverted bayonet with a soldier's helmet sits on top of it.
Visit the monument at night
Although India Gate is a stately structure during the day, it takes on a different dimension at night when it is illuminated by powerful floodlights. Despite being nearly a century old, crowds throng to the monument once the sun sets and the coloured lights come on. The nearby fountains are also lit up in different colours, adding to the charm.
Sample street food from local stalls
New Delhi's street food is renowned among locals and tourists alike. It's no wonder, then, that many people choose to have picnics in front of the monument. When you're at India Gate and you're feeling peckish, consider sampling the street food in the area if you chance upon the vendors. Chilled ice chuski, roasted corn on the cob and 'bhelpuri', a savoury snack, are among the best options.
Have a picnic on the lawn
Lush green lawns lead up to India Gate along the Rajpath, the 'King's Way'. Apart from adding beautiful colour to the landscape, the lawns are the perfect spot to have a picnic on a balmy afternoon or evening. Bring your own snacks or opt to buy from the street food stalls nearby - whatever your choice, this is an experience to remember. Just don't forget to take your items with you and dispose of any trash!
Walk along Rajpath
Rajpath, or 'King's Way' in English, is the ceremonial boulevard that leads up to India Gate and passes through it. This famous path plays host to the Republic Day Parade every year, but on off days, it makes for a lovely stroll. Both sides of the boulevard are lined with green lawns, canals and avenues of trees.
Go boating
If you'd like another vantage point from which to see the monument, consider taking a boat ride. The nearby boat club offers pedal boats and rowboats on hire to take around the lake either by yourself or with a pro. Although it's open from mid-afternoon, the best time to take a boat ride is late evening, when India Gate is lit up. Boating charges vary depending on what boat you choose and how long you want to be in the water for.
Travel tips
Visit after 7 pm
If you're planning to visit India Gate at night, try to make it between 7 pm and 9:30 pm. This is the time period during which the floodlights and coloured lights are turned on, so you don't want to miss it!
Dress according to the season
If you're visiting during Delhi winters, ensure you're covered up well and have warm scarves and sweaters on you. During the summers, temperatures rise in the city so it's best to be dressed in light cotton clothing, with your arms covered to avoid tanning or sunburn.
There's no entry fee
A visit to the India Gate is free of cost. However, it is recommended that you carry some cash on your person in case you'd like to sample street food or buy something else at the stalls nearby.
Visits are restricted before Republic Day
Ahead of Republic Day on 26th of January every year, India Gate and surrounding areas are often cordoned off. This is to ensure dress rehearsals and other arrangements can be carried out smoothly.
How to get there
Metro
Central Secretariat station, on the Yellow and Violet lines, is the closest metro station to India Gate. It's 2.5 kilometres (1.5 miles) away from the monument.
Autorickshaw
Autorickshaws ply all over the city and can take you to India Gate from just about any pick-up point. However, do note that most autorickshaws have a maximum capacity of three people.
Car or taxi
You can hail a taxi or book an Uber from your pickup point to India Gate. Do note that the car cannot take you all the way to the monument, so there is a fair distance to walk.
India Gate information
India Gate

Address: Rajpath, India Gate, New Delhi, Delhi 110001

Department of Tourism: Visit Delhi

Opening hours: 24 hours (daily)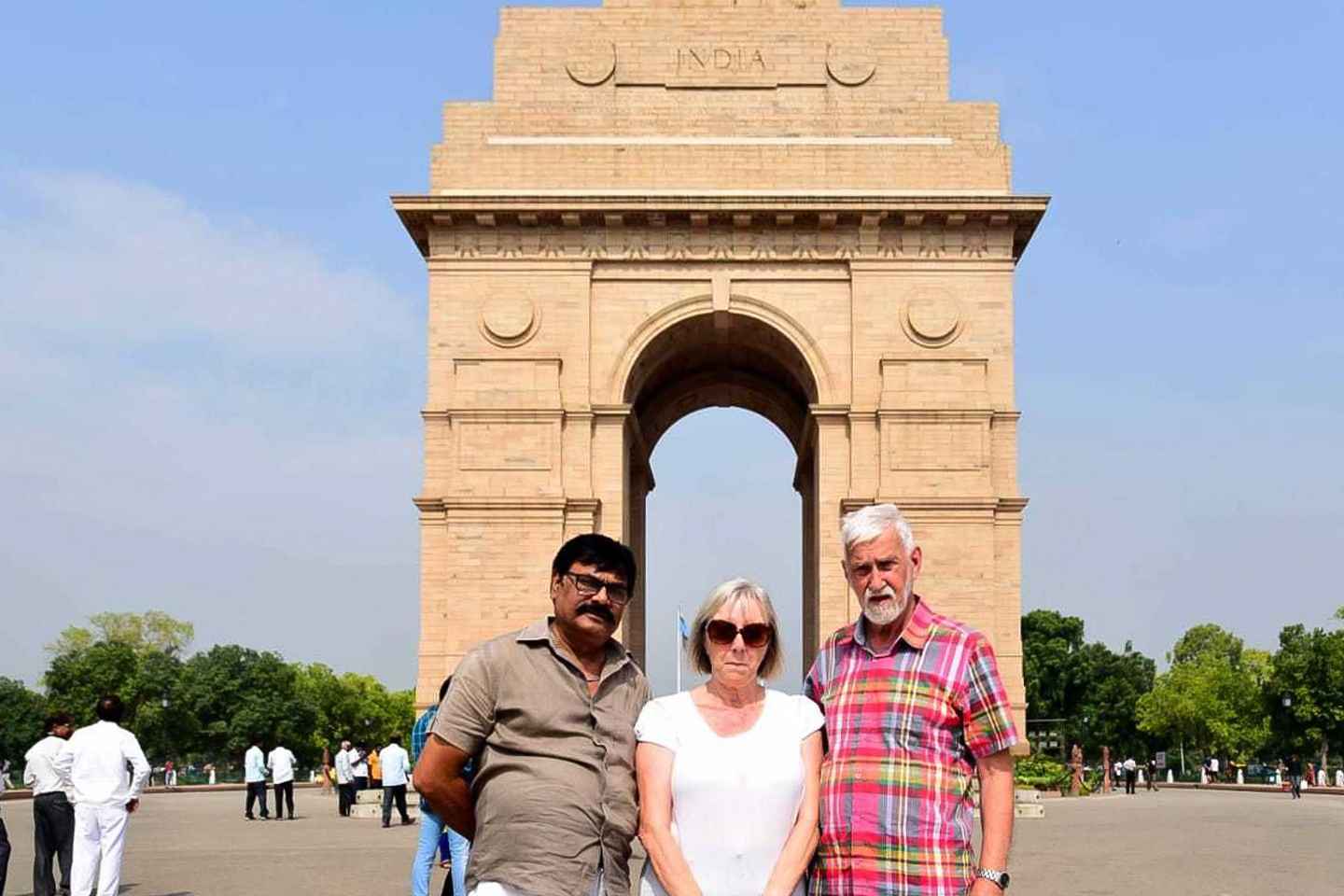 Delhi: Old and New Delhi City Private Guided Day Trip

Duration: 8.0 hour
Disclosure: Trip101 selects the listings in our articles independently. Some of the listings in this article contain affiliate links.
Get Trip101 in your inbox
Unsubscribe in one click. See our Privacy Policy for more information on how we use your data